Spooktacular Eyes: Elevate Your Halloween Look With Striking Lashes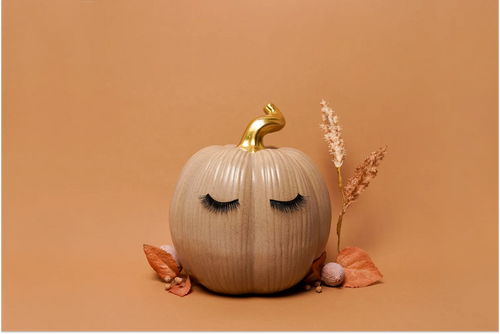 Boo! Halloween is right around the corner, and we couldn't be more excited! No matter who or what you're dressing up as this year, whether you're a monster minimalist or an all-out animal on Halloween, we have the lash extensions to elevate your costume. 
You can wear Lashify's Gossamers with makeup and face paint, so why not add volume, texture, and shape to your eyes and get in character? 
Lashes for the Classic Costumes
There are some costumes that always slap. They're reliable and capture the essence of the holiday. We have some suggestions to elevate them from Classic to Certified Iconic. 
A Witch
A wicked witch? A good witch? A sexy witch? Whichever way you witch, what is a witch without her black cat? 
Elevate your witchy wardrobe with a killer Cat Eye this Halloween. You know it, and you love it; apply longer lash lengths to the outer corner of the eye. Try it with a Plushy Gossamer to add subtle volume. 
A Ghostly Ghoul 
The specifics are up to you: a ghost, a ghoul, a zombie, the spirit of an inexplicably Dickensian orphan who haunts an old New England farmhouse — whatever it is, it's otherworldly, pale AF, accented with blues and purples, and decked out in shredded clothes and maybe some rattling chains. 
Elevate this look with some Silver and Teal Prismatics to capture that ghastly, ghostly essence. 
A Pirate
Whether your pirate is historically accurate, of the Caribbean, of the Party City, or a la One Piece, pirate costumes are classic for young and old alike. For any pirate, go in on texture. 
Imagine windswept lashes from the high sea breeze. Start with Starburst Gossamers for a mixture of lengths and layers to create a bold texture. For added volume, consider adding some Bold Gossamers.
Lashes for Pop Culture
2023 offered a few notable new movies and many new seasons of the shows we already love. If you're considering a pop culture costume, thanks to the wealth of media on-network and streaming right now, you have a thousand flavors of options. 
Consider: 
Shiv Roy
From Succession, "Shiv" Siobhan Roy, the only daughter of the rich and powerful Logan Roy. Talk about an easy costume! Minimal jewelry, minimal makeup, and minimalist, modern professional attire you likely already have. For Siobhan, subtle intensity is the name of the game, at least when it comes to her lashes. 
The actress, Sarah Snook, has very hooded eyes, so it may be hard to see in some stills, but despite her strawberry hair, she has dark eyelashes. A lash map with a muted cat eye and short Curl Gossamers or even Amplify Gossamers would be a good choice. 
To make the look even more subtle on you, check out the Intimates Collection for Gossamers that match your natural lash color. 
Syd Adamu
From The Bear, Sydney Adamu, The Beef's ambitious and caring sous chef. A costume for Sydney pulls components of a professional chef's wardrobe, like a white shirt and a blue apron, but Sydney brings her own character to it with a colorful kerchief in her hair. 
Her lashes are modern and understated, with visible mascara. To mimic her modern, piecey mascara look, opt for a Gemini Gossamer Lash. 
Nimona
From Nimona, the titular shape-shifting anti-hero, Nimona. Nimona was a brand-new movie (based on the best-selling graphic novel of the same name from the creator of She-Ra: Princess of Power, ND Stevenson) released on Netflix this summer. It was an immediate hit, spending weeks at number one on the platform. 
Nimona has a killer outfit that lends itself beautifully to a Halloween costume. Even as far as animated characters go, Nimona has a unique and very re-creatable lash look. 
Nimona has very dense lashes that seem to mimic a squirrel eye at first glance, but then the map abruptly stops; there's a space, then two lash spikes. This is such a fun look to recreate with Gossamers. 
Here's our suggested lash formula: Volume stack Bold and Extreme Gossamers from the inner corner to ¾ across the lash line, then place a single Tulip Thick Gossamer on the outer Corner. 
Horror Movie Heroines (and Baddies) 
It's Halloween! Literally the horror movie holiday! Horror movies from the 80s to today are always hot costumes. 
This year, popular Horror releases include The Boogeyman, M3GAN, Malum, Scream VI, Evil Dead Rise, Knock at the Cabin, and Cocaine Bear. We're not exactly sure how to incorporate lash extensions into your bear costume, but we support you all the way. 
M3GAN
For M3GAN, on the other hand, lashes can really bump up the creep factor. The titular character has extremely wide doll eyes. 
The film used VFX to get this look, but you can use the practical effect of a doll-eye lash map to open the eye. Don't forget to pay attention to the bottom lash line to capture the character's iconic big-eyed look. 
We recommend Fluffy FX Gossamers paired with classic Curl Gossamers to get this look. 
Officer Jessica Sula
If you're a fan of true bone-chilling horror, you might be considering Officer Jessica Sula from Malum. Particularly that iconic scene where she's drenched in blood. To get the uber creepy effect of blood dried in your lashes, pair a piecey lash style with some Red Prismatics. 
From our Gossamers, we recommend Gemini Gossamers (slightly longer than your natural lashes) and slightly shorter Red Prismatics. Be careful to keep the red face paint out of your Gossamers!
Ellie From Evil Dead
Evil Dead Rise is the fifth movie in the Evil Dead franchise, so if you're a horror movie fan, you're probably already familiar with the cast, and maybe you've done an Evil Dead costume before. This year, you may be considering Alyssa Sutherland's Ellie, the demonic mother figure. 
One thing, though: a key part of the horror behind Ellie's costume is her complete lack of eyelashes! Hear us out: obviously, you're not going to rip out your eyelashes for a costume (for the love of everything, Please Do Not!), so how can we utilize lash extensions to camouflage your natural lashes while keeping them protected? 
Here's a concept: If you're applying a super light foundation to mimic her ghostly skin, try a lighter lash color in a short or extra short length, like Ash Gossamers from our Prismatics collection. Or, since Ellie spends much of the film with bloodshot eyes and red eyelids, you can try to cover your natural lashes completely with Red Prismatics. 
Scream VI Cast
Finally, every female character in Scream VI. Talk about an easy Halloween costume you probably already have in your closet! Conveniently, they all have extremely similar lash styles that work on every eye shape. 
It's a super basic look you might already be wearing every day. All you need are Gossamers about 2 mm longer than your natural lashes across the lash line and following the natural lash pattern. Curl and Bold Gossamers are both great choices to achieve the Scream VI cast's look. 
Lashes for Barbie
Yes, Barbie is getting her own category. 
Let's be real. You're about to see an army of women ages 16 to 55 dressed as a variation of Barbie strolling around your neighborhood this October. Odds are good you'll even want to be one of them! 
And honestly? We're here for it. The Barbie movie truly was the movie of the year. So, how can you have the best Barbie look of all the Barbies on the block? Lashes, of course! 
This Barbie Knows Her Eye Shape
Pick the best lashes for you. Barbie would want you to be true to yourself, and we know that Barbie can be anyone and anything. So, choose the lashes that will be most flattering to your eyes and face shapes. Lashify has several tools to help you assess your eye shape and choose the best lash looks for you. 
A Doll Eye is the obvious answer when considering a lash map, but a Squirrel Eye may be more universally flattering if a Doll Eye feels extreme for you. Maybe add a little extra volume with Bold Gossamers or a few Pink Prismatics! 
Lashes for the Cosplayers
Not everyone needs the excuse of Halloween to get dressed up in costume; some people make a creative hobby out of creating and wearing rad costumes modeled on books, video games, movies, and TV shows. Particularly, standard cosplay fare includes anime, manga, and niche media properties.
Conveniently, the Anime Lash look is uber popular in street fashion this year thanks to the TikTok trend, which revived the fashion statement from early 2000s Harajuku, Japan. Also known as the Manga Lash look, the anime lash look is perfect to elevate your cosplay of any anime or manga character, from Fruits Basket to My Hero Academia, from anything Studio Ghibli to the new One Piece movie, the same principles apply. 
Because of their distinct lash spikes, some of the best Gossamers to get the Anime lash look are the Extreme Ice and Tulip Gossamers. 
Sources: 
55 Best Halloween Costumes for Teens That Are Cool and Unique 2023 | Teen Vogue
The best TV shows of 2023 (so far) you need to stream | TimeOut
The 20 Most Popular Female Anime Characters, Ranked | whatNerd