Anime-Inspired Glam: Unleash Your Creativity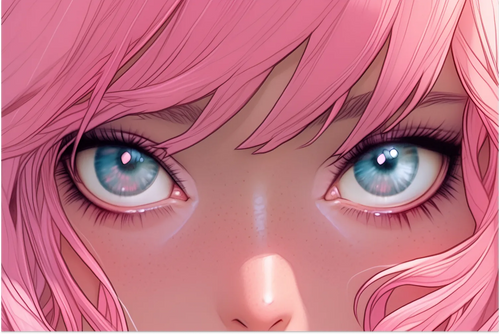 Whether you're getting all dolled up to cosplay Sailor Moon at a convention or just doing a little lowkey anime-inspired glam, we've got the best tips to boost your creativity and master bold colors, ultra-sweet looks, and, of course, lashes that look luxe and long. 
Hit pause on your Crunchyroll app; we're about to get creative. 
Key Features of Anime Characters
Besides the fact that anime characters never have wrinkles, acne, or a single bad hair day, they usually have heavily exaggerated features. Take anime eyes, for example. They are typically very large, shaped like upside-down U's, and look sparkly or watering.
Anime character profiles also tend to downplay noses, which can be problematic since humans have noses. Highlighting the cheeks and using contouring can help create a more anime-look. 
The perfect anime pout is usually red or pink, extremely glossy or villainous black or purple. You can easily create the illusion of fuller lips with a few hacks, which we will cover in a moment. 
Lastly, anime lashes are outrageous. There's no end to their length and no way of measuring their abundant volume. Of course, you know that with Lashify®, any lashes are possible. 
We'll give you everything you need to know to perfect your look and slay your cosplay costume.
Getting Anime-Perfect Skin
Let's face it, anime characters have it made. Have you ever seen Nezuko Kamado with a pimple? In the real world, our skin has real issues. That's why creating an anime look will start with better skin care. Healthy skin is skin that is easier to work with. 
Avoiding harsh products is key. Lashify's Pre-Cleanse Japanese Cleansing Water is designed to remove oil and dirt from the surface of your skin without drying it or stripping it of its natural moisture. 
Foundations and Concealers
For most anime-inspired looks, you'll want to choose a matte foundation. These offer the most coverage and make it easier for you to build an even palette for the rest of your anime makeup. Look for full-coverage options and apply them over your entire face, blending well around the hairline and jawline. 
You'll look a little washed out, and that's kind of the point. You'll add pops of anime-inspired color in the following steps. 
Color Your World
There are plenty of makeup brands that offer anime-inspired makeup. These brands usually have vivid colors or even entire shade palettes created to help you achieve particular looks. 
Most of the popular anime characters don't have visible eye makeup, or if they do, it is minimal. What they do have are bright, pink cheeks. To get this look, you'll want to use a blush that has a rose or pink undertone. You might find that liquid blush cheek stains work best. 
When applying, apply the blush to the apples of your cheeks only. This will create the youthful, pink-cheeked glow that anime characters are famous for. You can also add a small dab to the tip of your nose, giving you an even younger look or a slightly sun-kissed look. 
Ignore the Nose
If you want to look like an anime star, you'll have to learn how to contour your nose. Plenty of online tutorials, like this one, can give you step-by-step instructions to do it perfectly. 
You'll need a concealer one shade darker than your skin tone (or darker than your costume foundation) and a contour brush. Once you've contoured your nose, a pro tip is not to touch it. If you smudge your makeup, you could ruin the look and draw more attention to your nose, which is a "no-no" in anime makeup. 
Perfect the Pout
The anime-inspired pout ranges in color from nude (like Uraraka Ochaco) to juicy and pink like Miwako Sakura's. To get it right and ensure it stays put through your entire event, coat your lips with foundation (the same one you used for your face is perfect). 
If your character has nude or non-visible lips, you can simply blend the foundation over them and add a little gloss to keep them from feeling uncomfortable. If your character has a full, colorful pout, choose the lip color that matches and start by applying a liner just outside your natural lip line. Fill in with your lip color, and add gloss to give it the ultimate anime shine. 
Lash Out
There's zero chance of you nailing an anime-inspired look if your lashes aren't equally as outlandish as your character's anime series. Thankfully, you've got Lashify. Our Gossamer® lashes can easily take you from your cool and casual 9-5 to an over-the-top anime event in about five minutes flat. 
The Lashify Difference
At Lashify, we don't create products that don't inspire beauty. Our Bonds® don't contain harmful ingredients like cyanoacrylates (super glue) and formaldehyde, so they'll never damage your natural lashes and leave you looking like a mole rat (or a queerrat, if you're deep into the anime world). 
Instead, we formulate our Bonds with biotin and Lavandula, two ingredients that support the health and wellness of your natural lashes. 
You'll also find it easy to go from one Lashify look to the next. Once you've mastered a few basic application techniques, you can change your Gossamer lashes quickly and easily. We have tons of tutorials which you can find here.
Anime Lashes
For truly anime-inspired lashes, we've got the perfect Gossamers to get you started. 
The Volume Collection. Inspired by Russian Doll lash extensions but made easy to use by Lashify lash pros, the volume collection is where you'll find full, fluffy Gossamer lashes that give you both volume and length. Wear them alone or pair them with Classic Gossamers for a hybrid look.
The Prismatics Collection. Want violet lashes to match your violet contact lenses? You've got it. Need fiery red lashes to match your Ezra Scarlet hair? We have those too. The Prismatics Collection is where you'll find unexpected colors that help boost your look and add to your character. 
Getting started with Lashify is easy. Even if you've never worn DIY Lash Extensions™ before, you can master the Lashify technique and capture the essence of your favorite anime characters. 
Get Control
The Lashify system begins with the Lashify Control Kit™. This kit contains everything you need to apply your lashes like a professional in no time at all. With this kit and the above tips, you can Be Your Own Lash Tech™ and create inspiring looks.
Each Control Kit comes with:
Two sets of Gossamer lashes. Want to switch from one character to the next or simply between your day job and your night look? You can do that. Pick the two styles you like best, based on your own needs and goals. 
Fuse Control® Wand. Our ergonomically amazing tool helps you apply your Gossamer lashes quickly and easily. If you have smaller eyes, try using the Petit Fuse Wand, which is designed to work better for smaller faces.
Whisper Light Bond™. Our most popular bond, this dual-sided adhesive never fully cures, which allows your Gossamer lashes to bend and flex with your natural lashes to prevent breakage. Whisper Light doesn't leave residue or clumps and helps your Gossamer lashes adhere perfectly. 
Glass Finishing Coat. You don't have to seal your Gossamer lashes, but if you're going to be at a convention all day, it might be a good idea. Glass helps keep your lash fuses tight and secure and ensures your lashes feel comfortably in place all day and all night. 
One pair of Wandom® Wand Covers. Protect your Wand! Because our Bonds don't fully cure, they can sometimes stick to your Wand during application. Wandoms cover the tips of your wands to prevent a sticky situation. 
Samples. In each Control Kit, you'll get a sample of Pre Cleanse and Melt Away. Pre Cleanse is great for prepping your lashes before application and keeping your skin clean. Melt Away helps you transition from one pair of Gossamer lashes to another super fast and stress-free. 
It all comes wrapped up in a hard case to protect your Gossamer lashes and a magnifying mirror to help with the application. 
Anime the Lashify Way
You love the anime look. It's over the top and always heavy on the eyes. You can get the great anime looks you love by following the above makeup tips and trying out Lashify's collection of voluminous, colorful lashes. 
Go ahead, and get your favorite character look with Lashify.
Sources:
The 20 Most Popular Female Anime Characters, Ranked | whatNerd
5 TikTok nose contour hacks that will blow your mind | Her World Singapore
Is Eyelash Glue Toxic? | Poison Control