Wispy Lash Mapping Styles – Everything You Need To Know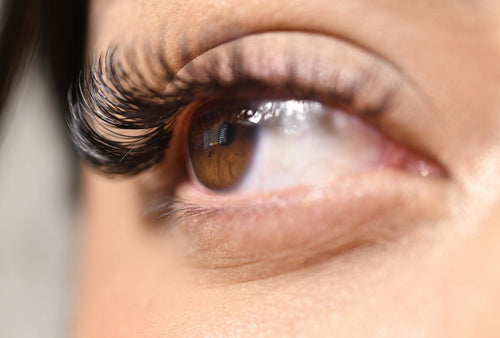 You've tried lash-lengthening mascara and boosting formulas, and may have even spent your bonus on pricey salon lash extensions. Now, you're ready for an easier solution that works for every day. 
At-home lash extensions are effective and natural and won't have you dipping into your vacation fund every few weeks for a fill. Welcome to Lashify®, the DIY Lash Extension™ system that helps you get salon-grade lashes right in the comfort of your own home in just minutes a day.
If you're new, we've got you covered. Anyone can learn to use our Gossamer® lashes to create gorgeous styles with just a few tips and tricks. 
One of the easiest ways to learn how to use at-home extensions is to use a lash map. We'll explain what a lash map is, how to use it, and what you need to have in hand before you get started. 
What Is a Lash Map
Think of a lash map as your instructions to get different lash looks. We promise they're easier to follow than building an Ikea coffee table. Lash maps give you the shortcut to creating lash looks for daily wear or special occasions. 
A lash map will include a few key pieces of information. 
Pictures. All Lashify lash maps include a pictorial version of the instructions. This will show a close-up of the eye and includes a graph to show where your Gossamers should be placed. 
Zones. Lashify lash maps are broken down into zones to show you which Gossamers should be placed in which zones.
Product info. In each zone, we provide information about the specific type of Gossamers used in the lash map. Lashify lash maps include the product abbreviation (like "B" for Bold® Gossamers) and the product length. Bold Gossamers, for instance, come in six different lengths ranging from 8 mm to 18 mm. So a lash map that uses Bold Gossamers might include instructions that look like this:
"B 12, B 14, B12"
Each lash map usually has a title, depending on the style you want or the type of Gossamer you might be using.
How Do I Use Lash Maps?
You can use lash maps to create different lash looks. For instance, if you have a big event, you can use a lash map to create a dramatic lash look that's more intense than your day-to-day looks. 
What To Know Before You Use a Lash Map
The first step in using a lash map is determining which map you want to use. Once you've found the map you love, the next step is to assemble your tools, including the Gossamers you need to create the lash look. 
If you've got a lash map requiring several types of Gossamers, check out Lashify bundles. Bundles were created to give you easy access to different styles of Gossamers so you can easily plug them into lash maps and create new looks. 
The Control Kit
Before you even think about using a lash map, you've got to get the Lashify Control Kit®. The Control Kit includes everything you need to prep, apply, and remove your Gossamers, and also includes two sets of Gossamers, which you can pick depending on your own personal style. 
Inside the Control Kit, you'll get:
The Lashify wand. Ergonomically created to fit your hand and lid to help you get your Gossamers applied quickly and easily. 
Gossamers. You'll get two full sets of Gossamers in each Control Kit, so you can easily change your look daily or every 10 to 14 days. 
Whisper Light® Dual-Sided Bond. A lightweight, flexible bond that doesn't fully cure, so your Gossamers can easily bend and move with your natural lashes. 
Glass Finishing Coat. A toxin-free sealant that helps give your Gossamers a boost of extra endurance.
Wandoms®. An essential tool, these little covers slip over your wand to help you avoid sticky situations when applying your Gossamers. 
You'll also get a sample of Melt Away Remover and our Pre-Cleanse, so you can prep your lashes and remove your Gossamers without damaging them or your natural lashes.
How Do I Use Wispy Lash Mapping Styles?
Once you're in the lash map know, you'll probably want to start searching for some of the most popular, trendiest lash styles available, and there's no denying wispy lashes are definitely on-trend. 
What Are Wispy Lashes?
Think Kim K., the Oscars, and any other person or event that practically screams for over-the-top lashes, and you'll be locked in on wispy lash style. Wispy lashes are known for being dramatic yet natural looking. 
Wispy lashes give you the look you probably hoped for with lengthening mascara but probably could never achieve. Wispy lashes come in different lengths, and it probably goes without saying you'll get more drama with additional length. 
In addition, wispy lashes are thicker than normal lashes, giving a plush, slightly fluffy look. 
Varied Lengths
One of the features that make wispy lashes so desirable is the fact that they look realistic, due in large part to the varying lengths of the lashes. One of the best (and only) ways to achieve a wispy, varied-length look is to use a lash map.
By using a lash map, you'll be able to incorporate different lash lengths and widths to create a wispy fringe that is both natural looking and dramatic at the same time. 
Favorite Wispy Lash Map Styles
Most wispy lash maps will incorporate the use of two different styles of lashes. 
Volume lashes. These lashes are created to build volume along your lash line, giving you the appearance of thicker, fuller lashes.
Classic lashes. Classic lashes extend the length of your lashes but aren't as voluminous as volume lashes. You might wear classic lashes every day for lashes that look more amplified without being as dramatic as volume lashes. 
Hybrid lashes combine both volume and classic lashes. They may make it easier for beginners to achieve a wispy lash look because you won't need to combine different styles of lashes or follow a lash map guide. 
However, you'll get a more dramatic and wispier look using different lash styles and adding a lash map. 
What Gossamers Should I Use?
You can use a number of different Gossamers to create a wispy lash look, but we love Amplify Gossamer lashes. Amplify Gossamers give you length and volume and are available in varying lengths to help you achieve that desirable wispy look. 
Lash Maps To Try
We've got a lot of lash maps, and it can be confusing to determine which one is the best for the look you want. 
Here, we'll give you our top three favorites to achieve a wispy lash look, whether you're brand new to using Gossamers are a lash styling pro. 
1. For Beginners
We know it can be intimidating to start using at-home lashes, and styling your lashes with a lash map can seem like a serious challenge. That's why we recommend The Control Kit Amplify Gossamer Lash Map.
This kit will give you all the information you need to style Amplify Gossamers (the same ones that you might have received in your control kit). This is a simple, easy-to-follow map that will give you basic, wispy lashes quickly and easily. 
2. For Experienced Users
After a few tries, you'll be experienced enough to try a leveled-up style of wispy lashes and create even more drama. The Amplify Gossamer Lash Map Stacked is the perfect way to elevate your lash game and get even wispier, lengthier lashes. 
The stacking process involves using several different lengths of Amplify Gossamers and stacking them with one another to create both volume and varying length: the perfect recipe for wispy lashes that look red carpet ready. 
3. For the Ultimate Wispy Lash Look
A big event or just a big mood can be a reason to create serious celebrity-style looks with your lashes. You'll want a lash map that delivers all the drama for the absolute fluffiest, wispiest lashes possible. 
We love the Amplify and Plushy Gossamer® Lash Map for big events, serious style, and the fluffiest fringe available. You'll combine two styles of Gossamer lashes to create one of our most dramatic looks. Even if you're a beginner, you can absolutely harness this look with a little practice. 
Get Fringey
The secret to gorgeous, wispy lashes without breaking your bank account or spending your life in a salon? Lashify. We make it possible for you to get the dramatic looks you love without the drama that comes with salon lashes. 
Once you start using lash maps, you'll probably be hooked. Come back and check for updated lash maps often. Our lash experts are always busy creating new looks you'll want to try. 
Sources:
Eyelash Extension Health Risks - Consumer Reports
Your Eyelashes Should Be This Long, Science Says - Scientific American
Eyelash Extensions 101: Everything You Need to Know Before Your Appointment|Cosmopolitan.com