Short & Chic: Enhance Your Beauty With Short Lash Extensions!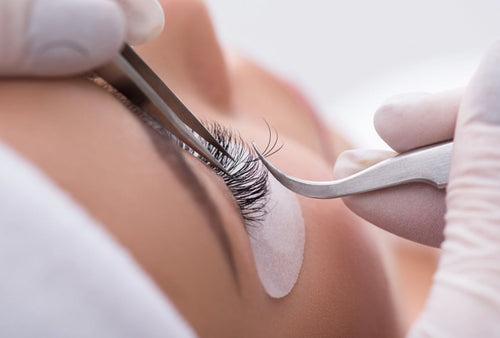 Your natural lashes? They could use some enhancement. The problem is, you may not want enhancement that looks completely unnatural. There's a time and place for everything, but Russian-Doll-style lashes may just not be the look you love. 
If you've considered lash extensions off the table because they're too extreme, you haven't considered having shorter extensions. Extensions are available in numerous lengths and styles, so you can get lashes that are fluffy, thick, and dramatic or lashes that look so natural, no one will know you're wearing falsies but you. 
Come along as we explain the short styles available, what you can expect, and how you can even do them yourself, right in the comfort and privacy of your own home. 
Short Lash Extensions: What Are the Options?
Just because you want lash extensions doesn't mean you want an unnecessary level of drama. If you want a completely natural look (think: your lashes but slightly longer and thicker) you can get lash extensions that fit the bill.
Length
Lash extensions are measured in millimeters. Most salons or at-home kits will offer extensions that range between 7-15mm, although it's possible to find extensions as short as 5 mm and as long as 30 mm. 
Shorter-length lash extensions are usually applied at the inner corners of your eyes, where your natural lashes are shorter. The longer the extension, the closer to the outer edge of your eye it is usually applied. 
For short lashes, you'll probably want to stay in the 8-12mm range, using only 10-12 mm length extensions on the extreme outer corners of your eyes. 
Curl
The curl of your lash extension can also affect whether or not the extensions look natural or not. For example, a popular curl called the J curl has a subtle arch that mimics natural lashes, while the D curl lash has a dramatic curl that resembles the letter "c." 
If you want lashes that naturally look more like your real lashes, you'll want to go for a gentle curl that is less dramatic. 
Style
There are essentially three different styles of lash extensions available. 
Classic. Classic extensions are thick and are applied at a ratio of 1:1. That means for every one of your natural lashes, a salon tech will apply an individual false eyelash fiber. This style gives you added length but not volume. 
Volume. Volume lash extensions are applied at a ratio of several to one. Each lash extension has over two artificial lash fibers attached to one base, and that base is attached to one of your eyelashes. Volume lashes are thinner than classic, mainly to help distribute the weight of multiple lash fibers applied to one real eyelash. 
Hybrid. Hybrid lashes are applied at varying ratios. This means you can combine the classic and volume styles into one application. This style gives you length and volume and looks more realistic. 
It's possible to get short lashes in any of these three styles, but hybrids and classics will give you the most realistic looks. 
Color
It probably goes without saying, but you'll get a more natural look with natural eyelash-colored fibers. At Lashify®, we even offer lighter colors for people with different shades of lashes, like blonde, red, and ash. 
Can You Get Short Lash Extensions With Lashify?
Absolutely. In fact, you can get salon-quality lashes in any length and style like you'd be able to get if you went to your lash tech. Our Gossamer® lashes are made from Korean silk, which is cruelty-free and ultra-lightweight. 
Our application method doesn't place the weight of lash extensions on a single lash. Our Gossamer lashes are attached to a weightless Spine™ Base that adheres to a few of your natural lashes with our ultra-safe Bonds. Gossamer lashes are applied using Underside Technology™, keeping your lashes looking natural and making them more wearable than other styles. 
Short Lash Looks You'll Love
When you want to build a short lash look with your Gossamer® lashes, you've got several options. We use lash maps to help build custom lash looks. You can create your own or check out premade lash maps that make it easy for you to get tried and true lash looks.
Here are some of our favorite short lash extension maps.
The Perfect & Petit Gossamer Set
This look is natural, lowkey, and features Gossamers in lengths from 8mm-12mm. You'll get both the Bold and Drama Gossamer sets in varying lengths and a map to apply them so they look natural and create an open eye look. 
The Perfect & Petit Gossamer Set is great for beginners and for people with smaller eyes. 
Curl Gossamer Natural Lash Map
If you crave a little curl but still want shorter-length lashes that look natural, the Curl Gossamer Lash Map Natural is right for you. This lash map features Curl Gossamer lashes in lengths ranging from 8mm to 14mm. 
If the 14mm length is too long for your taste, you can easily swap those out for C10 or C12 Curl Gossamers. This look is easy to achieve, doesn't involve any stacking, and gives you a completely natural look. 
Fluffy Lashes 
Who doesn't love the look of plush, fluffy lashes? If only you could make them look slightly more realistic. Now, you can with the Truffle Fluffy Lash Map. 
Using Truffle Fluffy Gossamer lashes in 10mm and 12 mm lengths, we've built an easy-to-use lash map that gives you lowkey, fluffy lashes that everyone will think are truly your natural lashes. 
It Starts With Control
There are limitless ways of creating short lash extension looks with the Lashify system. To get started, you just need to grab a Control Kit™. 
Each Control Kit sets you up with everything you need.
Gossamer Lashes
You get to pick two sets of Gossamer lashes from our collections. Ready to build that first short and chic lash look? Choose from any two pairs of Gossamer lashes in any two lengths you'd like. Consider it the first step in building your lash wardrobe. 
Application Tool
We developed the Fuse Control™ Wand to make the Gossamer lash application incredibly easy and comfortable. It's ergonomically designed to feel easy to use and to mold to the curvature of your eyelid. 
The Petit Curve wand is a good option if you have smaller eyes.
Sealant
Using a sealant on Gossamer lashes is optional, but if you'd like to wear them for multiple days, you'll want to seal them with Glass Finishing Coat, which helps protect them from external stressors and keeps the Fuse sealed tight. 
Bond
Unlike traditional lash glues that contain harsh chemicals like cyanoacrylates and formaldehyde, ours are completely free of these ingredients and non-toxic. Instead, we include ingredients like biotin and Lavandula to help support your natural lash growth. The Control Kit includes a full-sized Whisper Light™ Bond.
After using our Bonds, you might notice your natural lashes looking and feeling healthier.
Wandom® Pair
Nothing is more frustrating than trying to apply your lash extensions and having them get stuck to your application tool. That's why we invented Wandoms, little covers for the tips of your Fuse Control Wand that protect them from sticking to your Gossamer lashes and protect you from losing your patience.
Samples (Yay!)
You can use any oil-free cleanser to prep your lashes and skin before you apply your Gossamer lashes. We love Pre-Cleanse, which is effective and gentle and can even double as a face wash. 
To remove your Gossamer lashes, you can use a dual-phase, oil-based makeup remover or Melt Away, our fast-acting remover that helps your Gossamer lashes gently slide off your natural lashes easily. 
We package everything in an easy-to-carry hard case that helps protect your Gossamer lashes and keeps all your application tools in one convenient location. It's the easiest and safest way to care for your lash supplies so they never go missing when you need them most. 
The Long and Short of It
Short eyelash extensions are a great way to enhance your natural lashes and still retain a really natural look. You can create these shorter-length versions of salon lash extensions in the comfort and privacy of your own home with the Lashify system. 
Lashify makes it super easy and convenient to get amazing lashes without spending a ton of time and money on salon lashes that lock you into one style for longer than you might want to wear them. Gossamer lashes can last up to ten days, but you can change them anytime you want to get a different look. 
Give yourself options with Lashify. 
Sources:
Length of Lashes Keeps Eyes From Drying, Study Finds - The New York Times
Is Eyelash Glue Toxic? | Poison Control
Biotin - Health Professional Fact Sheet|NIH.gov