How To Get Professional Lash Extensions at Home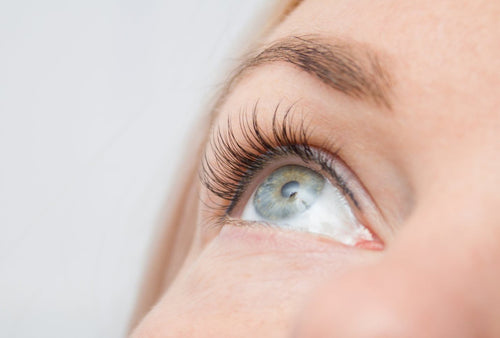 Lashes are important! You want to make sure your lashes look their best when you face the world, every day or just now and then. While professional eyelash extensions can be great, they can also be expensive and inconvenient. 
Sure, if you had an esthetician that lived in your guest room, it would be much easier to get professional lash extensions at home, but there's a much easier (and more realistic) way. 
Enter: Lashify DIY Eyelash Extensions. 
Take Control With the Control Kit 
The Control Kit is our DIY lash extension starter kit. It contains all the basic lash extension supplies you'll need to get started: three lash sets of Gossamers, a Fuse Control Wand, Whisper Light bond, Glass Finishing Coat, samples of Pre-Cleanse Cleanser and Melt Away Remover, a pair of Wandoms, and a storage box for all your new goodies. 
The Control Kit is actually super cost-effective; when you purchase all this as a set, you save over $75! It's also super customizable. 
You can choose from two colors of Fuze Control Wand and any of the Core Collection of Gossamers: Amplify, Bold, or Curl. If you're after volume lash extensions, don't worry; you can always get specific full Gossamer sets from the Volume Collection. Most of the volume lashes pair perfectly with the Curl Gossamers, making these classic lashes the perfect base to build many lash looks.
You won't have to choose which kind of Whisper Light you want since you'll get a dual-sided tube containing clear formula on one side and black formula on the other. The black formula is awesome for giving you an eyeliner-like effect, but the clear formula is most recommended for beginner Lashifiers. 
Babe, It's the Bond! 
Speaking of Whisper Light, we can not emphasize enough how much Whisper Light is different from any other lash adhesive you may have used before. You may have seen or used traditional lash glue to stick on strip lashes or even DIY individual lashes. 
So many traditional lash glues on the market contain harmful ingredients like cyanoacrylate and formaldehyde, and we simply said NO to that. With proper aftercare, Whisper Light is strong enough to hold your lashes in place for up to 10 days straight. 
Yet, it's so lightweight to wear that we named it accordingly, like a whisper! Its strength comes from its softness. Whisper Light never fully cures (hardens), which means it's flexible enough to let your natural lashes breathe and cushion them from breakage. Not only does Whisper Light do-no-harm, but it also works to do some good for your lashes. 
Whisper Light is formulated with biotin. You've probably heard about biotin in your hair care and skin care products, but what is it, and what can it do for your lashes?
Biotin in the Bond
Biotin is also known as vitamin B7. You get practically all the vitamin B7 in your body from the foods you eat, like avocados, nuts, sweet potatoes, mushrooms, legumes, and eggs. Increasing your consumption of biotin-rich foods may support the strength of your hair, nails, and natural lashes. 
When your body experiences a vitamin B7 deficiency, you may notice symptoms like thinning hair or hair loss. The biotin in Whisper Light helps to give your lashes strength. The readily accessible biotin in the formula helps to support your individual lash fibers and naturally combat breakage. 
There's a common misconception that eyelash extensions inherently cause your natural eyelashes to break. While this may be the case for some brands, Whisper Light was formulated specifically to prevent breakage without compromising strength while you rock your Gossamers. 
Check the Technique 
To get professional-looking extensions, you don't need to start your professional lash career tomorrow; you just need a little practice. Before you get started, you'll want to go in with a plan. Ensure you've thoroughly read through application instructions, read up on tips and tricks (like looking down into a mirror), and mapped out your lash map. 
Locate the Fuse Control Wand in your Control Kit: it looks like the lash tweezers of the future. It has a curve to mimic the natural curve of your eye. Use your fingers to remove a lash cluster from the Gossamer set. 
Then, hold it in the Fuse Control Wand as you would a hair in tweezers. Apply a little Whisper Light to the spine of the Gossamer and allow it to get tacky. Then, hold it on your lash line until it sticks. 
Then, do a quick reverse fuse with your wand. Repeat until all the Gossamers are in place on the eye, and give the whole eye a fuse. Ta-da! Repeat on the other eye, and you just nailed your first application! Way to go! 
More of a visual learner? You can follow along with a video tutorial of one of our professional lash artists. 
We can help you learn to style natural-looking classic lash styles, glam volume lashes, and even eye-catching mega volume lashes. Whether you want wispy or bold, there's a Gossamer lash map for you. With a little practice, you'll be a pro lash applier just like that! 
Signed, Sealed, Delivered
Salon quality should last, so we suggest utilizing a sealer to lock in perfection. Our sealers are designed to help keep your Gossamers safe and flawless during wear by deflecting debris and keeping the Gossamers and your natural lashes hydrated during wear. 
Our OG sealer is Glass Finishing Coat. Glass makes your lashes basically waterproof. You should still wait 24 hours before getting them wet so Whisper Light has time to set. 
Glass is a glossy, clear top coat to give your lashes a lustrous shine — like the top coat of your nail polish. You can apply Glass Finishing Coat along the lashes and along the lash line to cover any residual stickiness from the Whisper Light. Glass has a vegan formula that is safe for sensitive eyes and sensitive skin.
Night Bond is our black sealer, so it's like mascara but way better. Remember, no mascara on your Gossamers. Besides, with Gossamers, you won't need mascara anyway. 
Night Bond provides all the same benefits as Glass, with a few bonuses. Night Bond gets its color from carbon black, which can support the health of your lashes. You can apply Night Bond along the lashes and lash line, providing an eyeliner-like effect while reducing any stickiness left behind from the bond. 
The best part of Night Bond? It even hydrates as it protects. Night Bond's formula contains a form of Castor Oil. Sound familiar? That might be thanks to the hundreds of years that humans have been using Castor oil as a remedy for hair loss. 
It doesn't make your lashes grow or regrow, but it is an amazing moisturizer! Hydrated lashes and healthy lashes, and health lashes will be able to grow stronger than dry, brittle lashes. Night Bond will keep your Gossamers looking fresh and sexy and keep your natural lashes hydrated all along!
Our final sealer is one of our lesser-known products, the Control Wax. But we just can't keep this to ourselves; we must let the public know. Control Wax is so ready to be your next makeup bag multi-tasker. 
She's good for lash and brow taming, and she uses good-for-the-planet natural wax sources like Beeswax, Rice Bran wax, and Carnauba wax. Control Wax can be used to shape and define brows, but it can also be used to turn your Fuse Control Wand into a non-stick surface with just a couple of swipes! 
It functions as a perfect primer for your bottom lashes: you can use it instead of mascara to define your lower lashes and prevent any bond from sticking to your lower lash line — mess-free, just like that!
Be Your Own Lash Tech
With the right tools and a little practice, anyone can be their one lash tech and achieve gorgeous, professional-looking lash extensions at home. Shop now to check out our best sellers, from Gossamers to Sealers to accessories, we have all the tools you need to get the best lashes at home.
Need more Control Kit options? We have you covered. Check out the LED Control Kit or the Glutton. The LED Control kit, a relatively new product, will get you all the goodies from the OG control kit as listed above. Plus, you can choose from nine colors of Fuse Control Wand, and you get one extra set of Gossamers for a total of four. 
The Glutton is like a Gossamer lash sampler platter since you get nine (yes, nine!) whole sets of Gossamers plus a storage box to put them all in. In addition to all those Gossamers, you get the acclaimed dual-sided Whisper Light and two Lashify sealers (Glass, Night Bond, or Control Wax) of your choice. It makes getting started so exciting! 
Sources:
I Tried Lashify's Control Kit and Now I'll Never Get Lash Extensions Again | Byrdie
I Tried DIY Eyelash Extensions and Saved So Much Money | Byrdie
The Top 10 Biotin-Rich Foods | Healthline
Castor Oil for Eyelash Growth: How to Use it and Benefits in 2023 | Cosmopolitan