Flattering Makeup Looks for Hooded Eyes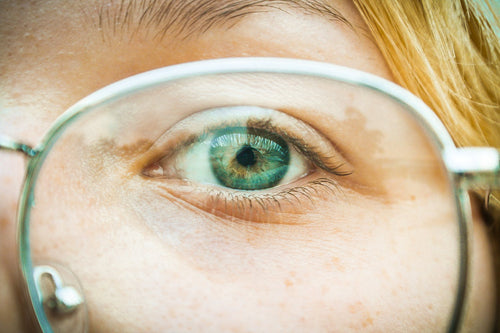 For people who have hooded eyes, it can be hard to find flattering eye makeup styles. When it comes to eye makeup styling, hooded eyes come with their own unique challenges.
But we've got you covered with unique tips and tricks you need to flatter the very best features of your hooded eyes. (There's a reason hooded eyes are also nicknamed bedroom eyes.) Below, we'll detail the most flattering makeup styles and lash extension pairings for hooded eyes as well as the most helpful general makeup tips for hooded eyes.
Not sure if you have hooded eyes? We got you: we can help you assess your eye shape with the magic of our Lashify AI, which can tell you both your eye shape and your face shape. Or, we can help you find your eye shape the old-fashioned way with one of our handy eye shape guides.
What Are Makeup Styles for Hooded Eyes?
Tight Lining 
Tight lining is a method of applying eyeliner so it won't smudge or overwhelm the eye. Once a trend for all kinds of eye shapes, tight lining is the perfect eyeliner look for hooded-eye girlies. Not only does it prevent smudging while it giving you all the great effects of eyeliner but it also works to open the eye and create the illusion of a wider eye.
To get started with tight lining, grab a soft eye pencil or soft kohl. Apply it gently to the water line underneath your lashes instead of applying across the lash line — effectively keeping your eyeliner out of the smudge zone.
To make this application easier, look up by tilting your chin up and opening your eyes wide. You can wing your eyeliner off the waterline as usual if you desire. 
Tiny Wings 
A tiny, short eyeliner wing is best for hooded eyes because it still gets you the effect of an elongated eye without overwhelming the eye or increasing your odds of accidental smudging. Long eyeliner wings can be overwhelming, and broad wings (like dramatic cat eyes) typically end up smudged. A short wing is just right. 
You can apply this advice to tightlined eyeliner, or even if you're not wearing any other eyeliner. Add tiny wings to the outer corner only. Keep your eyes open and relaxed while you apply. 
Eyeshadow as Eyeliner
Liquid liner, and to a lesser extent pencil eyeliner, is often a smudge hazard for those with hooded eyes. Add some trouble with shaping the perfect wing every time, and you have a perfect storm of messy wings. If only there were a way to map out the wing ahead of time, or use a different product to get the same effect — oh wait! There is! 
Try this hack: Grab a thin, precise brush and a light, neutral eyeshadow. With your eyes open, draw your brush from the outer corner of your eye to your temple to create a long line. From the temple end of this line, draw another line straight across to the starting point of your natural eyelid crease. Close one eye.
Ta-da! Those lines just created the perfect map for you to draw your wings within, and you can even customize the size of the wing. You can come back along that first line with a soft eye pencil or a dark eyeshadow on the precision brush. 
Modified Smokey Eye
As a person with hooded eyes, you might feel like every eye makeup look ends up as a smokey eye because of smudging. However, there's a trick to nailing the perfect smokey eye for your eye shape. 
Here's how to pull it off: Grab your favorite dark shadows, one matte and one shimmery. Look yourself in the eye in a mirror, and tilt your head back without breaking eye contact. This little pose trick helps you see the actual lid space you want to cover.
Brush the matte shadow on first, followed by the shimmer. Start in the center of the crease and brush up and out, all the way to the brow bone and just a little past. It may feel like you're brushing the shadow too high on the lid or too much on the brow bone, but we promise it feels stranger than it looks. On your eye shape, it just helps to balance the eye. 
Next, apply just a bit of the same shadow to the lower lid along the lash line with a precision brush. Lower lid shadow is a game-changer for those with hooded eyes because it helps balance and open the eye. 
Reverse Eyeliner
Reverse eyeliner is one of those things that has people with hooded eyes saying, "Now why didn't I think of that!?" every day. It's so simple and so effective and completely helps you dodge unwanted eyeliner smudging. 
Here it is: Just apply your eyeliner to your lower lash line instead of your top lashes. That's all! You can still do a wing off the lower lash line. This crazy easy technique opens the eye, keeps the eyeliner away from the hooding, and adds definition to your eyes. You can even personalize this technique with a unique touch like brightly colored eyeliner.
Shimmery Shadow
The metallic shadow trend is really withstanding the test of time. The intense color and sparkle might be intimidating at first for someone who has to be very economical and strategic about their lid space, but there's a way to really maximize the sparkle to accentuate your eye shape. 
The reflectiveness of shimmery eyeshadow makes your eyes appear instantly bigger, especially when applied at the inner corner, just above the lash line, and along the brow bone. After you've applied your primer, brush on a layer of light neutral shadow. 
Grab your favorite glittery, metallic, or otherwise sparkly eyeshadow. Light brush across the whole lid, for just-barely-there coverage. Next, focus the opaque coverage across the brow bone and blend it down to the natural crease, getting lighter as it goes. This creates the illusion of a bigger eyelid area. 
Bold and Bright Eyeshadow Colors
Color block eyeshadow is on trend and on point for those with hooded eyes. Pick a hue, any hue will do — maybe a blue to compliment your eye color, a pink to complement your skin tone, or neon green to match your outfit of the day. Something bright and colorful: electric purple, cyan, red, bright orange, teal, lemon yellow, etc. 
Post primer, apply the first layer of shadow in a thin, barely-there layer across your entire lid. Take it all the way from the lash line, past the crease and to the brow bone. Next, apply the opaque layer: Above the natural crease, brush a dense layer up and out from the crease to the brow bone. 
5 Pro Tips for Hooded Eyes
1. Primer First
The deep crease of your lid means that your eye makeup is more likely to smudge than on other eye shapes. Primer can help hold your makeup where you want it and reduce creasing and smudging.
Primer also enhances the pigment in your eyeshadow, meaning those bold eyeshadow looks get ever bolder with less effort.
2. Apply a Matte Eyeshadow in the Crease
This is fairly straightforward. After the primer, brush just a little matte eyeshadow directly into the natural crease to add depth.
3. The Un-Natural Crease
It may sound a little silly, but you can create your own crease someplace other than your natural crease. Because the natural crease of hooded eyes is so deep, creating your own crease will add depth to your eyes.
Applying shadow (that you want to see) to your natural crease will make it disappear into your lid when your eyes are open, so by creating a new crease, you ensure the shadow you want to see stays visible. 
The goal is to establish your new crease slightly above your natural crease. With eyes open, mark just above your natural crease and use this line instead of your natural crease when following makeup tutorials. 
4. OREO it: Light on the Inside, Dark on the Outside
Apply a light color in your inner corner to brighten your eyes and make them look immediately wider. White or any pastel will do. This idea works with eyeshadow and light eyeliner applied on the water line. 
Conversely, apply dark colors to the outer corner, fading to dark as you cross the lid of the outer corner. If you were to apply dark colors evenly across the whole lid, it would make your eyes look smaller, which would exaggerate the hooding in an unflattering way. A fade-to-dark at the outer corners will help make sure your eyes stay bright. This rule applies to the lower lashes as well. 
5. Blend Up and Out
Blend your eyeshadow up toward the brow bone and out toward the outer tip of your eyebrow. You want the color to move up toward your brow bone and away from your crease because the color will only be visible if it clears the crease. Blending down will make your eyes look droopy.
What Are the Most Flattering Gossamer Lashes For Hooded Eyes?
Whether you use one or all of these tips, the right lashes will give your makeup looks extra dimension. Our Gossamers can open up hooded eyes and be just the right finishing lift to any look you create.
The key is to find the right density. For fully hooded eyes, focus on soft curls and a longer length. For partially hooded eyes, add longer lashes to the middle of the eye, right above the iris, and shorter lashes in the corners for a widening effect. 
Try these lashes to find the right balance of curl and volume for you:
Sources:
I Have Hooded Eyes, and These Are the Eye Makeup Looks That Work for Me | WhoWhatWear
23 Makeup Tips Every Person With Hooded Eyes Needs To Know | BuzzFeed
5 Essential Makeup Tips For Hooded Eyes From the Experts | Byrdie
4 Easy Makeup Looks For Hooded Eyes, Just In Time For Party Season | Refinery29