Embrace the Beauty of Light Volume Lashes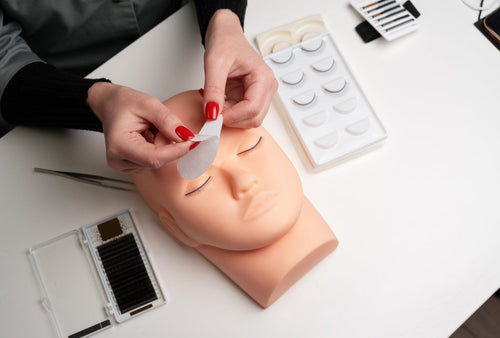 Lash extensions have come a long way from their humble beginnings as peel-and-stick strip lashes. Now, we can create looks that look effortlessly natural or extremely dramatic, all with the ease of applying a little fiber to our natural lashes. 
One of the most popular styles of lash extensions is volume lashes. These lashes give you the look of thicker, fuller lashes, but the downside is that they can often feel heavy on your lash line. Enter light-volume lashes, a new method of applying lash extensions that feels weightless and still gives you ample volume. 
We'll talk about how to achieve the look and what other types of lash styles are available. Then, we'll tell you how to use the Lashify® DIY Lash Extension™ System to create light-volume lashes right in the comfort and convenience of your own home. 
Types of Lash Extensions 
There are three main categories of lash extensions: classic, volume, and hybrid. Their differences lie in the thickness of the individual lash extensions and the ratio of how they are applied to your natural lashes. 
Classic Lash Extensions
Classic lash extensions are made from the thickest fibers. These are applied to your natural lashes at a ratio of 1:1. That means, for every natural eyelash, a single eyelash extension will be applied to it. 
Classic eyelash extensions don't usually provide much volume, so if you have really thin lashes, these won't necessarily make your lash line any fuller. They do, however, make your lashes appear longer and curlier, depending on the curl style you choose. 
Volume
Volume lash extensions are thinner fibers that are grouped together on one base. For instance, one volume lash extension may contain three individual fibers joined together at the base. The base is then attached to your individual eyelash. 
The application ratio can vary with volume lashes. Some volume lashes contain as many as 16 fibers per base, creating an application ratio of 16:1. However, the problem with many volume lash styles is that they become heavy. 
Even though they're lighter than classic lashes, the sheer amount of fibers being adhered to your natural lashes can be uncomfortable. That's why hybrid lashes are often used instead of volume. 
Hybrid Lash Extensions
Hybrid lash extensions are a combination of classic and volume lashes. The ratio of classic lashes to volume lashes is entirely up to you or your lash tech. Hybrid lashes provide a natural look that also feels lighter and still provides plenty of volume. 
However, they aren't volume lashes. If you really want volume but can't stand the heavy weight, light-volume lashes are your solution. 
Light Volume Lashes
Light-volume lashes are made with fibers that are ultra-thin and virtually weightless. They're incredibly fine, so they'll almost always create a wispy-looking lash. 
Light-volume lashes are also attached to their base in a fan-like style, which helps them create the look of higher volume without adding additional fibers. 
These are great options for anyone who hates the weight of heavy-volume lashes or those with extremely short lashes who have trouble getting volume lashes to attach. These help you get an effortless "fluffy" lash look that truly feels lighter than air. 
There are other ways to get the full-volume lashes you love without all the weight. The Lashify System involves an application method that distributes the weight of your extensions more evenly, helping you get more volume without ever feeling it.
How Does Lashify Work?
Lashify DIY Lash Extensions, called Gossamer® lashes, are made from Korean PBT silk which is 100% cruelty-free and uber-lightweight. Our extensions most closely resemble cluster lashes, but with one big difference, they aren't bundled together at the base. Instead, they're attached to an incredibly thin Spine™ base that is applied underneath your natural lashes using Underlash Technology™.
Each Gossamer lash may contain multiple fibers, but they attach to your natural lashes using a super clean Bond that evenly distributes the weight of your Gossamer lashes across several of your natural lashes. The result is incredible volume that you probably won't even be able to feel. 
Lashify Light Volume Options
Because our Gossamer lashes aren't like regular extensions, we don't label them with curl codes. The Gossamer lashes that are the best fit for creating light volume can be found in our Volume Collection.
Here are some of our favorite ways to create full, light-volume lashes. 
Gossamer lashes can be mixed and stacked to create fully customizable lash looks. If you'd rather someone else do the work for you, we've got you covered. 
The High-Class Wing Gossamer Set includes four sets of Gossamers that give you light volume and lift without the weight. This set is stackable, and you might think it would make your lashes heavy, but the combination of our Korean PBT silk and our flexible Bonds keeps your lashes super comfortable. 
Using Bonds
Lashify Bonds aren't like the glue your lash tech uses. Professional glues (and most at-home glues) contain cyanoacrylates (super glue) and formaldehyde (ick). Lashify Bonds never contain any of those ingredients. They're non-toxic and formulated with biotin and Lavandula, two ingredients perfect for supporting the health of your natural lashes. 
Our Bonds are applied to your natural lashes using a Micro Mascara wand that makes it easy for you to slide a small amount of glue through your lashes, distributing it evenly so it's never heavy. Bonds also feature Micro Flex™ technology that helps keep them from fully curing, so they don't break or bend your natural lashes. 
To get started with Lashify, you just need a little control.
The Control Kit™
The Control Kit is your golden ticket to getting started with Lashify. Each Kit contains: 
Gossamer Lashes
Want those light-volume lashes? You've got them. You get access to two sets of Gossamer lashes that you pick. You can fully customize your kit by picking the styles that fit you best. 
Fuse Control™ Wand
The only way to apply your Gossamer lashes. Our Fuse Control Wand and Petit Curve Wands are essential for keeping your lash application stress-free. The Petit Curve wand is best for smaller faces and hands. 
Glass Finishing Coat
You can wear your light-volume Gossamer lashes for up to 10 days with proper care. If you want to wear them for the full 10 days, we suggest boosting their staying power with Glass Finishing Coat to help seal them in and ensure your Fuses are secure. 
Whisper Light™ Bond
The best Bond on the block. Whisper Light is great for beginners and for everyday wear. You can use Whisper Light to create light-volume looks and even use it for touch-ups after you've worn your Gossamer lashes for a few days. 
Remember, Lashify Bonds never fully cure, so your natural lashes and your Gossamer lashes will always feel soft, flexible, and comfortable. 
Wandom® Pair
A condom for your Wand! Our Bonds are made to get a little sticky, so covering the tips of your Fuse Control Wand with these plastic covers helps keep the application smooth and stress-free. 
If you accidentally get a Gossamer stuck to your wand while it's simultaneously attached to your natural lash, gently blink it free. Don't pull or twist or you could damage your Gossamer and your natural lash. 
Samples
Nothing is better than a free sample, and you'll get two in your Control Kit. 
Everything you need comes neatly packaged in a protective case, so you'll always have access to great lashes when you need them.
Light Volume With Lashify 
Voluminous lash extensions help you get lashes that look full and thick, but if the weight bothers you, try light-volume lashes. These are thinner and feel lighter on your lash line. 
For the ultimate in light-volume lashes, try Lashify. Our Gossamer lashes are applied differently and have a different feel. All you'll see is volume with zero weight on your lash line. 




Sources:
Is Eyelash Glue Toxic? | Poison Control
What is ETHYL-2-CYANOACRYLATE - EWG Skin Deep
Formaldehyde And Formaldehyde-Releasing Preservatives - Safe Cosmetics