Can Lash Serums Truly Deliver the Promise of Length?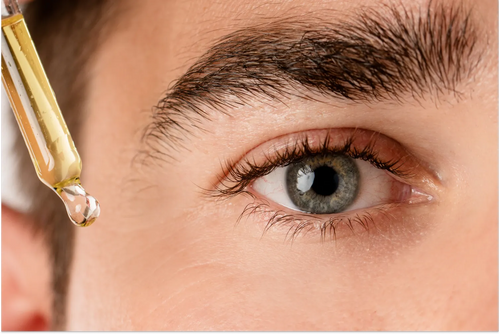 There are so many options for lash-enhancing products and procedures nowadays, so it can be hard to tell which enhancers are worth your time and money. Eyelash growth serums are a popular solution, but are they really able to give you all the sexy benefits they promise? 
Let's break down what goes into a good eyelash serum and what you can realistically expect from even the best eyelash growth serums. 
What Are Lash Serums? 
By definition, a lash serum is an oil-based solution applied directly to the eyelashes and lash line intended to produce longer, fuller, healthier lashes. It's like a vitamin for your eyelashes. 
In practice, lash serums differ greatly from one another. Lash growth serums are not regulated or approved by the FDA, except Latisse, which is regulated and approved as a prescription-strength pharmaceutical. Latisse contains bimatoprost. 
Because there is no oversight regarding what makes up a lash serum's list of ingredients, it's really up to you as a consumer to diligently read the ingredients before buying a serum. Not all brands of lash serum will deliver the results they promise because they all use different ingredients in different proportions. The same is true for brow serums as well, so there is really very little inherent difference in lash serums, brow serums, and lash & brow serums. 
Generally though, lash serums work by targeting two phases of the eyelash growth cycle: the anagen (growth) and catagen (maintenance) phases. Across these two phases, a serum could stimulate and hydrate the lash follicle to assist in growing longer, stronger eyelashes. 
What's in a Good Lash Serum? 
A good lash serum should be clear on its function and offer a list of quality active ingredients that support its goal. Does the serum promise fuller, darker lashes? It should offer ingredients that will effectively hydrate your lashes. Does it promise longer lashes? Check the label for a hair follicle stimulating ingredient. 
Let's break down what's what inside that vial of serum, for better or worse. 
Vitamins
Many lash serums contain vitamins. Vitamin B5 (Panthenol) is an excellent hydrating moisturizer. It's a soothing anti-inflammatory agent. Vitamin B7 (Biotin) is naturally gleaned from the foods you eat. A deficiency of vitamin B7 frequently causes thinning of hair and lashes. Biotin in lash serum helps your individual lash fibers appear thicker and stronger. 
Hyaluronic Acid
Hyaluronic acid is a powerful hydrating agent. It helps your lashes retain moisture and nourishment to combat brittle lashes. 
When your lashes are protected from breakage, it improves the growth of future lashes because it prevents interruption of the lash growth cycle, which means your follicles aren't placed under undue stress. 
Antioxidants
Antioxidants assist your lashes by helping them retain collagen, both the collagen your body produces naturally and collagen introduced by a serum. It supports healthy hair and lash growth.
Peptides/Amino Acids
Peptides are the molecular building blocks of protein, and proteins are good for your lash health, especially when broken down into easily absorbed components. Amino acids, like arginine, are great at nourishing the roots of your lashes to help repair daily damage. Arginine specifically increases your natural production of keratin.
Keratin
Keratin is a structural protein that your body produces naturally. It's what makes up your fingernails and your hair. The keratin in lash serums is supplemental to strengthen your lashes and make them more resistant to damage. It works on the existing natural lashes and may help the follicles produce stronger lashes in the future. 
Collagen
You can probably already find collagen in creams across your existing skincare routine. Collagen increases elasticity in your skin, and it can also strengthen your eyelashes, inside and out. 
It doesn't stimulate new growth, it strengthens your existing natural lashes. Therefore, collagen is a great ingredient to look for if you suffer from brittle eyelashes.
Extracts
Pumpkin seed extract acts as a conditioner to make your lashes soft and smooth. It also contains a vitamin B complex. Similar to pumpkin seed extract, red clover extract, also called Trifolium Pratense Flower Extract, is a great moisturizer. 
Additionally, red clover extract is a natural DHT blocker. DHT, Dihydrotestosterone derived from testosterone, is naturally produced in everyone's body, but in excess it can cause hair loss, including lash fall out and breakage. Red clover extract can cut off DHT at your lash follicle to protect your lashes. 
Castor Oil/Soybean Oil
Castor oil has been a traditional hair growth treatment and hair loss remedy for hundreds of years, and soybean oil has the same benefits. They won't necessarily help your lashes grow longer, but they're both excellent for hydrating your lashes. 
What Should I Avoid in Lash Serums?
Here's the bad stuff that any ophthalmologist would warn against putting near your eye area: 
Parabens
Parabens are a common preservative in cosmetics, but perhaps that is a problem in and of itself. Parabens build up in your system over years, they aren't simply cleansed away by your liver or a juice cleanse, so avoiding them entirely is really the only way to dodge them. 
Recently, many studies have suggested that parabens are hormone disruptors that may have negative effects on fertility and the entire endocrine system. There is also some evidence to suggest a link between parabens and breast cancer. 
Isopropyl Cloprostenate
Isopropyl cloprostenate is a synthetic prostaglandin analog found in many over-the-counter eyelash serums. Naturally occuring prostaglandin in your body helps your body heal wounds, but the synthetic stuff has a lot of unpleasant side effects, especially when it goes unregulated. 
Severe side effects include irritation and hyperpigmentation. Ophthalmologists strongly advise against its use. This ingredient is outright banned in multiple countries, including Canada. Essentially, a few brands tried to mimic latisse, a prescription-strength serum, with this ingredient, they got in trouble with the FDA, and most were forced to stop production thanks to long and expensive lawsuits. 
How Effective Are Popular Lash Serums?
You're probably seen some of these popular over the counter lash serums on the shelves at Ulta, Sephora, Amazon, or even your local drugstore. Are they worth their cost? 
Revitalash Cosmetics Lash & Brow Masque
Pros: Revitalash is an advanced eyelash conditioner. It strengthens lashes by preventing brittleness with a luxurious mix of biotin, hyaluronic acid, and vitamin E. 
Cons: It does not actually result in longer lashes, as no testers reported any concrete increases of lash length. 
Vegamour 
Pros: Vegamour offers a cruelty free and vegan formula great for those experiencing sparse and thinning lashes. They utilize red clover extract. Some product testers saw results in their lashes in as little as two weeks.
Cons: Users with sensitive skin have noted tingling or burning sensations of varying degrees upon application. 
Rapidlash Eyelash Enhancing Serum
Pros: Rapid lash is formulated to thicken your lash fibers. Product testers noted fuller and more fluttery lashes after only a month of consistent application. It contains peptides, soybean oil, biotin, and hyaluronic acid, some of our loved ingredients listed above. 
Cons: Very little product for the cost, as several testers noted that the tube lasted less than a month. It also contains isopropyl cloprostenate.
Grande Cosmetics Grandelash md Lash Enhancing Serum
Pros: Grandelash is packed with amino acids which were noted to help thicken lashes. It also offers hyaluronic acid. While the formula hasn't necessarily been shown to make lashes longer, its primary function is to make your lash line fuller. Some testers suggest visible results after two months. 
Cons: While it contains aloe vera, which is hydrating, it also contains alcohol, which is very drying and basically cancels out the moisturizer. It also contains isopropyl cloprostenate.
Lancome Cils Booster Lash Revitalizing Serum
Pros: Cils Booster is packed with amino acids. Threonine, arginine, serine are here to help strengthen and nourish your lashes by helping them build collagen and elastin. 
Cons: Some testers reported that it caused their lashes to dry in clumps. 
Lash Growth Serum vs. Eyelash Extensions for Longer Lashes
Why pit two boss babes against each other? Serum and extensions serve two different functions, and they can both help you achieve longer, fuller lashes. 
You can't use lash serums and eyelash extensions at the same time, since the oil of the serum will disrupt the bond of the extensions. However, you can use lash serum as a precursor to lash extensions since false lashes will have a stronger, thicker lashes to bond to and blend into. 
Lash extensions provide immediate results. If you need fuller lashes for an event, or just sometimes need something more natural looking than even the best mascara, lash extensions are a more efficient option. 
Our Gossamer lashes are made of cruelty free premium Korean PBT silk and designed to look extremely natural. They're reusable as well, which makes them more cost effective. 
Lash serum is a long term commitment that provides natural results, but of course it takes weeks or even months to begin seeing results. If you've got time and patience, lash serum could be a viable option to grow your own lashes fuller, stronger, and longer. 
Sources: 
Why You Need an Eyelash Serum | Forbes
14 Best Eyelash Serums for Long, Thick Lashes (Tested and Reviewed for 2023) | Cosmopolitan
Do Lash Growth Serums Really Work? Here's What You Need to Know | Real Simple
6 of the best eyelash serums for growth and thickness | Vogue Scandinavia
What Are Parabens, and Why Don't They Belong in Cosmetics? | Environmental Working Group
What You Should Know About Eyelash Growth Serums | American Academy of Ophthalmology
Do Lash Serums Work? Two Experts Weigh In | Chatelaine
I Had High Hopes for Vegamour's Lash Growth Serum, and It Blew Me Away | InStyle