Lash Mastery 101: How To Apply Lashes Like a Pro!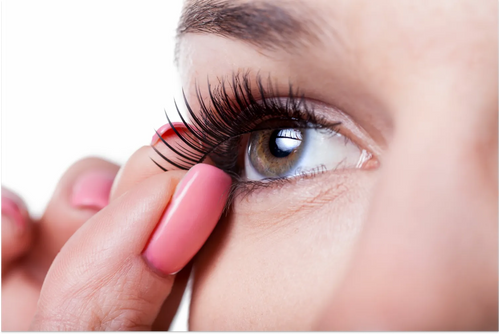 Let's start with the most important thing: Lashify is for everyone. Seriously, anyone can use Lashify and be a DIYlash extension master. Every master was once a beginner. 
If it's your first time, or if you need a refresher, here's a helpful, step-by-step guide to help you get started: 
Before You Begin
Let's get you set up for success with your false eyelashes. Go ahead and toss the mascara and eyelash curler in the bin (or at least put them away); you won't need them here. 
Make sure you have all your tools laid out in front of you. We did all the work on this part for you with the Lashify Control Kit. In your kit, locate the Gossamer lashes, the Fuse Control Wand lash applicator, the Wandom pair, and the tube of Whisper Light. 
The Fuse Control Wand looks like a pair of tweezers with a curved end. You'll see two sets of Gossamers, which you can select the length of when you order. These are the tools you'll need to get your Gossamers in place. 
You'll also need a hand mirror or similar that you can look down into to apply your falsies. Also in your Control Kit, locate the Glass finishing coat and sample of Melt Away Remover for use later. PS: Melt Away also makes a good general makeup remover. 
Put the Wandoms on the Fuse Control Wand to help keep it clean for future applications. Familiarize yourself with your lash map. Your lash map is your plan for applying your false lashes. 
You can make your own, or use a premade one from Lashify's lash stylists. If you're only utilizing one style of Gossamer (recommended for first-time users), your lash map will be very straightforward; it's just a question of how many Gossamers you plan to use and where exactly you'd like them to sit on your lash line. It's best to have a plan before you apply false lashes. 
Prep Your Natural Lashes
Step 0.5:
Start by making sure you have a clean canvas to work with. You want to use an oil-free cleanser to clean dirt, oil, eye makeup, bacteria, and other debris from your lashes. We recommend our Pre-Cleanse cleansing water, which you'll find a sample of in your Control Kit, but any oil-free cleanser will do. 
It's important not to have any oil on the lash line: excess oil will prevent the Whisper Light from forming a bond with your lash line. This includes the good oils found in many skincare products. 
We love a good skincare routine, but your Gossamers don't love the oil! Just a gentle wipe of Pre-Cleanse with a cotton pad will get you set. 
The Application
For many first-timer Lashifiers, the application process takes multiple tries to nail the application. Don't get discouraged if it doesn't work the first time! It takes a little practice to get lasting results and more practice still to master the application. 
Don't get discouraged; you have a whole community of support from Lashify pros and enthusiasts alike right here on this site (and on Facebook, Twitter, and Tiktok, too)! If you're more of a visual learner, check out our many video tutorials for help. 
Step 1: Bond
Starting from the inner corner and working your way to the outer corner, apply a thin layer of clear Whisper Light to the underside of your natural lashes, as you would mascara. Unlike mascara, focus the application along the natural lash line, as this is where the spine of the Gossamer Lash will go.
Wait 30 to 60 seconds for the adhesive to get tacky.
Repeat those two steps.
Add small dots of clear Whisper Light about 1-2 mm above the waterline to mark where you want to place the Gossamers. 
Step 2: Place the Gossamers
Once the bond is clear and tacky, use your clean fingers to gently remove the Gossamers, one at a time, from the cartridge. Gossamers are delicate, so grip them at the base.
Place a Gossamer in the tweezer-looking part of the Fuse Control Wand.
Use the Fuse Control Wand to place the Gossamers along your natural lashes one at a time on the adhesive dots you made. Each Gossamer should be only sort of stuck in place at this point. Repeat until all Gossamers are in place. 
Step 3: Fuse
Once you have your lashes where you want them, start with a full fuse to secure them. A full fuse means you'll take your Fuse Control Wand and align the curve with the natural curve of your eye, and gently but firmly press the Gossamers' spines between the wand's prongs.
As needed, you can reverse fuse to secure particular points along the lash line. A reverse fuse involves flipping the control wand around so it curves away from your eye, then using only the wand's tip to fuse a single Gossamer.
Step 4: Apply Glass (Optional) 
After you've fused and your lashes are secure (about 30 minutes), Glass Finishing Coat can be applied as a top coat. This will give you Gossamers a seal to lock in your look for greater longevity. Apply Glass as you would mascara, focusing on the roots of your own lashes and spines of the Gossamers with quick upward sweeps. 
Pro Tips
We're mentioning it again for emphasis: look down into a mirror to apply your lashes. The Lashify system applies the fake lashes to the underside of your real lashes. Therefore, looking down into the mirror will make the application easier. 
You may have applied too much if your lashes look wet after applying the Whisper Light. Less is more; You don't need much Whisper Light to hold your lashes in place; just a few dabs will do it. Don't fear, though; you can easily wipe away excess bond with a clean spoolie (the brushes that look like mascara wands).
Don't rush to place your Gossamers once the bond gets tacky. You're not in danger of the adhesive drying out since Whisper Light doesn't fully cure. 
Don't confuse the lash line and the waterline. The lash line is where your lashes grow, and the waterline is the thin edge of skin between your lashes and eyeball — the bits that touch when you blink. Do not apply Gossamers to your waterline: it won't be comfy, and it won't even stay. 
In a rush? Make the bond get tacky faster with our Blow tool. It's a handy, no-batteries-needed accessory that makes the Lashify application process fast and smooth. 
Lashify Level 2
Feeling confident in your fuse? Great work! Take the next step to lash mastery with Lashify Level 2 fusing and stacking techniques! These techniques will work for any eye shape. 
Lockdown Fusing Method 
Follow the above steps for applying Whisper Light to your lashes. Once it gets tacky, dab extra little dots of adhesive a few mm above the waterline and let those get tacky as well. 
Then, place your Gossamers spine to spine. Then fuse as detailed above. This is a great method to achieve even greater longevity in your wear time. 
Brick Stacking 
Brick stacking is an eyelash application technique that gives you a little extra control over your look. Using Bondage, the black Whisper Light, apply throughout the lashes as you would a coat of mascara. 
Then, apply specifically to the base of the lashes with a little side-to-side wiggle to get in between the natural lashes. While you wait for that to get tacky, apply a little clear Whisper Light to the spines of the Gossamers. When all the lash adhesive is tacky, apply the first Gossamer to the inner corner of your eye. 
Next, instead of placing the following Gossamer spine to spine, place the next Gossamer at the outer corner of your eye. Why? Because in this method, we will intentionally leave gaps between our first layer of Gossamers (hint: there's a second layer!). 
Place the next two Gossamers evenly between the first two, leaving even gaps that are as wide as you have space for. Then fuse that first layer down, either with a full fuse across the whole lash line or with reverse fuses on each Gossamer.
Finally, grab your next three Gossamers. These can be the same style as the base layer, or you can mix it up and style a different Gossamer into your lash look. 
Dab some clear Whisper Light on the spine of the Gossamer and wait for it to get tacky. Apply as a second layer, stacking like a brick (hence the name) on the gaps in the base layer. Repeat until you've bridged all your gaps. Give the whole lash line a fuse, and you're good to go! 
Volume Stacking 
Volume Stacking is our most popular stacking technique. This technique involves stacking Gossamers directly on top of other Gossamers. This adds more fibers to create a more glam, voluminous look. 
Apply your base layer of Gossamers as detailed above. Once those have been fused and set, add a small amount of clear bond along the base layer just above the spines of the Gossamers. 
Once the bond is tacky, place the second layer of Gossamers where you want to add extra dimension, volume, or length. Make sure the spines are aligned. When the second layer of Gossamers is in place, gently fuse down on the spines for 15 seconds. 
Feel Like a Pro Yet? 
If not, no pressure! Mastery takes time. Soon our application process will be a second nature part of your makeup routine. Still, now that you're on board with Lashify, you can kiss the harsh chemicals of lash lifts and drugstorestrip lashglue goodbye. 
Eyelash extensions have never been this easy or accessible before, so thank you for being a part of our lash extension revolution!
Sources: 
Lashify Review 2023: DIYLash Extension Pros, Cons & Photos | Good Housekeeping
I Tried Lashify's Control Kit and Now I'll Never Get Lash Extensions Again | Byrdie