Decoding Durability: How Long Do Magnetic Lashes Last?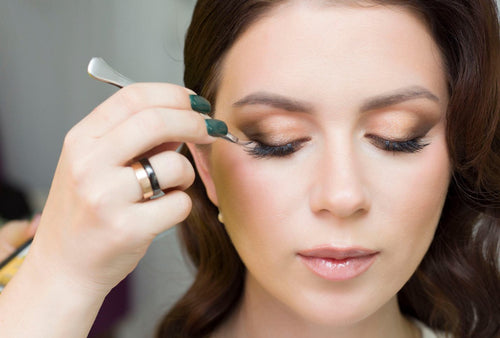 You've seen them on your friends and thought about trying them, but you've got questions. Magnetic lashes have been around since the 2010s, but they've gained a lot of popularity since then. 
We'll tell you everything you need to know about magnetic lashes, including how long you can expect them to last. We'll also talk about a few other options for lash enhancement and tell you how much wear you can get from those methods as well. 
Magnetic Lashes 101
If you've wondered how magnets and eyelashes have anything in common, we've got you covered. Magnetic lashes attach to your natural lashes with the power of magnetic force. 
There are two ways to use magnetic lashes. 
The sandwich method. The OG of magnetic lashes, these types use one lash band that fits under your natural lashes and one band that fits above your natural lashes. Both bands have tiny magnets that "click" together, locking them into place.
Magnetic eyeliner. These lashes have a lash band with tiny magnets that attach to magnetic eyeliner. Magnetic eyeliner contains iron oxides and gets applied like liquid eyeliner. The lash band then snaps onto the magnetic liner. 
Magnetic lashes are an alternative for people sensitive to lash adhesive glue or who want at-home lashes for special occasions only, and we'll explain why.
How Long Do Magnetic Lashes Last?
This is a two-part question. First, we must address how long magnetic lashes will last per use. Next, we must address how long the product (the lashes themselves) will last until they become unusable. 
Per use. Magnetic lashes cannot be worn overnight. That means you'll need to reapply them daily. If you only plan to use them for special occasions, this might be a viable option for you, but remember that if you come home from a long night out, you still need to remove them. Wearing them overnight can expose your eyes to iron oxides, which might lead to eye infections or sensitivity. Like Cinderella, your lashes will become problematic if you don't remove them before midnight.
How long will the lashes last? This will differ between brands, but most magnetic lashes will last anywhere between 30 to 60 uses as long as they are properly cared for and stored. If you want to wear your lashes daily, one pair of magnetic lashes should last about a month, with some higher-end brands potentially lasting longer. 
If you're looking for a method of lash enhancement that doesn't require nightly removal, there are a few other options.
Lash Serums
The marketplace is ripe with lash-boosting serums, but these serums don't necessarily contain lash-boosting ingredients. Some may contain ingredients that aren't safe for your eyes or your delicate eyelid skin. 
Only one lash serum is FDA-approved for lengthening your lashes, and that product requires a prescription from a dermatologist. Other serums may include lash-nourishing ingredients, but most of them only have anecdotal evidence to support that they actually lengthen your lashes. 
No lash serum can cause you to grow more lashes. You can only grow one lash per hair follicle; the amount of hair follicles you have is determined by your DNA. Sadly, no lash serum can change your DNA. 
How Long Do Lash Serums Last?
Even if you have a prescription serum, the lash-lengthening effects of it aren't permanent. Prescription lash serums work by keeping your lashes in the anagen stage of lash growth. 
Your lashes will grow until you stop using the serum. At this point, they'll be replaced with your regular lashes that grow the length they used to grow before you started using the serum. 
Because your natural lashes grow on their own cycle, you'll begin to notice your lashes returning to their normal length immediately after you stop using the product. The total time until your eyelashes are "back to normal" will vary depending on how quickly your natural lashes grow. 
It's also important to remember that this prescription won't cause your lashes to grow indefinitely. Some people may not see lashes that get very long with lash serums, as their natural lashes may not be able to grow as long as they want them to. 
If serums and magnets aren't a good fit, you can try salon lash extensions.
Salon Lash Extensions
They cost a lot of time and money, but they look effortlessly natural. Not to mention, they've got better staying power than some other options. 
Salon lash extensions are applied by a lash tech who uses glue to apply a false eyelash to each of your eyelashes. The glue is similar to super glue and hardens the false lash to your natural lashes. The process takes about three hours and fills take about an hour.
How Long Do They Last?
Lash extensions last for about two to three weeks. The extension should last until your natural lash falls out organically. Unfortunately, the glue can stiffen and cause your natural lashes to become brittle, causing them to break and fall out sooner than they should (and taking the lash extension with them). 
If you find you need fills sooner than two weeks, it's important to let your lash tech know. It's also important to know about the hack to getting salon-quality lashes right at home. It's Lashify™, and it's the only way to Be Your Own Lash Tech™.
Lashify
Lashify gives you the ability to get salon-like lashes right in the comfort and privacy of your own home, in a fraction of the time and for less than you'd spend on a set of salon lashes. 
Our system uses Underlash Technology™, which uses non-toxic Bonds that are applied like mascara to the underside of your natural lashes. Then, using our ergonomically amazing Fuse Control™ Wand, you attach a Gossamer® lash to your natural lashes. 
Gossamer lashes are created from Korean silk and are attached to a weightless Spine™ Base. Because you'll apply a cluster of lashes to your natural lashes, you can mix and max your Gossamer lashes to create different looks. 
How Long Do They Last? 
You can wear your Gossamer lashes overnight, in the shower (just be careful to avoid getting them wet), and anywhere you go. One application lasts up to 10 days with proper care. You can reuse your Gossamer lashes as long as you take care of them.
In addition, Lashify Bonds are actually nourishing to your natural lashes because they're formulated with Biotin and lavendula. Many of our users have noticed their natural lashes becoming healthier while using the Lashifiy system. 
It's easy to get started with Lashify, and the key to success is grabbing our Control Kit.
Get In Control
All you need is a little more control, and you can get it with the Lashify Control Kit™. The Control Kit is the best way to start your Lashify journey because you'll get all the tools you need to be successful and two pairs of Gossamer lashes to start your lash wardrobe.
Each customizable Control Kit contains:
Two pairs of Gossamer lashes that you get to choose. There are numerous lengths and styles to choose from. Want Russian Doll lashes or hybrids? You can have them. You can also use our handy lash maps to create new looks. 
Fuse Control® Wand in Classic or Petit Curve. Don't even bother with messy fingers or sticky tweezers. The Fuse Control Wand is your gateway to greatness…at least in terms of applying your Gossamer lashes. It's shaped for your hand and your eye so you can put your lashes on easily and carefully.
Glass Finishing Coat. When you want your Gossamer lashes to go the distance, you can apply this non-toxic, glossy sealant. It's also great for helping give your Gossamer lashes more staying power in the middle of wear (after they've been on a few days). Try using it in the morning or before you go out at night. 
Whisper Light Bond™. Our Bonds are all free of formaldehyde and cyanoacrylates to keep your eyes, skin, and body safe.
Wandom® Pair. Don't play without protection! Wandoms are little covers that keep your Fuse Control Wand safe while you apply your Gossamer lashes. No mess, no sticking, no hassle. 
Samples of Pre-Cleanse and Melt-Away. While you can use any oil-free cleanser to prep your natural lashes, Pre-Cleanse is our preferred method and can also double as a face wash. A dual-phase, oil-based makeup remover will help you remove your Gossamer lashes, and Melt-Away gets the job done in record time. 
You'll get all your tools wrapped up in a hard case with a mirror you can use for application. It couldn't be easier to get lashes that last.
Double Down on Durability With Lashify
Magnetic lashes need to be removed and reapplied daily, and who has time? For lashes that last and look as good as salon lash extensions, Lashify is your go-to solution. 
Sources:
Lead And Other Heavy Metals - Safe Cosmetics
Lash Serum: Is it Safe? Here's Everything You Need to Know | Glamour
The eyelash follicle features and anomalies: A review - PMC
What you need to know about lash growth serums | The Independent