Is It Okay To Wear Liquid Eyeliner With Eyelash Extensions?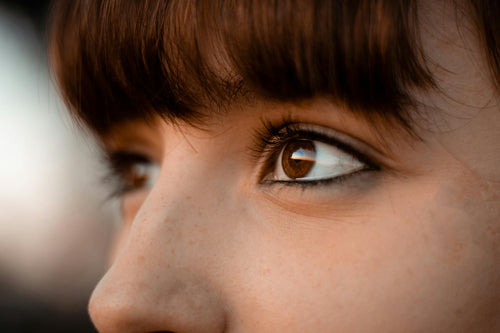 Lash extensions are hands down the best way to get instant volume and length for your lashes, but when you're wearing them, there are specific care instructions you should follow to make sure your lashes stay attached and in great shape as long as possible. 
At Lashify®, our Gossamer® lashes are designed to enhance your natural lashes on your own time and in the convenience of your own home. They can be worn for up to 10 days with proper care. The best part is that your regular eye makeup (like shadow and liner) won't interfere with Gossamer lashes as much as it would with traditional lash extensions. 
We'll explain how Gossamer lashes work and how to wear your eye makeup when you're wearing them. 
How Do Gossamer Lashes Work?
The Lashify DIY Lash Extension™ allows you to Be Your Own Lash Tech™. Instead of spending hours of time having individual lash extensions tediously applied at a salon, Lashify lets you easily and conveniently apply lash extensions at home. 
Our Lashes
Our Gossamer lashes are made from 100% Korean PBT silk. They are completely lightweight and available in numerous different styles, lengths, and curl types. You can mix and match them (a technique called lash mapping) or apply them as they come.
Gossamer lashes are best described as a cross between salon lash extensions and strip lashes. They consist of several lash extensions attached to a weightless spine and are made to be applied in clusters. 
Our Technique
The Lashify system uses Underlash Technology™ to apply Gossamer lashes. This means your lash extensions will be applied underneath your natural lashes instead of on top of them. 
The design of Gossamer lashes allows the weight of the lash to be distributed across several natural lashes, making your Gossamer lashes even more comfortable. Applying your Gossamer lashes underneath your natural lashes keeps them looking more natural and helps keep the spines invisible. 
Our Bonds
Eyelash glue is notorious for being home to some pretty undesirable ingredients. Formaldehyde-releasing chemicals and cyanoacrylates, the same ingredients you find in superglue, are usually found in most salon-grade and at-home lash glues. 
Lashify Bonds are different. Our Bonds work more like eyelash serums. They contain no harsh chemicals and are formulated with biotin and Lavandula (lavender) to support your natural lashes while you wear your Gossamer lash extensions. 
Our Bonds never fully cure, so your natural lashes won't ever feel brittle or breakable when you're wearing your Gossamer lash extensions. 
The System
Lashify Gossamer lashes are made to be worn and re-worn. With proper care, each set of Gossamer lashes can be used and reused for a few months before they need replacing. 
You can find storage tools to help keep them in place here. Properly storing them between uses is the number one thing you can do to keep your Gossamers in good condition. 
Can You Wear Eyeliner With Gossamer Eyelash Extensions?
It can be surprising to learn that, with eyelash extensions, you should avoid certain types of makeup. Mascara, for instance, isn't necessary and isn't good for your lash extensions. 
You'll also want to be sure to avoid any type of waterproof makeup, namely because it requires an oil-based cleanser to remove, which could break the Bond between your Gossamer lashes and your natural lashes. 
Because Gossamer lashes are applied beneath your lashes, near your water line, wearing makeup is a lot easier and safer than it is when wearing it with traditional eyelash extensions. 
Eyeshadow
Powder-based shadows are safe for wearing with Gossamer lash extensions. You can opt for a cream-based shadow, but keep in mind that if it contains oil and tracks into your lashes, it could possibly interfere with the Bonds or even adhere to your Gossamer lashes. 
Mascara
Mascara is always a no with lash extensions. Not only can it damage (and practically ruin) your lash extensions, but it can also interfere with the bond. This is true for both salon lashes and Gossamer lashes. 
The good news is that lash extensions are created to essentially replace mascara, so chances are you won't feel like you need to use mascara. If you still crave darker, longer, or fuller lashes, we suggest trying a different style of lash extension, which can give you the look you want without the need for mascara. 
Primer
Primer can help keep your eyeshadow and liner in place and prevent creasing. It's a great product for helping keep your eye makeup away from your eye extensions, but be sure the kind you choose is oil-free. 
Eyeliner
You can wear eyeliner with Gossamer lashes. The best options for eyeliners that are safe for lash extensions are powders and pencils. It's possible to wear a gel or liquid liner with your Gossamer lashes, but it isn't recommended. 
Even though your Gossamer lashes are located under your natural lash line, there's still a chance that the eyeliner could move or smudge into your lash line and end up on your Gossamer lashes. If you use waterproof, you'd need to apply it before you apply your Gossamer lashes and remove it after you remove your Gossamers. 
If you don't want the hassle, you can just grab the I-Line™ Gossamer Lash set. 
I-Line Gossamer Lashes
We developed the I-Line Gossamer lashes to mimic the look of the perfect, winged eyeliner. How many times have you tried to apply a beautiful winged look only to have it end up asymmetrical or smudgy? Now, you can get the look without any of the fuss. 
The I-Line Gossamer Lash Set is our first pre-mapped set that includes six Gossamers in varying lengths for each eye. These Gossamers create a perfectly angled look that will fool even the professionals into believing you're wearing winged liner. 
To give them a try, you just need to grab the tools you need to use the Lashify system. You can find them all in the convenient Control Kit™. 
The Control Kit
Forget about (yet another) winged liner tutorial, and use your lashes to create the look you want. The Control Kit contains everything you need to get started with the Lashify system. 
Each Control Kit comes with:
Two sets of Gossamer lashes. You choose from Bold, Amplify, or Curl. These classic styles work for both day and night and will help you build the foundation of your lash wardrobe. While you're picking out your favorites, make sure you add the I-Line Gossamer Set to your basket (which is sold separately). 
Fuse Control® Wand. The tool that rules your eyelash world. The Fuse Control Wand makes Gossamer lash application comfortable and easy. It's ergonomically designed to fit the curve of your eye and works better than trying to apply your lashes with tweezers. 
For smaller hands and faces, the Petit Curve Wand is the best option. It's designed like the Fuse Control Wand but slightly smaller.
One set of Wandoms®. Our Bonds don't fully cure. Instead, they get tacky to help your Gossamer lashes stick. Make sure your Gossamer lashes don't stick to your Wandom by covering your Wand with Wandoms, tiny coverlets that help you avoid getting your Gossamer lashes into a sticky situation. 
Whisper Light Bond™. Our most popular Bond, Whisper Light helps you get long-lasting lashes without caking, clumping, or making your lashes feel brittle. We recommend applying two coats: one through your lashes and one at the base of your lashes, where you'll apply the spines of your Gossamer lashes. 
Glass Finishing Coat. Want your Gossamers to go the distance? Add a top coat of Glass to your lash application. Glass helps ensure your Bonds are locked in tight and your Gossamers are firmly attached to your natural lashes. We also offer other sealants, including Water Poof™, which gives your Gossamer lashes a water-resistant edge.
Samples. We recommend our Japanese Cleansing Water, Pre-Cleanse, to prep your lashes and remove impurities. Our Melt Away Remover is a dual-phase, oil-based makeup remover that makes easy work of removing your Gossamer lashes when you are done wearing them. 
It all comes bundled up in a hard, protective case with a mirrored side to help you with application. 
Line Up
Yes, you can wear eyeliner with lash extensions, but we'd recommend avoiding liquid eyeliner if possible. For that coveted winged liner look you love, go for the I-Line Gossamer Lash set. It gets you the glamorous look without any of the effort it takes to apply winged liner. 
With Lashify, you get to Be Your Own Lash Tech™. Now, you can even look like you've mastered some seriously difficult makeup application techniques. The fact that your winged liner is actually your winged lashes will be your little secret.
Sources:
Lashify Review: The Pros and Cons of These DIY Eyelash Extensions | Cosmopolitan
Is Eyelash Glue Toxic? | Poison Control
Biotin | Health Professional Fact Sheet
Curious About Eyelash Extensions? Here's What You Should Know | NY Times