How To Do Eyeliner for Hooded Eyes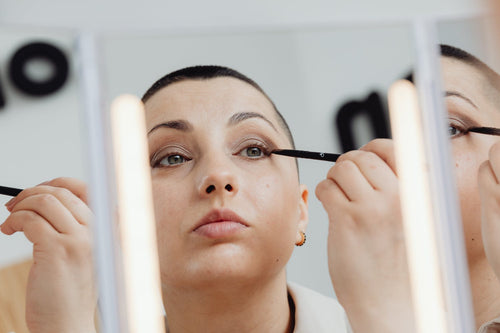 Your sexy bedroom eyes are part of your entire aesthetic, but oh, the eyeliner woes! As if eyeliner weren't hard enough to apply on its own, your hooded eyes make it even more difficult. 
From being unable to see it to having it smudge all over the eyelid and surrounding areas, it can seem impossible to get it to work. 
The experts at Lashify® understand that different eye shapes require different types of eyeliner and lash application. We'll help you understand what hooded eyes are (in case you aren't sure if you have them) and tell you how to apply eyeliner on them like a pro. 
We'll also show you an easy way to hack the system and create an elongated, fuller lash look that gives the illusion of winged liner without the liner. 
What Are Hooded Eyes?
There are numerous different types of eye shapes, but hooded eyes are characterized by extra folds of skin underneath the brow bone. These folds can make it hard for you to see your entire eyelid and even harder for you to apply makeup, especially eyeliner. 
If you aren't sure whether or not you have hooded eyes, grab a mirror. Looking directly at your face, see if you can see a crease in your eyelid. 
If you can't, you've probably got either monolids or hooded lids. The difference is that hooded eyes have an extra fold of skin under the brow bone. Your eyes look set slightly further back behind the brow bone. 
What To Know About Hooded Eyes
Hooded eyes can present a challenge when it comes to eye makeup. The fact that the lid is hard to see can make it difficult to wear darker shadows because it can make your eyes look sunken or heavy. 
It can also be hard to apply numerous different colors to the lid without having them slide into the folds of skin on the lid. For hooded lids, experts like Charlotte Tilbury recommend less is more. Stick to neutral colors and use products that are long-lasting and crease-proof for best results. 
When it's time to apply eyeliner, there are a few tips to get it done correctly. 
Hooded Eyeliner 101
First, start with a long-lasting eyeliner. A waterproof liner may work well, but you don't have to use a waterproof formula to get long-lasting results. If you're planning to wear eyelash extensions, you'll want to make sure the formula you use is safe for your lash extensions, preferably one that is oil-free.
1. Keep Your Eyes Neutral
Avoid the temptation to pull or stretch your lids to lift the folds of skin and apply your eyeliner in more of a straight line. This will only result in applying too much eyeliner on your lid, which could eventually smudge or wind up on other parts of your eyelid. 
2. Stick to the Straight and Narrow
The best way to apply eyeliner to a hooded eye is to keep the line thin and straight, especially if you aren't incredibly adept at perfecting a wing or a cat eye. A thin line will give you the enhancement you need without causing your eye area to look heavy or receded. 
Keeping your liner thin also makes it less possible for the liner to move and shift into other places on your lid. 
3. Give Wings a Try
Once you can wield an eyeliner pencil or brush skillfully, go for a winged look. Winged liner or cat-eye liner can give your eyes length and bring attention to the edges, making your eye shape look more elongated and almond-like. 
To create the perfect wing, apply liner across the top of your lid as you normally would. As you reach the outer edge, angle your liner upward and outward toward the outer edge of your eyebrow. 
4. Don't Obsess Over Symmetry 
No one's eyeliner is perfectly symmetrical on both eyes. If you focus too closely on your eyes, you'll likely notice that the liner isn't perfectly symmetrical. That's partially because your eyes themselves are not perfectly symmetrical. 
When applying liner, do one eye at a time and correct obvious mistakes only. If you feel like you are looking too closely, walk away from the mirror for a few minutes and come back for a quick check later. 
5. Fake It
There's a way to get a great liner look without actually using the liner. New Lashify I-Line™ Gossamer® Lashes give you the winged-liner look by creating a voluminous, lengthy lash line that flares perfectly at the edge, giving your eyes an elongated, almond shape without makeup. 
The result? Longer, more noticeable lashes, zero chance of smudging, and a look you can depend on to last for days, not hours. These perfectly angled Gossamer lashes work perfectly for all eye shapes but are especially helpful for users with hooded lids. 
The pre-mapped lengths make it easy for you to get the customized look of wearing several different sets of Gossamer lashes without investing in numerous sets. The best part? You'll get to use the Lashify DIY Lash Extension™ System to help you create this impressive look. Our lash extensions are different from anything you may have previously tried. 
The Lashify Difference
Our Gossamer lashes are different from salon lashes or at-home strip lashes. Created as a solution that helps you get salon-like lashes and doesn't use strips, our Gossamer lashes are created on tiny spines that are applied underneath your natural lashes. 
Underlash Technology™ helps keep your lashes feeling weightless and protects your natural lashes from damage. We also avoid the use of harsh, toxic chemicals in our Bonds. 
Lash glues commonly contain cyanoacrylates and formaldehyde-releasing chemicals. Lashify Bonds don't contain any harsh chemicals but do contain biotin and Lavendula, making them more like an eyelash serum instead of an adhesive. 
Our Bonds also never fully cure, so they never get brittle and cause your natural lashes to break. Instead, they bend and flex with your natural lashes to protect them. Don't worry; they're still super strong and keep your Gossamer lashes intact for up to ten days with proper care. 
The best part is that you can apply Gossamer lashes in your own home in about 10 minutes (once you've applied your lashes a few times), and you can remove and reapply them numerous times. To get started, you just need to grab the Control Kit™. 
The Control Kit
The Control Kit™ gives you everything you need to Be Your Own Lash Tech™ and get the lashes you want in the comfort and convenience of your own home. It also includes all the accessories you need to get started if you want to try the I-Line Gossamer lashes, but please note those are sold separately. 
Each Control Kit comes with:
Two sets of Gossamer lashes. Classic lash extensions, hybrid lash extensions, or volume lash extensions. Whatever you want, we've got a Gossamer lash set for you. You can pick two pairs to be included with your control kit and get started building your lash wardrobe. 
Fuse Control® Wand. Our ergonomically advanced tool helps you apply your Gossamer lashes easily and effortlessly. You'll also get a pair of Wandom® Wand Covers. These little coverlettes ensure that your Gossamer lashes don't get stuck to the tips of your Fuse Control Wand or Petit Curve Wand during application. 
Whisper Light Bond™. Never settle for dangerous lash glue again. Lashify Bonds keep your natural lashes safe and your Gossamer lashes flexible. Whisper Light Bond is ultra-lightweight but provides a firm grip so your Gossamer lashes stay intact. 
Glass Finishing Coat. You don't have to seal your Gossamer lashes, but if you are planning to wear them for as long as possible, we recommend using a finishing coat, like Glass, to seal in the Bond and ensure it is protected.
Samples. We include two samples in every control kit. Our Pre Cleanse is a Japanese Cleansing Water preps your eye area for Gossamer application and can even double as a gentle yet effective facial wash. 
Melt Away remover is our dual-phase, oil-based makeup remover that helps your Gossamer lashes slide easily off of your natural lashes so you can store them for use next time. 
Everything comes in a hard case (to protect those fluttery Gossamer lashes) with a mirrored side you can even use for application. 
Winged and Wonderful
Your hooded eyes are sultry and worth celebrating. Dress them up with winged liner, or take the easy way and try the Lashify system. Our I-Line Gossamer lashes give the look of winged liner without ever using any makeup. It's a safe and easy way to get the look you crave. 
Sources:
Eyeliner For Hooded Eyes | Charlotte Tilbury
Is Eyelash Glue Toxic? | Poison Control
Biotin | Health Professional Fact Sheet