10 Eye Makeup Tips for Mature Eyes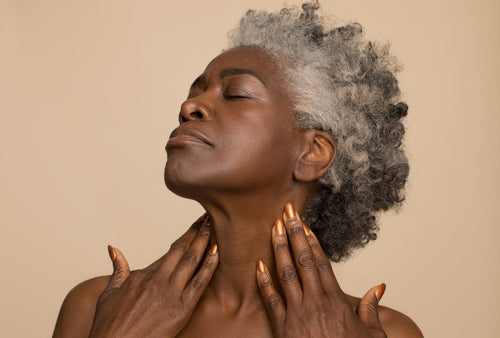 We all do it: We look back on our fashion and grooming choices from bygone decades and ask ourselves, "What was I thinking!?" With age comes wisdom, and with wisdom comes the realization that beauty is personal, trends are foolish, and there has never been anything wrong with your appearance because there's no such thing as 'right.' 
Our need to feel secure in our appearance does not diminish as we age. However, the tools and tricks we can utilize will naturally evolve and upgrade. Six-inch stilettos are great when you're 22, but after a decade, they just sound unpleasant, uncomfy, and not worth the pain. 
Just like you've updated your wardrobe for every era of your life, you should consider updating your eye makeup looks too. Here are 10 tips to get the most naturally elegant-looking lash looks on mature eyes. 
1. Use a Daily Eye Cream
Daily eye cream is actually recommended for anyone 25 and older. The skin around your eye is very delicate; keeping it hydrated and moisturized daily with a high-quality cream or serum will help it retain elasticity and minimize fine lines. 
Look for an eye cream that doesn't feel greasy, something that offers 'lightweight hydration' or 'plumping and smoothing.' Retinol is an ingredient that is your friend. 
Apply the cream to the eyelid, under-eye area, and outer corners. You know the importance of keeping your body hydrated, so don't forget about your skin! 
2. Use an Eyeshadow Primer
As we age, the skin around our eyes naturally loses elasticity. With this loss of elasticity comes greater difficulty in getting our makeup to stay where we put it. Under your eye, you may notice your foundation settling into fine lines against your wishes. 
Additionally, our eyes naturally become more hooded, which can create more friction for our eye shadow to fight with. Never fear; we have a solution: primer on the lids and below the eye. 
What is a primer? Just like the primer you'd use before painting a wall, primer helps your makeup stay where you paint it. Primer prevents your eyeshadow (and foundation, eyeliner, etc.) from creasing, smearing, smudging, or mussing. 
When selecting a primer, consider if your eyes are warm and moist (with sweat, tears, oil, etc.) or cool and dry. No matter how your eyes are, there's a proper primer formula for you. Adding a primer will smooth the look of your makeup across your face. 
If you have warm, watery eyes, go for a sheer, oil-absorbing, hot-flash-sweat-proof primer that you can use on the lid and under the eye. If you have cool, dry eyes, try a moisturizing formula since the added moisture will help eye shadow blend more smoothly. 
Select a primer in a tone similar to your foundation to make blending easier. Here's a hack: use the smallest amount of primer you possibly can, spread it thin, and set it for 60 seconds before you apply your makeup. 
3. Elevate Your Eyeliner
Eyeliner is the key tool to giving your eyes a defined shape. Let's elevate our eyeliner in two ways: the product and the application. Just like the primer, consider the natural conditions of your eyelids. 
Warm, watery eyes should choose a water-proof gel or liquid liner. Cool, dry lids should try a soft but highly pigmented pencil with a hydrator like jojoba oil. 
Whichever formula you need, choose a deep, dark color, like jet black or deep chestnut, to contrast the understated eyeshadow we'll get to in a minute. Dark eyeliner will help your eyes pop and look more awake. For less intensity, you can buff the line after applying your shadow to get emphasis without a hard line. 
If you're experiencing a reduction in skin elasticity, you probably already know this trick: You can gently hold your eyelid taut to get a smoother line and easier eyeliner application. Work from the outer corner inward to help keep the line even across the lash line. 
Resting your elbows on your desk or vanity can make this easier and ensure a wiggle-free line. If you have deep-set or hooded eyes, use some liner on the lower lash line or waterline to define your eyes more. Do not attempt a cat eye: the unfortunate downside to this application trick is that, when you release the skin, the lines you've drawn will not look as sharp as you drew them. 
Another way to enhance your eyeliner, especially when using a pencil liner, is to double the line. Use an equally dark powder eyeshadow. The powder will fill any cracks or gaps in the line itself or between the line and the lash line. 
If you have deep-set, hooded, or watery eyes, you can also try this method with a pen eyeliner, which is basically a marker. The pen liner pairs better with a pencil liner than a liquid liner. Use one application of liquid liner for a sharp look or the pencil with a double coat for a smokey, dramatic look. 
4. Contour Creases
By contouring your lashes, you can get bigger-looking eyes. This method works for most eye shapes, excluding those with deep set lids where the crease is not visible (why contour what you can't see?). To contour, use a medium-toned shadow crayon or cream eyeshadow stick that closely matches your skin tone. 
Trace the hollow of your eye, under the brow bone and just above the crease, emphasizing the outer half of the eye. This creamy shadow will act as a base for the powder shadow: retrace this line with a powder shadow in a similar shade of warm brown or cool gray, depending on the hue of your look. Blend and smudge over the whole eyelid with a brush. 
5. Choose Neutral Colored Eye Shadows
If you haven't already got one in your arsenal, get an eyeshadow palette with 12 neutral shades. Fun, bright colors are fine as a statement every now and then, but they run the risk of aging the appearance of your eyes. 
Cream shadows are a must-have for a person with mature skin since they add moisture and create a smoother texture. Shades of beige, brown, and gray with matte and shimmery options will let you customize a daily look, glam vibe, and professional look. 
6. Styling Natural Eye Shadow
For a daily look, use a light shade for the lid, a medium shade for the crease (as discussed above), and a dark shade to get the double eyeliner effect detailed above. Contrasting the dark line with the light shadow will create a bigger, more defined eye. 
Don't use shimmer finishes for a daily look since they can overpower your eye and draw attention to fine lines and uneven texture. Instead, choose mild matte finishes in light brown or taupe. Less is always more when you want to get the best makeup look. If you want more luminosity than matte can provide, try a satin finish instead of a shimmer.
Use the lightest shade near the corners and along your bottom waterline as a highlighter to brighten your eyes. Don't forget to contour the crease to get depth and definition. Apply a second coat of mascara to the lashes at the outer corner, and use dark eyeliner along the top lash line to define the shape and make the whites of your eyes stand out. 
7. Luscious Lashes
As you've likely been doing since you first did your makeup in your mother's bathroom, you will want to apply mascara and use a lash curler. Here's a new trick with the curler: turn your wrist away from your face when you crimp to maximize curl. 
Always curl your lashes, then apply the mascara. Many people with mature eyes suffer from short or thinning lashes, so a lightweight plumping mascara or tubing formula will be great for you. Aim to increase your volume rather than your length when it comes to mascara. 
8. Try Lash Extensions
As we said, many people with mature eyes suffer from thinning or short eyelashes. Doing your mascara daily can be a hassle and may inhibit lash growth in the long run. Lash extensions could be just the tool you need to elevate your look overall. You may have heard that lashes are too heavy for mature eyes, but that simply isn't true. 
Our Gossamers are super lightweight, and we have a color and style for eyes of every shape and every age. If you've never used at-home extensions before, we recommend trying a classic style, like the Curl Gossamer. 
We highly recommend the Intimates Collection for mature eyes. They come in the classic Curl shape and the Amplify style. The Intimates collection comes in various natural colors, from black to ginger. The intimates will help you achieve natural-looking lashes with DIY extensions. 
If this is new to you, never fear; we have many video tutorials to help you learn. 
9. Boost Your Brows
Brows are totally having a moment right now. Many people with mature eyes experience thinning eyebrows, especially at the outer corners. Use a precision, fine-tipped brow pencil to extend the brow tail to shape, extend, and lift your brow. 
Don't draw one long line. Use the pencil to draw small hair fibers to blend in with your natural brows. When in doubt about color, err on the lighter side since going too dark will give away that they're drawn on. 
Brows can set the tone of your entire aesthetic; When your brows are shaped well, you'll need less makeup overall. Shape your brows with a lightly tinted brow gel and a soft powder. Be careful not to let the brow appear too heavy with makeup. 
Don't use a shimmery shadow right under the brow since it will create an appearance of excess space. To accentuate the arch and enhance the brow, use a matte shadow. 
10. Other Makeup Tips
Trying to hide wrinkles will only draw attention to them. To even your skin tone, use a moist beauty blender to sponge brush to apply a sheer, hydration foundation. When choosing a shade of foundation, you may actually want to go a tone warmer than your natural skin color to give you a little blush of vitality. 
Always blend your foundation into your neck as well. Go for a lightweight cream concealer to counter hyperpigmentation on the cheeks and dark circles near the eyes. Next, apply a bronzer just under your cheekbones, under the jawline, lightly across your forehead, and down the sides of your nose to visually warm the skin.
Sources: 
10 Top Eye Makeup Tips and Techniques for Older Women | AARP
7 Best Eye Makeup Tips and Tricks for Mature Skin | Allure
A Guide to Ageless Makeup for Women Over 50, According to an Industry Veteran | Vogue
Anti-Aging Eye Makeup Looks That'll Take Years Off Your Face | InStyle