6 Eye Makeup Looks for Hooded Eyes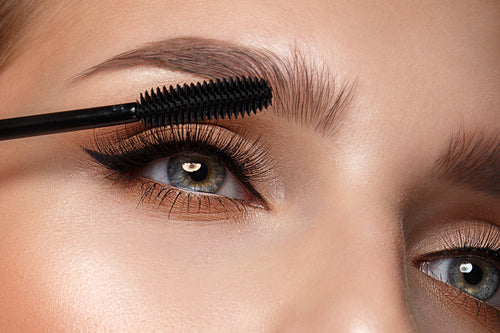 If you've clicked on this guide, you probably already know you have hooded eyes. If you're unsure of your eye shape, never fear; we have several handy guides to help you assess your face shape and eye shape; we even have AI for that! 
Let's assume you have hooded eyes since this is a guide to help those with hooded eyes find a new makeup style that perfectly highlights their best features. Eye makeup for hooded eyes comes with unique challenges, tips, and tricks. 
Here, we'll reveal the best application tips, makeup styles, and lash extension pairings for hooded eyes.
What Are the Top Tips for Hooded Eye Makeup?
1. Use a Primer
Hooded eyes are the most likely to smudge their makeup just by blinking because of how your lids crease. Primer will be your BFF. 
It helps hold all your eye makeup in place while preventing smudging and creasing. Bonus: they also enhance the pigment of your shadow, giving you a bolder look for less product. 
2. Apply a Matte Eye Shadow in the Crease
Very lightly, apply some matte eyeshadow to the natural crease. Apply sparingly, with just enough pigment to get the color across. This will help it to add depth without running the risk of creasing and smudging. 
3. Create Your Own Crease
Since your crease is so deep, you can create your own to add depth to your eyes. When you follow makeup tutorials, establish your new "crease" slightly above your natural crease. When your eyes are open, mark just above where your natural crease begins to occur. 
Don't apply shadow to your natural crease since it'll disappear into the lid when you open your eyes. Instead, apply it to the new crease you've created just above the fold point. 
4. Highlight Your Inner Corners
You're likely already doing this one, but applying a light color, like white, any pastel, or a shimmer, in your inner corner will brighten and open your eyes immediately. This is true of shadow and light-colored eyeliner on the water line. You'll look more awake and doe-eyed. 
5. Darker Colors on the Outer Corners
Related, just as light shades will elevate your look from the inner corner, the darker hues should fade to the outer corner. Dark colors across the whole lid will actually make your eyes look smaller, which will exaggerate the hooding. 
Keeping this fade-to-black at the outer corners will help make sure your eyes stay bright. Apply this rule to the lower lashes, too. 
6. Shimmer Baby, Shimmer
Next to primer, shimmery eye shadow is your other best friend. The reflective capacity of shimmery shadows makes your eyes look immediately bigger, especially when applied along the brow bone, at the inner corner, and just above the lash line. 
7. Blend Up, Not Down
As you apply your eyeshadow, you want the color to move up towards your brow bone and away from your crease, so brush upward. Blending down will make your eyes appear droopy and sleepy. Up and out, toward the tail of your eyebrow, is ideal to help your eye look lifted and light.
Recommended Lashes for Hooded Eyes
Curl Gossamers
We'll be honest: Curl Gossamers are the chameleon of lashes. They work on every eye shape, and that includes you. The best way to apply Curl Gossamers for a hooded eye is to fan them at the outer corners of the eyes. 
Fluffy Gossamers
Fluffy Gossamers are one of our most popular volume lashes. They provide soft, fluttery volume and dimension, which is especially beneficial to those with hooded eyes. They pair beautifully with tight-lining your eyeliner. 
Gemini Gossamers 
For a piecey lash look with hooded eyes, try the Gemini Gossamers. They're great for stacking and adding dimension to hooded eyes. Their thicker-than-average fibers also hold a curl extremely well. They pair nicely with a reverse eyeliner application. 
Extreme Gossamers
For added length and volume, pair a Curl Gossamer with some Extreme Gossamers. If you crave extreme volume for your lashes, Extreme Gossamers are the best choice for hooded eyes. 
Drama Gossamers 
Like the Gemini Gossamers, Drama Gossamers offer a thick fiber and a super strong curl. Instead of being piecey, Drama Gossamers feature our signature cross-weave design for extra volume and dramatic impact. They pair best with Bold Gossamers or flying solo. 
Eye Makeup Looks for Hooded Eyes
Small Wings 
Long eyeliner wings can overwhelm hooded eyes. Cat eye eyeliner often ends up misshapen or smudged simply because of the shape of the eye. Instead, opt for a short, small eyeliner wing!
Don't apply the eyeliner all along the lash line. Apply it to the outer corner only to form the wing. Keep your eyes open and relaxed while you apply. This will avoid accidental smudging and still elongate the eye. 
If you find that liquid or pencil eyeliners consistently end up a mess for you, try using an eyeshadow and a thin, precise brush. Open your eyes. Start at the outer corner of the eye and draw toward the temple to create the lower edge of the wing. 
From the tip of the wing, draw straight across to your natural lid crease. Then, when you close, you'll be left with a shape to fill to create a perfect small wing. You can continue to fill the wing with shadow or your favorite eyeliner. 
Reverse Eyeliner
Many people with hooded eyes are convinced that eyeliner simply isn't for them, but we have a secret for you: it is! Instead of the traditional placement, try applying your eyeliner along the lash line of your lower lashes instead. 
You can still wing your eyeliner from the lower lash just as you would from the top lashes. This technique adds definition, opens the eye, and keeps your eyeliner out of the smudge zone. 
Elevate this technique by experimenting with bright colors. For a fun night out, trade the brown or black for a blue, a red, or an electric green — whatever feels like a fun color pop!
Tight Lining 
Tight lining was once a trend for all kinds of eye shapes, but now we're older and wiser and know this technique is hands down the prettiest on hooded-eye girlies. It's a method of applying eyeliner so that it won't smudge or overwhelm the eye. It's a great way to really open the eye and create an illusion of a vertically wider eye.
Here's how you do it: 
Tight lining utilizes a soft kohl eyeliner or soft eye pencil. Instead of applying normally across the lash line of the upper eyelid, apply to the water line underneath your lashes. Look up and open your eyes to apply at the root of the lashes. You can include an optional wing off the water line, just as you would with eyeliner off the lash line. 
Smokey Eye for Hooded Eyes
Across all eye shadow looks for hooded eyes, it might feel like you're bringing the shadow too high on the lid, too high on the brow bone, but it doesn't look as strange as it feels. 
Select your favorite dark shadow to get a smokey eye for hooded eyes (we recommend a combo of one dark matte and one smokey shimmer). Look straight into a mirror, and tilt your head back with your chin up without breaking eye contact with yourself. 
This is going to show you the actual area you want to cover. Don't forget the primer first, then apply it with a soft brush. 
Additionally, apply the same shadow to the lower lid. This may sound odd or intimidating if you've never tried it, but lower-lid eye shadow is a real game-changer for hooded eyes. Apply the shadow with a precision brush along the lower lash line. 
Color Block Eye Shadow 
A look that is both trendy and flattering for hooded eyes is color block eye shadow. Select any shade: perhaps one to compliment your eye color, your skin tone, or your outfit of the day. Something bright and colorful: electric blue, violet, hot pink, orange, sea green, yellow, etc. 
After applying your primer, apply a thin layer at first across your entire eyelid, past the crease to the brow bone. Apply with greater density above your natural crease and toward the edge of your brow bone to create a vibrant curve. 
Disco Lids
Metallic eye shadows have been on trend for what feels like years now. But for those with hooded eyes, it can be a hard trend to jump on since it demands the entire lid. So, we're going to get creative! 
Start with a primer, followed by an ultra-light layer of neutral eye shadow to help the sparkly stay in place. Grab your favorite shimmering eye shadow. Glitter, metallics, whatever speaks to you, but it must be shiny. Cover the entire eyelid slightly, just for coverage, but focus the opaque application on the brow bone to create an illusion of more eyelid area. 
You're ready to party!
Sources:
I Have Hooded Eyes, and These Are the Eye Makeup Looks That Work for Me | WhoWhatWear
23 Makeup Tips Every Person With Hooded Eyes Needs To Know | Buzzfeed
5 Essential Makeup Tips For Hooded Eyes From the Experts | Byrdie
4 Easy Makeup Looks For Hooded Eyes, Just In Time For Party Season | Refinery29