Make Her Christmas Merry and Bright With These Thoughtful Gifts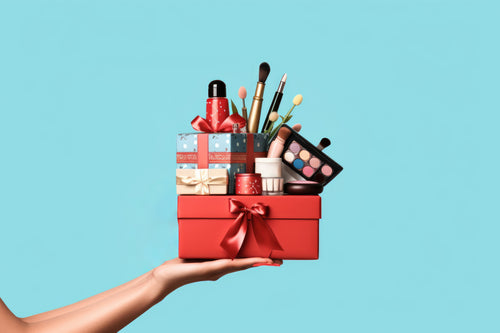 The special women in your life deserve a gift they'll love, and the holidays allow you to lavish those special ladies with gifts that tell them you appreciate them. There's just one tiny problem: what to give them. 
Even if you know your friend or loved one incredibly well, it can be difficult to come up with the best gifts that match their personality and interests, especially if they already seem to "have it all." A great gift doesn't have to be difficult — and it doesn't have to be a boring sherpa throw blanket or wine glass. 
The team at Lashify® compiled this quick and easy gift guide. We'll talk about what makes a great gift, how to give it, and, of course, give you some gift ideas to help you give the perfect gift to every lady on your list. 
What Makes the Best Gift Idea?
Every year, the marketing giants produce list after list of the best-selling gifts, including leggings and tote bags and cookware. It's easy to get wrapped up in buying whatever is trending, but those items might not be what your giftee is envisioning for their stocking stuffer. 
Instead, we suggest these five rules to help you pick the perfect gift. 
1. Are They an Enthusiast?
One of the easiest ways to hone in on the ideal gift is to find out what a person is most passionate about. Got a beauty enthusiast on your list? A beauty gift is a good place to start. 
Have a BFF who loves to read? Appeal to their fictional senses with a book or Bluetooth-enabled earphones so they can listen to their favorite authors. 
2. Is It Practical?
Sure, your giftee might be an exotic animal lover, but if they live in the city and not the Amazon, an exotic pet is probably off the table. This also goes for gifting something the person probably has no use for, like gifting a Floridian who doesn't often travel a cashmere sweater. 
Practicality doesn't mean not being creative; it just means making sure that the gift you give is actually accessible and usable by the recipient. 
3. A Little Goes a Long Way
It's easy to get "wrapped up" in gift giving but remember: you don't have to give someone who loves coffee a commercial-grade coffee maker to acknowledge their love for a cup of joe. A gift card to their favorite coffee shop tucked into a personalized mug with a monogram would make a unique gift that is also practical. 
4. Don't Be Afraid To Rinse and Repeat
If you gave your loved one something they absolutely adored last year, why not repeat the gift? This is an especially good option if you gave them a consumable good, like an eau de parfum that could be close to running out or a chocolate advent calendar that they enjoyed the entire month of December. Sometimes, a sure thing is the right thing. 
5. Save Them Time and Money
Sometimes, the best gifts save a person time and money. A busy mom might love to give her Dyson (and herself) a break and have her house professionally cleaned by a cleaning service you hire. 
Your best friend who just moved into a new apartment might love the advice of a professional interior designer for home decor inspiration. 
One of the best gifts for women who love getting their lashes done is a DIY Lash Extension™ they can use at home. Lashify allows them to save countless hours of their own time and plenty of their own money by letting them be their own lash tech. 
How Does Lashify Work?
Those gorgeous lashes your bestie sports take hours to apply. A typical visit to the lash salon takes one to three hours and can cost anywhere from $75 to $500. Lashify takes just minutes and costs a fraction of the price. 
Lashify Gossamer® lashes are created from 100% Korean PBT Silk and are always cruelty-free. Gossamer lashes are attached to a weightless spine that gives them a featherlight feel when applied. 
Gossamers use Underlash Technology™, which means they're attached to the underside of natural lashes. This helps distribute weight evenly and makes them supremely comfortable to wear. 
Lashify Gossamer lashes are wearable for up to 10 days with proper care and can be removed and reapplied numerous times, giving your giftee the ability to change their lash look whenever they want to. 
Giving the gift of Lashify is easy, especially when you shop our gift sets. Whether you're shopping for someone already using the Lashify system or for someone who definitely should be, we've got the perfect Christmas gift ideas to help you score big this holiday season. 
Lashi-Gifts
Get ready to lash out (in the very best way). Giving the gift of Lashify means giving your favorite friends the ability to level up their self-care and style their lashes right in the comforts and convenience of their own homes. 
1. For the Newbie
For the girl who hasn't tried Lashify, the Control Kit™ is an absolute must-have. The Control Kit is the easiest way to give your bestie everything they need to break up with their lash tech and be a DIY lash diva. It's one of the best beauty gifts you can give. 
Each Control Kit Contains: 
Two sets of Gossamer lashes. Pick two sets of Gossamer lashes from our Curl, Amplify, or Bold collections. Each set can be mixed and matched using our lash maps to create different looks or worn by itself. Consider this a jumpstart on what will likely be a burgeoning lash wardrobe.
Fuse Control® Wand. Using tweezers to apply delicate lash fibers is tedious and virtually impossible. We created the ergonomically amazing Fuse Control Wand to curve to the shape of your eyelids and hand, so application is a breeze. For smaller hands and eyes, the Petit Curve Wand offers the same ergonomic specs as the Fuse Control Wand but on a smaller scale. 
One set of Wandoms®. Always be prepared with a set of Wandoms. Wandoms cover the tips of your Fuse Control Wand so that your Gossamer lashes don't stick to your wand while you're applying them. Lashify Bonds become tacky during application, and Wandoms prevent you from getting into a sticky situation. 
Whisper Light Bond™. Lashify Bonds never fully cure, allowing them to protect your lashes and Gossamers. Whisper Light features Micro-Flex™ technology, which helps your Gossamer lashes move and bend with your natural lashes to prevent breakage.
Glass Finishing Coat. You never have to seal Gossamer lashes, but using a finishing coat can help improve their longevity. It can improve their ability to last all…night…long. Glass is also great for helping reactive Bonds and quickly Fuse any loose fibers.
Samples. Each Control Kit comes with samples of some of our skincare favorites. You'll get Pre Cleanse, our Japanese Cleansing Water that works to prep your eye area and lashes for application and also doubles as a face wash. You'll also get Melt Away, our dual-phase, oil-based makeup remover that helps you easily remove your Gossamer lashes when you're ready to try a different look. 
Everything in the Control Kit comes wrapped up in a nice little protective carrying case with a mirror for easy application. It's a foolproof holiday gift that will help your favorite girl get lashes more impressive than any viral TikTok mascara can provide. 
2. For the Pro
If you already know a Lashify lover, give them the gift of seriously necessary Lashify products. The Prep Set is a fan favorite that re-ups your friend's supply of their favorite products and comes wrapped up in a cute Lashify tote. 
Each Prep Set contains: 
Melt Away. You can use any dual-phase, oil-based makeup remover to take off your Gossamer lashes, but Melt Away was specifically formulated to work effectively and safely with Lashify Bonds. That means it works quicker and targets Lashify Bonds better than other brands. Melt Away can be applied with a clean spoolie or with a brush. 
Pre Cleanse. Our Japanese Cleansing Water works great for removing impurities from your eye area, but it's also a great way to gently cleanse your skin without stripping it of moisture. Pre Cleanse also works as a mild exfoliant, toner, and pore tightener. It's a multitasking product your friend probably swears by.
Black Magic Cleansing Puff. Removing makeup can be tedious once you've applied your lashes. The solution? The Black Magic Cleansing Puff. This puff helps remove makeup from hard-to-reach spaces without interfering with your lashes and without the need for any makeup remover. Just swipe over the area, and poof! The makeup is gone. 
Pro tip: The Prep Set makes an excellent encore gift if you gave the Control Kit the previous year. 
3. The Level 2 Set
Lashify users ready to level up are great candidates for the Level 2 Set. This set contains everything you need to start creating stacked and layered looks and to really get the longest wear out of your lashes. 
Applying Lashify Gossamer lashes (which users say is very easy) can empower you to feel like you can do big things, especially with your lashes. This kit helps get you there. 
The Level 2 Set Includes:
Bondage. Wear your Gossamer lashes overnight, into the next day, and beyond. Like Whisper Light, Bondage features Micro-Flex technology and never contains any harmful chemicals or fully cures.

Night Bond™. When you work the night shift, your lashes need to be up for the job. Night Bond gives your lashes support and helps ensure your Bond lasts for hours.

Control Wax. Created to help you get a Fuse without sticking, Control Wax became a multitasking Lashi-favorite super quickly. It works like a brow shaper and conditioner, helps prime and condition lower lashes, and even helps control fly-away hair!

Lashicurl™. If your Gossamers have seen a lot of use, the Lashicurl heated curler can help reshape them and give them an extra boost. You can also use the Lashicurl to get a heated Fuse.

Precision Lash Comb. This isn't anything like the lash combs you're used to. This gadget works like a lash separator and comb for your natural lashes and your Gossamer lashes. It can also help blend your Gossamer lashes into your natural lashes.

Wandom 5 Pack. Just like condoms, having a few extra Wandoms on hand is always a good idea. This gift box comes with a 5-pack, so you're always ready for lash action. 
Everything comes in our signature Beauty Clutch, keeping the tools of your favorite trade safe and easily accessible in one place. 
The Best Gifts for the Best Girlies
Your favorite ladies deserve the very best, and you can do better than another stainless steel tumbler or scented candle. Giving the gift of Lashify means they'll become their own lash tech and save their time and money for more important things. 
It also means they can change their lash looks whenever they want because they aren't locked into one style. This year, make a big impression with the girl who is the apple of your eye. Lashify makes it easy to give unexpected gifts that spark joy. 
Sources:
The Three Rules of Giving the Perfect Gift, According to Science | Bloomberg
Is Eyelash Glue Toxic? | Poison Control
Biotin | Health Professional Fact Sheet
Lashify Review: The Pros and Cons of These DIY Eyelash Extensions | Cosmopolitan