Sahara Lotti
With over 70 patents and 50 trademarks worldwide, Lashify® is a brand that has truly taken the world by storm. And at the helm of the gargantuan boat traversing the waters of the beauty industry is none other than founder and CEO of Lashify, Sahara Lotti. 
A vivacious and ambitious woman, Sahara started out as most of us do, with an obsession with lash extensions. Sahara took it a step further than everyone else by actually filling the gap in the lash market that had been left glaringly empty for so long. When she realized that going out to get her lashes professionally done just wasn't cutting it anymore, she searched high and low for something to fulfill her DIY needs but kept coming up empty.
And thus, Lashify was born. An innovator from the start, Sahara personally designed her way to the top of every lash lover's list when shopping for lashes. The time, money, and energy it took to leave her house for a set of long-lasting lashes was just too much for Lashify's self-sufficient leader, and a change had to happen.
Sahara created an entirely new and unique system for DIY eyelash extensions that could be achieved without ever having to leave your house. No more hours-long lash sessions that would leave your wallet crying. No more allergic reactions and irritation from harsh lash products. No more lash frustration. 
Now, there's a way to get your perfect lash look with safe and tested products, 100% cruelty-free and vegan, right in your bathroom mirror. And ever since the Lashify launch, Sahara's vision for easy and affordable lashes has been eaten up by her customers and clients.
Who Is Sahara Lotti?
With such a strong and aspiring woman at the Lashify wheel, it begs the question, "Who is Sahara?" Where did her passions spring from, and how did she find herself in this position? 
Sahara Lotti was raised in the San Francisco Bay Area and now lives in Los Angeles, California. She grew up showing interest in the arts and media from early on. 
She is a screenwriter and accomplished actress in a series of independent films. In the early 2000s, she took her screenwriting projects from college and began to adapt them into finished short films. Her first writing project was even sold to Universal Pictures. Slay, queen. 
A few years later, Sahara would go on to catch the eye of some major producers from Fox and CBS. She signed deals for motion pictures and continued selling her personal screenwriting projects to big-name production outlets. She has multiple adaptations in the works for various projects with some major names in the industry. 
In addition to all her film magic, Sahara is also well-versed in the world of music, having studied it informally for several years.
From Film to Lashes
How did this multifaceted talent of a lady work her way from film and music to single-handedly forming the biggest DIY lash system to ever break on the scene, you may be wondering? Well, in 2016, Sahara began developing this genius system for lash application after recognizing how inconvenient trips to a professional lash tech were becoming, both monetarily and logistically. It was just too out of the way to be worth it.
To solve this issue, Sahara, as someone who loves getting the thing done herself, began brainstorming to fill this gap in the beauty market. Lashify launched in 2018 after a jam-packed development period and has since grasped the attention of lash lovers everywhere. The Lashify system is crafted to help you create your perfect lashes, and here's how. 
Changing the Lash Game
Take a moment to sit back and think of all the lashes you've ever tried. All the brands, the styles, the adhesives, and the methods of application. We'll give you a second. 
Odds are, not a single one of the lashes that you've thought of looks or feels anything like the Lashify lash system. Sahara's patented Gossamer® lashes and Fuse Control™ Wand experience are truly one of a kind. She has garnered a method of application that uses 100% Premium Korean PBT Silk lash fibers that simply glide onto the underside of your natural upper lash line. 
Every product that Lashify offers is cruelty-free and vegan, so they suit the needs of any and all clients. The unique bond formulas and sealants that Lashify created are crafted specifically with the Gossamer system in mind. Every bond is gentle to the eyes and helps even the most sensitive-skinned people to have the most bomb-looking lashes. 
The sealants work to remove tackiness that's leftover from the bond, and the Fuse Control Wand is an ingenious invention made to perfectly fit every contour of your face, giving you the ultimate access to the angles you need. Even the methods of removal and prep have been enhanced to a top-tier level. 
Lotti's advancements with the multipurpose Melt-Away Remover and the Pre-Cleanse Cleansing Water are so simple but so effective. They cleanse the skin without stripping it in any way. 
The sensitive skin of the face will be left more nourished and moisturized than ever with the ingredients used. You can use Pre-Cleanse as both the prep for your lashes and as a safe method of cleaning your lashes throughout their wear. 
It doesn't get much better than the multifunction of Lashify!
What Sets Lashify Apart?
Prior to Lashify's introduction into the market, lash consumers were basically left with two options for lash enhancement: temporary strip lashes or expensive lash appointments for extensions. Lotti set out determined to find the in-between — something in the middle of long and expensive and cheap and temporary. That's where Lashify shines.
Lashify is the perfect mix of the two ends of the lash spectrum. These lashes last you up to a week with minimal touch-ups required, like an extended stay for a temporary lash, but they also give you the same high quality and longevity as lash extensions. And you get both all with your own two hands at a fraction of the cost.
Lashify's Ingredients and Integrity
The main ingredients in Lashify formulas, contrary to many of the common lash products you can find, are acrylates, water, biotin, oils, and in some cases, charcoal powder. With ingredients like these, it's no wonder people who normally struggle with allergic reactions, irritation, and discomfort when it comes to lash adhesive don't have any trouble wearing Lashify.
The testimonies speak for themselves. The lash industry had no idea what was about to hit it when Lashify stepped on the scene, and it's filled that market gap with flying colors. However, finding its footing in the beauty industry didn't come without its fair share of challenges, each one of them with its own unique solutions that Lotti had to overcome to secure her spot as a titan of lashes. 
Challenges in the Lash World
Lotti and Lashify stood face to face with a multitude of obstacles they would have to step over before Lashify would become what it is today. One of these initial issues was with the promotion of Lotti's brand in the midst of an influencer-dominated world. 
In Lashify's early launch days, Lotti was faced with the reality of having to promote her brand through the most viable form of promotion there was: social media. And who runs the world of social media but the influencers that have direct access to thousands of individuals with a single post? 
Lotti was told by her investors that she should expect to dish out upwards of $50,000 to $70,000 per influencer if she wanted to see her brand succeed. It seemed like, with this method of advertisement where money ruled, the quality, function, or purpose of her product didn't matter.
If she shelled out the cash, the results would pour in. But Lotti was averse to the whole idea of it. Why work hard to create something you're proud of and know works just to have it all undermined with a dollar sign?
Instead, Lotti took the road less traveled, turning down the absurd offers to make her brand known, and it's paid in dividends. Now Lashify tops the DIY lash market in more than just lashes, and it was all done through the sheer innovation of the company's products. 
Sahara's Selects
As the founder of Lashify, Sahara Lotti obviously believes in the function of every product she puts on the market. That's why she's got her pool of favorites from the Lashify lineup, and after all the years in the industry, that lineup doesn't stop at lashes. 
Here are a few of the stars.
Lashify Hair Wrap
Sahara is a fan of efficiency and making the most of the time you have in a day. That's why she keeps things stylish and simple with products like the Lashify Hair Wrap. This microfiber hair towel comes in a chic black color that will dry your locks while keeping you looking fresh and put together.
Sahara teamed up with Muaves, a female-owned company, to bring this sleek hair turban to your everyday haircare routine. The inside of the towel is lined with plush microfiber for quick drying action, while the outside remains a double-stitched satin material that knows no other way besides luxury. 
This head wrap is washable and vegan, just like the rest of the Lashify collections, making something as simple as drying your hair as stylish as the rest of you.
Lashicurl®
This is one of Lashify's most exciting innovations for lash enhancement. Normal lash extensions can't be re-curled or have heat applied to them lest the bond breaks down, but Lashify is once again changing the game. 
The Lashicurl® heated silicone curler makes it possible to achieve however much or little curl you desire. With three adjustable temperatures, simply give it 15 seconds to heat up, and you'll be set to go.
With dry lashes, apply the curler at the base of your lashes for a heat fuse and hold for three seconds before combing slowly to the tips and holding again. You can even curl the lashes while still in the cartridge by just focusing on the tips if you don't want to take the heat to your eyes. The innovations are endless. 
Whisper Light Dual-Sided Bond
It's no wonder why this is one of Lotti's favorites: it's a favorite for us all. The Whisper Light Bond™ is a must-have on the list of Lashify products. There's a reason this is the bond Lashify included with their patent Control Kit™. It's the perfect dual product for Lashify virgins as it's easy to use and multifunctional. 
Biotin and micro-flex technology make this product a combination of nourishing and flexible, created especially for holding Gossamer lashes in place for days on end. Your lashes will rest on a cushion of protection, eliminating any weight or tension from the falsies and resulting in a damage-free experience. 
Fluffy Robe
Lashify comes back with another luxury product in the form of this indulgent bathrobe. This makes applying not just your lashes but any beauty product or self-care routine feel like the lap of luxury. Inspired by one of our best-selling Gossamer sets, the Fluffy Gossamer Lashes, we thought it fitting to make a Fluffy Robe to match.
Imagine you just got home from work and treat yourself by rolling up in a cloud of cotton candy, equal parts opulence and pampering. Now that's the kind of fluff we're talking about. 
Curl Gossamer® Lashes
One of our most classic sets, the Curl Gossamer® Lashes, remains one of Lotti's faves. The Curl Gossamers give their wearer a natural, doe-eye effect that combines the lightweight and delicate flutter of our Amplify Gossamers with the powerful curl of the Bold Gossamers. With all the extra lift this lash gives, it's a given that it would be so beloved by all of our lash clients. 
Lashify Terry Headband
Falling right in step with our Fluffy Robe and Lashify Hair Wrap, this Lashify Terry Headband will serve you in so many practical and useful ways. Whether you need your hair out of your face for your makeup routine, bedtime routine, lash application, or even a trip to the gym, this headband will be your best friend. And you'll look dang good no matter what you're doing.
Bondage Extra Strength Bond with Charcoflex
This is a revolutionary innovation straight from Lashify Labs. All of our bonds are next level in terms of longevity, safety, and ease of use, but the Bondage® Extra Strength takes it a step further. This formula is the final answer to longevity and a flexible hold for all of your Gossamers. No longer will you have to worry about that frustrating fallout.
Bondage Extra Strength takes all the stress out of your lash application, and you'll wonder how you went so long without it in your life. Lashify's patented Charcoflex® technology works to withstand the heat that would otherwise break the bond down, excess moisture around your lashes that would also break down the bond, and even any bacteria that attempts to make its way where it shouldn't be.
It contains biotin to softly nourish your natural lashes, all while they remain securely in place for days on end. Your lashes will be swimming in gratitude for how healthy and hygienic they'll stay throughout their time with the Gossamers. 
The Control Kit™ Is the Best Place To Start
By far, if Lotti has created one Holy Grail product that the lash industry could hold up to the heavens, it would be the Lashify Control Kit. If you find yourself leaning into the opportunity to support this ambitious, innovative woman and her lash kingdom, but you haven't been pushed over the edge yet, let this Control Kit be the final push.
Lotti has combined all of her lash knowledge, invention, and vision into this item. It has everything you could ever want to get started with Lashify. Inside, you'll find the Fuse Control Wand, another must-have for the Gossamer application. We mentioned it earlier, but you'll be shocked at just how vital this little wonder tool is when you have it in your arsenal. You will be kicking yourself for not knowing about it sooner.
You'll get the Whisper Light Dual-Sided Bond we raved about above as well as the Glass Finishing Coat. This little miracle works to rid your applied lashes of any residual tackiness or leftover glue while applying a glossy sheen to your finished look. It doesn't get any easier than a few thin coats of this dynamic duo to leave your lashes bowing down at the altar of Lashify.
To top it all off, you'll also receive not one but two of your preferred Gossamer styles. Why not toss in one of Sahara's favorites, the Curl Gossamers, in honor of the empire she's so lovingly built? With all these simple tools in your belt, you'll be part of the Lashify family in no time, and you'll never want to leave.
A Leader in Lashes
Sahara Lotti has singlehandedly formed an entire lash community built up of her clients, customers, and staff, and the resulting family of lash is plain to see. It's often joked about that Lashify could be a cult. When asked about this odd phenomenon, Sahara simply responded, "If it's a cult, it's an awesome one!"
Maybe it's a bit of a stretch to label Lashify as such, but we can totally understand the principle behind it. Sahara Lotti, at her core, is a deeply connective person. With her as the founder of Lashify, that core value hasn't gone anywhere. She truly feels connected and familiar with every individual that's taken the plunge with her brainchild, and that can be seen in so many ways.
She's nowhere near done with her innovations for Lashify, and the company is just getting started. It's not hard to tell how much Sahara cares for her customers and employees. At every turn, she's been nothing but excited, supportive, collaborative, and communicative with everyone involved with the gem that is Lashify. It's so much more than just lashes; it's a family.
When people outside of that family look over and see what's happening — when they look over and see thousands of lash enthusiasts sharing in the same excited passions — sure, they might see something that looks a little strange. But all it takes is one step in the door, and you immediately understand what it is to be a part of this thing that's so much bigger than a single woman. 
It took a single woman to envision all that it could be. And it's one hell of a vision. 
Sources:
Working from Home with Lashify Founder Sahara Lotti | Coveteur: Inside Closets, Fashion, Beauty, Health, and Travel
Inside the Pricey War To Influence Your Instagram Feed | Wired
Biotin – Vitamin B7 | The Nutrition Source | Harvard T.H. Chan School of Public Health
1. Choose Your Bundle
black
Membership X
Your annual $100 membership includes:
Earn $1 for every $10 you spend
15% off retail purchase
Free standard shipping
Access to the Backroom deals and early drops (coming soon)
Add Membership X to your bag and immediately enjoy member discounts on your purchase.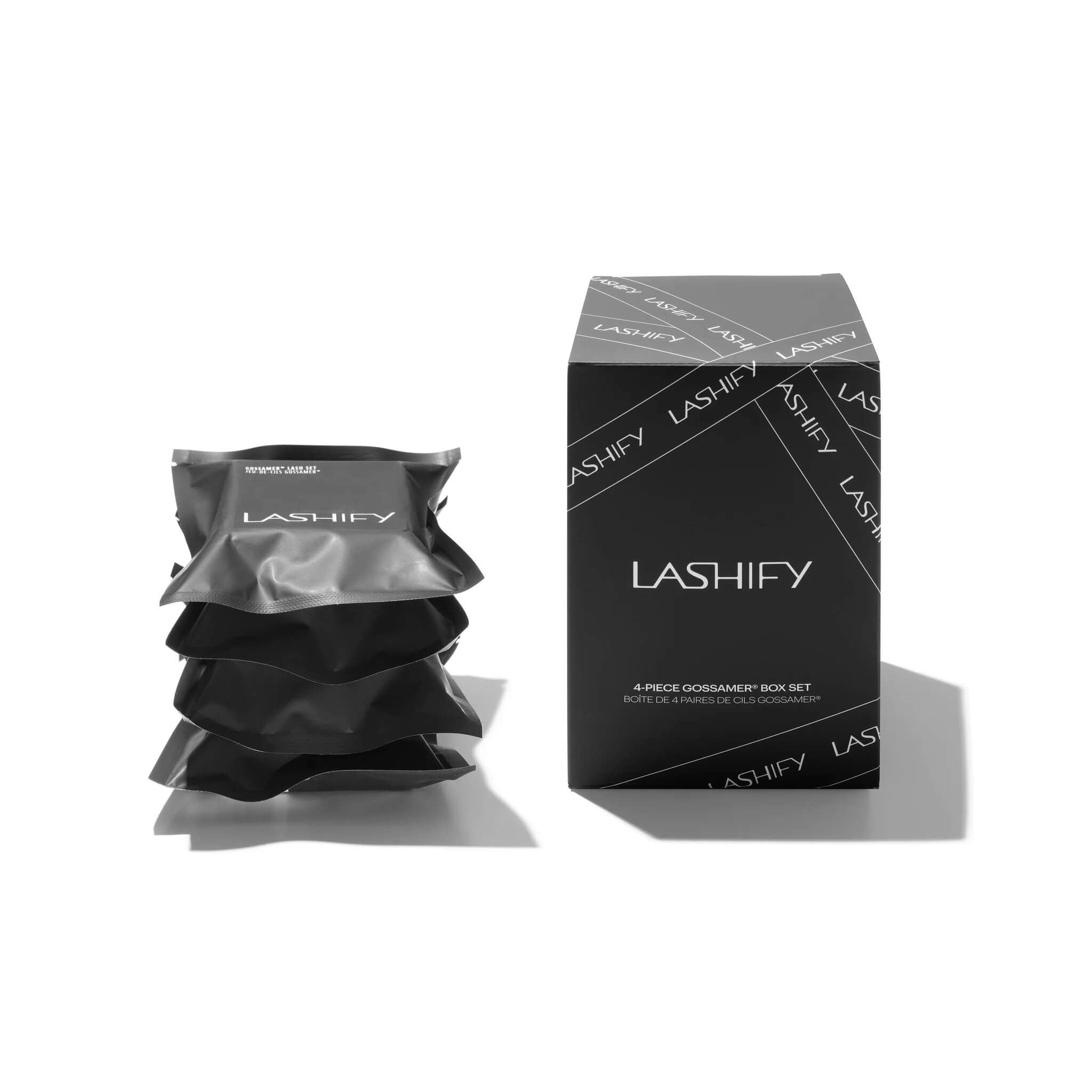 Sign up for monthly deliveries and save save save...
Receive regular lash shipments every 30, or 60 days.

The more you add, the more often, the more you save. Unlock our maximum savings (up to 25% off) when you subscribe to any 4+ lashes every 30 days ( a box)

Keep things exciting—you can swap the lashes you receive every month. Or keep your most love lashes and never run out.

Cancel anytime, for any reason.

* You pay shipping the first order and never again as long as you have 4 items (US only) and free over $75 international