What Should Be in a Lash Kit?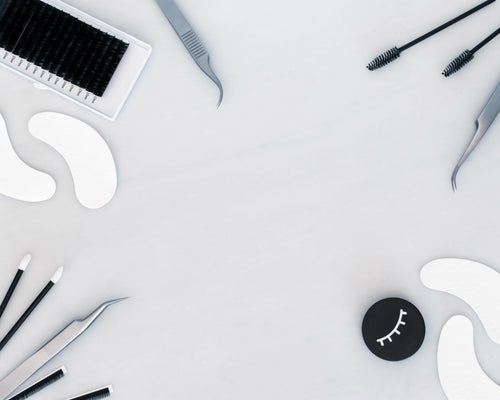 There are hundreds of lash kits on the market right now. How do you know if the one you're looking at has the right parts? After a while, they may all start to look the same but stay sharp; the little differences add up to a big difference in quality. 
A high-quality lash kit is made of high-quality components. The components of a quality lash kit will vary slightly depending on who the kit was for — a beginner's kit will look a little different from an expert's kit. 
Let's consider what should be in your basic lash extension starter kit:
Applicator
This tool should look like a curved pair of tweezers. You'll need this tool to apply your false eyelashes to your natural lashes. It should be easy to grip, and the curve should mimic the curve of your eyelid. This essential tool is a crucial part of any kit; without it, you'd be applying your lashes like your contacts, which may be the worst idea we've heard all week. 
Adhesive
This is the bond that will hold the lash extensions in place. Lash adhesive comes in a wide range of qualities. A good adhesive should contain no cyanoacrylates, carcinogens, parabens, or formaldehyde. A high-quality adhesive should nourish your natural lashes and never damage them. Before you head to checkout with a new lash extension starter kit, read the adhesive ingredients carefully. For example, our lash bond, Whisper Light, is cruelty-free and vegan, contains none of the gross toxins we just mentioned, and contains biotin to form a cushion of protection around your lash line and keep your lashes nourished at the same time. 
Lashes
What is the point of a Lash kit with no lashes? Any lash kit worth your cash will contain at least three lash cartridges. When inspecting lash kits, check the quality of the lashes. You want to make sure your lashes are vegan and cruelty-free. Among these synthetic fibers, we prefer premium Korean PBT silk since they look and feel so natural. If this is your first lash kit, start with a simple, easy-to-manage lash style. If this isn't your first rodeo, consider looking for a lash kit that can supply you with the more specific lash styles you need. 
Sealer
You need to lock in your lashes to get maximum wear out of them. A sealer is like the top coat of lash application; it protects the bond and provides extra strength. A high-quality set of volume eyelash extensions can last up to 10 days if you properly care for them. Like adhesives, always read the ingredient list carefully to ensure you're not swiping any unsightly toxins on your lashes that could potentially harm your extensions, natural lashes, or your eyes. 
Precleanse and Aftercare Tools
When you get started with DIY eyelash extensions, you need the tools to ensure you succeed long-term, which means proper preparation and aftercare. A top-notch lash kit will help you learn what tools you need by providing you with samples of great products to pair with your kit. You'll need a cleanser to ensure that you're bonding your lashes to a clean canvas. Look for something to clean your applicator or keep it clean in the first place (we recommend a Wandom). Finally, make sure you have a tool to remove your lashes properly. No matter what kind of extensions you're working with, never ever tug or pull your lashes off. If you have to tug, they're not ready to come off. This will consistently damage your natural lashes. Instead, ensure you have a dedicated, gentle liquid adhesive remover formulated specifically for lash bonds. 
Lashify's DIY Lash Extension Kits
Lashify has three different eyelash extension kits to suit beginners and expert lash artists alike. Take a glance and see which kit is right for you.
The Classic Control Kit
The Classic Control Kit is truly the Lashify starter kit. Think of it as your training kit to become your own lash artist. It comes with all the lash supplies you need to get started– even a storage case to start your lash collection!
Let's start with the basics. In each control kit, you'll find a magnified mirror, a pack of Wandoms, a tube of dual-sided Whisper Light bond, and a tube of Glass finishing coat. We also include a sample of our pre-cleanse lash cleanser and meltaway remover.
Now for the most fun part: the customizable part! In the classic control kit, you can choose your Fuse Control Wand. You can choose either the classic curve or the petit curve. If your eyes are more protruding, go for the classic. If your eyes are more deep-set, go for the petit. No matter the shape, you can choose your holographic or bronze wand. To get a hologram wand, choose the white box color. To get a bronze wand, choose the black box.
Next, pick your Gossamers. You can choose from Amplify, Bold, or Curl. In all styles, the kit will include three lengths: 10mm, 12mm, and 14mm. Why do we include those lashes in this kit? Those three lengths of our classic lash styles are our most popular and will flatter any eye shape. 
Regular Price: $125 USD
The LED Control Kit (Control Kit V2)
The updated and upgraded control kit is here! She's a little sleeker, smaller, and high-tech. As the name suggests, this kit comes with an LED mirror, so you'll never have bad lighting to fix your lashes again. The LED mirror has touch sensors to adjust the brightness of the light. It has one week of battery on a single charge. She comes with the same basic goodies as the original Control Kit: a dual-sided tube of Whisper Light, Glass finishing coat, a Wandom pair, and a magnified mirror. 
So what's new? Well, perhaps most exciting, The LED Control Kit comes with four Gossamers of any style and length — not just the classics and black. There are Prismatics and naturals to choose from; there's nearly every Gossamer style from Plushy Tame to Extreme Ice. You get to pick! 
Other exciting changes in the Control Kit V2 include the sapphire-colored Fuse Control Wand. This is the rarest color of wand; it's only available in this kit and The Glutton kit! Of course, you can get the wand in a classic curve or petit curve to suit your eye shape. The kit also comes with a foam-protected storage case for eight Gossamers. 
Regular Price: $185 USD
The Glutton
The Glutton kit is for a more advanced Lashifier, it's not exactly a lash extension starter kit. This kit is the ultimate in customization. You get to pick everything from the wand to the type of Whisper Light. It's crazy how much we can fit in this one little soft-touch box. No matter how you personalize it, The Glutton kit contains nine Gossamers, one Fuse Control Wand, one Whisper Light bond, Two Glass sealers, and either Night Bond or Control Wax. 
You can pick any color for your Fuse Control Wand in classic curve: hologram, silver, bronze, sapphire, graphite, matte Egyptian gold, aventurine, tourmaline, citrine, or violet flame. Next, you can choose two sealers from control wax, glass, and night bond. 
Next, it gets crazy. You can choose nine Gossmers from any Gossamer in the Lashify collection. Any length, any color, any style. Silver Prismatics and wispy chocolate Stardusts? You got it. Ginger Geminis and 16mm Teal Gossamers? It can be done. There are endless combinations, so let your creativity run wild. Or, take this opportunity to stock up on a ton of your favorite lash. If you want a box of exclusively black Curl lashes, we support you, too!
Regular Price: $358 USD
Sale Price: $322.20 USD
(Psst! Wish that sale price was even less? Join our Membership X program! For one annual fee, you'll get crazy discounts all year long, literally 15 percent off at minimum ALWAYS, no-limit free shipping, access to our secret backroom deals, and we just give you $5 credit to spend on your lashes and accessories every month!) 
Ready to Ditch Your Mascara?
You want volume lashes without the clumpy, itchy volume mascara. Professional lash tech services are great but can be inconvenient and costly. There's no need to be intimidated by doing your lashes yourself, especially when we can ensure you have the tools you need to succeed. 
Our starter kit was made with you in mind if you've been considering getting started with DIY, or DIFY (Do It FOR Yourself, as we like to say) eyelash extensions. 
Sources:
Exposure to Nail and False Eyelash Glue: A Case Series Study | PMC
Ocular disorders due to pulling eyelash extensions | PMC 
Appearance Satisfaction and Self-esteem according to the Actual Situation of Eyelash Beauty | Researchgate