What Is the Average Cost of Lash Extensions?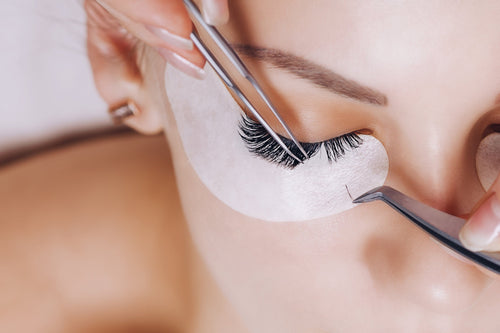 \You know what they say: money makes the world go 'round. And as catchy as that saying is, it's unfortunate that it's true. Everyone is out to live life to the best of their budget's ability, and sometimes that means finding ways to sneak in those beauty services that make you feel like a million bucks without actually spending a million bucks.
Hitting the hair salon every month, getting your full set of acrylic nail refills, and getting a summer spray tan is just naming a few, but this is Lashify®, and we're here to talk all things lash extensions. Trying to upkeep your lash habit can get pretty pricey, so to give you greater context to the cost of eyelash extensions, let's break down extension prices: the good, the bad, and the ugly.
Will it all still be worth it by the end? We might be a little biased, but we have a sneaking suspicion you're answer will be a resounding "Yes!"
The Most Bang For the Most Bucks
Why don't we kick it off from the top of the price pyramid? If you start with the worst of it, it can only improve, right? We're talking about the most expensive lashes money can buy, babes.
If you're in the market for eyelash extensions prepared to break the bank and cost you just as much in the time they take to apply, you'll want to step off the elevator here in lash tech land. The priciest set of lash extensions you can find will be abundant in the professional lash salons littered around your local urban area.
We'd advise you to get comfortable real quick because you'll be tied to your lash technician for the next one to four hours as they painstakingly apply extensions to your lashes. One. At. A. Time. 
A classic set of lashes applied by a lash artist will typically run you close to $120, but if you're after a more intense set of volume lashes, you're looking at upwards of a $400 charge. And that's not including a tip for the service of applying them! Tack on an extra 15 to 20 percent for that, and you'll be ready to start applying part-time at Baby GAP just to make up the difference.
But hold on! It gets worse! If your lash stylist's lash services are in high demand because of where you live or what they do, you should prepare for an increase in that average cost — classic lashes won't be the affordable gem they once were. Oh, and don't forget about that pesky extension removal fee. That's an additional $25 to $40 on the tail end. Incredible (we say sarcastically).
A few trips to the lash artist, and you'll be converting back to plain mascara for your lash lift needs.
The Cheap Choice
Have the tears started falling yet, or are they still just welling up? Before you go full meltdown mode, there are cheaper options on the market. These cheaper options aren't just a cheaper price tag; they come with cheaper quality, ingredients, and results too. Woohoo!
Don't get us wrong, we've all been through the strip lash phase, and we wouldn't be where we are today without that era of eyelash extensions paving the way, but we can all agree that they aren't the optimal choice for a consistent lash wearer. In almost any department store, you can stroll right over to a section folded within the makeup and find an assortment of affordable, yes, but low-quality lash extensions and lash glues.
We're talking lashes that put the "faux" in faux mink. For the low, low price of anywhere between $10 to $20, you could be the proud owner of a lash set that, once trimmed to fit, will still leave your eyes potentially itchy and irritated, angry every time you peel them away from your lids. Sure, you can take home a set of lashes and adhesive (for an additional $10) and be on your merry way for a fraction of the salon cost, but at what cost is that to your eye health?
Wearing and re-wearing a set of used eyelash extensions day in and day out leaves you open to risks like debris from the lash falling in your eye, your skin having an allergic reaction to the glue, or an all-out eye infection if you aren't careful. Before you know it, your natural lashes will be falling out faster than the lash cycle can grow them back, and you'll be left more reliant on the lash extensions than ever before.
Is that really worth it to you in the long haul? Because we promise there are better options.
What's the Price Point for Lashify® Lashes?
Lashify is the better option. Lashfiy perfectly combines high-end quality and affordability without any need to sit in a chair for four hours, risk your eye area (it'll actually improve!), or even tip. Every penny you spend on Lashify's Gossamers® and other products will be money spent all for you.
If you're looking for the best price for an all-in-one experience from the jump, we 100 percent recommend the Lashify Control Kit®. This is our premier starter kit for anyone joining the Lashify family. And we aren't just talking premier for Lashify members. No, we're talking premier in price and quality, even if you're a first-time purchaser from Lashify.
For an all-encompassing price of $125 plus shipping, you'll own the whole kit and caboodle. Gossamers® from the Core Collection™, Whisper Light™ Bond (Dual-Sided) with Micro-Flex™, the Fuse Control Wand® (in regular or petite style), our Glass Finishing Coat, a Wandom® pair, Storage Box, and a free sample of both remover and cleanser for easy lash removal and aftercare.
That's a whopping $183 retail price provided in a convenient package for $125. Upon receiving it, you'll have all the tools necessary to take your natural eyelashes from a drab to a glam, dramatic look in no time flat. 
We have all the advice, how-to help, and lash guides you could need available on our site to equip you to do every application, fill-in, touch-up, and removal for any type of lash all on your own.


And whether you're a fan of a hybrid lash, a classic lash extension, a volume lash, or a lash with a tint of natural color, Lashify has an abundance of options to make your experience with falsies a life-changing one. Your new lashes will be singing from the mountain tops, and so will your wallet.
Additional Content: Is It Worth It?
So we've answered the question, "How much do eyelash extensions cost?" But what about something to make your next search for false eyelashes that much more rewarding? What if there was something that gave back to you more than you gave to it? Your false lash journey would be more than financially manageable — it would be financially smart.
That's what you get with Lashify's Membership X. For $100 to cover an entire membership year, you'll have access to exclusive prices and deals for all Lashify products. With 15 percent off retail purchases, monthly money to spend in the shop, and Backroom deals that no other shopper has access to? Uh, yeah, sign me up!
If you feel like you're about to go on a spending spree after learning about this amazing option, we'd recommend simply adding Membership X to your cart before checking out and seeing how it pays back in dividends.
With price points like this, you'll be quitting that job at Baby GAP lickety-split and committing full-time to a long life of lash-loving. Look for us as you leave your last shift — we made a cardboard blowup of your face to celebrate this momentous occasion.
The Starting Line
How much are eyelash extensions? Before, you'd be in tears, incoherent as you tried to come to terms with the sheer cost of what you love. But now? Now you're walking tall and looking more confident than ever, ready to take on the world with your collection of eyelash extensions to keep you company.
Seriously, you're looking like a model from one of those perfume commercials where they run down the stairs in an outrageous dress and sail away on a speed boat with some hunk of man. You know the ones we're talking about — where the only dialogue is when they read the perfume name in a French accent? That's the energy you're giving with this newfound knowledge of your lash budget.
Now there's nothing holding you back from trying on every lash for your eye shape in every style under the sun. We're honored to be the one providing you with this mountain of lashes, after all, so if you ever need anything to keep that glowing energy going, you know where to find us. This is your new starting line.
Sources:
Lashify Control Kit Review: Why These Lashes Are Worth It | Marie Claire
Eyelash Extensions Pros and Cons: What to Know Before You Get Them | Healthline 
How to recognize and allergic reaction to eyelash extensions | Medical News Today