What Are Lash Extensions?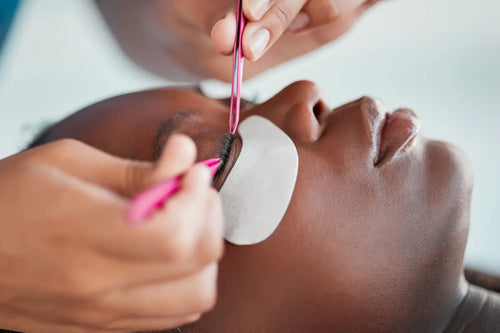 Why isn't your mascara doing what that person's mascara is doing? No matter how much volumizing, lifting, and lengthening mascara you use, your lashes just don't seem as full or as lengthy as you want them to be. 
The lashes you are idolizing are probably extensions (false eyelashes). Natural eyelashes are (on average) the length of one-third the width of the eye, or roughly 7mm-9mm long. If you're ogling eyes with lengthier lashes, they probably weren't created by nature. 
Lash extensions are a great way to enhance your lash line and give your natural lashes the boost you wish you'd been born with. Together, we'll explain how they work, which ones are best, and also tell you how you can get them without spending hours with a lash tech. 
Lash Extensions: What To Know
Lash enhancement isn't new. The history of lash enhancement dates back to ancient times, but extensions themselves were invented sometime around the early 1900s. 
Today, there are numerous types of lash extensions, including versions you can get done in a salon and ones you can do at home. 
Salon Lash Extensions
Lash extensions that are professionally applied are done in a salon setting by a lash tech. Using a lash glue, the lash artist will apply individual lashes to each of your natural lashes. 
Depending on the type of lash extensions you want, you'll have a different application ratio. 
Classic lash extensions. These are applied on a 1:1 ratio so that an individual eyelash extension is applied to each individual natural eyelash. 
Volume lash extensions. These extensions are grouped together in a bundle, so they are applied in a several-to-one ratio or several extensions to one individual lash. 
Hybrid lash extensions. The most popular type of eyelash extension is hybrid lash extensions. Hybrid lashes are a mix of classic lashes and volume lashes for a more natural look. 
The entire application process takes about three hours (for a full set) and ranges in price from $150-$500 plus tip. You'll also need a fill-in appointment in about three weeks. Lash extensions are designed to stay on until your natural lash reaches the end of its growth cycle and falls out. 
At-Home Lash Extensions
DIY lash extensions are different. There are different options to choose from, including strip lashes and magnetic lashes. 
Strip lashes. These lashes come attached to a band that is adhered to your lash line with lash glue or some type of sticky lash adhesive tape. Strip lashes are notorious for coming loose and usually need to be trimmed before you can even consider wearing them. 
Magnetic lashes. These lashes attach to your lash line with tiny magnets that are attracted to iron oxide eyeliner. Naturally heavier than standard strip lashes (due to the magnets), they might be uncomfortable for some people. You'll also need a little skill with liquid eyeliner to ensure you can get the iron oxide liner on correctly. 
Lashify® Gossamer® Lashes. Made from 100% Korean PBT silk, Gossamer lashes are a hybrid between individual lash extensions and strip lashes. Each Gossamer lash extension contains about 25-30 Gossamer lash fibers attached to a featherlight spine. The spines are attached to the underside of your natural lashes, just above your water line. This allows Gossamer lashes to apply more easily, look natural, and feel weightless. 
You aren't at a loss for options, so how do you know which ones to choose? Let's consider the pros and cons. 
Salon vs. At Home
There are definitely some advantages to being able to do your own lashes at home. For one, you don't have to spend hours at a salon, and you don't have to pay a ton of money to have your lash technician. 
However, can at-home lashes really compare? With the Lashify DIY Lash Extension™ System, we say yes. 
Application
Applying false lashes can be a unique experience, which is why the team of lash experts at Lashify would never leave you in the dark. Even though the Lashify system is easy, we have an entire page devoted to how-to videos and answers to frequently asked questions. 
No matter what kind of lash help you need, you'll find it here.
Bonds
It's no secret that lash glue can be dangerous for your lashes. Almost all lash adhesives, including salon-grade lash glue, contain cyanoacrylates and formaldehyde. These chemicals can irritate sensitive skin and eyes. They also cause your natural lashes to become stiff and brittle, which promotes breakage. 
Lashify Bonds are different. Our Bonds are formulated with biotin and lavender, two ingredients that support the health and growth of your natural lashes. Our bonds also never fully cure, which allows them to bend and flex with your natural lashes so they never feel stiff or brittle. 
Time
The first time you apply your Gossamer lashes, we recommend booking about 30 minutes to get the job done. As you become more efficient, you'll probably need about 10 minutes to apply a full set. 
Longevity
It's true that salon lashes are made to last three to four weeks or until your natural lash falls out. Unfortunately, the glues and weight of the lash extensions themselves can shorten the lifespan of your lash extensions. 
Additionally, since every lash is on its own growth cycle, you might need refills sooner than you plan to get them. With Gossamer lashes, you can apply and wear a set for up to 10 days with proper care. Even better, our Gossamer lashes are reusable for months. 
Options
With salon lash extensions, you're locked into one style until you get a refill. With Gossamer lashes, you can remove your lashes and reapply them whenever you want. If you want a lowkey look for work and a more dramatic, fluttery look for the night, you can have both on the same day. 
Removal
You should never try to remove salon eyelash extensions at home. You could risk irritation to the eye area and damage to your natural lashes. You should always see your lash stylist to have professional lash extensions removed. 
To remove Gossamer lashes, you just need a dual-phase, oil-based makeup remover. While you're wearing your Gossamer lashes, it's best to use oil-free makeup and products. Oil breaks down the Bonds and allows you to easily slide your Gossamer lashes off of your natural lashes without damaging them either. 
Bottom line: If you want more control over your lash style and want to avoid spending a lot of time and money on salon falsies, the Lashify DIY lash extension system is the perfect solution. It's easy to take control of your lash looks with the Lashify Control Kit™.
Get Control 
The best lash looks are made easy with the tools you get in your Control Kit. It's the easiest and most convenient way to start using the Lashify system. 
Each Control Kit contains: 
Two sets of Gossamer lashes. You choose from Bold, Amplify, or Curl. You can add more lashes to your lash wardrobe whenever you want, but you'll get two sets to build on. We recommend a dramatic look for events or nights and a more casual look for daytime. 
Fuse Control® Wand. Pick between the standard Fuse Control Wand or the Petit Curve Wand. This is the tool you need to apply your Gossamer lashes. It is ergonomically developed to hug the curve of your eyelid, so you get the perfect application every time. 
One set of Wandoms®. Don't be a fool; wrap your tool! Lashify Bonds get tacky so that they hold your Gossamer lashes in place. Wandoms help ensure the Gossamer lashes don't stick to your Wand when you're applying them to your natural lashes. 
Whisper Light Bond™. The OG Bond is also our most popular. It's lightweight, safe, and creates a lasting hold on your Gossamer lashes. It's the perfect way to keep your lashes secure and is easy to apply with the dual-sided spoolie brush.
Glass Finishing Coat. You don't have to seal your lashes, but doing so can help them last even longer. Glass helps reactivate your Bond and increases the longevity of your Gossamer lashes. 
Samples. Each Control Kit comes with samples of Pre Cleanse and Melt Away, our cleanser and remover that are safe to use with your Gossamer lashes. Our Pre Cleanse also works as a gentle yet effective facial cleanser.
We package it all in a convenient and protective hard case so you always know where your lash tools are when you need them. 
Extend Your Lashes At Home
Those long, full lashes you crave? They're lash extensions! You can get them at home easily and conveniently with the Lashify system. Don't be lash-envious; get the lashes you want. Lashify lets you Be Your Own Lash Tech™.
Sources:
Your Eyelashes Should Be This Long, Science Says - Scientific American
Why Were Fake Eyelashes Invented? Their History Is Very Bizarre.
Is Eyelash Glue Toxic? | Poison Control
Biotin - Health Professional Fact Sheet
Mink Eyelashes Exposed: What Salons Won't Tell You | PETA
Lashify Review: The Pros and Cons of These DIY Eyelash Extensions|Cosmopolitan