Get Salon Looking Lashes With Under-Lash Extensions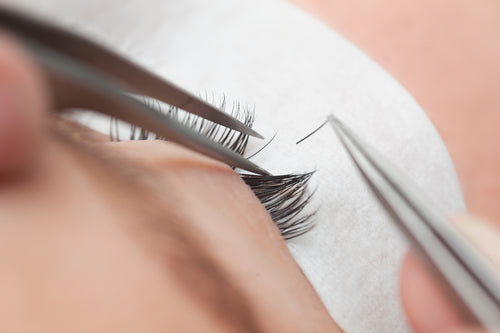 You love the look of lash extensions, but if you're getting fed up with the massive amount of time and money involved with getting fill after fill only to end up with the same lash look every time, it might be a good idea to consider your alternatives.
We know what you're thinking: you can't possibly get salon-looking lashes at home. Lashify® makes it completely possible! Like you, we were tired of spending so much time and money at the salon just to end up with the same look over and over again. 
We created Lashify to fill a gap in the market, and we did it by developing a DIY lash extension system that allows you to be your own lash tech. One of the ways we do it is by using Underlash Technology™. 
What Is Underlash Technology?
It sounds complicated, but it's anything but. When we created our DIY eyelash extension system, we knew we had to differentiate ourselves from the available at-home options. It wasn't that difficult because each type of at-home lash had its own set of issues. 
Strip lashes. They always needed measuring and trimming, and they rarely stayed in place. Plus, the annoying black band was always a tell-tale sign you were wearing falsies. 
Individual lashes. These types of at-home lash extensions required a level of expertise we just didn't have. Additionally, the glue made our lashes stiff and brittle, similar to salon lashes. It wasn't a good feeling, and the false lashes repeatedly fell off, taking our natural lashes with them. 
There had to be a better way, and there was. Lash clusters are lashes that are applied in small clusters. 
Think of it like strip lashes that have been cut into small sections. This works well for at-home application because if you make a mistake during application, you don't have to remove all your lashes to start over. You simply need to remove one section. 
One of the other defining factors we developed was Underlash Technology. No more dark black bands or placing your lashes halfway up your eyelid. Lashify Gossamer® lashes are applied beneath your natural lashes, close to (but not against) your water line. 
What Are the Benefits?
It might seem like applying false eyelashes under your natural lashes is counterproductive, but it's a superior system than attempting to apply them to your lash line. 
Here's why. 
Better placement. How many times have you ruined your lash application by applying your lashes too far above your lash line? We thought so. It's virtually impossible to get the application perfect. 
Applying your artificial lashes underneath your natural lashes is virtually foolproof. It can take a little adjustment to get the placement close to, but not on, your water line, but it's a much easier process than trying to get your lashes on your upper lash line.
More comfort. Wearing artificial lashes can be uncomfortable, especially if you are wearing volume lashes. The weight of the lashes can make it feel like your lids are drooping. 
Underlash technology eliminates the weight. By applying your false lashes to the underside of your natural lashes, you'll experience more comfort while you're wearing them. 
A more natural look. When applied under your natural lashes, your artificial lashes blend better and look more realistic. 
It's also much easier to apply cluster lashes to your natural lashes than it is to attempt to apply individual extensions to individual eyelashes. 
Apply Your Lashes in 5 Easy Steps
The Lashify system is easy, but if you don't get it right the first time, that's okay. We have an entire section of our website dedicated to ensuring you have the best application experience possible. 
Most new users say they feel comfortable applying their lashes after three attempts. Let's quickly cover the five steps to applying Lashify Gossamer ® Lashes.
1. Prep
Before you begin, it's essential to prep your natural lashes. We recommend Pre Cleanse, our Japanese cleansing water that doubles as a face wash. This cleanser gently removes dirt and oil from your lashes so your Gossamers adhere perfectly. 
2. Brush On Your Bond
The Lashify system doesn't use lash glue. Instead, we use Bonds. Bonds are formulated without any toxins, so you never have to worry about cyanoacrylates or formaldehyde in our formulas. 
Instead, our Bonds contain natural lash nourishing biotin and Lavendula (lavender) to help encourage your natural lash health and keep your lashes thriving. Our Bonds also never fully cure. They feature Micro-Flex™ technology, allowing your Gossamer lashes to bend and flex with your natural lashes to help avoid breakage.
Using the included spoolie wand, brush a thin layer of your preferred Bond through your lashes. You'll want to allow it to become tacky, and you can read more about that process on our website. 
3. Apply Your Gossamers
Using our ergonomically designed tool, the Fuse Control® Wand, apply your Gossamer lashes beginning in the inner corner and working your way to the outer corner of your eye. Apply your Gossamer lashes just above your water line. This may feel tricky at first, but once you find the perfect placement, it's easy to find it every time. 
4. Fuse Your Gossamers
Using your Fuse Control Wand, fuse your Gossamer lashes to your natural lashes. There are a few different ways you can fuse your lashes, and the best way is the one that you feel most comfortable with. 
5. Optional: Coat Your Lashes
Gossamer lashes don't need to be sealed, but if you want to wear them for as long as possible (and overnight), we recommend sealing them with a sealant like Glass Finishing Coat or Night Bond® Sealer. This helps ensure your Gossamer lashes stay put.
That's it. Take a look in the mirror because you're going to be surprised at how effortlessly you just got salon-looking lashes at home. If you're still considering whether or not to try Lashify, you've got to grab the Control Kit™. 
More Control
The Control Kit™ is our starter kit that comes with everything you need to ditch your mascara, your lash pro, and your strip lashes. From the right applicator tools to two pairs of Gossamer lashes that you choose, you'll be primed and ready to be your own lash tech. 
Each Control Kit comes with:
Two sets of Gossamer lashes. One of the features you'll love about the Lashify system is the control you have over your style. If you want to wear classic lash extensions by day and full glam, luxe lashes by night, you can do that. Lashify Gossamer lashes are reusable and easy to change. Your Control Kit comes with two pairs.
Fuse Control® Wand. Put away the tweezers and any other tools you've been using. The Fuse Control Wand (and its sister, the Petit Curve Wand) are the essential tools for applying your Gossamer lashes to the underside of your lashes. 
Whisper Light Bond™. The adhesive that isn't an adhesive. Our Bonds keep your Gossamer lashes locked on tight to your natural lashes while working more like a lash serum, hydrating them and keeping them nourished. 
Glass Finishing Coat. Seal the deal with our most popular finishing coat. Glass also works between applications to help extend the longevity of your Gossamers. 
One pair of Wandom® Wand Covers. Yes, you read that right. Wandoms. Tiny little condoms for your Fuse Control Wand, so you never have to deal with a sticky situation. No Gossamers stuck to your applicator tool means they adhere seamlessly and effortlessly to the underside of your lashes. 
Samples. We include a sample of Pre Cleanse in each Control Kit, along with a sample of Melt Away. When you're ready to remove your Gossamer lashes, Melt Away breaks the Bond between your natural lashes and your Gossamers so you can easily slide your Gossamers off of your natural lashes, keeping your natural lashes and your Gossamers safe. 
You do not have to use Melt Away to remove your Gossamers. Any dual-phase, oil-based makeup remover will work. 
Everything you need comes in an easy-to-find storage case that protects your Gossamer lashes and has a magnifying mirror for easy application. When you're ready to break up with your lash tech, the Control Kit is your backup plan. 
Under It All
The key to getting lashes that look salon quality at home? You've got to go "down under." The Lashify system is designed for application underneath your natural lashes to help you get a natural look without spending hours in the salon chair and being locked into one style. 
Source:
Is Eyelash Glue Toxic? | Poison Control
Biotin - Health Professional Fact Sheet
Eyelash Extension Facts and Safety - American Academy of Ophthalmology