Summer Makeup Looks To Try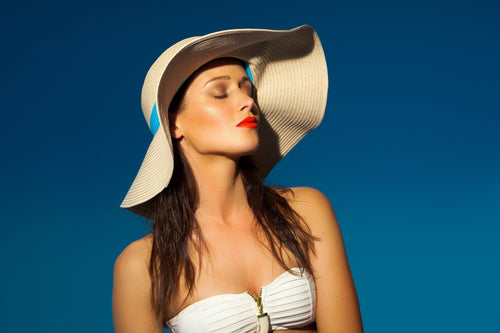 Summer's here! The long-awaited time of year, packed with fun in the sun. Vacations with the fam, playing hooky with work (we won't tell!), partying it up, or chilling it down — however you spend your glorious summer days, one thing is always true: it's supposed to be fun! 
So what better time to have some fun with your makeup look? It's the perfect, playful time to try something new. No matter your aesthetic, we have some hot suggestions for the hottest time of year. 
Looks on Trend
Au Naturale
Many style experts agree that the biggest makeup trend of the summer isn't makeup at all: it's good skin! Therefore, when it comes time to apply your makeup, go minimal, minimal, minimal. Stick with neutral, natural tones for eyes and lips and barely-there sheer foundation. 
This trend is holding hands with another trend: Nude Lips. Whether pairing them with a barely-there makeup look or a dramatic smokey eye (yes, they're back), nude lipstick is very on trend this summer. 
Colorful Eyeliner
Year after year, summer is the time that colors come into trend. In 2023, color is having perhaps a bigger moment than ever before. Brightly colored eyeliner, especially pink, is having a moment. It's not just for parties anymore; you can expect to see more people rocking neon eyeliner on the daily. 
Though technically white is the absence of color, bright white eyeliner is a dark horse in this colored-liner race. Pairing a bold white line with a very thin black line for definition when crafting a cat eye can bring a fresh and bright twist to a classically sexy look. 
This summer, we're coloring outside the lines and using bright shades of eyeliner on the lower lash line instead. Under Eye details, from eyeliner to gems to mini drawn-on works of art, are super trendy right now (thanks Euphoria). Balance a detailed lower-eye look with a set of fluffy, fluttery lashes on the top. 
Metallics and Sparkles
Not glitter per se, but metallic eyeshadow is staying in vogue for another summer. From bold, nearly chrome metallics to subtle golden bronze shades, metallic shadow can be easily personalized. 
This year's top tip for metallic shadow: adorn the inner corners of your eyes with gold eyeshadow for a warm, regal look. Best paired with a glossy lip and a piecey lash look. 
Related to the shimmer of metal, face gems are gaining traction and not just as a rave accessory. You've seen them on Euphoria, but they're also popping up across the feeds of some well-known models, like Hayley Bieber. Try placing them tightly underneath the lower lash line.
Barbie-core
Greta Gerwig's highly anticipated BARBIE movie is set to be the movie event of the summer, and there's nothing more fun right now than playing with that Barbie Pink hype! From hot pink to pastel pink, we want to see pink eyeliner, pink blush, pink eyeshadow, and pink lips. 
Barbie is known for her endlessly personalizable style, and this trend is no different; there's no wrong way to do Barbie-core. No Barbie-core look is complete without a set of curly lashes and a glossy lip. Glossy lips, whether you're in line to see Barbie or not, are also having a moment right now.
Smokey Eyes Are Back
You know them; you may love or hate them, but smokey eyes are back. This dramatic eye look smudges dark shades of eyeshadow to emphasize the white of your eyes. 
Summer Lash Looks
Trends should always be just a jumping-off point to build your own looks, whether you want to just enhance your natural features or get creative with self-expression. When we talk about styles and trends, eyeliner and eyeshadow typically get top billing, but we at Lashify have some thoughts about styles that spotlight the lashes. So grab your Control Kits, and let's look at how to use lash extensions in your trendy summer styles! 
Au Naturale
In pursuit of the bare-faced trend above, take a peek at our Intimates Collection. The Intimates collection features four natural hair colors beyond black to seamlessly blend into your natural lashes: Ash, Minx, Ginger, and Truffle. 
The Gossamers in this collection come in Curl and Amplify styles, plus Truffle comes in a variety of styles from the Volume Collection. Since Lashify's Gossamers can lash for up to ten days with proper care, you just might forget you're even wearing extensions because they'll look so natural. 
Bright Colors
Bright eyeliner, take five; brightly colored lash extensions from our Prismatics Collection are ready to play. Eye-catching shades include silver, pink, red, lavender, teal, Royal Kim Blue, dark brown, and violet. 
Use the silver lashes to jump on the metallic trend and Barbie Pink lashes to go all in on Barbie-core. These vivid lashes come in the classic curl style, so they are perfectly sculpted to pair with a wide variety of other styles. 
You can totally do a full set of prismatic, but for a slightly more understated look, you can build a lash map that mixes prismatics with classics. That's another thing that's so great about DIY extensions like Gossamers: they're endlessly personalizable, and you get to make all the creative choices! Be like Barbie, be anything you want to be! 
Sweat-Proofing Your Look
Everybody sweats. There is simply no way to stop it, and it's perfectly natural anyhow. But you put a lot of work into your makeup look, so the last thing you want is it sliding off your face with sweat. 
Luckily, we have some pro tips to keep your face on your face! Here's how to sweat-proof your look: 
Start With a Strong Base
You're going to need an oil-free moisturizer, an oil-free sunscreen, and a quality primer. Each one of these bottles has a specific and necessary job in creating a stable foundation for your foundation. 
The moisturizer will ensure your skin stays hydrated since dehydrated skin can result in cakey-looking makeup. If the moisturizer is oil-free, not only will it help your makeup get a grip on your face, it will reduce the shininess of your face.
Similar rules apply to sunscreen. Always wear your sunscreen, SPF 30 at a minimum; you've likely heard all the good reasons to wear sunscreen before, but consider one more: makeup doesn't want to stay on a sunburned face.
Finally, a quality primer. You're probably already using a primer in your daily makeup looks, but in the summer, primer is the MVP of your makeup kit. Primer's sole job is to hold the pigment of your makeup in place. A good primer is your first line of defense against sweat. 
Choosing the Right Formulas
When it comes to choosing the products you use to create your look, keep it airy and sheer. Avoid cream foundations, powder blush, and anything shimmery. Shimmer mixed with even a little sweat is a recipe for looking like you're melting. 
Cream-based cosmetics do not play nicely with humidity; you'll look sweaty after just a couple of hours because your skin can't breathe. For color, opt for stains instead of creams or even powders. Lip stains and stain blush will get you staying color with no extra weight. 
Top It All Off
During any time of year, your makeup will last longer if you top it off with a setting spray. Not only will it stay on longer, but you may also notice a reduction in how shiny your face gets. 
Keep a pack of blotting papers handy if you're still combatting the shinies. Take a couple of seconds to blot your T-zone when you notice the oil building up, and it's like it was never there. 
Finally, have you heard about sunscreen powder? You know you need to reapply every hour or so, but it's not always convenient. Rather than reapply the liquid SPF across your makeup, you can literally brush it on like a setting powder. 
Most sunscreen powders utilize zinc oxide or titanium dioxide, which are gentle on sensitive skin. As if extra sun protection wasn't reason enough to give it a shot, sunscreen powder can mattify oily skin. 
Need a Hand?
Trying something new can be intimidating, and not everyone has a natural gift for makeup artistry. So how can we help? Well, when it comes to styling your lashes, we have many video tutorials and offer 1-on-1 consultations to help you learn the ropes of becoming your own lash stylist. Speaking of tutorials, there are hundreds of make-up tutorials online just waiting for their next fan. 
Trying something new with your look has never been easier; remember, it's not permanent! If you try a new look and it just isn't for you, that's nothing soap, water, and a little Melt Away Remover can't fix in just a few minutes! Remember, makeup is art, and there's no wrong way to make art! 
Sources: 
37 Best Summer Makeup Looks to Try Right Now—Pics and Tutorials | Glamour
15 Summer Makeup Tips - Best Makeup for Hot Weather, According to Beauty Experts | Good Housekeeping
7 Best Powder Sunscreens That Won't Mess Up Your Makeup | Good Housekeeping