Lash Wars: Strip Lashes vs. Lash Extensions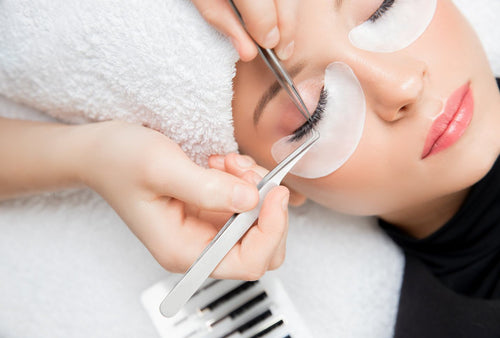 It's the showdown you (probably haven't) been waiting for. But, if you're a little stuck between trying strip lashes or extensions for your lash enhancement, you've come to the right place.
The end results you want are beautiful, longer, and more voluminous lashes. Together, we'll discuss how to get there and whether strip lashes or lash extensions will get you there better. 
We'll compare each method in terms of:
Method
Overall appearance
Ease of Use
Adhesive material
Wearability
Durability
Cost
Overall Satisfaction
Once we're done, you can decide which is right for you. Get ready; it's time for the final lash showdown! 
First to enter the ring: Strip lashes.
Strip Lashes 101
You know them; you love/hate them. The drugstore favorites you've been using since you were are teen have grown up with you, and they've had a few enhancements. 
Here's everything you should know about how they work and whether they'll fit you well.
Method
Strip lashes are pretty simple. They consist of a lash band that has false eyelash fibers attached. The strip is a one-size-fits-all size, meaning it must be trimmed and measured to fit your eyes. 
These are attached with an adhesive to the eyelid, just above your natural lash line. 
Overall Appearance
Strip lashes are notorious for looking…like strip lashes. It could look unnatural if you can't get the strip very close to your lash line. 
Thankfully, many newer styles do look more natural, with lash bands that are thinner and less noticeable. It's impossible to customize the final look. What's on the strip is what you get. 
Ease of Use
Strip lashes aren't necessarily difficult; they just historically don't work well. It can be maddening to try to attach them, with one end inevitably popping up when the other end finally sticks. 
You'll need tweezers to apply them and some skill to get them close to your natural lash line without sticking to it. 
Adhesive Material
You'll attach strip lashes one of two ways: with either a peel-and-stick method or glue. Most strip lashes are no longer peel-and-stick because they just don't stick. 
The glues used to attach them usually contain cyanoacrylates (super glue) and formaldehyde-releasing chemicals. These glues aren't great for you or your natural lashes.
Wearability
Strip lashes may feel heavy because of the way they are designed. The lash bands can feel hot and sticky, making your eyelids slightly droopy. Strip lashes aren't designed to be worn for long periods, and most will start to lift around the edges after about six to eight hours of wear. 
Durability
If you're wearing drugstore strip lashes, it's best to treat them as single-use products. They just aren't designed to last for multiple wears. It can be almost impossible to get the glue off of the band, and attempting to apply more glue on top of old glue won't allow them to stick properly. 
Cost
These are your budget's best friend. If you need longer, thicker lashes for an event, you can score a pair of strip lashes for less than $20. 
Overall Satisfaction
Strip lashes give you what you pay for. If you just need a quick fix or basic lash enhancement that won't break the bank, you can trust a pair of strip lashes. If you want more day-to-day wear, or the ability to leave your lashes on longer, you'll want to consider lash extensions. 
Lash Extensions
Getting a full set of lash extensions may seem like the miracle solution for semi-permanent lash enhancement, but it isn't without a few considerations. 
Here's how salon extensions stack up against strip lashes. 
Method
You'll spend about three hours in a salon chair to have lash extensions applied. You'll have your eyes closed the entire time, which may be uncomfortable for some people. 
Lash extensions are glued to your individual eyelashes on a per-lash ratio basis. For instance, you may get classic lash extensions which are applied on a ratio of 1:1, with one artificial eyelash fiber applied to each natural lash. 
You can also have volume lashes applied at a ratio of several to one, with multiple artificial eyelash fibers attached to one natural fiber. 
Overall Appearance
Lash extensions can range from completely natural and realistic to dramatic and over the top. Either way, the application method helps them look professionally done, and you never have to worry about whether or not they're sitting above your lash line since they're actually attached to your lashes themselves. 
Ease of Use
If you have lash extensions professionally done, you don't have to do any work. You will, however, get to know your lash tech well because you'll spend about three hours for the initial set and an hour for each subsequent fill.
Adhesive Material
Even professional glues contain the same type of ingredients that at-home strip lash glue contains. You'll still find formaldehyde-releasing ingredients and cyanoacrylates, which can cause skin sensitivity and allergic reactions in some people. 
Wearability
Lash extensions have great wearability. They aren't waterproof, so it's important not to get them completely submerged in water, but they're excellent for all-day and all-night wear. A set of extensions requires little care and usually saves you from wearing mascara.
Durability
With proper care, your lash extensions will last as long as your natural lashes. That means when it is time for your natural lash to release, it will take the extension along with it. 
Lashes grow on a cycle, and each lash is on a separate cycle so that all your lashes don't fall out at once. That said, you can expect to head back to the salon for a fill around the four-week mark. 
Cost
Lash extensions cost time and money. A full set can range in price from $175-$300, with fills costing between $75 and $150. The cost can add up when you consider how frequently you'll want to fill your lashes. 
Overall Satisfaction
Most people who want longer lashes love the look of salon lashes and prefer them to strip lashes. The problem is that they cost time and money and expose you to harsh chemicals. 
The solution? The Lashify DIY Lash Extension™ System. 
Lashify
The Lashify system was developed to give you the ability to get salon-quality lashes at home. Our Gossamer® lashes are made from Korean silk, are easy to apply, and use Underlash Technology™ to keep them looking natural and feeling weightless. 
Gossamer lashes attach with our Bonds. Our Bonds don't contain any harsh chemicals, cyanoacrylates, or formaldehyde. Instead, they contain ingredients you'd find in a lash serum, like biotin and Lavandula. 
To get started with Lashify, you just need a Control Kit™.
Get Control
The Lashify method starts with the Control Kit™, your one-stop for everything you need to Be Your Own Lash Tech™.
Each Control Kit contains: 
Two sets of Gossamer Lashes. Choose two pairs of Gossamer lashes to start building your lash wardrobe. 
Fuse Control™ Wand. The ergonomically amazing way to apply your Gossamer lashes. No tweezers or sticky bands. This Wand makes application a breeze.
Glass Finishing Coat. You don't have to seal your Gossamer lashes, but for ultimate wear, we recommend it. You'll get a full tube of Glass Finishing Coat with each Control Kit.
Whisper Light™ Bond. Our most popular bond is perfect for beginners and never fully cures, allowing it to bend and flex with your natural lashes to prevent breakage.
Wandom® Pair. The perfect protection for the perfect tool. Wandoms cover the tips of your Fuse Control Wand to ensure it doesn't get stuck to your Gossamers during application. 
Samples of Pre Cleanse and Melt Away. Our two favorite products for keeping your lashes prepped and ready before you start applying your Gossamer lashes and for helping you easily glide them off your natural lashes when it is time to remove them. 
Everything comes packaged in a protective hard case so you can keep your delicate Gossamer lashes safe and your tools all in one place. 
Lashify FTW
If you're looking for serious lash enhancement, strip lashes probably aren't going to be the solution you want. Salon lashes look amazing, but they can really cost you time and money and expose your natural lashes to ingredients that aren't safe. 
Take your lashes into your own hands, and just get Lashify. The Lashify system is the solution for getting the lengthy lashes you love right in the comfort and convenience of your own home. 
Sources:
Is Eyelash Glue Toxic? | Poison Control
Exposure to Nail and False Eyelash Glue: A Case Series Study - PMC
Formaldehyde And Formaldehyde-Releasing Preservatives - Safe Cosmetics
The eyelash follicle features and anomalies: A review - PMC)