Lash Stacking 101: Elevate Your Glam Game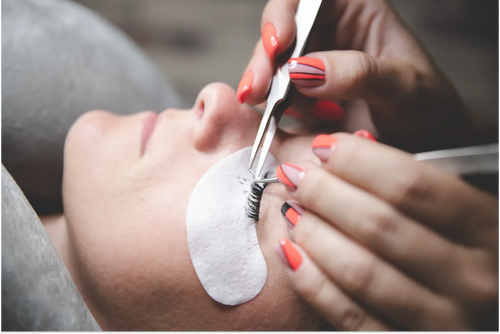 Lashify's unique DIY lash extension application system gives you endless creative freedom. Our Gossamer lash extensions come in lash clusters that can be mixed, matched, and stacked to create unique looks. Lash stacking is a great tool to help you achieve natural-looking volume. There are several different lash stacking techniques to experiment with. 
Whether you're new to Lashify or you're a Gossamer Girly for life, we have everything you need to know about lash stacking right here. 
What Is Lash Stacking? 
Lash stacking is pretty much what it sounds like: it's a lash extension application process characterized by stacking lash clusters on top of each other. Different lash stacking techniques utilize different orientations and stacking arrangements, but they all hinge on layering Gossamers to add volume or length to your look. 
Lash stacking as a concept is a Lashify original. Our lash experts coined this term when they developed the technique. After all, the technique requires Gossamers to execute. 
Because Gossamers come in small lash clusters — not strips and not individual lashes — they can be stacked and layered in a way that doesn't look clunky or messy. If you tried to lash stack strip lashes, it would look like you were wearing two strip lashes. With Gossamers, they seamlessly blend when stacked. 
You can stack your Gossamers on the first fresh application of a fresh set, but you can also stack Gossamers on top of a lash map you've been wearing for a few days. If you've been wearing a single layer of Gossamers for a week, and Friday rolls around, and you need a bolder look, you can just stack a new style right on top of your existing extensions! 
No need to start from scratch or remove your current lashes and start over; just fuse a new layer straight on top. When you stack a new layer of Gossamers on top of the first one in the middle of a wear, you actually reinforce the bond of the first layer, giving you a longer wear time overall! 
Can Anyone Do Lash Stacking?
Ultimately, yes! Anyone can learn lash stacking. Lash stacking does take practice, though, just like the regular Lashify application process. 
We recommend you master the basic Gossamer lash application before you take a shot at lash stacking. We often talk about it as Level 1 Lashify and Level 2 Lashify. After you feel you've graduated from Lashify level 1 (you're confidently and consistently nailing your Gossamer application), it's time to give lash stacking a try. 
Never fear! Lashify is not just for lash professionals; Lashify is for everyone — and that includes you! It just takes practice, like anything else worth learning. 
With a little practice, you can achieve a perfect Gossamer fuse every time, and with a little more practice, you can master advanced application techniques like lash stacking!
Why Should I Learn Lash Stacking?
Stacking your lashes lets you design ultra-customizable lash maps. You can customize your lashes to perfectly flatter your exact eye shape or aesthetic. 
You can use the same lashes in different arrangements to get different looks. You can wear the same Gossamers for work and nights out if you want and still get different looks. 
Gossamers are made of high-quality Korean PBT silk. They're virtually weightless, so you can stack until your heart's content without forcing your eyelids to feel heavy. Gossamers can be stacked and still give you wispy, weightless, comfortable wear for days. 
Beyond the techniques listed below, there are several aesthetic effects you can get with lash stacking: 
Eyeliner Dupe: You can stack short Gossamers (think 8mm, extra short) on top of longer Gossamers to get an eyeliner-like effect. 
Subtle Color Ombre: Have you checked out our Prismatics Collection? In case you haven't seen it, Prismatics offer a wide range of vibrant colors like red, violet, silver, teal, Royal Kim Blue, and more. If you stack Prismatic Gossamers on top of natural colored extensions of the same length, you can achieve a subtle and fun ombre lash look as the different colored fibers blend. 

Wing It: Scoot over winged eyeliner; we have a new wing to fly on. Place Gossamers of a slightly longer length on the outer corners of your eyes to achieve a winged look. Some find this hack to be uncomfortable, but other people don't mind it.
Open Your Eyes: Instead of placing the longest lashes on the outer corners, you can stack the longest Gossamers in the center of the lash lines to create a Doll Eye, which is a more open-eyed look. 
Volume Stacking 
Volume stacking is our most popular stacking method for a reason. We get questions and compliments on social media for this lash hack all the time, so we highly recommend starting with this one when you start lash stacking. You can even experiment with volume stacking after your first application is in place, even if you're just getting the hang of the Gossamer application. 
Volume stacking entails stacking Gossamers directly on top of one another. That is, the spines of the gossamers should align like velcro without dangling off the edge of the spine beneath it. 
This stacking technique results in more fibers working in parallel, creating a more dramatic, voluminous look. 
Here's the How-To:
Apply your first layer of Gossamers as normal and let it get set. We recommend a base layer of Curl Gossamers if this is your first time trying lash stacking. Need a refresher on how to apply layer one? We got you!
Start the stack by adding a little bond to the existing base layer. You want a strong and sturdy base to build from. You can use clear Whisper Light to see where you're placing your next layer or use some black Whisper Light to get an eyeliner-like effect. The Whisper Light precision tip is great for this. Apply Whisper Light along the top edge of the spines on the base layer of Gossamers. This is the bond that the next layer will adhere to.
Wait 30 to 60 seconds for the Whisper Light to get tacky. If you used clear Whisper Light, wait for it to turn clear.
Once the bond is tacky, apply the second layer of Gossamers so that the spines align with those of the first layer.
After all your Gossamers are in place, gently fuse for 15 seconds, just as you did for the base layer. All done! 
Brick Stacking
Brick stacking is another super popular stacking technique. It's excellent for adding dimension and intensity to your lash look. As the name suggests, brick stacking entails layering the lashes as you would lay bricks, with one layer slightly offset from the one before it. 
Brick stacking is highly recommended for those who have sparse or thin lashes. The offset lash placement bridges the gaps that might appear in your lashes to give you more even density across your lash line. If you have sparse lashes, Brick stacking may also help you achieve greater longevity in your lash-wearing because the positioning gives the Gossamers more to hang on to. 
Unlike Volume stacking, you can't add a brick stack to an existing lash placement. To get a proper brick stack, you do have to start fresh. It's a slightly more advanced technique than volume stacking, so if you try a volume stack first, you'll likely have an easier time with the brick stack. 
Using this technique with lashes of different lengths will create a soft, wispy, natural-looking effect. 
Here's the How-To: 
When laying down the base layer of Gossamers, leave about the length of half a Gossamer spine between each lash cluster. Other than leaving this crucial space between the Gossamers, apply them and fuse as normal. Pro Tip: In this technique, place one Gossamer on the inner and outer corners to set the boundary of your "bricks."
After the base layer of Gossamers has set, apply Whisper Light along the spines of the Gossamers in that base layer. We highly recommend using the clear Whisper Light for his technique because you need to see the gaps in the base. You can also apply the Whisper Light to the individual spines of each Gossamer in the second layer as you apply them, but many find it easier to lay down a layer of bond on the base layer instead.
Wait 30 to 60 seconds for the Whisper Light to get tacky. If you used clear Whisper Light, wait for it to turn clear.
Apply the Gossamers for the second layer one at a time. Place them centered on the gaps in the base layer.
When all the gaps have been filled, gently fuse at the lash line as you did the base layer. All done! 
Length Stacking
If you're unsure about purchasing a longer length of Gossamer next time, you can experiment with length stacking to better understand how long lashes would look on you. Lash stacking will also add some volume to your look. 
Length stacking creates an illusion of longer lashes across the whole lash line, but if you want to, you can focus the length on specific areas, like the outer corners of the eye. This is a stacking technique that totally works for lash-stacking beginners. 
Here's the How To: 
Apply your first layer of Gossamers as normal and let it get set.
Next, you'll apply the bond. Apply Whisper Light along the top of the base layer of Gossamers about 2 mm away from the spine of the lash (toward the tip of the lash). The Whisper Light precision tip is great for this technique since you need to get away from the spine but not too far out on the lash.
Wait 30 to 60 seconds for the Whisper Light to get tacky.
Once the bond is tacky, apply the second layer of Gossamers along the line of bond, 2 mm away from the spine of the base layer. It doesn't particularly matter how you align the spines; with this technique, it's up to you. Find a place on your lash line to which you'd like to add length.
After all your Gossamers are in place, gently fuse for 15 seconds, just as you did for the base layer. All done! 
Sources: 
Lashify Review 2023: DIY Lash Extension Pros, Cons & Photos | Good Housekeeping