Achieving Expressive Eyes With Manga Lash Extensions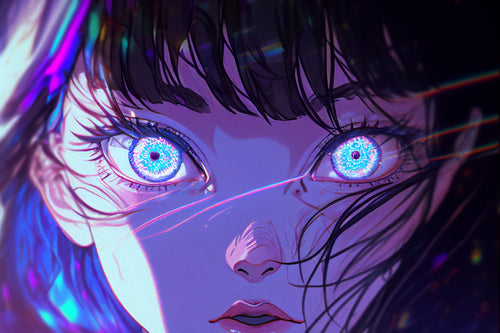 Whether you're a fan of manga, a fan of anime, or a passive observer of the mediums, it's hard to deny that manga character's eyelashes are always on point. Naturally, manga and anime have become major inspirations for lash looks across the world. Manga style is not just for cosplayers anymore. 
So, what exactly does "manga-style lashes" mean, and is it a good style for you? How can you do it yourself without the pro lash tech appointments? Let's talk about it!
What Are Manga Style Lash Extensions?
Manga and anime characters have distinct features compared to Western comic and animated characters. Manga character's eyes, for example, are highly exaggerated; they're drawn disproportionately large, making them more expressive. Manga-style lashes are highly stylized eyelash extension maps that mimic that exaggerated eye look.
Manga lash styles (AKA Anime lash styles) are currently extremely popular online worldwide, thanks to TikTok and Instagram. However, the style itself is not new, as many people online noted that the style began in the early 2000s in Harajuku, Japan. Harajuku, of course, is widely known for its distinct fashion and unique, trendsetting fashionistas. 
Manga lashes can be used in cosplays, but they're also popular in street fashion. Manga lashes are extremely personalizable, just like any lash extension look with Lashify. 
The look can be completely original or pay homage to a specific character. In general, Manga lashes are dramatic, over-the-top lash looks that typically feature long, spiky textures and the occasional chromatic hue. 
How Do I Design My Manga Lashes? 
Manga-style lash extensions imitate manga characters' exaggerated, intense eye looks by designing highly stylized lash extension maps. Manga-style lash maps feature more dramatic lashes than classic lash maps. They demand long and full lashes, but they're not as intensely voluminous or uniform as Russian Volume lashes.
Manga lash maps typically start with either The Doll Eye or Squirrel Eye lash map. The Doll Eye creates a wide-eyed, doe-like appearance characteristic of the wide-eyed, innocent heroines, and therefore is the most common starting point. 
For a Doll Eye lash map, position the longest lash spike at the center of the lash line. Think of Suzuna Ayuzawa from Maid-Sama! A Squirrel Eye base is most similar to manga characters that are more mature, like the older sister types. 
To create a squirrel eye base, position the longest lash halfway between the center and outer corner of the eye. Think of Saki Hanajima from Fruits Basket. On occasion, readers might spot an exaggerated Cat Eye on female characters designed to be villainous or overtly sexual. Think of Lust from Full Metal Alchemist. 
Manga lashes differ from a simple doll or squirrel eye when it comes to intensity. Well-separated lash spikes characterize manga lashes (Webtoon Lashes or Spider Lashes). Manga lashes feature a short, fluttery base lash layer with highly stylized, extremely long lash spikes. 
A manga lash look that isn't cosplaying or pulling inspo from a specific character should utilize a Doll Eye lash map to place the first lash spike, then place the other lash clusters accordingly around it, leaving as much space between the lash spikes as you please. 
Manga lashes, unlike other lash styles, pay attention to the lower lash line. A Webtoon lash look may create extra volume on the lower lash line. This emphasis can be created by applying very short extensions to the bottom lashes or utilizing dark, thin eyeliner. 
What Do I Need to Get Started with Manga Lash Extensions?
With just a little lash application practice and the right tools, you can have a killer manga lash map faster than One Punch Man can take down a bad guy. Everything you need, from tools to tricks, can be found right here with Lashify.
If this is your first time wearing Lashify lashes, we recommend starting with a Control Kit. The Control Kit contains everything you need to get started styling and applying Gossamer lashes. Gossamers are the world's only DIY lash extensions, and they give you more creative freedom than strip lashes, not to mention they're insanely high quality. 
Every Control Kit contains the Fuse Control Wand (our patented lash applicator), a tube of Whisper Light Bond (our good-for-you lash adhesive), a cartridge of Classic Gossamer Lashes (A, B, or C Curl — your choice!), a pair of Wandoms (for keeping the Fuse Control Wand clean), and some samples of our Pre-Cleanse and Melt Away Remover. 
You'll need Gossamer lashes bolder than the classic Core Collection to achieve the specific and bold lash look of manga lashes. You'll want to try some Gossamers from the Volume Collection or the Prismatic Collection, including:
Manga Lash Maps
You know the styles you need, but what about the lengths? All of these Gossamers are available in sizes ranging from 8mm to 18mm. By designing your lash map ahead of time, you'll see which lengths you'll need. 
Here are a few lash maps we pulled together inspired by some of our favorite manga characters. Read lash maps from left to right, left as the inner corner and right as the outer corner. These maps all ask for some lash stacking, so now is a great time to practice. 
Manga Style Lash Map 1
The Inspo
Asako Natsume is a protagonist in the manga My Little Monster (aka Tonari no Kaibutsu-kun in Japan). Natsume is often described by her classmates as exceptionally attractive, and she's likely to agree (we love the confidence!). 
She has a very feathery lash look that only eases into the spikey lash look. Her lash spikes are softer and more frequent than other manga girls. Her look offers a voluminous shorter layer. 
The Gossamers
Starburst Gossamers
Curl Gossamers 
Base: CS10 SB12 CS12 C12 SB18 SB18
Stacked: SB12 SB12 SB18 C12
Try applying this map with the Brick Stacking method so that the spikes of the lashes are offset from one another across the lash line. 
Manga Style Lash Map 2
The Inspo
Saki Hanajima, from the manga Fruits Basket, is a maternal, serious, close friend of protagonist Tohru Honda. Saki, also affectionately called Hana, swore on the grave of Tohru's mother to look after Tohru. She is depicted as an overprotective mother figure. 
Her lashes utilize a squirrel eye base, with the longest lashes beginning halfway between the center of the lash line and the outer corner. However, she also has some serious lash volume in the inner corner of the eye, so we will utilize Volume Stacking for this look. 
In the anime, her lashes look very brown in some episodes, so consider styling with Dark Brown Gossamers instead of black. 
The Gossamers 
Cherry Stax
Curl Gossamers
Tulip Gossamers
Base: C10 C10 C10 C10 C10
Layered: CS12 C12 CS12 T18 T16 T16
Manga Style Lash Map 3
The Inspo
Suzuna Ayuzawa is the younger sister of protagonist Misaki Ayuzawa in the manga Maid-Sama!. Suzuna has a calm, to-the-point personality and is adept at reading people. She has the epitome of a manga lash look: extra long, spiked lashes that mimic a doll eye placement. 
The Gossamers 
Extreme Ice Gossamers
Cherry Stax
Curl Gossamers
Try applying this map with the Volume Stacking method.
Base: C12 C12 C12 C12 C12
Stacked: CS16 EI18 CS18 EI16 
Manga Style Lash Map 4
The Inspo
Teresa, from the dark fantasy manga series Claymore, is known as the most powerful character in the series for her unparalleled combat ability. She has silver eyes, and her beauty is noted multiple times by multiple characters in the series. 
Her lashes are feminine, yet they do not undercut the force of her gaze. Her lashes on most pages appear similar to the basic doll-eye lash structure; however, in her most intense scenes, her lashes appear to lean into a cat eye, with intense points from the outer corner along the upper and lower lash lines. 
The Gossamers 
Tulip Gossamers
Bold Gossamers
Starburst Gossamers
Silver Prismatics (optional)
Utilize the Volume Stacking method. 
Top Lashes: 
Base: B12 B12 B12 B12 B12 
Stacked: (starting at the center of the lash line) T16 T16 T16
Bottom Lashes: 
Silver C8 and SB12 on the outer corner
Sources: 
What Are Anime Lash Extensions? More About the Trend | PMU HUB
With over 200 million views, 'Manga Lashes' are the next big beauty trend | Cosmopolitan
The lowdown on manga lashes and how to achieve the look | Vogue Singapore
Suzuna Ayuzawa | Kaichou Wa Maid-Sama! Wiki
Saki Hanajima | Fruits Basket Wiki