8 Lashes for Small Eyes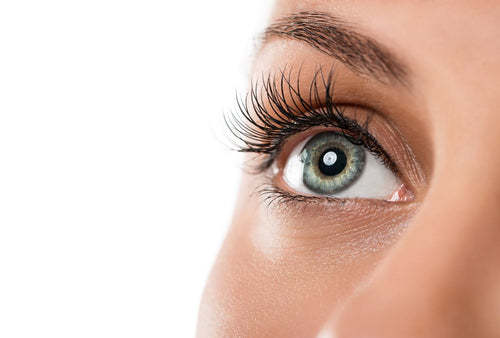 Choosing the right style of lash extensions to suit your eyes can be tricky. You may have heard about choosing styles based on your eye shape, but have you considered your eye size? If you have small eyes, choosing voluminous styles can overpower your eye, make them appear smaller, and even weigh your eyelids down.
If you have small eyes, you may already be well aware of the struggle of finding a suitable style and applying them. For people with small eyes, strip lashes are a nightmare, so if you're looking for an at-home solution that's more cost-effective than salon lashes, DIY extensions are a great option. 
Because the lashes are applied in small fans instead of long strips, you can simply design your lash map to include fewer fans as needed. No need to trim and no need to mess around with too-big spines of drugstore lashes. 
Do You Have Small Eyes? 
But how do you know if you have small eyes? What does it mean to have small eyes? Luckily, it's super easy to check, and if you think you have small eyes, you probably do. 
Small eyes are small in comparison to other features on your face, like your nose and mouth, not in comparison to other people's eyes. Don't compare yourself to others is a good general life tip. The perceived size of your eyes can also be impacted by the distance between them, the shape of the eyelids, and the distance between the eyes and the mouth. 
When you consider the way the shape of the eyelids, or eye shape in general, impacts the perceived eye size, it's more likely that eye shapes with prominent eyelids may naturally appear smaller. People with almond eyes, hooded eyes, and monolids may find that their eyes naturally tend to look smaller. This isn't true of everyone with those eye shapes; it's just common. 
Having small eyes is not at all a bad thing: Kristen Stewart, Alicia Keys, and Jessica Alba all have small eyes and still dazzle on red carpets every year. Whether your eyes are big or small or somewhere in between if they're wide set or close set, or if they're young or old, your eyes are still beautiful: and anyone can enhance their natural beauty with a lash look personalized for them! 
Tips for Creating a Lash Map for Small Eyes
Before we share our lash recommendations, we want to give you some wisdom to select your lashes in the future. Here are our top tips for choosing lashes for small eyes: 
Extra long lashes can actually make your eye look smaller, so choose lashes no longer than 12mm long.


Shorter styles with natural-looking fibers are best for small eyes.


If you really want to go longer than 12mm, do so with a wispy, spikey lash that offers variation in lash fiber length. These lashes can get you slightly longer lashes while still keeping a lower average fiber length to compliment your eye.


Too much volume can actually dwarf your eye, so if you're seeking more volume, go for gentle volume in natural colors to match your natural lashes. If the volume of the lashes is visually surpassing the size of your eye, your eye will appear smaller than without lash extensions at all.


Tight curls are your best friend. The curl on any C-curl lash should be your minimum curl strength when lash shopping. Straight lashes, like A-curls, can cast shadows to darken your eyes, which can make them look more closed, and therefore smaller.


Always measure your lash maps against the actual length of your eyes or find pre-designed lash maps specifically by and for people with small eyes. If you spy a lash map you'd like to try, but it has six fans, maybe try it with five. Always measure before you start adhering your extensions to your lash line.


Choose the lash styles that fit at the intersection of your eye shape and eye size. We have a great guide to eye shape to help you find your options to compare with the list below. If you have small almond-shaped eyes, you probably want C-curl and fluttery lashes (Like Fluffy Gossamers, see below) mapped in a cat eye style to best accentuate your shape and open your eye. If you have small hooded eyes, you probably want C-Curl and spiky lashes (Like Stardust Gossamers, see below) mapped in a doll eye style to help your eyes appear slightly more rounded and brighter. 
Top Gossamers for Small Eyes
1. Curl
Curl Gossamers are the go-to lash. Every single eye can wear Curl Gossamers. Within the Core Collection, Curl Gossamers specifically are great for small eyes because the curl will help open the eye. No frills, just a simple and effective curl. 
2. The Intimates Collection
The Intimates Collection offers Gossamers in natural colors designed to perfectly blend with your natural lashes. The intimates collection offers Ash, Ginger, Minx, and Truffle. Ash is for strawberry blondes, Ginger is for redheads, Minx is for light brown lashes, and Truffle is a mix of dark browns with caramel highlights. Choosing a natural color other than black, assuming your natural lash color is not already black, can help brighten your eyes and make them appear larger. 
These colors come in both Curl and Amplify styles, and as we mentioned above, Curl would be best suited for your eyes since the straight lashes of Amplify might darken and shrink your eye's appearance. Truffle-colored lashes are also available in some styles in the Volume Collection, like the Fluffy Gossamers listed below. 
3. Plushy
Plushy Gossamers use the finest, thinnest fibers of any Lashify lash. They offer a slight volume boost that won't overwhelm your eye. They provide a clean, professional look perfect for daily wear and special events alike. This lash also comes in 'half sizes' to customize your lash length precisely. Since small eyes want to steer clear of too-long lashes, the ability to be so precise will let you get exactly the length you want, and not a millimeter too long. 
4. Plushy Tame
Plushy Tame Gossamers are our most delicate, most elegant, most refined lashes to date. These lashes could never overwhelm your eyes; rather, their dainty subtly makes them an excellent choice for small eyes. 
5. Fluffy
Fluffy Gossamers are perfect for small eyes because they have a super tight curl and a feathery texture without adding too much volume. Fluffy Gossamers are some of the most popular Lashify styles available, so why not try them and see why so many Lashifiers love them. 
6. Fluffy FX
Fluffy FX Gossamers are just like Fluffy, but they pack an even tighter curl – the tightest curl of any Gossamer! Additionally, they come in half sizes to give you even more control over the length of your lashes. 
7. Tulip
Tulip Gossamers are the newest lash on the block at Lashify. How lucky then that they're a great choice for small eyes since they provide a wispy look that is more understated than Stardust, yet has a slightly thicker fiber. For small eyes, don't go for Tulip Thick, just the OG Tulip, since the thicker fibers of Tulip Thick might appear heavy on your eye. 
8. Stardust
Speaking of Stardust, who says you have to choose an understated look? Stardust Gossamers are the wispy, ethereal lashes. Even if you select a short-medium length, which we advise for your eye shape, you'll still get the whimsical wispiness that Stardust Gossamers are known for. This is another lash that pairs well with Curl Gossamers. 
Which Lashes Should Small Eyes Avoid? 
Aside from the lashes that everyone should avoid, like cheap plastic strip lashes that use glues with dangerous chemicals and lashes made with animal fur, there are some lashes that people with small eyes should avoid for stylistic reasons. Here's what we DON'T recommend:
High volume, Mega volume, and Russian Volume: for every order of magnitude you increase the volume of your lash looks past regular volume, the appearance of your eye starts to shrink. The most voluminous Gossamers, like Drama and Extra Extreme, may make your eyes appear even smaller.


Super long lashes. While the styles listed above generally come in sizes up to 18mm long, anything over 12mm is not going to look the same on small eyes as it does on the model. Lash styles that focus on length, like Extreme Ice, won't do much to flatter people with small eyes.


Straight lashes. As we said, they can cast a shadow and darken your eyes. Skip the Amplify Gosamers, and go for the Curls instead.
No matter which lashes you choose, the final look is defined by how you style them. If you're new to mapping, applying, and styling your Gossamers, we're here to help. We have super helpful video tutorials and even offer 1-on-1 consultations to get you on the road to being your own lash stylist! 
Sources: 
Lash Extensions for Small Eyes: Choose the Best Style | PMU HUB
Eyelash Extension Styles: Choosing The Right Style For Your Eye Shape | We Heart This
What is my eye shape? The best tips for each, according to makeup artists | Today
Lashify Level 1 - Learn to Use Your Control Kit - Beginners Tutorial with Jill Medicis | YouTube
Formaldehyde Release From Eyelash Glues: Analysis Using the Chromotropic Acid Method | NIH