Best Lashes for Hooded Eyes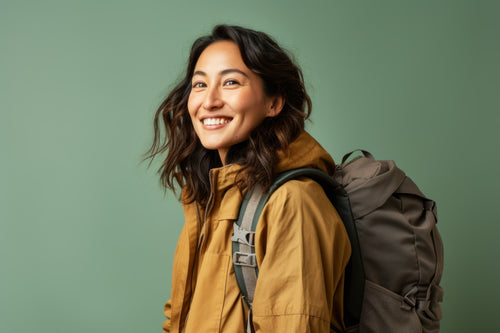 Just when you think you've got it all figured out (after all, you finally learned how to perfectly contour your face), you've decided to give lash extensions a go. Now, you've got to find the perfect styles that work for special occasions, your day job, and, of course, the natural shape of your eyes.
Wait. You didn't realize that eye shape plays a role in how to get the most natural-looking lashes? It's okay. The Lash pros at Lashify® have you covered. 
We'll explain the different types of eye shapes, with a primary focus (in this piece) on hooded eyes. We'll even cover how our new I-Line™ Gossamer Lashes can help you take care of your eyeliner and lash enhancement in one easy step. 
The 10 Eye Shapes
Most people have eyes that can be categorized into 10 different shapes. 
These include:
Almond eyes. Eyes that are shaped like almonds and are wider in the middle and narrow at each end.


Round eyes. If you have round eyes, you can likely see white around your entire iris or the colored part of your eye.


Monolid eyes. Monolid eyes have a flattened upper eyelid with no visible crease.


Protruding eyes. This type of eye shape features eyes that appear to "pop" or protrude from the eye socket.


Deep-set eyes. Eyes that are set further back in the skull are referred to as deep-set eyes.


Downturned eyes. If the outside corner of your eyes turns downward, you've got downturned eyes.


Upturned eyes. The opposite of downturned, the outer corner of the eyes of someone with upturned eyes turns upward.


Close-set eyes. Close-set eyes are closer together, and the bridge of the nose is more narrow.


Wide-set eyes. The opposite of close-set eyes, the bridge of the nose is wider, so the eyes are farther apart.


Hooded eyes. If you have hooded eyes, you have an extra fold of skin below your brow bone that folds over the crease.
Each type of eye is unique, and finding lashes that complement your eye shape is key to drawing attention to your eyes and highlighting them. 
What Are Hooded Eyes?
Sometimes referred to as "bedroom eyes," hooded eyes are sultry, deep, and contemplative. You can tell if you have hooded eyes by looking at yourself in the mirror. If you can't see the crease in your eyelid when your eyes are open, you either have monolid eyes or hooded eyes. 
The difference is that hooded eyes seem to hide slightly behind the brow bone, and the additional fold of skin covers the crease, making it harder to see your eyelid. Monolid eyelids are visible; they just don't have a visible crease. 
Challenges
Even though hooded eyes are so sultry, you might find it hard to apply makeup. After all, you're dealing with additional skin on the lid that may make it more of a challenge to apply three different colors of shadow and even more difficult to perfect your eyeliner. 
If you try to go in with a dark color of shadow, you can make your eyes look too heavy. Instead, focus on blending light colors of shadow upward toward the brow bone and outward, which can give the illusion of a more elongated eye. 
For eyeliner, focus on cat-eye or wing-tip styles. If you can't seem to master those yet, try using a muted color (like brown) and focusing your eyeliner application on the outer third portion of your upper and lower lash line, blending it inward so that it gradually fades into the middle of your lash line. 
Lashes
Lash enhancement works for any eye shape, but hooded eyes can be a challenge. Russian volume lashes might be your fave, but if you don't correctly apply them, they can pull your eyes downward and make them look smaller and more deep set. 
Instead, we're going to focus on lashes that accentuate and draw attention to the pupil and help elongate the eye to make the eye look lengthier and more open. 
What Are the Best Lashes for Hooded Eyes?
Whether you're headed to the salon or using the Lashify DIY Lash Extension™ System, there are some great options available for helping accentuate hooded eyes. 
A few quick tips before we get started: 
Avoid mono-length lashes. Lashes that have one length on the ends (instead of varied like natural lashes) can make your eyes look heavy. If you have hooded lids, this can make your eyes look droopy. 

Focus on curl. While most lash styles feature a curl, hooded eyes wear a dramatic curl well. Focusing on the curl can help keep your eyes more open, which is essential for someone with hooded eyes. 

Go easy on length. If you have hooded eyes, it may be possible for eyelash extensions to curl back too far and touch your lids, especially if you're using a really lengthy lash extension. Instead, go for a medium curl and a slightly shorter length. 
With these little tips in mind, here are our top five lash styles for hooded eyes.
1. Curl Gossamer® Lashes 
It's no secret that curl is your best friend, especially if you have hooded eyes. Focus on making sure you have a good curl directly above your pupil, which can help ensure your eyes look wider and more open.
Curl Gossamer Lashes features a delicate flutter that amplifies your natural lashes and a curl that is boldly natural. Available in black, minx, dark brown, and ginger, and in six different lengths so you can fully customize your look. 
For a hybrid look, we recommend using one of our lash maps. Lash maps help you combine different styles of Gossamer lashes and different lengths so you can get a lash look that is fully customized. 
2. Curl + Gossamer Lashes
If you're looking for lashes that work for your day job, these are your new go-to. The Curl + Gossamer collection features everything you love about the Curl lashes in a finer, wispier lash extension that looks incredibly natural. 
These are great worn alone for a lowkey lash enhancement look but also work well when combined with other Gossamer lashes to add length and volume without adding weight, helping keep the look on your lids light and giving you a completely comfortable feel. 
3. Tulip Black Gossamer Collection
Want to add length to your hooded eyes without weight? Try the Tulip Black Gossamer Collection. These lashes accentuate the length of your lids by adding more volume to the outer edge of your lash line. 
As the length and volume increase, your eye naturally looks longer. Available in six different lengths and in two different styles (Tulip and Tulip Thick), you can even customize this application to focus more on volume and less on length, or vice versa. 
The end result is lashes that are longer, not heavier, and eyes that are accentuated, not weighed down. 
4. Gemini Gossamer Lashes
For the ultimate wispy, fanned-out lashes, the Gemini collection is the solution. Gemini Gossamer lashes give you the ability to get the piece-y lash extension look you thought you could only get at a salon. 
These are perfect for combining to create elongated lash looks that work well for lengthening hooded eyes. FYI, these lash fibers are the thickest Lashify uses, so if you have extremely fragile lashes, you might want to separate the spines and apply them in a classic lash ratio. 
You can also head over to the lash maps to learn how to expertly create new looks with the Gemini collection. 
5. I-Line™ Gossamer Lashes
Let's face it-mastering a winged liner technique is hard. Why not let the angle and shape of your lashes do the job for you? That's exactly what I-Line Gossamer lashes do. 
The unique shape and application of these pre-mapped lashes give you the look of a winged liner without the hassle of applying liquid liner.
This is our first-ever pre-mapped lash collection that gives you easy access to lashes that were created to mimic winged eyeliner. These lashes are flat and angled and a complete no-brainer to apply. You'll create eyes that look lengthier and lashes that look natural at the same time. 
Applying your Gossamer lashes is easy. Before you get started, we recommend checking out some of our easy-to-follow online tutorials, which cover everything from prep to application, how to fix mistakes, and how to easily remove your lashes when you want to swap them for a different look. 
The Lashify Difference
Unlike salon lashes or some at-home lash styles you find in the store, Lashify Gossamer lashes are safe and actually beneficial for your natural lashes. Lash glue traditionally contains ingredients that are bad for your natural lashes and for the delicate skin around your eyes. This can result in loss of natural lashes and irritation. 
Lashify is different. Our Bonds contain nourishing ingredients, like biotin and Lavendula, which help support the growth of your natural lashes while you're wearing your Gossamer lash extensions. Additionally, our Bonds never fully cure, allowing our Gossamer lashes to move and bend with your natural lashes to prevent breakage. 
You'll also apply our Gossamer lashes differently using Underlash Technology™. This application technique sets Lashify apart from other lash brands. Our lashes are applied under your natural lashes to help keep them comfortable and make it virtually impossible to tell you're wearing extensions. 
It all starts when you grab our Control Kit™.
Get More Control
Take control of your lash look, and get the lashes that complement your hooded eyes. Our Control Kit gives you everything you need to get started with the Lashify system, including two sets of Gossamer lashes that will become the foundations of your lash wardrobe. 
Each Control Kit comes with:
Two sets of Gossamer lashes. You get to pick the styles that work best for you. The styles listed above are available for adding to your control kit, so you can wear them alone or mix and match them to create new looks. Each additional set of Gossamers helps you build a lash wardrobe that is uniquely yours.
Fuse Control® Wand. Put down the tweezers and grab the Fuse Control Wand. Our ergonomically created tool makes lash application easy, and it's also available in a smaller size for smaller eyes and smaller hands. 
Whisper Light Bond™. Our most popular bond, this leaves behind no residue and never clumps. It glides seamlessly through your natural lashes to create a Bond that will help adhere your Gossamer lashes perfectly, without ever fully curing, so your lashes never feel stiff or brittle. 
Glass Finishing Coat. Gossamer lashes are created to be worn for up to ten days, but you can increase their ability to last by coating them with Glass Finishing Coat. In between applications, a coat of Glass will help reactive your Bond and give your Gossamer lashes more staying power. 
One pair of Wandom® Wand Covers. Lash application getting sticky? Maybe you forgot your Wandoms. Wandoms cover the ends of your Fuse Control Wand to ensure that your Gossamer lash extensions don't stick to your tool and are easier to apply to the underside of your lashes. 
Samples. We love free samples as much as anyone, and that's why you'll find two in each Control Kit. You'll get a sample of Pre Cleanse to help prep your lashes and Melt Away, which allows for easy Gossamer removal. 
It all comes wrapped up in a hard case to protect your Gossamer lashes and a magnifying mirror to help with the application. Your hooded eyes will love their new look, and you'll love how easy it is to use the Lashify system. 
Glamorous Hooded Eyes
Getting glam just got a lot easier for hooded eyes. Lashify makes it easy to get the styles you want that accentuate hooded eyes and for a fraction of the time and money it takes to get salon lash extensions. 
Sources:
What's My Eye Shape? (Learn How to Tell Here) | Vision Center
Eyelash Extension Facts and Safety | American Academy of Ophthalmology
Is Eyelash Glue Toxic? | Poison Control