Can You Wear Lash Extensions With Glasses?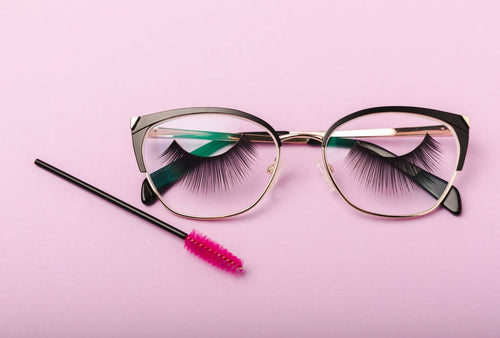 Love the look of long lashes but afraid your specs might interfere? Don't worry. Just because you wear corrective lenses or sunglasses doesn't mean you can't wear the lash extensions you love.
Wearing lash extensions is an option for anyone unless you know you have a sensitivity to eyelash adhesive (in which case we recommend checking out our Bonds, which are toxin-free and safe for sensitive skin). If you wear eyeglasses, there are a few tips and tricks you'll want to know before you start applying. 
We'll tell you everything you should know about wearing eyelash extensions, why DIY Lash Extensions® are the ultimate accessory, and how you can wear them and your eyewear with finesse. 
Lashes and Glasses: What's the Risk?
If you're afraid your glasses will mess up your lashes, or maybe your lashes will mess up your glasses, have no fear. Neither will damage the other. 
What might happen is that your lashes tickle the rims of your glasses and become irritating while you are wearing them, but you can easily avoid that if you choose the right lash styles and combinations. 
Lashes That Are Too Long
One of the main reasons you'll likely want to wear lash extensions is to extend the length of your natural eyelashes. With increased length may come an increased risk of your lashes hitting your glasses (and sunglasses). 
Most eyelash extensions can withstand a little eyewear interference, but if you are uncomfortable with this, try using a shorter lash length. You'll still get the same glam look but with a little less length, so you can easily wear your lashes comfortably with your glasses. 
Smudging
One of the biggest rules of eyelash extension maintenance is avoiding the use of mascara. Usually, wearing lash extensions makes it easy to avoid wearing mascara in the first place because you simply don't need it to increase the length or volume of your lashes. 
However, if you decide to use mascara on your lash extensions, you could cause smudging on the rims of your eyewear and on the lenses themselves. While this will certainly become annoying because you'll have to continually clean your glasses, it could also present a risk to your eyewear if you have protective or specialized coatings. 
Blue-light blocking, UV reflective, and anti-fog coatings may wear down faster if you have to wipe mascara smudges off the surface. Not to mention, you'll dramatically decrease the life of your lash extension fibers if you wear mascara. 
You could also damage your natural lashes because the lash extensions will weigh more with mascara and could cause breakage. 
Lash Loosening
If you've ever had a lash catastrophe, we feel you. Using lash extensions that aren't applied correctly or using unsafe, ineffective adhesives can create an environment that makes it hard for your lashes to adhere to your natural lashes, causing them to come off easily. 
Some types of extensions may be more likely to come off your lash line if they constantly knock against your eyewear. You'll notice this most frequently if you attempt to wear strip lashes notorious for curling at the edges and coming completely off.
At Lashify®, our Bonds are the solution. Unlike some adhesives, our Bonds are lightweight, flexible, and free from cyanoacrylates, formaldehyde, and other toxic ingredients that standard lash glues contain. 
This makes them safe for sensitive eyes and skin and keeps them flexible. Hence, they bend with your natural lashes, helping keep your own lashes safe and helping you avoid an embarrassing lash-loosening situation. 
Now that you know the risks, we've got the tips you need to keep your lashes looking fabulous and your eyewear clean and comfortable. 
How To Wear Lash Extensions With Glasses
It all starts with the right lash solution. If you've spent a fortune of time and money on salon lashes only to find you have to go back to get a fill every few weeks, you might be ready for something that fits better with your lifestyle. 
In your search for lengthy lashes, you might've tried drugstore brands that fall short of giving you the natural, believable lashes you love and the durability you need. That's why we created Lashify. 
Lashify is the DIY Lash Extension® system that puts the power in your hands. You get the lashes you love with zero time in a salon chair and without having to spend your entire tax return on a full set of extensions. 
With just a few easy-to-follow tips, you can customize a Lashify Control Kit® with the perfect lashes that work whether you're glasses on or glasses off.
The Control Kit
It's the foundation of the Lashify system. The Control Kit contains all the basics you need for prepping, applying, and removing a set of Gossamer® lashes. Here's what's inside every durable, mirrored case:
Customized wand. The Lashify wand was created to make Gossamer application a breeze. Ergonomically designed to fit your hand and your lids, it's the easiest way to apply your Gossamers and is available in two different sizes and several colors. 
Two sets of customizable Gossamer lashes. We've got numerous different styles of Gossamers, so whether you want an easy 9-5 look or high drama for an event, there's a set of Gossamers that will fit the bill. 
Wandoms® Tiny little covers for the ends of your wand, these guys make sure your Gossamer application doesn't become sticky. 
Whisper Light® Dual-Sided Bond. One of our most popular bonds, it's flexible and packed with natural lash-boosting ingredients like lavendula and biotin to support your natural lashes while you wear your Gossamers. 
Glass Sealant. Planning on wearing your Gossamers as long as possible (10 to 14 days)? Add a little Glass to help ensure your lashes have the ultimate staying power. 
You'll also get some samples of Pre-Cleanse, our oil-free cleanser that helps clear the way for your lash application, and Melt Away, our dual-phase oil-based remover that helps you slide your Gossamers off easily when you're ready to change up your style. 
What Are the Best Lengths for Eyeglasses?
There's no perfect length for eyewear, and your results will vary based on the natural shape of your eye and how close your eyewear sits to your eyes. For instance, if you have a high bridge, your eyewear may naturally sit closer to your eyes than someone with a lower bridge. 
Lashify Gossamers are available in different sizes, which are measured in millimeters. For instance, our popular Amplify Gossamer® lashes come in sizes that range from 8mm to 18mm. We recommend a length between 10mm-12mm. 
What About Lash Maps?
Lash maps are an easy way to customize looks you might see on social media and want to recreate at home. Using lash maps usually involves combining several styles and lengths of lashes along your lash line, broken down into separate zones. 
Lashify's lash maps help you figure out which lengths to apply and where so you can easily create these iconic looks. Using a lash map can be helpful if you're working with eyewear, because you can easily see what length of lashes to use and determine whether or not those lengths will work with your own glasses. 
What If My Lashes Are Too Long?
There's nothing worse than getting a full set of pricey salon lashes, only to discover they weren't exactly what you had hoped for, or worse, that they interfere with your eyeglasses or sunglasses. If the issue is big, you'll have to book it back to the salon and pay to have them trimmed (which can end up looking unfortunate) or have them removed and another set reapplied. 
Not only is this stressful to your natural lashes (and your wallet) it's time-consuming and completely avoidable if you use the Lashify system. With Lashify, if you apply Gossamers that are too long, you can simply remove them and reapply them with no damage to your natural lashes and without damaging your Gossamers. 
You can change your lashes to match your outfit or eyewear or dress up for a big event; it's completely up to you. 
How Long Will Lash Extensions Last With Eyewear?
The bonus of wearing eyeglasses is that your eyelashes may actually last longer than they would without the benefit of glasses. Your eyewear will naturally offer an added layer of protection against external stressors (like wind) that might give your lashes more staying power. 
Lashes + Glasses 
If you wear glasses, you can wear lashes. Using the Lashify system to enhance your natural lashes is easy and safe and won't interfere with your ability to see clearly by wearing your corrective lenses. So go ahead, splurge on the fringiest, fluffiest lashes you want. You'll magnify your lashes and your look. 
Sources:
The Risks of Eyelash Glue for Extensions - Missouri Poison Center
What You Need to Know About Eyeglass Lens Coatings - Consumer Reports
Eyelash Extension Facts and Safety - American Academy of Ophthalmology
I had 'zombie' eyes, was blind after botched lash extensions|NY Post.com