How To Wash Lash Extensions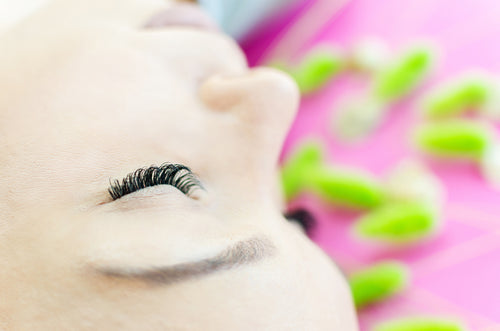 You just got new lash extensions applied, and if you're a first-timer, you might wonder what you need to do to take care of them. The good news is that lash extensions are pretty low maintenance in terms of aftercare. 
The best thing you can do to keep them safely attached to your natural lashes is to leave them alone. Most lash extensions, including Lashify® Gossamer® lashes, don't need any kind of special cleansing. 
If they do get dirty, it's usually from adjacent makeup or from a little excess Bond. Don't worry; your Gossamer lashes are designed to last up to ten days with proper care and remain reusable for months. 
We'll tell you how to care for them and what to do if you need to give them a little cleaning. 
Gossamer Lash Wear 101
You love the Lashify DIY Lash Extension™ System because it's easy, convenient, and gives you the look of salon lashes without spending hours in the salon. Now, you can love it even more. Caring for your Gossamer lashes is really simple. 
1. Keep Them Dry (for 48 hours)
Our Bonds don't contain any formaldehyde or cyanoacrylate, which means they don't fully cure. This keeps your natural lashes protected from becoming brittle and breaking, but it does mean that you'll need to wait about 48 hours before getting them wet. 
How do you keep your lashes dry in those first 48? Try the Lashisplash™ visor. This little visor helps you keep your lashes dry while you shower and helps you avoid splashing water on your lashes. 
2. Avoid Oil-Based Makeup
Oil and Bonds don't mix. Bonds are designed to release with oil, which is why our Melt Away Remover is such a great option. 
While you're wearing your Gossamer lashes, make sure any makeup that could come in contact with your lashes is oil-free, and avoid using oil-based makeup removers to take your makeup off. 
3. Don't Get Too Steamy
Steam and extreme heat can weaken Bonds. If you're planning to take a hot yoga class or sit in a sauna, we suggest you remove your Gossamer lashes first. It's also a good idea to stick to warm showers, not extremely hot, or make sure you have plenty of ventilation. 
4. Seal the Deal
You don't have to seal your Gossamer lashes, but using one of our sealants can help your Gossamer lashes last longer. Sealants also give your lashes more staying power if you wear them overnight. 
We've even got an option to help make your Gossamer lashes water-resistant. Water Poof™ Sealer adds longevity to your lashes while making them extremely water resistant by fusing with your Bond.
5. Clean them with Care
Your Gossamer lashes don't need regular cleaning, but if they happen to get a little makeup on them or if some Bond has gotten on the lash fibers, you can cleanse them easily without damaging them. 
You'll need a few tools for the job:
A lash comb. If you don't have a lash comb, you can find one in our Tool Set.
The Lash Pad
Once you've got your tools, you're ready to start cleaning. 
How Do I Cleanse My Lash Extensions?
Your favorite Gossamer lashes might get a little build-up from time to time. Makeup, your skin's own natural oil, or excess bits of Bond can find their way into the lash fibers and need removal. 
Rule number one is to avoid picking or pulling the debris out of the lash fibers themselves. This can damage the fibers and even break them. 
The Fix for Gossamer Lashes That Are Attached
If you've gotten some dirt trapped in a Gossamer lash that is securely attached to your natural lashes, there's a solution. Using your lash comb, gently comb through your natural lashes and your Gossamer lashes to try to remove them. 
If you can't get the debris removed by combing it out, you can try to take a clean spoolie and dip it in a gentle cleanser, like Pre Cleanse, and comb it through the lash fibers. This should help loosen the debris without loosening the Bond and help keep your lashes clean. 
If it still doesn't budge, you might need to remove the Gossamer lash extension to solve the problem. 
The Fix for Gossamer Lashes That Aren't Attached
For Gossamer lashes that you aren't wearing, you'll find cleaning them a bit easier. First things first, make sure you grab your Lash Pad. The Lash Pad ensures that your Gossamer lashes stay put while you're washing them.
The easiest and fastest way to cleanse your Gossamer lashes when they aren't being worn is by using Melt Away Remover. Melt Away is our dual-phase, oil-based makeup remover that you normally use to remove your Gossamer lashes, but it doubles as a cleansing agent when your Gossamer lashes have a stubborn bit of Bond or build-up attached to one of their fibers. 
Using the provided spoolie, brush Melt Away through the Gossamer lash extension until all the debris and dirt have been removed. Follow up by swiping a few strokes of Pre Cleanse through the Gossamer lash to remove any leftover Melt Away, then allow your Gossamer lashes to air dry. 
A Clean Getaway
Keeping your Gossamer lashes clean is simple, and basic care for them can ensure you're able to use them and reuse them for months. 
If you're not using the Lashify system yet, it's a great time to start. You'll save time and money and protect the health of your natural lashes by switching from the salon to Lashify.
The Lashify Difference
Our Gossamer lashes are crafted from 100% Korean PBT silk and designed to be weightless on your eyes. Underlash Technology™allows you to apply your Gossamer lashes beneath your natural lashes, making application virtually foolproof and keeping you comfortable while you are wearing your lashes. 
The Bonds
Unlike standard lash glue, Lashify Bonds don't contain any harsh chemicals, formaldehyde, or cyanoacrylates. Instead, our Bonds work more like lash serums. Formulated with biotin and Lavandula, our Bonds help nourish and support your natural lashes while you're wearing your Gossamers. 
Our Bonds also never fully cure, which allows your Gossamer lashes to bend and flex with your natural lashes. This helps ensure your natural lashes never feel brittle or stiff and don't break when the Bonds are applied.
Use and Reuse
Lashify Gossamer lashes are a more sustainable option than salon lash extensions because you can wear and re-wear them numerous times. Taking care of your Gossamer lashes will mean they last as long as possible. 
We know that because Gossamer lashes are feather light, they can often disappear right off your bathroom counter. That's why the Lash Pad and proper storage options (like these) are so important. 
Just getting started? Let us help put you in control of your lash destiny with the Lashify Control Kit™.
The Control Kit
Be Your Own Lash Tech™ and never spend your free time getting a lash fill ever again. The Control Kit gives you everything you need to get started with the Lashify system.
Each Control Kit comes with:
Two sets of Gossamer lashes. So many options, so many events. You've got a big life, and we've got lashes to take you everywhere you go. The Control Kit comes with two sets of Gossamer lashes that will form the foundation of your new lash wardrobe. A set for the day and a set for the night or any sets you'd like — you pick, and we'll customize your Control Kit with your favorite Gossamer lash sets. 
Fuse Control® Wand. We wouldn't create a DIY Lash Extension System without giving you the tools to apply your lashes like a pro. The Fuse Control Wand and the Petit Curve Wand are designed to help you apply your Gossamer lashes easily because they curve to your hand and the shape of your eye. 
One set of Wandoms®. Don't get stuck in a sticky situation. Bonds get tacky to help your Gossamer lashes adhere to your natural lashes. Use Wandoms to ensure your Gossamer lashes don't stick to your Fuse Control Wand during application. 
Whisper Light Bond™. No chemicals, no lash-harming ingredients. Our Whisper Light Bond is designed to help keep your Gossamer lashes intact without damaging your natural lashes. 
Glass Finishing Coat. Want to wear your Gossamer lashes for as long as possible? Try topping your lashes with Glass Finishing Coat. Glass keeps your lashes protected and ensures the Bonds last as long as possible. 
Samples. We'll throw in a sample of Pre Cleanse and Melt Away so you can give them a test drive before you commit. Bonus tip: Pre Cleanse also makes an excellent facial wash. 
The Control Kit puts you in control of your lash looks and gives you back the time you've been spending at the salon. 
Come Clean
Your Gossamer lashes are so lowkey, even though they might look really dramatic. Keeping them clean is easy, and proper care can make sure they last a really long time. Break up with your lash tech and get more control over your own lash enhancement. 
Sources:
Lashify Review: The Pros and Cons of These DIY Eyelash Extensions | Cosmopolitan
Is Eyelash Glue Toxic? | Poison Control
Biotin | Health Professional Fact Sheet
Lashify Review 2023: DIY Lash Extension Pros, Cons & Photos | Good Housekeeping