How To Clean Lashify Lashes?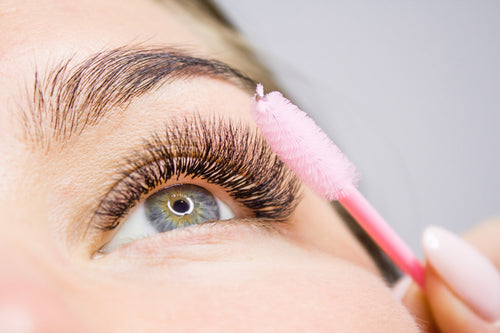 When you take care of your lashes, your lashes will take care of you. Lashify lashes that receive proper care and cleaning last much longer than neglected lash extensions. Your Gossamers can last up to 10 days for continuous wear and be reusable for several months. 
So you probably want to do your best to care for your Gossamer lashes, but where do you start? Right here! Let's walk through the best practices and tools for keeping your Gossamers looking their best on your lovely lashes! 
Let's start with the basics: a good cleanser and a good remover. 
Pre-Cleanse Cleansing Water 
Lashify's Pre-Cleanse Japanese cleansing water might look like water, but it's so much more than that! Pre-Cleanse is like the definition of versatile: you can use it across your whole face, not just on your eyelids and lashes. 
It eliminates oil, making it the perfect prep step for your lashes because the oil will interrupt the Gossamer's bond to the lash line. It can also remove makeup of any kind. What about skincare benefits? 
Pre-Cleanse doubles as a facial toner and gentle exfoliator to purify your skin and tighten the look of your pores. She's the heavy hitter your skincare routine has been waiting for. 
Pre-Cleanse is made cruelty-free in Japan. It's hypoallergenic, safe for sensitive skin, and non-comedogenic, so it won't clog your pores. It comes in the standard size to live on your vanity (200ml) and in travel size (80ml) to keep you clean on the go. 
Melt Away Remover
Melt Away Remover is Lashify's exclusive adhesive-removing formula. Melt Away offers a dual-phase formula that you simply shake the bottle to activate. This remover will melt away (as the name suggests!) adhesive and eye makeup in a simple swipe. 
Melt Away can be applied broadly with a lint-free cotton pad or applied precisely with a spoolie or cotton swab. Melt Away Remover hydrates skin and lashes alike as it lifts gunk from your face. Gone are the days of tugging false lashes from your face: Melt Away Remover will ensure your lashes slide right off without tension, damage, or worries. 
Melt Away Remover is made cruelty-free in Korea. It's hypoallergenic and safe for both sensitive skin and sensitive eyes. It comes in the standard size (200ml) like the Pre-Cleanse and in travel size (80ml) for easy, hydrating lash removal on the go.
Lash Release Remover
Bonus remover! The Lash Release Remover is our newest remover. It comes in a portable tube with an applicator wand like mascara. Like our Melt Away Remover, Lash Release is formulated to hydrate your lashes while effortlessly removing your extensions. 
Lash Release remover contains camellia oil, jojoba oil, and fermented oils to protect and hydrate your natural lashes. Its clear vegan formula is cruelty-free, silicone-free, and paraben-free — great for sensitive skin and eyes. 
It's as easy to use as your old mascara. Just brush it across your Gossamer lashes to coat them and wait about 30 seconds. Then, just gently swipe your Gossamers right off! After use, be sure to wash the remover off the Gossamers so that the oil doesn't sit on the lash fibers too long.
Clean Your Face Before Wear
The best way to ensure your lashes have a strong hold on your lash line is to start with a clean face. A clean, oil-free, makeup-free face will help keep your lashes clean. 
In addition to your face, wash your hands before applying your lashes. It's best practice to remove the Gossamers from their container with your fingers, so make sure there's no oil on your finger pads. 
Start your Gossamer lash application process with the Pre-Cleanse cleansing water. Soak a fresh spoolie or a lint-free cotton round in the formula. Then gently wipe across your eyelids, lashes, and general eye area. 
Check that you have removed all traces of makeup residue and any obvious excess body oil. Once clean, wait a moment for your skin to air dry; no need to pat dry.
Pro Tip: Use a Wandom
Wandoms are Lashify's secret weapon to keep your tools and your lashes safe from excess adhesive. No one likes sticky lashes, and Wandoms offer excellent protection. 
Playfully named Wandoms are like condoms for your Fuse Control Wand. They're disposable silicone tips that cushion the end of the wand for a clean Gossamer lash fuse. 
Keep Your Gossamers Clean During Wear
You can totally wear makeup with your extensions! We love a big, dramatic, colorful eye look. But strictly no mascara, sorry, not sorry. Mascara, especially waterproof mascara, is difficult to remove and will likely damage the delicate fibers of your Gossamers. Don't worry, though; DIY lash extensions are meant to replace mascara anyhow. 
Water-Only Makeup Removal
When the day is done and it's time to take off your makeup though, how do you remove the makeup without removing the Gossamer lash extensions? We thought of that! Don't use a liquid makeup remover that contains any kind of oil, as this will interrupt the lash bond before you're ready. Instead, use some Black Magic! 
The Black Magic Cleansing Puff is a reusable makeup-removing puff that will remove makeup with just water. It's so easy; just saturate the Black Magic puff with water and gently wipe it across whatever you want to erase. 
No cleanser is even needed. It's 100% cotton microfiber and machine washable. It contains no harsh chemicals and is safe for sensitive skin. Wash it as often as you would a washcloth between uses. 
Keep Them Dry (At First!)
Naturally, you're going to need to shower wearing your Gossamers. How could we possibly give you lashes that last up to 10 days at a time and not give you the tools to take luxurious showers in between? 
Gossamers are water resistant after 48 hours from application, so there is no need to give the water a second thought after day two. But if you need to shower before that, we've got you! 
Wear a Lashisplash shower visor over your Gossamers to keep the bond dry. Lashisplash is a little plastic visor small enough to shade just your eyes from the water. It's single-use, but it's recyclable. 
To apply, just peel off the protective strip and stick the adhesive strip directly onto your skin just above your brow line. The adhesive is super gentle and won't leave marks on your skin.
Pro Tip: No Steam
Steam and hot water are bad for your Gossamer lash bond, no matter when the lashes are applied. The heat can break down the Whisper Light's bond, so stick with water that is either cool or warm enough not to generate much steam. 
Brush Your Lashes
Just like you brush your hair, you should brush your lashes. But obviously, we're not going to use a hairbrush on our lashes; we'll use the Precision Lash Comb. The Precision Lash Comb is a dual-sided tool with a comb on one end and a precision point on the other. 
Use the brush to straighten (like make them parallel, not less curly) and fluff your lashes. The comb will also brush away loose debris like makeup and dirt. Use the point to separate and define your lashes. For safety, always look in a mirror when you use this tool, and never use this sharp tool in a moving vehicle.
Keep this tool extra clean to avoid introducing foreign dirt or bacteria to your lashes. Wash your brush with warm water and some Melt Away Remover between uses to avoid bond build-up. Bonus, it comes in black and hologram colors.
Lash Extension Aftercare
Remove your Gossamers from your lash line with Melt Away Remover. Shake the Melt Away bottle to activate the dual-phase formula. Saturate a pad with Melt Away and hold it on your lash line for 30 seconds, gently pressing down, to allow the remover to get to work dissolving the bond. Then gently swipe away, and your Gossamers should slide right off! 
If you find you still have some bond left over in your natural lashes after the lashes have come off, use a clean spoolie to swipe the Melt Away through your lashes until it slides off as well. 
What if you still have bond left over in the Gossamers? You can use the same tactic you would for your natural lashes; brush Melt Away through them with a spoolie. You just need a safe, sticky, yet clean place to put them. Good thing we thought of everything:
Where do I put my lash extensions while I clean them?
You don't want to put your lashes on your countertop: best case scenario, they risk getting lost or blown onto the floor. Worst case scenario, they pick up grime and bacteria you can't see. This is exactly why we introduced The Lash Pad.
The Lash Pad is a "sticky" silicone pad that's easy to clean and doesn't let your lashes blow away. You can use the Lash Pad as a safe place to clean them or a work mat to safely lay out your lash map. 
Just like your Gossamers, the Lash Pad is reusable. The Lash Pad comes with a protective film on both sides: between uses, rinse the pad, air dry, and store with this protective film back in place to make sure your Lash pad stays a safe place for your Gossamers. 
Last Step
The final aftercare step to ensure your Gossamers stay clean long-term is to come back to the beginning: wash the Melt Away Remover off your Gossamers with the Pre-Cleanse. Think of this step as a gift to your future self. If the oil (hydrating and nourishing as it is) sits on your DIY extensions too long or if it stays there until your next application, you won't get a strong lash bond next time. 
After you wash the Melt Away off with the Pre-Cleanse, let the Gossamers air dry completely before storing them safely in their container. It's important to ensure they're totally dry because storing damp lashes, like storing any damp object in the dark, will become a breeding ground for bacteria, which can cause serious eye infections. The Lash Pad is great for active use, but the Gossamers need to go safely into their closed container between uses.
Sources: 
Lashify Review: The Pros and Cons of These DIY Eyelash Extensions | Cosmopolitan
How to Clean and Care for Eyelash Extensions, According to Lash Techs | Byrdie