How Long Does Lashify Last?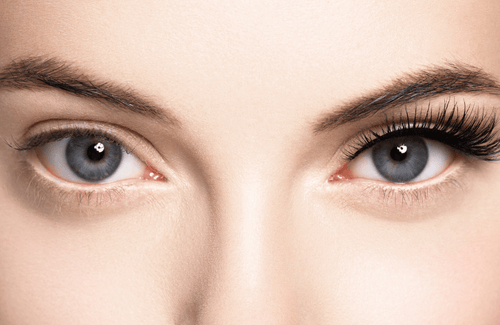 Whether you're a false eyelashes pro or a novice, you're looking for lash enhancement methods that aren't time-consuming, won't break the bank, and actually last. That led you to us, and the team at Lashify® is here to help you get the best lash looks with the easiest method available. 
We'll explain how Lashify works, how long our Gossamer® lashes last, and even give you tips on how to apply your very first set. Get ready to be an at-home lash pro. 
Lash Extension Basics
You're new to lash extensions and want to know what they're all about. We hear you. 
Lash extensions are a method of enhancing your natural lashes to make them look longer and fuller. You can have lash extensions applied at a salon by a lash tech. The process is time intensive and can take a few hours for your first time. You'll also need to go in for fills periodically, which can also take up to an hour. 
Extensions can be pricey, costing anywhere from $150-$300 for a full, first-time application and $75-$100 for a fill. The cost of salon lash extensions can add up, depending on how often you want your lashes filled.
How Long Do Lash Extensions Last? 
Lash extensions last until your natural lash falls out. Lash extensions are applied with an adhesive that is similar to superglue to each of your individual lashes. As long as your natural eyelash remains intact, your lash extensions will remain attached, too. 
Lash cycles can vary from person to person, ranging anywhere from four to 11 months. Keep in mind, though, that a portion of every lash cycle happens inside the hair follicle. In other words, you won't have eyelashes that are visible and hanging out on your lash line for 11 months. 
Unfortunately, some lash extensions can cause your natural lashes to fall out too soon. If the lashes are too heavy or applied incorrectly, they may not last as long. That means you'll be heading back to the salon for a fill sooner than you may expect. 
What Is Lashify?
Lashify is a DIY at-home lash extension system that gives you the same look as salon lash extensions but in a fraction of the time and at a fraction of the cost. Lashify lashes can be applied and removed as frequently as you want to create new looks. You can also mix and match your Gossamer lashes to come up with customized looks that are specific to you. 
With the Lashify DIY Lash Extension™ System, you get full control over each set of lashes you apply. That means you never have to worry about:
When to get a fill
Whether or not you want to change them
If your adhesive is safe or damaging to your natural lashes
We'll give you the scoop on how it works, how you can fully customize your Lashify Gossamers, and how long you can expect Lashify lashes to last.
Long-term Relationships
One of the biggest complaints you might have with salon eyelash extensions is that you're locked into one style of falsies. That means if you paid big bucks for extremely fluffy and fluttery lashes for a special event, you're also going to be wearing them to your 9 to 5, at least for a few weeks. 
The Lashify system works differently. We give you the ability to apply your DIY eyelash extensions and remove them whenever you want. However, each pair of Gossamer lashes is designed to remain intact for up to ten days per application. 
How Lashify Works
Even if you've never used a single eyelash-enhancing product other than mascara, you can easily learn to use the Lashify system. We've got an entire page full of helpful tutorials here, and you can even book an online consultation if you need a little extra help. It all starts by grabbing our Control Kit®.
The Control Kit
The Lashify system works by equipping you with the tools you need to easily apply your Gossamer lashes with zero frustration. The Lashify Control Kit is the Holy Grail of at-home false lashes, giving you everything you need to apply your Gossies like a pro. 
Each Control Kit comes with:
Two sets of Gossamer lashes which you get to pick based on your own style and taste.
Our patented Fuse Control® Wand in either Classic or Petit Curve, depending on the size of your eye area and what's most comfortable in your hands.
Whisper Light Bond™, a dual-sided bond that is flexible and nourishing for your natural lashes.
Glass Finishing Coat to keep your lashes sealed and safe. 
One pair of Wandom® Wand Covers.
A sample of Pre Cleanse and Melt Away.
A storage case with a magnifying mirror, perfect for application at home or on the go.
Customizing your Control Kit is easy, and once you've got the tools you need, you can easily apply your lashes at home. 
Applying Your Gossamer Lashes
Whether you want a completely natural look or want to amplify your lashes with extra glam, there's a Gossamer for you. Your lash style may change, which is why our extension system works great for changing styles frequently.
The application process is easy. It may take a few times before you feel completely comfortable applying your lashes, but be patient. After a few applications and removals, you'll be able to apply your Gossamer lashes in literal minutes. 
Step 1
Before you begin, make sure your eye area is clean and free from eye makeup, dirt, and oil. Our Pre-Cleanse Cleansing Water is perfect for removing excess oil and prepping your eye area for application. If you're wearing makeup, use a makeup remover or cleanser to take off the makeup before you follow up with Pre-Cleanse.
Step 2
Practice with your Fuse Control Wand. Using your Fuse Control Wand is how you'll get your Gossamers locked tight on your lash line. Lashify Gossamers use underside technology, which means your Gossamers will be attached underneath your lashes, near your waterline. 
Step 3
Apply your bond. Unlike adhesives that contain harsh chemicals like the cyanoacrylates and formaldehyde found in standard lash glues, our bonds are safe for even the most sensitive eyes. They contain biotin and lavandula to help support natural lash growth and keep your natural lashes safe while you're wearing your Gossamer lashes. 
Whisper Light Dual-Sided Bond comes in clear or black. You can use whichever color you'd like. If you're afraid you won't be able to keep your bond on your lashes, try the clear color first. 
Apply your bond to the underside of your lashes. You'll want to wait 30 seconds for your bond to set. Once you've applied a first coat, apply a second coat, focusing on the part of your lashes above the roots. Wait 30 seconds for the bond to set. 
Pro tip: Lashify's bonds don't fully set. This is so your Gossamers can bend and remain flexible with your natural lashes to prevent breakage. 
Step 4
Apply your Gossamers. Using your Fuse Control Wand covered in a Wandom, remove a Gossamer from the cartridge and place it on the underside of your natural lash, starting about a quarter away from the inner corner of your eye and working toward the outer corner. 
Step 5 
Fuse your Gossamer lashes. Once you've applied your Gossamers and are happy with their arrangement, you'll use your Fuse Control Wand to lock down your lashes. You can use a full fuse or a reverse fuse, which you can read about here.
Wandoms help eliminate stickiness, but if you notice your Gossamers sticking to your Fuse Control Wand and your natural lashes, avoid pulling your wand away. Instead, blink your lashes free from the Gossamers so that you don't damage your natural lash or your Gossamers, and try again. 
Step 6
Use the Glass Finishing Coat. You don't have to use Glass, but if you'd like a more permanent seal, you can apply it to the underside of your Gossamer lashes and natural lashes thirty minutes after you've applied your Gossamer lashes. 
That's it. You just applied your own lash extensions without spending hours in a salon or spending half your life savings. That's a dupe you can absolutely fall in love with. The best part? When you're done wearing that set of Gossamers, you can remove them and reuse them whenever you want. 
Lashify: The Best Way To Enhance Your Lashes at Home
Everyone loves long, full lashes, but lash lifts, serums, and salon lash extensions can be expensive and time-consuming. Instead, try the only DIY Lash Extension System that helps you get the lashes you love without the hassle. Lashify gives you the lashes you crave in just minutes at home. 
Sources:
The eyelash follicle features and anomalies: A review | PMC
The Hidden Dangers of Eyelash Extensions | Vogue.com