How Are Lash Extensions Applied?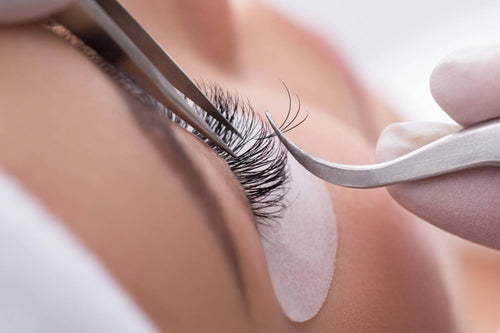 Lash extensions are a popular way to get longer, fuller lashes, but if you've never had them done professionally, you might not know what to expect. Spoiler alert: It takes a lot longer than you may think and isn't the only option you've got to get longer, more voluminous lashes. 
At Lashify®, we're here to help you make the right decision. Our goal is to empower you with all the information you need so you know the right kind of lash enhancement that is best for you. 
We'll cover how lash extensions are applied in a salon setting so you know how much time to schedule and whether or not you can get the same look at home in less time.
Lash Extensions: What To Expect
Getting lash extensions can be an experience that gives you the enhancement you've always wanted on your lash line. Even the best thickening and lengthening mascara can't accomplish the same dramatic results that lash extensions can. 
The experience of getting a full set of lash extensions applied is time-consuming. From start to finish, the process can take up to two hours. If you factor in travel time to and from the salon, it could take a lot longer. 
Bottom line: This isn't something you'll want to schedule on your lunch break. 
First Things First
Eyelash extensions are applied to your individual lashes, not the skin on your lash line. Your lash tech will use a semi-permanent adhesive glue to attach these lashes. 
Before you begin, you'll want to have a discussion with your lash artist about your goals. Your lash artist can help you determine the type of lash that will be best to help you achieve the look you want. 
Lash extensions can be applied in one of three basic ways:
Classic lash extensions. These extensions are applied at a ratio of 1:1. That means for every one natural eyelash, you'll have one eyelash extension applied.
Volume lash extensions. These extensions are bundled together on a single backing, giving your lash tech the ability to apply multiple extensions per natural lash.
Hybrid lash extensions. This is a mixture of both classic and volume lash extensions and is popular for achieving a natural, full look. 
It's important to tell your lash technician if you have any allergies to formaldehyde, cyanoacrylate, or latex or if you've ever experienced allergic reactions from any synthetic lashes (even ones you've applied yourself). 
Once you've decided on the style of lash you want, you can dive deeper and select the length and curl of your lashes. Once you've secured the lash look you want, it's time to apply your extensions. 
Cleansing 
Before they begin, your lash artist will completely cleanse the eye area, removing eye makeup, dirt, and oil. It's best to come to the lash studio without makeup on, which will shave a little time off of the entire process and make it easier to thoroughly clean your eye area. 
Your lash tech will use an oil-free makeup remover or facial cleanser to remove any makeup you have on and to ensure that the area is free from anything that could interfere with the adhesion of your extensions to your natural lashes. 
The Application Process
Be prepared to keep your eyes closed for about two hours. Many people find this relaxing, but some find it can make them feel claustrophobic. Extensions are only placed on the upper lashes. 
A gel will be placed under your lower lash line to keep your lower lashes out of the way, and your tech will press them into the gel and then cover them with a medical-grade tape that is safe and painless to remove.
Next, Your lash stylist will place an adhesive card or another piece of tape under your upper lashes with your eyes closed. This helps them see your individual lashes and ensures no lash glue gets on your lower lashes or lid. 
One by one, your lash tech will dip the eyelash extensions in lash adhesive and apply them to each of your individual lashes with specialized utensils that look like tweezers. Most lash glue dries almost immediately. 
Finishing Up
Once all your new lashes have been applied, your lash stylist will let you know it's time to open your eyes. 
They should also go over some basic aftercare tips with you, like:
Avoid oil-based products. Oil can break down the adhesion of most types of eyelash extensions and the glues used to adhere them to your natural lashes. 
Don't get your lash extensions wet for 24 hours. After that, it's important to try your best to avoid direct contact with water.
Don't rub, pull, or tug at your lashes.
Don't use an eyelash curler, and avoid wearing mascara. Be careful when you apply eyeliner, and avoid waterproof versions of these products. 
Activities that involve steam or extreme heat like hot showers, saunas, hot yoga, or being outdoors in a hot, humid environment can cause your lash extensions to fall out sooner than they normally would. 
Don't forget you'll also need to pop back in for a fill-in appointment within three to four weeks. Lash extensions are designed to fall out when your natural lashes fall out. 
Each lash is on its own growth cycle, so your mileage may vary; you might need fills sooner than someone else. A fill takes less time, but you should still book at least an hour for the appointment. 
If you want the look of salon false eyelash extensions but without the salon, Lashify is your go-to solution. 
The Lashify System
Lashify allows you to get the luxe look of salon falsies without ever leaving your home and in a fraction of the time. Our Gossamer® lashes are made from 100% Korean PBT Silk and are designed to be easy to apply, even if it's your first time. 
The Application
Like salon lashes, Gossamer lashes are adhered to your natural lashes. However, Lashify uses Underlash Technology™, which allows you to adhere our Gossamer lashes underneath your natural lashes, just above your water line. This allows for a more natural look, easier application, and a completely weightless feel. 
The Bonds
Unlike salon-grade lash glue, our Bonds are completely safe and toxin-free. They contain no formaldehyde or cyanoacrylates. In fact, they contain nourishing biotin and Lavendula (lavender) to help support your natural lash growth.
Salon false lashes are notorious for becoming brittle and causing your natural lashes to fall out sooner than they normally would. Lashify Bonds never fully cure, allowing our Gossamer lashes to bend and move along with your natural lashes, protecting them and helping avoid breakage. 
It's easy to get started with Lashify. You just need to grab the Control Kit™.
More Control, Less Time
Your life is busy; you don't have hours to spend at the lash salon. You can still get your desired look by using the Lashify system at home. 
Each Control Kit comes with: 
Two sets of Gossamer lashes. You pick the styles you love to start building your own lash wardrobe. Gossamer lashes can be removed and reapplied. 
Fuse Control® Wand. No tweezers, just an ergonomically designed tool to get your Gossamer lashes applied easily the first time. 
Whisper Light Bond™. Our most popular Bond is designed to hold your Gossamer lashes tight to your natural lashes. 
Glass Finishing Coat. Seal the deal with our most popular finishing coat. Glass also works between applications to help extend the longevity of your Gossamers. 
One pair of Wandom® Wand Covers. Keep your Wand protected with Wandoms. Wandoms help ensure your Gossamer lashes don't get stuck to your applicator tool. 
Samples. Each Control Kit comes with bonuses because we think everyone deserves a little extra reward. You'll get a sample of Pre Cleanse, our lash prep cleanser, and Melt Away, our dual-phase, oil-based makeup remover. 
Pre Cleanse is also great for your skin and doubles as a skin cleanser. Melt Away helps you slide your Gossamer lashes off of your natural lashes when you're ready to remove them. 
You'll get everything wrapped up in a convenient and protective case that contains a magnifying mirror to help you with the application. 
Be Your Own Lash Tech™
You want the look of long, full lashes, but you don't want to invest the time or deal with the hassle of tedious salon lash application. Thankfully, you've got Lashify. 
Lashify gives you the tools you need to DIY your own lash extensions and get the look you love without dangerous glues or hours of application.
Sources:
Eyelash Extensions Pros and Cons: What to Expect | Today.com
Is Eyelash Glue Toxic? | Poison Control
Biotin | Health Professional Fact Sheet
Eyelash Extension Facts and Safety | American Academy of Ophthalmology