Lash Looks Inspired by Your Favorite Celebs With Hooded Eyes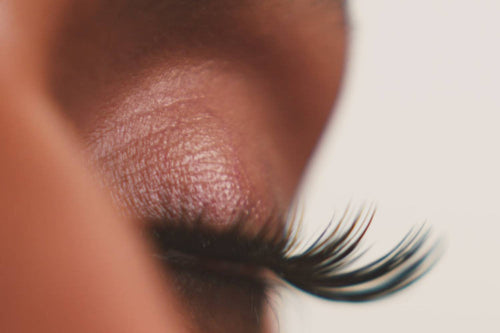 Okay, so maybe you don't have a professional makeup artist to create a flawless look for your day-to-day. And sure, maybe you don't have a team of stylists to tell you the best way to make your eyes pop based on your other features and the natural shape of your eyes. What you do have? Examples. 
Leave it to celebrities (who have teams and makeup artists and stylists) to show up red-carpet-ready for every activity they have in their day. We don't need their team of stylists; we just need a few tips and tricks to learn how to copy their looks. 
One specific challenge can be creating the perfect lash look if you have hooded eyes. Lucky for you, you've got the lash experts at Lashify® to help you steal the looks of your favorite celebs with hooded eyes. 
We'll dish the tea on your favorites and explain how you can get their looks with the Lashify DIY Lash Extension™ System. 
But first, a quick intro to the hooded eye shape.
What Are Hooded Eyes? 
If you've got hooded eyes, you probably already know it. On the off chance you have no idea what your eye shape is, we're here to help. 
Hooded eyes are characterized by an extra fold of skin just beneath the brow bone that tends to cover the remainder of the eyelid. You can check to see if you have hooded eyes by looking at yourself directly in the mirror. If you can see the crease in the middle of your eyelid, you likely do not have hooded eyes. 
If you can't see the crease (without lifting your eyebrows), you probably have hooded eyes. Hooded eyes are often referred to as sultry, deep-set, or bedroom eyes. 
With all their mystique, they can be difficult when it comes to makeup application. The extra fold of skin gives you less real estate on your eyelid for shadow, and attempting to apply eyeliner almost always means getting some of it trapped in the crease. 
Another issue can be attempting to elongate the eye. While winged liner is arguably the go-to solution for creating a longer, it can be impossible to get it right. That's okay. 
We've got a few ways to hack the system and help you create luxe looks a la your favorite celebrity with hooded eyes. 
Hooded Eye Inspo From Your Fave Celebs
They're gorgeous, they're always fabulous, and, of course, they have hooded eyes. Here are some celebs with hooded eyes and how you can get their looks. 
1. Jennifer Aniston
She's a classic beauty who seems to never age. She balances her hooded eyes with lengthy lashes that look natural, full, and fluttery. If you look closely, her go-to lash look features spikey, feathered lashes.
Grabbing her look with Gossamer® lashes is easy. The Tulip Gossamer Lash Collection combines our Tulip™ and Tulip Thick™ styles. The combination helps you create a wispy look that your "Friends" will covet. 
2. Jennifer Lawrence
We volunteer as tribute, as long as it means we get to have lashes like Jennifer Lawrence. Her beautiful hooded eyes look almost doe-like when she dons lash extensions. The secret? Wipsy, closely-spaced lash fibers.
You can create the same doe-eyed look with the Fluffy Gossamer Lash Collection. Available in four colors, six lengths, and two styles, you can create wispy lashes that help accentuate volume and curl, creating luxe lashes without adding weight to your hooded lids. 
3. Selena Gomez
Famous for her viral Tik-Tok mascara hack, which involves creating doll-like lashes with tweezers and mascara, Selena's hooded eyes always appear elongated and more almond-like. How does she do it? The Tik-Tok hack might help, but you can create doll-like lashes without getting up close and personal with a tube of mascara. 
The Starburst Lash Collection features spikey, multi-length, multi-layered Gossamer lashes that give you a more doll-like appearance. 
4. Blake Lively
Her lashes always look natural and perfectly balanced, even for red-carpet events. How does she do it? Probably with the help of a really big team of stylists. 
You can do it by creating low-key, understated looks with the Core Collection. The Core Collection consists of Bold, Amplify, and Curl Gossamer lashes and is the easiest way to create some of the most popular looks you see on celebrities and on your besties. 
5. Taylor Swift
Maybe the best example of a celebrity who has hooded eyes and seriously coveted lashes is Taylor Swift. 
Her eyes are naturally smaller in shape, but you'd never notice that they weren't anything other than amazing. Why? Search her pics. Almost all of her appearances feature her in winged liner. 
Winged liner can be hard, but Lashify has a way for you to hack the system. Our new I-Line™ Gossamer lashes give you the look of a perfectly winged liner without ever sharpening a pencil or attempting to paint with a tiny brush. 
I-Line is our first set of pre-mapped Gossamer lashes that give you a perfectly angled look, accentuating length and creating a slight upturn at the end of your lash line, keeping your eye looking longer and more open, just like a winged liner. 
Ready to give these looks a try? Then you're ready to Lashify. The Lashify system is different, and we'll explain why you really need to break up with your lash tech.
The Lashify System
If you've been getting salon lashes, you might be ready for a change. Salon lashes look great, but common complaints about them are that they're too pricey, take a long time, and damage natural lashes. 
A solution? Lashify. 
Application
Our Gossamer lashes are applied using Underlash Technology™, which means Gossamer lashes are attached beneath your natural lashes to make them weightless and comfortable. Gossamer lashes are attached to a featherlight spine, which helps distribute the weight of each extension across several lashes, not just one. 
Bonds
Unlike salon lash glues, which can contain scary ingredients, our Bonds contain no toxins. Instead, they contain lash-nourishing ingredients like biotin and lavender. 
Lashify Bonds won't damage your natural lashes or make them feel brittle. Instead, they'll work more like a lash serum, supporting them while you wear your Gossamer lashes.
Our Bonds also never fully cure, which means your natural lashes won't risk becoming brittle and breaking as they do with lash glue. 
Reusability
Salon lashes are designed to stay on your natural lashes until your natural lash falls out or until the lash glue causes your lashes to break off, taking the lash extension with them. Gossamer lashes are designed to be worn for up to 10 days with proper care and are reusable for months. 
Taking care of your Gossamer lashes is key, and you'll find they're very low maintenance. It's easy to get started with Lashify. All you need to do is get your customizable Control Kit™. 
The Control Kit
Break free from your lash tech and get the celeb looks you love without ever hiring a stylist or a makeup artist. The Control Kit gives you all the tools you need to get the job done at home. 
Each Control Kit comes with:
Two sets of Gossamer lashes. You choose from Bold, Amplify, or Curl. If you want additional Gossamer lashes to help build your wardrobe, add them to your cart! Sometimes, our lashes sell quickly. 
Fuse Control® Wand. The easiest way to apply your Gossamer lashes is with the Fuse Control Wand or the Petit Curve Wand (for smaller hands and faces). This ergonomically designed tool helps you apply your Gossamer lashes perfectly, even if you're a beginner. 
One set of Wandoms®. Protect your Fuse Control Wand from bonding with your Gossamer lashes with these tiny coverlets that help you avoid getting into a sticky situation. 
Whisper Light Bond™. Our most popular Bond, Whisper Light, is lightweight and won't clog your natural lashes or create build-up. It ensures your Gossamer lashes are locked onto your natural lashes for the long haul. 
Glass Finishing Coat. You don't have to seal your Gossamer lashes, but for extended periods of wear, we recommend using Glass to strengthen your Bond. 
Samples. Each Control Kit comes with samples of Pre Cleanse and Melt Away, our cleanser and remover that are safe to use with your Gossamer lashes. 
All the tools you need to create the lash looks you love come wrapped up in a convenient, protective case with a mirror you can use for application. 
Almost Famous
Your favorite hooded-eye celebrities have teams to do the job for them. You've got Lashify. You can easily create the best lash looks for your hooded eyes with Gossamer lashes that let you Be Your Own Lash Tech™.
Sources:
How to Do Winged Eyeliner for Hooded Eyes | Real Simple
Oh My, What Beautiful Lashes Jennifer Lawrence Had Last Night (Here's How To Get Yours As Lovely) | Glamour
Is Eyelash Glue Toxic? | Poison Control