Unwrap the Magic: Holiday Makeup Inspo for a Dazzling Season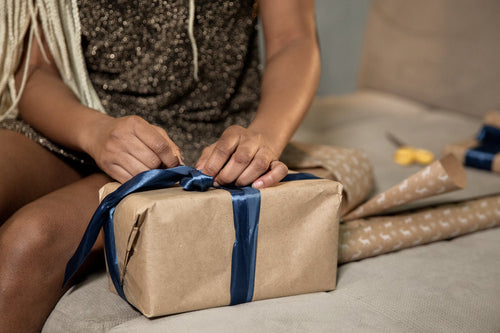 The first time the temps drop below 75, we immediately grab our boots and scarves. After a long summer of sweltering heat, the chill in the air brings the promise of holiday magic and makeup that doesn't slide off your face the second you leave the house.
Follow along if you're as ready for sparkle season as we are. The beauty editors at Lashify® have your ultimate guide to holiday makeup and lashes that are winter-ready and perfect for parties, gatherings, or just a snowy Saturday.
The Inspo
Some of your favorite trends from spring (think glass skin and mermaid-colored lids) are holding on strong through the entire holiday season and probably into the next year. To make them party-ready, you can use a few tips and tricks.
Glass Skin
This year, glass skin ruled the runways and our Instagram feeds. To get the look, hydration is key. 
This means starting with a solid skincare routine that won't leave your skin dry and flaky. This can be especially difficult during winter when the air is dryer, and you're exposed to commercial heaters. 
Our solution? Combine your cleansing and exfoliation into one product. Lashify Pre-Cleanse is a Japanese cleansing water powerful enough to remove dirt, oil, and makeup but gentle enough to leave your skin barrier hydrated and healthy. 
It also doubles as an exfoliant and the ultimate prepping tool for lids and lashes ready for Gossamer® lash application. 
Red Lips
The classic red lip never truly goes out of style. This season, it gets a party-ready update with glossy vinyl finishes. 
To achieve this look, match your skin's undertones (bluish-purple cools or yellow-orange warms) to the base color of the red lipstick. This will ensure you pick the right shade of red that doesn't take on a different hue against your own skin. 
To get a high gloss shine while retaining as much red pigment as possible, top your lip color with the glossiest gloss you can find. Keep the remainder of your makeup minimal, and play up your lashes with the Tulip™ collection. 
These lashes are wispy and dramatic and can be used to create spikes or fan out in a feather-like effect. 
Winged Out Liner
We know. Winged liner is hard, and if you feel panicky just reading "winged liner," we understand. Eyeliner is tricky even with the most forgiving pencil, but the look of winged liner is unmistakably dramatic. 
It's perfect for parties and even your 9-to-5, depending on the color you choose and the length of your wing. Winged liner can also help you elongate your eyes and make them appear more almond-shaped. 
If you're not an ace with liquid liner and lack confidence with a pencil, there's a hack. New Lashify I-Line™ Gossamer lashes give you the look of winged liner without ever opening your makeup bag. 
I-Line is our first pre-mapped set of Gossamer lashes that creates the perfect, wing-like angle that lets you fake the look of winged liner with your lashes. I-Line combines multiple lengths of Gossamer lashes which are placed in descending order to create the Eyeliner Effect™ you want, without any of the messy makeup hassle. 
Pink Out
The romantic pink colors we've been seeing since spring get a glam upgrade for the holidays. If you're not a huge pink fan, don't worry: there are multiple ways to get the look. 
For the pink purest. Go for a monochromatic look. Pink lids, pink cheeks, and a subtle pink lip color are easy and totally holiday-worthy. To get the look, apply your favorite pink cream blush to your lids, cheeks, and lips. Add wispy, romantic lashes to complete the style. 
For a surprising pop of pink color that works well with non-pink makeup, try Curl Pink Gossamer lashes. These lashes let you capture the magic and on-trend pink vibe without full commitment to a face full of flushed makeup. 
To make sure your pink doesn't look red, select a shade lighter than the shade of your skin when it is flushed. 
90s Glam
The nineties glam look you've learned to love (or just tacitly accept) works for the holidays, too. Nineties glam is more minimalist but gets a serious level up for special occasions. 
If you were addicted to glittery lids in the late nineties and early 2000s, this look will have you feeling the flashbacks. To get the look, keep face makeup minimal, focusing on radiant, flushed skin and nude, semi-matte lips. 
For eyes, opt for glitter shadow with a twist. We love a glittery cat-eye lid or a stripe of glitter liner in the crease. 
You can highlight the cat-eye look with the Lashify Cat Eye Gossamer Bundle. This bundle includes several different lengths and styles of Gossamer lashes and instructions on perfectly mapping out your cat-eye lash look.
Unexpected Accents
Adhesive pearls and rhinestones on lids and lips have dominated runways this year, and if you've been looking for an excuse to try this look, holiday parties and gatherings are the perfect opportunity. 
Consider flat accents, which are generally more comfortable to wear and easier to apply. You can add accents to your lids and lips and create designs around your forehead. Pair this look with ethereal makeup and doll-like lashes. 
The Lashify Russian Doll Gossamer lash collection gives the right amount of girl and drama without interfering with any details you may have on your lids. 
Holiday Lash How-To
If you're planning a trip to the lash salon before your next big event, cancel it and save yourself time and money for other things (like a holiday gift to yourself). Lashify allows you to Be Your Own Lash Tech™ and get the same salon-inspired looks you love at home. 
There are other reasons you'd want to use Lashify, too. Like:
Lashify Gossamer lashes adhere with Underlash Technology™, which helps them go on effortlessly and feel ultra lightweight. 
Gossamer lashes are reusable and re-wearable numerous times with proper care. Want to wear understated lashes by day and full-volume lashes by night? You can do that with Lashify.
It's easy to get started with Lashify. You just need to grab the Control Kit™. The Control Kit contains everything you need to (gently) break up with your lash tech and be your own lash boss. 
Each kit includes:
Two sets of Gossamer lashes. You can pick pairs from the Curl, Amplify, or Bold collections. These are the foundations of your lash wardrobe and can be worn separately or combined for different looks. 
Fuse Control® Wand. The easiest and most effective way to apply your Gossamer lashes is with the Fuse Control Wand. This wand (and its smaller version, the Petit Curve Wand) was ergonomically designed to feel comfortable in your hand and easily hug the curve of your eyelid for seamless and easy application. 
One set of Wandoms®. Lashify Bonds never fully cure, which means they become tacky during application. This protects your natural lashes from breakage and helps you avoid damaging your Gossamer lashes. 
Whisper Light Bond™. The OG of all our Bonds, Whisper Light features Micro-Flex™ technology, which allows it to hold your Gossamer lashes tightly to your natural lashes without hardening and causing your natural lashes to become brittle and break.
Glass Finishing Coat. Want your lashes to go the distance? Finish your lash application with a coat of Glass. This sealer helps protect your Gossamer lashes and the Bond you use to help ensure they are locked tight and will last all night (or all day) long. 
Samples. You'll get a sample of both Pre-Cleanse and Melt Away in your Control Kit. Melt Away is our dual-phase, oil-based makeup remover that helps you release the Bonds so you can easily and quickly remove your Gossamer lashes with zero pulling or tugging. 
All your tools come packed in a convenient, hard case that protects your Gossamer lashes and keeps everything in one place, so you never have to guess the location of your lash tools.
The Very Merriest Makeup Starts With Lashify
You've got makeup looks to try, but don't forget that your lashes make or break your look. Keep your lashes looking amazing this season (and every season thereafter) by getting access to the only DIY Lash Extension system that allows you to get the salon looks you love right at home. 
Sources:
What Is "Glass Skin" and How Can You Get It? | Allure
The 5 Biggest Makeup Trends to Look Out for in 2023 | Vogue
Is Eyelash Glue Toxic? | Poison Control