Eyelash Extension Kit for Beginners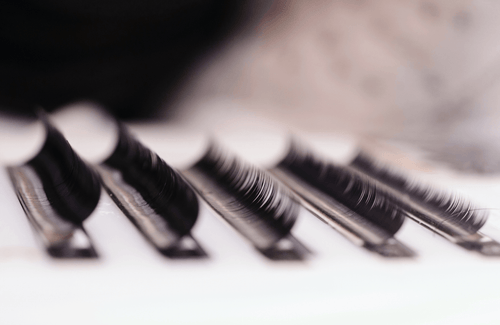 Quick! A stranger in a hooded cloak appears before you and offers you a mysterious box. What's inside could change your life forever. Do you take it or tell the stranger to get lost? Risk it all or scoff and say you're not buying what they're selling.
You agree to take it despite your hesitancy and unfold the top, freezing as it falls open. Inside the stranger's box — who is now even more mysteriously nowhere to be found — lies the legendary Lashify® Control Kit®! You gasp, surprised at what rests in your hands, looking around once again for the stranger. You have so many questions.
You were told the Control Kit® was a thing of myth and legend, something to be dreamed of but never experienced. You'd never thought it would literally be a weight atop your fingertips, very real and very present. Do you open it? What if it's a cruel joke, and inside resides nothing but rocks?
You have to see with your own eyes what so many said you were foolish for believing was real. You must discover what untold riches lie in wait beneath the sleek case cover, so tantalizingly close. With a shaky hand, you reach down and gently lift the top, eyes wide with curiosity and intrigue. 
A golden light spills out from the inside, washing over your hands, your arms, your shoulders, and finally, your face as you witness the glory held within. It's so real, and you can't believe it. And as it settles on what you now possess, you blanch because you've gone so long without the Control Kit® that you haven't the foggiest clue how to use it. 
Suddenly, the stranger reappears! And you recognize them this time as the bearer of such legend: Lashify. We are here, and we've been waiting for this moment to teach you the ways of the Control Kit®. 
Lashify Control Kit®: What Is It?
The Lashify Control Kit® is the ultimate solution to any and all lash needs in one convenient and luxurious package. If you've been wanting to delve into the world of Lashify and the system we offer to improve your lash game, the Control Kit® is 100% the way we recommend jumping in. To buy all the elements separately would put more of a strain on your wallet than the kit itself. 
We've curated the contents of this eyelash extension starter kit to include every piece of the puzzle you'll need, so it eliminates all the guesswork that goes into finding the pieces you need on your own. And if you're a baby beginner in Lashify land, consider the Control Kit® like your fairy godmother tasked with guiding you through all the twists and turns that come with the territory.
Prepare to Be Your Own Lash Tech™ when this gets into your possession because everything you get with the Lashify Control Kit® allows you to fully take lash extensions into your own hands and DIY every look under the sun. If that doesn't sound enticing, we don't know what will. 
Professional extensions are expensive, and upkeep is extensive if you want to maintain those enhancements for the full six to eight weeks. It can be a lot to handle, even for the most experienced extension diva. Options like eyelash perming aren't much better since they usually involve a whole lot of wonky chemicals. 
Instead, take back your lash power and cultivate the skills and products that'll give you the same results with minimal upkeep and half the effort at a fraction of the price. That's right; we're changing up the lash business.


When you have the Control Kit®, you'll be getting multiple sets to show off instead of one set you can't change out and still have to pay an arm and a leg for. That was a no-go for us, so the Control Kit® was born. 
It's What's Inside That Matters
The Lashify Control Kit® is all-inclusive. There's not a step that you'll be without on your journey to beautiful, high-quality lashes. To help you on your way, here's everything you'll find within the sleek packaging of this professional eyelash extension kit and what purpose it all serves.
Gossamer® Lashes
You can choose a set of two Gossamers from our Core Collection™: Amplify Gossamer®, Curl Gossamer®, or Bold Gossamer® Lashes. Only fan favorites and best sellers for you, you budding lash artist. Every set of Gossies® is made of premium Korean PBT silk and is 100% cruelty-free and vegan.
Whether you prefer a classic lash, a volume lash extension, or an ultra-dramatic mega-volume lash, there's an option out there for you. You won't even need a pair of training lashes or a creepy mannequin head to learn on — Lashify is that easy once you get the hang of it.
Whisper Light Bond™ (Dual-Sided) With Micro-Flex™
The Whisper Light Bond™ is our most popular bond, and it comes ready for you in every starter kit. With the double-sided micro-mascara applicator in clear and black formulas, this bond will serve any and every need that might arise, keeping your lashes strong throughout the entire wear. We're talking about days-long lash retention, baby.
Biotin and Micro-Flex™ technology create a nourishing cushion for the lashes without any tension to speak of. Your natural lashes will feel light as air and come out the other side looking better than before.
Glass Finishing Coat
The Glass Finishing Coat works as a final line of defense for your lashes to last. It works to seal in the bond while ridding your extensions of any remaining tackiness. With a simple swipe of the Glass Finishing Coat, your false eyelashes will be sitting pretty with a classy, deluxe sheen to really push them over the top.
Fuse Control® Wand
Our Fuse Control® Wand is our staple accomplice for all lash applications. The unique design creates the perfect shape to fit the many curves of your eyes and cheeks to ensure that you get the optimal Fuse™, no matter your eye shape. Use it to place each individual lash segment where you want, and when you're done, press firmly around your new lashes to fully bond the look to completion. 
You'll never go back to normal tweezers again. 
Pre-Cleanse and Melt Away Samples
To test their merit for yourself, we've included a sample of our Pre-Clease Cleansing Water and Melt Away Remover in every extension kit. 
The Pre-Cleanse serves as both a prep to the skin for makeup as well as lashes and a routine cleanser for your Gossies® during wear. Simply apply it to a clean spoolie or swab and gently cleanse your lashes whenever needed. The Pre-Cleanse is an oil-free product to ensure it doesn't affect the bond of your lashes.
When you're ready to remove your Gossamers® simply and easily, soak a cotton round in the Melt Away and press to your eyes for 20 seconds. Wait and watch as your extensions glide from your lash line like butter. You won't even feel it. No more pulling and tugging against that bond and pulling out your real lashes in the process.
Wandom® Pair
Yeah, we went there. For your Fuse Control® Wand's benefit, we created these silicone protective sleeves that slide perfectly over the end of your wand to keep it pristine during and in between uses. The Wandom® is the perfect protection for a long and happy lash life. 
Hard Storage Case
As your lash collection grows, so will your need for storage space. We thought ahead for you and included a 12-slot hard storage case that will store all of your Gossies® in a safe spot until you're ready to wear them out. Each space perfectly fits the cartridge your Gossamers® will arrive in, so reuse the packaging as long as you like, just like the Control Kit® as a whole.
We're plastic-conscious like that. 
Extra Gossamer® Pair
Finally, you'll find an additional Gossamer® from the Core Collection™ in your kit. It's the least we can do because we love you so much.
Change Your Lash Life™
If you've been curious about lash extensions for a while or you've tried time and time again to make classic eyelash extensions work and they just won't, what's stopping you from giving the Control Kit® a whirl? You'll have an all-in-one shop to experiment and learn (with our help, of course!) and all the permission to fail upward.
Mistakes are the foundation of success, and it all starts with a bit of risk. We know dropping a pretty penny on a chance can seem overwhelming and scary. Still, we've been in your position, and we've spent the pretty penny over and over again on methods that just aren't sustainable — we're talking about you, lash lifts and professionally done extensions.
This refillable training kit is the perfect beginner-friendly product for anyone interested in trying a new approach to false lashes. Seriously, you can say goodbye to sticky extension glue and pesky individual eyelash extensions. You don't need them anymore. 
The Control Kit works for you instead of against you and is designed to improve your DIY skill so you can be your own hero.
If you're ready to take the plunge with us, your Control Kit® is waiting for you to Change Your Lash Life™ forever. 
Sources:
Curious About Eyelash Extensions? Here's What You Should Know | NY Times 
What's My Eye Shape? (Learn How to Tell Here) | Vision Center 
BIOTIN: Overview, Uses, Side Effects, Precautions, Interactions, Dosing and Reviews | WebMD