Festive and Fabulous: Christmas Makeup Looks To Slay the Holidays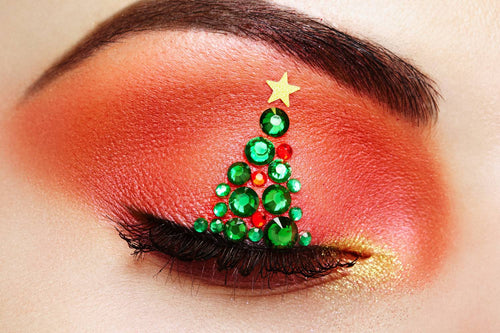 It's sparkle season, which means parties, work events, and getting together with family and friends. If you're looking for inspo to help you dial up the glam with your makeup looks, we've got you covered. 
The Lashify® beauty professionals gathered their top five festive makeup tricks (and lash looks, of course) to help you add more glam for truly holiday-ready looks. 
Pro tip: You don't need to be incredibly makeup-savvy to capture these looks. Some of them only require a punched-up lip color and a slightly more dramatic lash than you wear to your 9-to-5. Get ready to wow with these easy and eye-catching styles. 
Makeup Looks for Holiday Glam
Maybe you're headed to a benefit gala or a corporate party. Maybe you're headed to your grandma's living room for turkey and stuffing. Either way, you can give the perfect holiday vibes. 
Here are our top five holiday styles to capture through the holiday months. 
1. Romantic and Sweet
What's the perfect look for meeting your S.O.'s parents over the holidays? You just found it. A healthy glow gets complimented by a barely there cream blush that you can easily blend into your cheeks, lips, and lids for an all-over radiance that looks flushed and fabulous. 
Opt for a peach/pink color cream blush or all-over color and apply it to the apples of your cheeks, the center of your lids, and all over your lips. Make sure your skin is properly hydrated to ensure it looks dewy and radiant. 
If dry winter skin is a problem, try adding a cream-based highlighter to your cheekbones, the bridge of your nose, and the center of your lids. 
For lashes, you'll want the Doe Eye Gossamer® Bundle. This collection of Plus, Core, and Volume Gossamer lashes gives you the flirty, doe-eyed look that perfectly complements your innocent look. There's no question: you're definitely on the nice list. 
2. Classic Red Lips
It's virtually impossible to go wrong with a red lip during the holidays. If you've never worn red before and feel intimidated, you just need a few tips to do red right.
Match your lip color to your skin undertone. For instance, if you have blue or purple skin undertones, you'll want a red lip color that has a similar bluish-purple base. If you have warmer undertones, you can opt for red lip colors that have an orange-red base. 
Keep the rest of your makeup less dramatic. Neutral lids and slightly pink cheeks are the perfect combination for red lips. 
Highlight your eyes by focusing on your lashes, not your shadow. We recommend the Russian Doll Gossamer Set. This set features a mid-length lash and a rounded shape that works for all types of eyes and balances your bold lip.
Pro tip: Lip liner is an absolute must. Red lip color can bleed, making you look more like Margot Robbie as Harley Quinn than Margot Robbie as Barbie. 
3. Winged Liner
Eyeliner is tricky, and if you aren't a pro with liquid liner, the time to try a new liner style is not when you've got 20 minutes to get ready for a major holiday event. However, there's something incredibly elegant about a perfectly winged eye that works great for special events. 
Don't worry; there's a hack for that. The winged look you love is totally achievable without ever spending another second trying to match the winged tip of your left eye to your right. 
The Lashify I-Line™ Gossamer Lash set is the first pre-mapped Gossamer set that gives you a perfect, angled look, just like winged eyeliner. This works especially well for people who have limited lid space, like people with hooded eyes. 
4. True Blue
Ignite the holiday spirit with vivid color that channels your inner ice queen. Add a pop of blue color by keeping the rest of your makeup palette neutral. 
Want to dip your toes into the blue water without committing to a full face of frosty makeup? Try adding the Royal Ombre Gossamer Bundle to your lash line. 
A combination of Royal Kim Blue Prismatic Gossamer lashes and Stardust Chocolate Gossamer lashes give this stacked lash look depth and draws attention to your eyes. These lashes are high volume, uber dramatic, and definitely festive. 
5. Pink Out
Pink has never been hotter than it is this year. Attribute it to Barbie or to a return to a beloved color that simply looks natural and radiant on virtually every skin tone, but pink is definitely on-trend. 
Pair shades of pink together by matching the base tones in your makeup. If you have a purplish pink lip color, opt for eyeshadow colors that have more magenta in them than red. 
The perfect lash for complimenting your pink look? Opt for fluffy, wispy Gossamer lashes that look as idyllic as your makeup. We love the High-Class Wing Gossamer Set. This set is both wispy and dramatic and gives you an angled lash look that elongates the eyes and looks super romantic. 
The Easy Way to Holiday Glam
Makeup can set the stage for glamorous holiday looks, but you can seal the deal with your lashes. In fact, creating luxe looks is easy when you dial up your lash game with Lashify. 
The best part? No more trips to the lash salon to spend hours of your time (and a lot of money) to get the lashes you love. 
Lashify is different from other DIY lash extension systems. We never use cyanoacrylates or formaldehyde-releasing chemicals in our Bonds. Also, our Bonds never fully cure. They're safe for sensitive eyes and are formulated with biotin and lavender to help support your natural lash growth and prevent breakage. 
Our Gossamer lashes are 100% cruelty-free and attach to your natural lashes using Underlash Technology™. This helps you easily apply Gossamer lashes to your natural lashes so they look natural and professional.
Lashify lets you Be Your Own Lash Tech™ by giving you everything you need to get the lash extensions you covet right in the comfort and convenience of your own home. It all starts when you grab the Control Kit™.
Holiday Looks Start Here
The best way to start with the Lashify system is to grab the Control Kit. It contains everything you need to break up with your lash tech and start styling your lashes at home. 
Each Control Kit contains: 
Two sets of Gossamer lashes. You're going to need a head start on building your lash wardrobe, and the Control Kit gets you there by allowing you to pick two classic Gossamer sets (Curl, Amplify, or Bold). These sets can be mixed and matched to create new looks and are reusable numerous times with proper care. 
Fuse Control® Wand. The only tool for the job. We developed our ergonomically amazing Fuse Control Wand to hug the curvature of your eyelid and your hand so you can easily apply your Gossamer lashes without frustration. For smaller eyes and hands, the Petit Curve Wand is the best option. 
One set of Wandoms®. Don't be a fool; wrap your tool! Our Wandoms are tiny condoms that fit on the ends of your Fuse Control Wand to prevent your Gossamer lashes from sticking to the wand during application. Remember, because Lashify Bonds are safe and never fully cure, they become tacky during application. Wandoms ensure you play it safe during application. 
Whisper Light Bond™. Never become a victim of lash glue again. Our Whisper Light Bond is our most popular bond and helps you lock your Gossamer lashes on tight without damaging your natural lashes. This Bond features Micro-Flex™, which allows it to bend with your natural lashes so they never break or feel weighed down.
Glass Finishing Coat. Want to dance all night? You can do it, and your lashes won't budge. Swipe a coat of Glass over your lashes before you leave to increase their longevity and ensure they stay put. 
Samples. You'll get a sample of Pre Cleanse, our lash prep cleanser that also doubles as a face wash, and Melt Away, our dual-phase, oil-based cleanser that helps you easily remove your Gossamer lashes when it's time to take them off. 
It all comes wrapped up in a convenient and protective carrying case. Consider it an early holiday gift to yourself.
Next Level Holidays
This season, increase your glam meter with makeup looks that are subtly dramatic and lashes that only look professionally applied. Lashify helps you get the lash looks you love without the time and cost of salon lashes. 
After all, who doesn't love saving a little extra time and money throughout the holiday season? 
Sources:
The Best Winter 2023 Makeup Trends, from Red Lips to Major Metallics | Harper's Bazaar
Is Eyelash Glue Toxic? | Poison Control
Biotin - Health Professional Fact Sheet