Your Guide to the Ultimate Cheap Eyelash Extension Kit!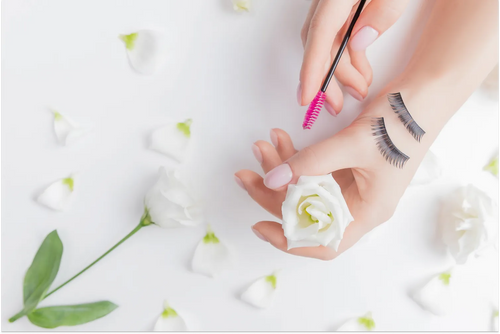 When you think Lashify, many words probably come to mind: Luxurious, fabulous, professional, high quality, iconic, revolutionary, but probably not cheap. "Cheap" has a bad connotation, especially when it comes to false lashes. "Cheap lashes" conjures images of low-quality corner-store strip lashes, nothing like the professional, celebrity-celebrated quality of Lashify's DIY lash extensions. 
Granted, we've broken down many times how Lashify's Control Kit is a very cost-effective way to get salon-quality lash extensions at home. Lashify isn't cheap, but it'll save you money in the long run. 
Here's a refresher: Gossamer Lashes can last up to 10 days on a single wear, and with proper aftercare, a single Gossamer can be reused for months. Now that's long-lasting! 
No need to pay a lash tech for their space, time, and training. The Control Kit offers all the tools you need to get started with Lashify for a discounted price compared to purchasing its contents individually. 
But you want cheap. You asked, and we listened. What if we told you that Lashify now offers a very cheap dupe of our own iconic Gossamers? Please welcome to the stage, The Gossie Lashes! 
The Gossie Lashes
Gossie Lashes are Lashify's brand-new practice lashes! The Gossie eyelash extension kit, AKA the Dupe by Lashify Practice Pack, is available for only $45 USD, a fraction of the cost of a complete Control Kit. While the Control Kit is our standard eyelash extension starter kit, it's also popular with professional lash artists as a professional eyelash extension kit. 
Applying Gossamer lashes has a bit of a learning curve, and lash enthusiasts might be a little weary of investing in a system you've never tried before. That's why we made a cheaper, lower-quality version of our Gossamer system for a training kit to help you learn the system. 
If Gossamers are a sleek, 10-speed bicycle, Gossies are a small three-speed bike with training wheels (and sparkly pink tassels on the handles, if you're a 90s baby!). 
Inside the Dupe by Lashify Practice Pack, you'll find modified versions of several Lashify products: 
The Gossies
Gossie lashes are modeled after our high-quality Gossamer lashes: they come in lash clusters rather than individual lashes. Each premade fan of lashes has a little spine. 
You'll find three lengths of Gossie in your practice kit: 12mm, 14mm, and 16mm. Experiment with each length and try mixing and matching to better understand which Gossamer lengths you may be interested in committing to later.
In terms of style, Gossies are most similar to our D curlfalse lash, Drama Gossamers. If you love their bold look, Drama Gossamers are volume eyelash extensions with thick fiber and a dense lash volume. 
Different lengths give you the power to try different styles, like cat eye or doll eye. Different styles flatter different eye shapes, so while you practice application, you can also practice your styling to discover what looks best on your eyes!
X Fuse Control Wand
The X Fuse Control Wand is a modified version of our OG Fuse Control Wand. Both are curved, tweezer-looking applicators that feature a curved end to mimic the curve of the eyeball. 
The OG is made of stainless steel and comes in a wide variety of styles and colors. The X wand has a metal handle with a silicone tip. 
Bond X
Bond X, our unique eyelash extension glue, is a lower-quality dupe of our Whisper Light. It contains no toxic junk like formaldehyde but doesn't offer the extra cushion of biotin that Whisper Light has to protect your lashes. 
You can, of course, purchase Whisper Light separately and use Whisper Light with your Gossies if you want to get all the great benefits of Whisper Light over traditional lash glue. Bond X contains charcoal powder, which is naturally antibacterial and gives you a mascara-like effect when applied to your lashes. 
Anti-Stix Seal
Anti-stix seal is a lower quality dupe of our Glass Finishing Coat. The top layer, clear coat will protect your lashes from debris and cover excess adhesive so your lashes don't feel sticky. It comes in a tube with an applicator like a mascara wand. Anti-stix utilizes a few different types of wax, primarily beeswax, to wick away debris and stop the sticking. 
How To Use the Training Kit
The products in this kit are not the same high quality as other Lashify products: this kit is not designed for wear, but for training with the Lashify application process. 
The Gossie lashes are thicker and a little more durable to withstand many mistakes, making them look less natural. If you want a kit you can wear every day, you can always dive right in with the Control Kit; you do not need to start here unless you want to.
With that little reminder out of the way, let's break down the steps of using the training kit: 
1. Apply Bond
Dab the Bond X on the underside of your upper lashes in a thin layer. Focus on the area of the lashes just a few millimeters above the roots. Wait 30 seconds for the adhesive to get tacky. 
2. Place the Gossie Lash
Carefully remove the Gossie lash clusters from the container with your clean fingers. Practice using the X Fuse Control Wand to hold and place the Gossie lashes on the adhesive. 
Do not place the spines of lashes on the waterline; place the spines 1-2 mm above the roots of your lashes, where you focussed the lash adhesive. Start by placing your innermost lash and working your way out. 
3. Fuse
Once all your Gossie lashes are in place, use the X Fuse Control Wand to fuse them to your natural lashes. Take the wand, and place it over the Gossies such that the curve of the wand is aligned with the natural curve of your eye and the lashes are between the prongs. 
Gently but firmly press down and hold for a few seconds. Slowly remove the wand just in case any adhesive may have stuck to the wand. 
4. Seal
After fusing, apply Anti-stix seal to lock in the look, cover any extra adhesive, and protect your lashes. Apply the seal as you would a mascara, brushing from root to tip on the underside of the lashes. 
And that's it! You're on your way to becoming your own lash tech with Lashify! 
Pro Tips
Do not wear mascara under or over your Gossie lashes. Your Gossie lashes, just like Gossamers, are intended to replace mascara as a lash enhancement. You can still wear your other eye makeup, though; just apply eye makeup after you finish applying your Gossies.

Related, always clean and dry your eyes before applying Gossies or Gossamers. Any oil-free facial or lash cleanser will do, but we recommend our Pre-cleanse Cleansing Water. Avoiding oil near your lashes is important since it can dissolve the bond. 

While you can apply Gossies after a lash lift, you don't need to. These processes are redundant, and in our opinion, DIY false eyelashes are a safer lash enhancement anyhow. In case you're unfamiliar, a lash lift is a chemical process for perming your eyelashes as you would your hair. Lash lifts should only ever be performed by professional estheticians. Never purchase or utilize an at-home lash lift kit, as they put you at risk of severe chemical burns and sometimes damaged eyesight. 

When you apply the Gossies (or Gossamers), look down into a hand mirror or similar.

Let's talk about lash aftercare: While you wear your Lashify lashes, you can wet your lashes after 24 hours have passed since your application. Steam and fully submerging your Gossamers may negatively impact the longevity of the wear but won't permanently damage the lashes. Plus, you can always touch up the bond during a wear. 

The best remover for Gossies and Gossamers is our Melt Away Lash remover. It's important to be gentle when removing your lashes: if a lash cluster doesn't slide off, don't tug on it! Keep gently swiping on your remover with a cotton round until the lash slides off on its own. Then ensure the lashes are free of leftover adhesive and totally dry before storing them back in their case. This will make sure your lashes stay reusable for many wears to come! 

For a limited time, you can use the discount code DUPE at checkout when you purchase any set of Gossamers (Core, Volume, Intimate, or Prismatic Collection — any full-price Gossamer you'd like!) to get the Dupe by Lashify DIY eyelash extension kit for FREE. Add both items to your cart before you head to check out to take advantage of the best sale price ever — free! Plus, you'll have a sample of the high quality offered by real Gossamers, so you know what you're practicing for. 
Sources: 
Lashify Review: The Pros and Cons of These DIY Eyelash Extensions | Cosmopolitan
At-Home Lash Lift Kit Dangers and Risks | Good Housekeeping
Lashify Review 2023: DIY Lash Extension Pros, Cons & Photos | Good Housekeeping