Best Lashes for Your Wedding Day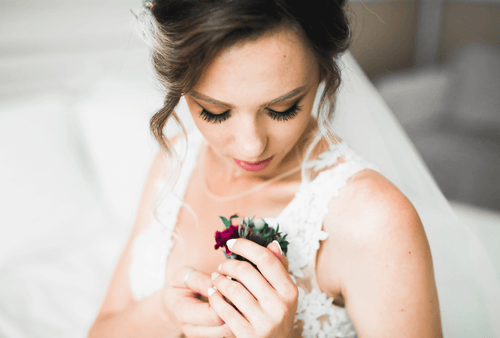 Congrats on your engagement! We know wedding planning is equal parts exciting and stressful; there are so many more details than you thought there could be! 
Therefore, we're here to help alleviate some stress by helping you pick the best lashes for your wedding day. You've got options, and we'll pare them down to make the choice less overwhelming. 
We're not going to discuss mascara here because, to be honest, mascara is not generally the best for weddings, regardless of the brand. Mascara simply doesn't photograph as well as false lashes. 
You're paying a pretty penny for those wedding photos, so you probably want to look your best, including your lashes. Do your future self a favor as she reflects on her wedding album and choose lashes that will photograph well. 
Assessing Your Bridal Needs 
Wedding Timeline
What does your day-of wedding timeline look like? Is it looking crunched or leisurely? Or is it flexible in that you haven't nailed it down yet, and you'll decide how much time to give hair and makeup based on your hair and makeup desires? 
There's no wrong way to design your wedding timeline, whether you're working lashes into the timeline or working the timeline to accommodate your lashes. If your timeline is flexible, choose a different category for the best lashes for your wedding. 
If your day-of timeline is very lax and leisurely, you have a ton of options. No one wants to be stressed on their big day, so props to you for weaving relaxation into your timeline. The most relaxed option will be a lash extension, whether that's professionally done or DIY since you could do these days in advance. 
But you also have the option to apply falsies the morning of. How long it will take you to apply the falsies depends on how experienced you are with them. 
No matter what style of lashes you choose, be sure to get some practice with them beforehand. If you aren't a seasoned pro with falsies, be sure to budget enough time for a goof-up, removal, and reapplication, just to be safe. 
If you know that your timeline on the day of will be super crunched, go with a lash extension that you apply a day or two beforehand. This applies to both salon and DIY extensions. One added bonus of getting lash extensions done a day or so prior is having those gorgeous lashes through the rehearsal dinner and the wedding week(end) as well. 
Consider this further: many events are involved in your wedding season. Engagement photos, bachelorette, bridal shower, rehearsal dinner, the main event, the honeymoon, and other events vary based on your cultural expectations or personal preference. 
What will you be doing with your lashes across all of the events in your wedding season? Do you want to try a different lash solution for each event? Mix and match? Or do you want one consistent lash solution for all events? 
Budget
Weddings are so expensive! Anyone who has planned a wedding in the last five to 10 years will lament the difficulty of planning a killer event on a budget. But your lashes don't have to throw off your budget. 
If staying under budget is your top priority, there will always be cheap strip lashes at the drugstore and beauty supply store. They might not look the best, but they'll get the job done. Strip lashes and most magnetic lashes will fall into this category. 
If your overall wedding look — your health and beauty category — is a high priority for you, you may want to consider allocating more of your budget toward lashes. In our opinion, great lashes define the look of your eyes. 
If you have the budget for it, salon extensions or DIY extensions will get you a better-looking result. Yes, they're more expensive, but that's because they're higher quality. 
Consider what is reusable. You've probably thought about reusability in a ton of other areas of wedding planning: Maybe you chose simple white shoes since they can be worn again for years. 
Maybe you bought the candles for keeps. Maybe you're doing that trendy vintage-rug-as-aisle-runner thing so you can add the rug to your home decor later. Maybe your dress was your mother's, and someday it will be your daughter's. 
Many couples don't even count the wedding rings in their budget because they're something that will outlast the day for decades to come. Have you considered reusable lashes? 
DIY lash extensions, namely Gossamers from Lashify, are reusable for dozens of wears with proper care. Magnetic lashes with dual magnetic spines are also reusable, though not for as many wears as Gossamers. 
Strip lashes, magnetic lashes with magnetic eyeliner, and salon lash extensions are single-use. When considering the cost of a lash enhancement, don't forget to consider how much use you can get out of each dollar you spend. 
Comfort
You want nothing but happy memories from your big day, not memories of itchy or irritated eyes. Don't disregard your own comfort on the big day.
You will be most comfortable in the lashes you have the most experience wearing. If you're already someone who wears salon lash extensions with any regularity, then salon or DIY extensions would most likely feel comfortable for you. If you have experience applying and wearing strip lashes regularly, strip lashes or DIY extensions might be better. 
How much time do you have before the big day? Unlike your makeup, which might only need one trial, you want ample experience with the type of lash you're choosing to wear, especially if you'll be applying it yourself: 
If you have between six months and a year (and you have the budget for it), you could start going to the salon to get used to the feeling of salon extensions and make sure your skin and eyes don't have adverse reactions to it. This will also help you build a better relationship with your lash tech.


If you have six months to two weeks, you may want to start mastering the application of DIY extensions or strip lashes. Wear them around and get used to how they feel for a few months.


If you've got two weeks or less, you should ask your MUA if they can help you or order the magnetic lashes with dual magnetic spines and cross your fingers that they get to you in time.
Comfort is entirely personal. What feels good to some feels wrong to others. Some brides don't care for comfort at all on their big day, in favor of a beauty-is-pain mentality, and she's well within her right to feel that way. 
We've all worn cute shoes even though we know they give us blisters. However, most people don't aim for discomfort if they can help it, and practicing with your lashes can help you be more comfortable, just like breaking in new shoes. 
What Lash Options Are There for My Wedding?
Professional Salon Extensions
What it is: If you go to a salon for salon eyelash extensions, your lash tech will adhere individual lashes or volume lash clusters to your natural lashes with professional-grade lash glue. These lashes will last between six and eight weeks and will naturally fall out as your natural lashes complete their growth cycles. Lash stylists recommend infill appointments every two to three weeks to keep them looking fresh. 
Pros: 
Long-lasting per application 
High-quality materials and application 
Expert lash styling and application (No learning curve for you) 
Cons:
Single-use
Toxic lash glue similar to strip lashes
Expensive (You have to pay for the materials as well as the salon overhead and the technician's time and expertise) 
Traditional Strip Lashes
What it is: 
Strips of lash fibers that you might buy in a box from Ulta, Sephora, or the drugstore. Not lash clusters, but one strip per eye, which you must measure and trim before gluing to your lash line with lash glue. 
Pros: 
Very affordable
Cons: 
Toxic lash glue
Short wear time, only one day
Single-use
Generally lower quality materials than other lash options 
Magnetic Strip Lashes
What it is: Similar to strip lashes, they're single strips of lash fibers. Some magnetic lashes adhere to your eye with a magnetic eyeliner that utilizes iron oxides to be magnetic. Some magnetic lashes come in pairs of two strips per eye, each one with tiny magnets in the lash band so that the false lashes sandwich your natural lashes; no liquid adhesive needed. 
Pros:
No toxic glue
Easy to apply
Inexpensive 
Dual magnetic spines are fast to apply and remove
Cons:
Single-use to limited-use, depending on the brand
Short wear time, only one day
Less variety in lash styles to choose from
Dual magnetic spines are less comfortable 
Dual magnetic spines look less realistic 
DIY Lash Extensions 
What it is: At Lashify, we're the experts on DIY lash extensions. Our lash extensions, Gossamers, are lash clusters that come in a wide variety of styles and colors. They are applied to your natural lashes with Whisper Light, a good-for-you adhesive that contains Biotin, and our specially designed application tool, the Fuse Control Wand. They give you professional-looking lashes at home. 
Pros: 
No toxic glue (our adhesive actually nourishes your natural lashes while you wear it) 
Ten days of straight wear on a single application 
Independence and creative freedom
Salon quality look without the salon cons 
Wide variety of styles to choose from 
Reusability 
High-quality materials 
Cost-effective 
Cons:
Time to learn how to apply
Relatively high upfront cost
Lashify For Your Wedding
Even Brides Magazine agrees that Gossamers from Lashify are top of the list of best wedding lashes. 
Did we mention that Gossamers come in a ton of different styles? No matter your bridal look, there's a Gossamer for you. Bold, glam, natural, wispy, piecey, feathery, edgy — however you describe your vibe, there's a Gossamer for you. 
Start with the Control Kit, which contains everything you need to get started. It's even cost-effective compared to buying all the pieces individually. The Control Kit comes with C-curl lashes, our Curl Gossamers, which pair well with every look. 
You can wear them by themselves for a classic lash look or pair them with some lashes from the Volume Collection for a more stylized look. 
Our Lashify application system takes a little practice, but we have many tips and tutorials to help you master your application. You can even book a free 1-on-1 with our experts (and how often have you seen the word 'free' while wedding planning!). 
Lashify is here to help you become your own lash tech, from your engagement photo shoot to your wedding day and beyond! 
Sources:
The 9 Best False Eyelashes To Wear On Your Wedding Day in 2023 | Brides
Bridal Lashes: Everything You Need to Know About False Eyelashes for Your Wedding | Hitched
5 Ways to Enhance Your Lashes Before Your Wedding Day | The Knot
Everything to Know About Upgrading Your Bridal Beauty Look | WeddingWire