10 Reasons To Try the Best At-Home Lash Extension Kit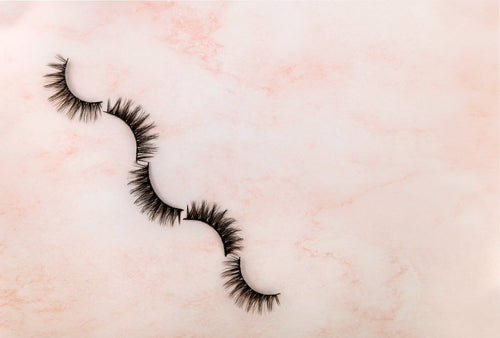 Have you been hearing about DIY lash extensions? It's no fairytale — Lashify's gossamers are the real deal! Here are 10 reasons we think you should try it out.
1. We're Literally the Best!
Just ask celebrities like Michelle Yoh and Lady Gaga — we are the best in the biz! Up and down every red carpet this year and last year, you'll find several celebs in the know wearing Gossamers. 
But we're not JUST for celebrities; we've generated quite a buzz online from people from all walks of life who love Lashify. Reviews from beauty experts and beauty beginners alike agree: Gossamers are the best! 
We don't want to brag, but we gotta let the world know that our Gossamers have won awards from The Beauty Authority, InStyle, The Knot, Mary Claire, and even the Holy Grail Award from Cosmopolitan. Vogue named Lashify the best Celebrity DIY Extensions in its Best Natural Looking False Eyelashes list.
What makes Gossamers the best? We have a whole list to get through! 
2. Cost Effective 
Gossamers may seem like a huge investment upfront, but long term, The Control Kit, our kick-ass starter kit, is way more cost-effective than professional salon falsies or even drugstore strip lashes. 
Extensions from a pro lash technician may last longer on single wear, but they're single-use. Every time you see your lash artist, you pay for a full set of new lashes. Plus, it's not just the cost of new materials; the lash tech has to charge you for their time, the lash removal, and the use of their retail space (rent isn't cheap!). 
Those costs add up fast, especially if you're getting filler appointments every two to three weeks, as many lash stylists recommend. That can easily run you $100 every couple of weeks. Lashify may be expensive up front, but for salon-quality lashes on the daily, it's actually a steal. 
Strip lashes are either single-use or limited-use, so you have to pay to constantly replace them. Even if your strip lashes last for 15 applications, that's still only 15 single days of wear, whereas Gossamers can get 10 days of continuous wear, then you can reuse them for months after that. Now that's a bang for your buck. 
3. Safe Option
At-home lash extension kits are not all equally good for you. Only a high-qualityDIY lash extension kit like the Lashify control kit sets you up for success in keeping your eyes and eyelashes healthy. 
You can experience several unpleasant side effects from strip lashes and professionally applied lash extensions. Always check the ingredient list on the adhesive, no matter who's applying your lashes. Since the FDA doesn't regulate lash extension glue, many lash glues contain toxic chemicals like formaldehyde, cyanoacrylate, and parabens. 
These toxins may cause side effects ranging from irritation to blindness. Your eyes are delicate and irreplaceable; don't risk their safety by putting dangerous glue near them. 
It's not just first-time, DIY lash stylists accidentally getting glue in their eyes that cause problems; even professional lash stylists can give you eye infections if their tools aren't sterilized properly. 
Lashify rejects the idea that glue has to be harsh. We offer only non-toxic, cruelty-free products, like our Glass Finishing Coat and Control Wax. No formaldehyde found here! See you later, cyanoacrylates! Be gone, parabens! 
Instead, Whisper Light, our lash bond, is actually good for your lashes! Our formula is infused with biotin and lavender essential oil, so it's not just safe; it's protective! 
4. Time Saver
Save a ton of time on your makeup routine! No mascara or eyeliner necessary! 
For some people, makeup is fun and artsy or meditative and habitual. For some, makeup is just a time-sucking, tweezer-intensive hassle. It's pretty lame we live in a society where we feel pressured to look a certain way, but we adapt. 
When you use DIY eyelash extensions, you get to spend less time doing your makeup every day. A single application will stay on your lash line for up to 10 days if you care for them properly.
The extra benefit of avoiding excess makeup is the potential to reduce wrinkles around your eyes over time. Daily eye makeup can contribute to more pronounced wrinkles as you age. 
Scrubbing your eyes and introducing foreign chemicals to remove the makeup can wear and tear the delicate skin around your eyes. In general, the fewer products you use around your eyes, the better it is for your skin.
5. Natural-Looking Enhancement 
Another reason to love DIY eyelash extension kits is that they look amazing! With a little practice, your DIY lash extensions will look even better than salon lashes. Gossamers look fantastically natural because they're made of premium Korean PBT silk. 
Gossamers can be curled or straightened with gentle heat from our Lashicurl tool to match the curl of your natural lashes. Don't use a manual lash curler; it can damage your Gossamers and your natural lashes.
Naturally, you can style your Gossamers any way you'd like: a barely there, natural look, fluffy and wispy, or an eye-catching red carpet glam lash look. No matter how you style them, your audience will never know where your own lashes end, and your Gossamers begin. (Unless you're trying the colorful Prismatics; the bright hues may be a giveaway!)
6. Natural Eyelash Protection 
Remember how we said that Whisper Light is actually protective? It is, and it's not even the only protective tool in your Lashify arsenal. 
Whisper Light protects your lashes by forming a nourishing cushion around your lash line. Since Whisper Light doesn't fully cure, it remains soft, malleable, and well, cushiony! 
The biotin, aka vitamin B7, in Whisper Light aids in keratin production in the follicles on your lash line to support a healthy growth cycle for your lashes. Healthy lashes are full lashes, and lash health starts with your natural lashes. Your lash extensions will have nothing to stick to if you don't take care of your natural lashes!
The Gossamers themselves protect your lashes by being so light they don't weigh or pull on your natural lashes. Melt Away Remover protects your lashes at the end of your wear by helping your Gossamers slide off with ease (and it makes a great makeup remover). 
Lashicurl protects your lashes by using gentle heat to curl your extensions instead of the crimping of manual lash curlers. Glass Finishing Coat is our lash sealer that locks your look in and locks debris out. We love lashes: we know how important it is to maintain good lash health, so we'll help you wherever we can! 
7. Beauty Is Comfort
You've heard it said that beauty is pain, but we think beauty should feel natural and comfortable. If you're used to itchy mascara, burning lash lifts, heavy strip lashes, or mildly painful individual lash applications, you may be surprised to hear that Gossamers are actually pretty comfy! 
How is that possible? Gossamers are more lightweight than strip lashes thanks to their high-quality materials and last cluster design. Additionally, Whisper Light doesn't itch since it only uses vegan, good-for-you ingredients. 
8. Convenience 
When you are your own lash stylist, convenience is the name of the game. No appointment to make, no three hours spent in a chair, no small talk, no drive to the strip mall — heck, you don't even need to put on pants. Just you, your own bathroom, and your own schedule. 
Your Gossamers arrive directly at your door, and you can even set up a subscription so you don't even need to remember to order refill cartridges.
9. Reusable
Strip lashes are not reusable; sure, you can get more than one wear out of them, typically about 15, but the quality degrades with each wear. They're only meant to be used for one day of wear at a time. 
Salon extensions are not at all reusable, even though one set of lashes may last three weeks since the technician will discard the extensions and completely replace them when those three weeks are up. 
Gossamers, on the other hand, can be reused. Even after the 10 days are up on a single application, you can simply clean and dry the Gossamers and return them to their storage case. 
With proper care, a single Gossamer can last for months with no decrease in quality. 
As long as you're using the right, dedicated cleanser and remover and letting them dry completely before storing or reapplying them, your Gossamers will stay like new for a very long time. 
10. Lashify Supports Your Independence
You've heard of DIY, but have you heard of DIFY? 
We came up with it; Do it FOR yourself! When you apply your Gossamers, you're not just doing your extensions yourself; you're doing them FOR yourself. What's the difference? The satisfaction of being your own lash tech AND knowing you made a great choice about your eyelash enhancement technique.
Plus, we support you 110%. We have tons of video tutorials on our YouTube and TikTok and step-by-step guides on our site to help you design and apply the most amazing lash looks. We know you're going to be so proud of yourself for what you can do all on your own! 
Sources: 
I Tried Lashify's Control Kit and Now I'll Never Get Lash Extensions Again | Byrdie
The Best False Eyelashes Create a Supernatural Gaze | Vogue
I Tried DIY Eyelash Extensions and Saved So Much Money | Byrdie
Lashify Review 2023: DIY Lash Extension Pros, Cons & Photos | Good Housekeeping
Top 5 Benefits of Getting DIY Lash Extensions | NightHelper