Be Your Own Eyelash Tech™ - How Lashify Changed the Lash Game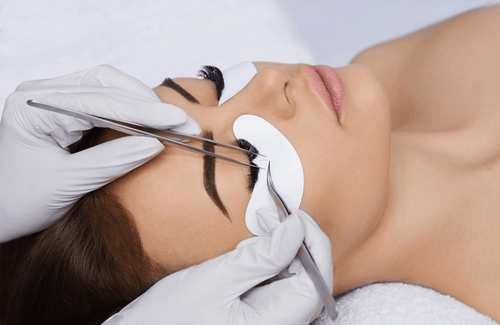 Raise your hand if your bank account has ever been personally victimized by your need for yet another lash extension fill (even though you swear you just had a fill two weeks ago). Lash lovers, we feel you. 
For the fluffiest, flirtiest lashes, there is no better option than lash extensions. Unfortunately, getting extensions on a regular basis can drain your bank account and countless hours of your life while you sit (eyes firmly pressed shut) in a salon chair. 
Until now, there haven't been many viable options for at-home lash enhancement. Strip lashes look like, well, strip lashes. They peel at the edges, look unnatural, and usually become a sticky mess during application. 
Serums may work for a time, but they can be expensive, and once you discontinue their use, your lashes grow to the same lengths they originally did. Lash lifts can give your lashes the illusion of looking more lifted, but they don't enhance length or volume. 
At Lashify®, we decided there had to be a better way, so we made one. 
We'll tell you how our DIY Lash Extension™ System works, explain how our bonds are actually beneficial to your own lashes, and tell you how you can easily become your own lash tech in just minutes.
Who Invented Lashify?
It all started with one woman, Sahara Lotti, a tenacious creator who saw a gap in the marketplace and created a solution. Our founder was weary of at-home lashes that barely stuck to natural lashes or clusters that fell off almost immediately. 
She single-handedly created the Lashify DIY Lash Extension system, using underlash technology and creating bonds that didn't harm the natural lash or cause eye sensitivity. She even created tools to apply lashes that never existed before she designed them, like the Fuse Control® Wand. 
Because of our founder, we're able to give the power back to the people. You don't have to give your time or money to a lash tech unless you want to. You can have amazing lash extensions right at home.
How Lashify Works
The Lashify system works by combining the elements you love about professional lash extensions with the accessibility you need to apply them at home. We give you all the tools to apply your lashes perfectly, plus numerous different styles of Gossamer® lashes, so you can get the perfect lash style every time. It all starts with our patented Control Kit®. 
Meet Your Control Kit®
Don't call it a starter kit; call it a Control Your Beauty® kit. Our Control Kit contains everything you need to apply at-home lash extensions perfectly every single time. 
The Gossamers
Every control kit comes with two sets of Gossamer lashes. Because the Lashify extension system is fully customizable, you'll select the two sets that work best for you, whether they're natural-looking Amplify Gossamer® lashes or dramatic Curl Gossamer® lashes. You're in control of the lashes you love.
Fuse Control® Wand
You pick between our patented Fuse Control Wand in either Classic or Petit Curve. We offer two sizes to help you get the most comfortable application based on the size of your eyes and the size of your hands.
Whisper Light Bond™ 
Your first Control Kit comes with our classic bond that's free from cyanoacrylates and formaldehyde and safe for even the most sensitive eyes. If you've ever developed a sensitivity from salon glue, you won't have to worry about that with our bonds. In fact, they contain natural lash-boosting ingredients like biotin and lavandula. 
Glass Finishing Coat
You don't have to seal your Gossamer lashes, but if you want to, using our Glass Finishing Coat is the best way to do it. Using Glass is a great way to add an extra layer of protection to your Gossamer lashes and help them last longer. Just so you know, all Gossamer lashes are made to last up to ten days.
Pro tip: If your Gossamer lashes aren't lasting ten days, don't worry. It can take a few applications before you're able to seal them properly and get the longest wear possible.
Wandoms® Wand Covers
Each Control Kit comes with one of our favorite little tools to help your lash application go as smoothly as possible. Wandoms cover your Fuse Control Wand and prevent sticky situations from becoming an issue. Wandoms help you get a solid lockdown on your lashes and Gossamers by preventing the bond and Gossamers from sticking to your Fuse Control Wand. 
Samples
When we created Lashify, we knew we wanted an all-immersive lash enhancement experience. That's why we offer products that help you apply and remove your Gossamers safely from start to finish. In your Control Kit, we provide a sample of Pre-Cleanse and Melt Away. 
Pre-Cleanse helps prep your eye area for application, and Melt Away causes your Gossamers to slide off easily, without damage, so you can reuse them again and again. 
Storage Case
Our hard storage case contains a magnifying mirror that helps you apply your Gossamer lashes easily. The storage case is the best and safest place to store your Gossamers so they last for a long time and are always right where you need them when it's time to apply them. 
Once you've got your Control Kit, you're ready to binge-watch our tutorials and become an at-home lash master. 
How Lashify Is Different From Other "At-Home" Lash Systems
Let's be real. There simply weren't many reliable at-home lash options before Lashify. You had your choice between strip lashes or tiny clusters. Both of these lash enhancement options had major issues. 
Strip Lashes
Chances are, you've given them a try out of sheer desperation for a more affordable and less time-consuming way to get great lashes at home. The problem is that strip lashes are more of a one-size-fits-none product. They aren't customized to your eyes, which means you usually need to trim or adjust them so you don't end up with eyelashes that extend onto your temples or across the bridge of your nose. 
They also use unsafe glues that can cause eye sensitivity and become dangerous to your delicate eye skin. The skin around the eye is incredibly thin and can become dry easily. Applying adhesive that is essentially super glue to that area is a bad idea. 
Clusters
Cluster lashes were a step in the right direction, but the majority of cluster lashes you find at your big box store aren't lightweight and require a massive amount of heavy adhesive to stick to your natural lashes. The result? A goopy mess. 
Clusters also had another issue — they are famous for going MIA just a few hours after application and taking your natural lashes with them. Because they were too heavy, applied with tons of superglue-like adhesive, and rarely applied properly, they weighed down natural lashes, causing them to bend, break, and fall out before the end of their life cycle. 
Lashify remedied the issues of strip and cluster lashes by developing Gossamer lashes that are lightweight, applied underneath the natural lash, and stay in place with lightweight, flexible bonds. 
Serums
Another popular lash enhancement method is the use of eyelash serums. While some of these serums may actually promote lash growth, none of them can produce thicker lashes. You have a limited number of hair follicles on your lash line, and each follicle produces one hair. No serum can give you additional hair follicles. 
Serums also stop working when you stop using them. They usually take about 1-2 months to work, and when the serum is no longer used, your lashes start to regrow at the length they grew before you began using the serum. 
While a serum may work similarly to mascara by coating the lashes with a thick conditioning agent or polymer, it won't permanently make them thicker. Adding additional lashes to your lash line is only possible through lash extensions. 
Lashify eliminates the need for serums, which may contain ingredients that you don't want to use. Instead, Lashify gives you the ability to lengthen and add volume to your lashes immediately. 
Lashify: The Lash Revolution Is Here
There will always be new and improved ways to enhance your lashes, but few of them will compare with the volume, length, and style you can get with DIY lash extensions. No other method of lash enhancement can give you more noticeable results. 
Giving your time and money to your lash tech is optional. With Lashify, you can get the lashes you love without the relationship commitment. Break up with strip lashes, serums, and even your lash tech. Lashify gives you the ability to Control Your Beauty®. 
Sources:
The Risks of Eyelash Glue for Extensions | Missouri Poison Center
Evaluation of the clinical efficacy and safety of an eye counter pad containing caffeine and vitamin K in emulsified Emu oil base | PMC