7 Lash Extension Ideas for Lash Lovers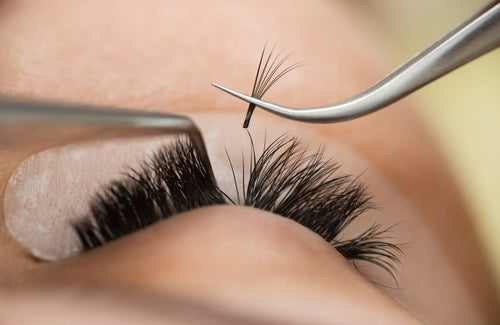 No matter what time of year it is, odds are you've got someone you're shopping for in your life. Christmas, birthday, Valentine's Day, Hanukkah, or maybe just a spur-of-the-moment gift exchange — whatever the occasion, we think finding the perfect gift sets a mediocre present apart from a truly great one.
Just imagine when that special day arrives, and your loved one holds the gift in their hands, eager to tear the wrapping away or toss the tissue paper to the floor in pursuit of whatever lies inside. Imagine their face when they open up your gift to find something half-baked, ill-thought, and without practical or even sentimental use. It's a pretty awkward and undesirable scenario to think about, isn't it?
Now let's change one small (but also major) detail and watch how the entire situation flips on its head. 
Your loved one holds their gift, tearing away whatever holds it, and finds a thoughtful, practical, useful item that speaks to their interests and hobbies instead. Watch as their face lights up with excitement, thinking about how they'll use their new gift in the coming days. 
We don't know about you, but there's nothing quite like the swell of pride and joy we feel when someone we love loves something we gave them. It's seriously such a satisfying moment. And if you're here, we'd hazard a guess that the people you're shopping for wouldn't be satisfied with just any gift — you need lashes.
And you're in luck! Because lashes are what we provide. Take a look below to find that perfect DIY lash set for your own lash lover. Or maybe, after all that, you're simply looking for fresh ideas for yourself and yourself alone. We don't blame you, bestie. These ideas are for everyone — gifter and giftee alike. 
1. Bold Gossamer® Lashes
This is a great jumping-off point for anyone you might be shopping for, even you. The Bold Gossamer® Lashes are a staple of our Core Collection™, making them a must-have for any lash collection. 
With a slightly thicker fiber at .15mm and a range of lengths to fit your desired look, these lashes will do all the work for you from application to removal (metaphorically, of course. You'll still have to apply the lashes with your own hands). 
The "bold" in these Gossamers® provides you with the same volumizing look as your favorite mascara without any clumping, drying out, or smudging to worry about. For a naturally curly lash with a bit more oomph, these Bold Gossamer® Lashes are the way to go. 
Try them out for yourself or up the anti for your loved one by sending them these Core Collection™ Gossamers® in our Lashify LED Control Kit®. It's all that and then some.
2. Drama Plus+ Gossamer® Lashes
And just when you thought lashes couldn't get any better, boom! Enter: Lashify V2. 
Straight from the new and improved Plus Collection™, which features all the lashes you know and love but with an elevated look, feel, and quality, our Drama Plus+ Gossamer® Lashes are here to serve and slay. Drama Plus+ brings an air of refinement and precision to the Plus+ Collection™ lineup with thick fibers suitable for any eye shape.
And if you needed any more reason to take the plunge, these DIY lash extensions are killer for reusability too.
3. Plushy Gossamer® Lashes
Maybe big and bold just isn't your thing. Or maybe you know it's not the thing of whoever you're buying for. Not to worry, Lashify comes prepared. 
For something a little less on the wild side but with all the same quality, refinement, and glam, we introduce our Plushy Gossamer® Lashes. This is our most opulent lash available, with a regal curl that revels in a delicate and dainty fiber. Your lashes will be giving in all the right ways without any of the deep and rich and all of the airy and voluminous. 
And that's the staple you just have to find in something named the Volume Collection™. You can't name it that and then not have volume lashes. It's just criminal. 
4. Extreme Ice Gossamer® Lashes
This unique lash is the first of its kind. Featuring the first ever dual-fiber lash with both thick and thin fibers that make up the body, the Extreme Ice Gossamer® Lashes boast the best of the Starburst™, Gemini™, and Fluffy™ Gossamers® all in one. What more could you want from a lash but everything all at once? It takes all the decision-making out of the decision in our book. 
These lashes are the ultimate choice for layering into a cat-eye look without any other makeup necessary. With the dual-fiber thickness and three different fiber lengths across the entire eye, layering these Gossies® into that Ariana-style cat-eye can be done in a snap. If you or someone you know is the Ariana your life, do them justice with the Extreme Ice lashes. 
5. Starburst Gossamer® Lashes
Speaking of the Starburst Gossamer® Lashes, we'd be remiss if we went another entry without mentioning these stunning DIY lashes. Master of the Pinching Technique, makeup artist Marlon Monroe, and Wayne Goss, the requester of a Cindy Crawford Lash, birthed the inspiration for this beautiful amalgamation of lengths, layers, volume, and texture.
Mascara and liner will be a think of the past with the spiked glam these lashes provide. You can mix, stack, and layer with the .1mm thickness, making them the versatile lash wearer's dream. We bet you can think of more than a few lash lovers in your life that would absolutely rock these out-of-this-world lashes — and you're probably one of them!
6. Pink Gossamer® Lashes
Is nothing we've presented so far hitting home yet? Are you still searching for that over-the-top, next-level pop of something, and you just don't know what it is yet? Don't worry, we do.
Inspired by the inner corner pop of color from Kylie Jenner's page of the fashion book, our Prismatic Collection™ offers every color under the sun to elevate a normally tame eye look into something truly extraordinary. These Pink Gossamer® Lashes are a fraction, a sample, a mere taste of the platter of color available to you. 
Just add a Gossie® here or there, inner corner, outer corner (maybe even the entire eye!), and watch as you go from drab to fab in seconds. Every eye will be on you when your eyes are in the room.
7. Amplify Ginger Gossamer® Lashes
To round out our little trip through lash land, we'll leave you with an entry from our Intimates Collection™. Did you know that Lashify had lashes made to match natural hair colors? Because now you do, and now you can purchase your ginger bestie lashes to match their radiant locks. 
For those with lighter-colored hair, brows, and lashes, wearing the black and bold extensions of most traditional lashes isn't going to cut it. We'd rather you be able to enhance that natural shade of beauty which is why the Intimates Collection™ was made in the first place. 
The Amplify Ginger Gossamer® Lashes are set in the style of our famous Amplify Gossies® to really ride the natural look for all it's worth. Wispy, piece-y, and beautiful, these lashes will take normally invisible lash hairs and turn them into something as noteworthy as you are.
The Perfect Lash for That Perfect Someone
These lashes are but a few options available to you as you begin your search for that perfect DIY lash extension. Our goal is to provide you with some of our personal ideas that might propel you into a wealth of lashes you might not have even known were available to you. 
You'll have endless lashes to keep you going through every gift-giving season and personal gifting session you could possibly have, and if there's one thing we know about lashes, it's that gifting them yourself is just as important as sharing them with the rest of the world.
With every lash created 100% vegan, cruelty-free, and with the highest quality Korean PBT Silk, you'll be wicking moisture, stomping traditional lash allergies, subverting heat damage, and nourishing your natural lashes while you do it. Reuse well-kept lashes, and enjoy them long-term with minimal upkeep and weightless wear.
The people around you will love you, you'll love yourself, and everyone will be swimming in the lash gold. We promise there's plenty to go around, so try out the perfect pair today, and thank us later. Whether it's for yourself or for another lash lover in your life, we're sure you'll be back, and we can't wait for it. 
Sources: 
What is PBT Plastics? (Polybutylene terephthalate) | Laird Plastics 
What's My Eye Shape? (Learn How to Tell Here) | Vision Center