Lash Extension Aftercare for Beautiful, Healthy Lashes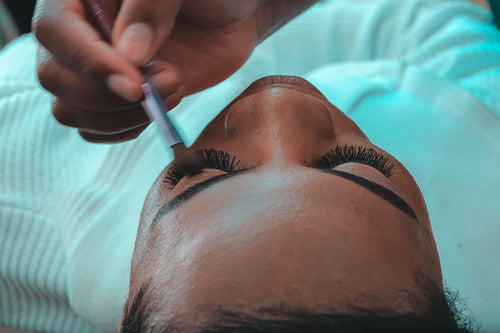 Those gorgeous, fluttery lash extensions have made your lash dreams a reality. Keeping them looking pristine can be a challenge unless you're fluent in lash extension aftercare. There are some dos and don'ts you should know about to help keep your lashes looking just as good on day 10 as they do on day one. 
Taking care of your extensions will help keep them looking great, but will also help improve their longevity. Lucky for you, the Lashify® DIY Lash Extension™ System makes aftercare a breeze. 
The biggest rule of thumb is to do less. We'll explain what that means and give you some tips and tricks for keeping your lashes looking luxe the entire time you're wearing them. 
Lash Extension Basics
Your Gossamer® lash extensions are made from 100% Korean PBT silk and are attached to individual featherlight bands called spines. Underlash Technology™ allows you to attach your extensions beneath your natural lashes for easier application and a more natural look.
The design of Gossamer lash extensions helps distribute their weight more evenly, increasing the weightless experience of wearing Gossamer lashes. Placing lash extensions under your natural lashes also helps reduce interference with makeup (like eyeshadow and eyeliner), which helps keep your Gossamer lashes clean. 
Bonds
Lashify Bonds are unlike anything you've ever tried. Most lash glues, including those used in a professional setting with salon lash extensions, contain cyanoacrylates and formaldehyde-releasing chemicals. 
These can irritate the skin and even lead to infections if they were to come in contact with your eye. Worst of all, they harden, leaving your natural lashes brittle and more likely to break.
Lashify Bonds contain no formaldehyde or cyanoacrylates. Instead, they contain natural lash-nourishing biotin and lavender. These ingredients support your natural lashes even when you're wearing Gossamer lash extensions. Our Bonds also never fully harden, so your Gossamer lashes will bend and move with your natural lashes instead of breaking.
Longevity
Lashify Gossamer lash extensions are designed to go the distance. Even though you can easily remove them anytime you want, they're designed to last for up to ten days with proper care. 
Our Gossamer lashes are also reusable, which means you can remove them and reuse them for months before they need replacing. Making sure you get the most use out of every single pair of Gossamer lashes you own is the goal, and we've got the tips you need to make sure they last. 
Lash Extension Aftercare
If you want even more to love about Lashify, you just found it. Aftercare for your Gossamer lashes couldn't be simpler. The biggest tip to keep your Gossamer lashes looking beautiful and lasting a long time is to simply leave them alone. 
Less interference with your lashes (pulling, tugging, touching) will help make sure the oils in your skin don't interfere with the Bonds and will help your lashes last longer. That said, we know there are a few other questions you probably have about aftercare. 
Here's a quick guide to help you take the best possible care of your Gossamer lashes. 
What To Do
Once you've placed your Gossamer lashes on your natural lashes, there are a few things to keep in mind to make sure they stay on and don't become damaged. 
Use an additional Bond. Use our Night Bond® Sealer if you plan to wear your Gossamer lashes long-term. 
Don't be afraid of touch-ups. If you wake up with a corner lash lifting, this tutorial can help. It's super easy to touch up a lifted Gossamer lash and ensure it reattaches easily. 
Sleep on your back. Sleeping on your back will ensure you don't rub your eyes against your pillow and interfere with your lashes. If you sleep on your stomach or side, try the Lashify Silk Pillowcase. It's gentle on your skin and hypoallergenic for an easier night's sleep.
Remove your Gossamer lashes properly. When it's time to remove your Gossamer lashes, don't pull them off. Use Melt Away, or any dual-phase, oil-based cleanser, to loosen the Bond between your Gossamer lashes and your natural lashes so that they easily slide off without damaging your natural lashes.
Store them properly. Keeping your Gossamers stored helps make sure they are protected and helps ensure you know where they are when you need them. There are plenty of storage options, but the best way to store your Gossamers is on their original cartridge. 
Take care of your Gossamer lashes, and you'll not only be able to wear them numerous times, but you'll also get the benefit of watching your natural lashes thrive. Unlike salon lashes, Gossamer lashes are completely safe for your natural eyelashes. 
What To Avoid
An ounce of prevention is worth a pound of cure. When you're wearing your Gossamer lashes, here are a few things you should avoid. 
 Avoid water, at least for the first 48 hours. You can get your Gossamer lashes damp, but just not right away. To make sure the Bonds last, we recommend not getting your Gossamer lashes wet for 48 hours after application. After that, the Water Poof™ Sealer is the perfect solution for helping add water resistance to your Gossamer lashes. 
Don't pull, tug, or twist your lashes. "Hands off" is the best rule for your Gossamer lashes. Because Gossamer lashes are so weightless, you'll probably forget they're on. The natural oils, dirt, and debris on your fingers could interfere with your lashes, so keeping your hands away from them is the best practice. 
Avoid oil-based makeup. Oil breaks the Bond between your Gossamer lashes and your natural lashes, so using oil-free makeup is the best option for making sure your Gossamer lash extensions stay on as long as possible. 
Ditch your mascara. You won't need it, and it can seriously damage your Gossamer lashes and even make them unusable. If you want more volume or length, opt for lengthier, fuller Gossamer lashes! 
Gossamer lashes may look dramatic, but they're really lowkey in terms of maintenance. Wearing them is as effortless as applying them. 
If you aren't wearing Gossamer lashes yet, now's your chance to grab everything you need to get started. You'll find it all conveniently packaged in our Control Kit™. 
The Control Kit
Lash extension application and aftercare are about to become really easy. Once you have the Control Kit, you've got the tools to Be Your Own Lash Tech™.
Each Control Kit comes with:
Two sets of Gossamer lashes. You choose from Bold, Amplify, or Curl. If you've been a salon lash extension purist, you'll love the options we offer. Whether you want full drama or something more lowkey, there is a Gossamer lash set to fit your needs. 
Fuse Control® Wand. The best DIY lash system comes complete with the very best tools. Our Fuse Control Wand was ergonomically crafted to work with Gossamer lash extensions to make application a breeze. It naturally hugs the curves of your hands and eyes for seamless application. If you have smaller hands or eyes, the Petit Curve is the best solution. 
One set of Wandoms®. When applying Gossamer lashes, the Bonds become tacky. This is because they never fully set. Tacky Bonds help keep your Gossamer lashes in place, and Wandoms help keep your Gossamers from attaching to the Wand and not your natural lashes. It's a tiny little tool that does a big job. 
Whisper Light Bond™. The OG of all our Bonds, Whisper Light helps keep your Gossamer lashes firmly attached without causing damage to your natural lashes. 
Glass Finishing Coat. Use Glass when you want to wear your Gossamer lashes longer. Glass is also a great touch-up tool for use when you want your Gossamer lashes to go the distance. 
Samples. Each Control Kit comes with samples of two of our favorite products: Pre Cleanse and Melt Away. Pre Cleanse is our Japanese Cleansing Water that helps prep your lash area for Gossamer lash application. It can also be used as a gentle yet effective facial cleanser. 
Melt Away is our makeup remover that helps you easily and safely remove your Gossamer lash extensions. 
All the tools you need to create the lash looks you love come wrapped up in a convenient, protective case with a mirror you can use for application. 
Great Lashes Before, During, and After
The Lashify system helps you get gorgeous lashes without damaging your own. It's the easy and convenient alternative to salon lash extensions that lets you reclaim your time and money and still get dramatic, fluttery lashes anytime you want. 
Caring for your Gossamer lashes doesn't take a lot of effort. The less you do, the better. Once you apply your Gossamer lashes, we recommend you go back to life as scheduled. Let your lashes do their thing while you do yours. 
Sources:
Is Eyelash Glue Toxic? | Poison Control
Biotin | Health Professional Fact Sheet
Lashify Review: The Pros and Cons of These DIY Eyelash Extensions | Cosmopolitan