How To Apply False Lashes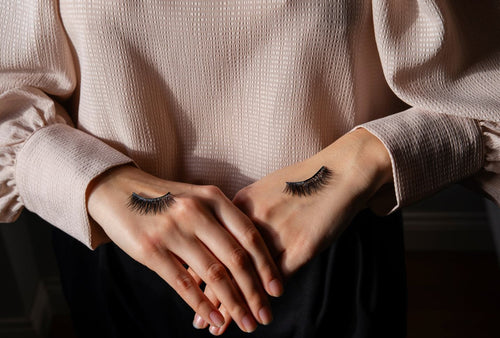 You finally broke up with your lash tech, and now you're wading through a small collection of eyelash extensions, bottles of adhesive, and strange-looking tools, wondering if you can actually recreate the look of salon lashes at home. 
Don't worry. You can definitely get salon-quality lashes at home. With a little finesse and practice, you can learn to apply your DIY Lash Extensions™ like a professional, take better care of your natural lashes, and save a ton of time and money in the process.
The team at Lashify™ is here to give you all the tips and tricks you should know so you can apply your lashes properly, get a hold that lasts, and remove them safely. We'll give you a step-by-step guide to getting lashes you can love. 
Prepping Your Lashes
Prepping your natural lashes for your eyelash extensions is crucial to ensuring your adhesive works and that your extensions don't get damaged. If you're using Lashify's Gossamer® lashes, you'll want to make sure your lashes are free from oil and makeup.
To prep, you can use Lashify's Pre-Cleanse Cleansing Water. This gentle, oil-free formula is strong enough to remove dirt, oil, eyeliner, mascara, and makeup but gentle enough to be used on the delicate skin of your eye area. You can even use it as a toner or facial cleanser. 
Once you've cleansed your natural lashes and eye area, gently blot your eyes dry. 
Getting Comfortable With Your Applicators
Whether you're applying strip lashes or lash clusters, you'll need an applicator to safely get the lash fibers from your hands or the package to your lash line. You can use tweezers, or if you're using the Lashify system, you can use one of our customized applicators.
Fuse Control™ Wand. Our classic, ergonomically shaped application tool hugs the curve of your face and eye to make application easy and fast.
Petit Eye Fuse Control™ Wand. This has the same ergonomic design but for smaller eyes and smaller facial structures. 
Birdie Wand™. The Birdie has everything you love about the Fuse Control Wand but in a compact size that makes traveling with your Lashify Gossamer lashes a breeze. 
You'll want to take a few practice fuses with your Fuse Control Wand. Learning to get the perfect fuse is essential for getting your Gossamer lashes perfectly placed. You can find tutorial videos here or an entire article about different types of fuses here. 
You're ready to start applying once you're comfortable holding the wand and have practiced a few fuses on your clean, dry lashes. 
Applying Your Lashes
There are a few different ways to apply your falsies, depending on the type you are using. There are essentially three different types of lashes you can apply at home: strip lashes, individual lashes/lash clusters, and magnetic lashes. 
Strip Lashes
Strip lashes are applied with lash glue to the skin just above the lash line. The adhesive included with your strip lashes should be applied to the back of the strip lashes on the spine. Starting at the inner corner and working outward, you'll gently press the strip lashes against your lash line, working toward the outer corner. 
Strip lashes can sometimes be too long for your eye. Measure your lashes before applying glue; if they're too long, you can trim them with scissors. Remember that strip lashes don't offer the same customization as individual lashes or lash clusters. You'll be limited to the existing design on the lash strip.
Magnetic Lashes
Magnetic lashes work similarly to strip lashes in that they come in one long strip applied to the lash line. Instead of eyelash glue, however, magnetic lashes are applied with an iron-oxide eyeliner. Magnetic fake eyelashes have tiny magnets on the back of the lash strips and will adhere to the eyeliner with a magnetic bond. 
Magnetic eyeliner is liquid and may not be easy for beginners to apply unless you're already really good at applying liquid eyeliner. There's also no way to customize your look like you can with salon lashes. 
Individual Lashes
Until Lashify, the ability to do DIY Lash Extensions™ at home wasn't possible. We changed the game and made it possible for you to get the salon-look lashes you love at home. Applying Lashify Gossamer lashes is easy, but it does take a little practice. 
Unlike strip lashes, Gossamers are applied to your individual lashes using Underlash Technology™. This allows our lashes to look more natural and bond better than other types of lashes and reduces the weight of the lashes on your lash line. 
Applying Gossamer Lashes
If you're using a lash map, follow the guide to determine which Gossamer lashes to place on your natural lashes. If not, you can use one of the sets of Gossamer lashes that came in your Control Kit™. 
Don't have a Control Kit? It's time to grab one. The Control Kit contains everything you need to apply Gossamer lashes easily and quickly.
1. Grab Your Bond. 
Your Control Kit™ comes with Whisper Light Bond™, our classic Bond that contains no formaldehyde or cyanoacrylates, which could damage your natural lashes or irritate your eyes. Our Bonds all feature Micro-Flex ™ technology, which allows them to adhere to your extensions with a flexible hold that never fully sets.
Add a thin, light coat of Bond through your lashes, separating them and waiting about 30 seconds after application for the Bond to get nice and tacky. You can add a second coat to the base of your lashes, focusing on the inner and outer corners. 
2. Apply Your Gossamer Lashes
Once your Bond has gotten tacky, you can begin to pick up your individual Gossamer lash clusters and apply them to the underside of your natural lashes with the fuse technique of your choice. 
If you apply a Gossamer lash and it isn't where you want it to be, simply use your Fuse Control Wand to remove it and replace it. Because our Bonds are flexible, you're able to readjust your Gossamer lashes to get the perfect placement.
3. Practice Good Aftercare
Once you've applied your feather-light Gossamer lashes, you shouldn't be able to feel them. Once they're on, you can forget they're there and enjoy them for up to ten days with great aftercare. 
Aftercare
Once you've applied your Gossamer or strip lashes, you'll want to take a few measures to keep them as long as possible. 
Don't get them wet. While your eyelash extensions can tolerate a tear, they don't do well with being fully submerged or even getting wet in the shower. Avoid getting them wet, which can break down the Bond or the adhesive. 
Avoid oil. If your eye makeup contains oil (check your package because even some eyeshadows include oils), avoid them while wearing your extensions. Fake lashes don't mix with oil, which easily breaks down the adhesive and can result in a lash catastrophe. 
Resist the urge to use mascara. You probably won't feel like you need it, but a coat of mascara can ruin significantly reduce the lifespan of your lashes. 
Be careful with curlers. Using an eyelash curler to gently press your lash extensions and natural lashes together is okay, but be aware that it can also interfere with your adhesive.
When you're ready to remove your lashes, you'll need a product to break down the lash adhesive. If you're using strip lashes, you'll want something that does not break down the lash band. 
Removing Your Lashes
To remove lashes, you'll want a dual-phase, oil-based makeup remover. You can use a cotton pad to gently press the remover onto your lashes for 30 seconds. Afterward, you should be able to slide your lashes off. 
It's important to never try to pull the fake eyelashes off your own, which can damage your natural lashes and extensions. If you have trouble removing your lashes, you can use a lash applicator, like a clean spoolie, to slide oil-based remover through your natural lashes and coat them with the remover to help slide the extensions off. 
Easy Lashes Every Time
Whether you're going for a natural look or something more glam than your natural lashes, wearing false eyelashes can get you there. The Lashify system allows you to get professional, salon-lash style lashes right in the comfort of your own home. 
It's the easiest way to get the lashes you want without damaging your lashes or spending excess time and money on your lash wardrobe. 
Sources:
The Risks of Eyelash Glue for Extensions | Missouri Poison Center
Formaldehyde Release From Eyelash Glues: Analysis Using the Chromotropic Acid Method | PubMed
Is Eyelash Glue Toxic? | Poison.org
How To Remove Eyelash Extensions At Home Safely | Glamour UK