Unveiling the Longevity – How Long Does a Lash Lift Last?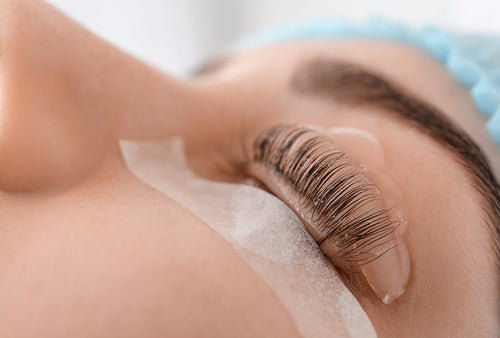 There are plenty of ways to enhance your eyelashes. From salon extensions to at-home strip lashes, there's never been a time when we've had more ways to lengthen and thicken our lash lines. One popular form of lash enhancement is the lash lift. 
A lash lift is performed by a lash tech at a salon, costs less than lash extensions, and takes a fraction of the time. We'll talk about what it is, how long it lasts, and the risks associated with the procedure. 
What Is a Lash Lift?
Remember those curly perms you got in grade school? Maybe you were lucky enough to have a parent that took you to a professional to have them done, but if you're like many of us, you sat in your kitchen while an older relative applied heavily fumed chemicals to your hair in little rollers. 
A lash lift will bring back all of these memories because it's essentially a perm for your eyelashes. A lash tech will apply a silicone mold on your eyelashes and follow it with a permanent chemical solution that naturally curls your lashes around the mold. 
The process takes about 45 minutes and will cost anywhere between $100-$200, depending on where you go. A lash lift will not lengthen or thicken your lashes, nor will it make them any darker or more noticeable. What it will do is make them curl upward, which can be helpful if you have lashes that tend to angle downward or straight outward. 
How Long Will It Last?
A lash lift will last until the natural lash falls out. Each of your eyelashes grows on its own four-stage cycle. The entire cycle takes between four to eight weeks to complete per lash. 
You probably won't notice the need for another lift until you hit the six-week mark when most of your natural lashes have been replaced with new lashes that aren't lifted.
Are There Any Risks?
A few. If you've ever experienced an allergic reaction from the chemical process on your hair, you might be sensitive to the chemicals used during a lash lift. 
Additionally, chemical processes on your lashes work the same as they do on your scalp's hair. That means that long-term use can speed up the rate at which you lose your lashes. It's possible that you could lose your lashes faster or even permanently damage your natural lashes. 
You might also develop an infection, like blepharitis, a condition involving eyelid inflammation. Improper application of a lash lift could result in chemicals in your eyes, so it's of extreme importance that you go to a professional with plenty of experience if you have this procedure done. 
Is It Worth It?
Maybe. If you have downturned lashes, a lash lift can help keep them lifted upward. It may also make your lashes appear slightly longer since they're now curled instead of straight. 
Many people also combine a lash lift with a lash tint. A tint is a method of darkening the lash (kind of like hair color) to make them look darker and more noticeable. 
Although you might be able to get away without wearing mascara after having a tint, you won't get the lengthening or thickening effects with a tint that you will get from your favorite mascara products. 
Other Options That Lift Your Lashes
If you don't want an eyelash perm, there are other ways you can achieve the look of lifted lashes.
Eyelash Curlers
Eyelash curlers have been used for decades to curl lashes away from the lash line. You can still use them today, although the curl they provide doesn't last very long, and if you use them incorrectly, you could smash your eyelid or "bend" your eyelashes. 
Mascara
The classic beauty product that most of us swear we couldn't live without. Mascara keeps your lashes defined, and many of the formulas have ingredients intended to help your lashes look thicker and longer. 
Extensions
Lash extensions won't help your natural lashes lift, but depending on the curl style of your lash extensions, you can get falsies that look curled and lifted away from your lash line. There are numerous different styles of lash curls, from a moderate curl to an extreme curl. 
Professional lash extensions can get pricey, not to mention time-consuming. You can spend up to three hours in a salon chair having extensions applied. If you'd rather skip the chair and do them yourself, the Lashify system is for you. 
Lashify: Your At-Home Lash Lifting Solution
The Lashify system allows you to have access to salon-quality lashes that are easy to apply and last up to ten days with proper care. With Lashify, you can truly Be Your Own Lash Tech™ and save yourself a lot of time and money. 
Our Lashes
Our Gossamer® lashes are made from Korean Silk and are 100% cruelty-free. They're available in numerous different lengths and curl styles, so you can fully customize your look by mixing and matching them or using one of our convenient lash maps to create a look you love.
Our Bonds
Unlike lash glue you'll find in salons or in at-home kits, our Bonds never contain formaldehyde or cyanoacrylates. In fact, they work a lot like a lash serum in that they contain lash-nourishing ingredients like biotin and Lavandula. 
Our Bonds feature Micro Flex™ technology. They never fully cure, which allows them to bend and flex with your natural lashes and avoid breakage. 
Application 
If you've tried at-home lash extensions and had not-so-great results, we're here for you. Our application process is so simple even the greenest beginner can do it. We have plenty of tutorials and how-to videos here in case you need help along the way. 
You'll be able to apply your Gossamer lashes within about five to 10 minutes once you're comfortable with them. Still, we recommend allocating an hour the first time to get comfortable with the process and avoid rushing. 
How Long Do They Last?
You can wear your Gossamer lashes for up to ten days with proper care and even wear them overnight. You can also keep your Gossamer lashes on their cartridge when you remove them and reuse them time and time again. 
With proper care, they'll last much longer than a lash lift. 
Are There Any Risks?
While all lash enhancement techniques carry risks of sensitivity to your eye area, when properly applied, Lashify is gentle, doesn't contain any harsh chemicals, and is safe for even sensitive eyes. 
You can join in on the Lashify love when you get the Control Kit™.
The Control Kit: Your Key to Lashes That Last
Amazing lashes without going to a salon? You've got it. The Lashify Control Kit gives you all the tools you need to get great salon-quality lashes at home. 
Each kit contains: 
Two sets of Gossamer lashes. With so many styles to choose from, you might find it hard to make a decision. Why not go for a glam curl set and a classic 9-5 pair? 
Fuse Control™ Wand. Who wants to try to apply lash extensions with tweezers? Not us. That's why we developed the Fuse Control Wand. It's ergonomically designed to fit around your eyelids and be comfortable in your hand for smooth application. The Petit Curve wand is a good option for people with smaller hands and/or eye areas.
Finishing Coat. Glass Finishing Coat helps seal in your Gossamer lashes and extend the wear time, giving you the ability to keep your lashes on as long as possible. 
Whisper Light™ Bond. Our Bonds are like nothing you've ever tried. Whisper Light is our most popular and the easiest to use. A thin coat on the underside of your lashes keeps your Gossamer lashes attached securely and nourishes your natural lashes. 
Wandom® pair. Never apply extensions without protection! Wandoms cover the tips of your Fuse Control Wand to eliminate Gossamer lashes from sticking to the ends of the wand. 
Samples. Want a few extras? You've got it. We include a sample of our favorite cleanser, Pre Cleanse, and our favorite remover, Melt Away, so you can try it before you buy. 
You'll find all these items wrapped up in a safe and easy-to-store hard case with a mirror you can use for application. It's the easiest way to get started with Lashify and keep all your stuff stowed properly. 
Achieve Lift Off
A lash lift uses a chemical solution to curl your lashes around a mold, giving you a semi-permanent curl similar to the type of perm you can get for your hair. These last about four to eight weeks.
If you'd rather choose something that gives you more volume and length, the Lashify DIY Lash Extension™ System is your solution. No chemicals, just great lashes.
Sources:
Know the Risks of Eyebrow and Eyelash Enhancement - American Academy of Ophthalmology
Lash Lifts: What To Expect and Safety Concerns|My Cleveland Clinic.com
Lash Tints Are the Semi-Permanent Alternative to Mascara|In-Style.com