How To Get an Eyeliner Look Using Lash Extensions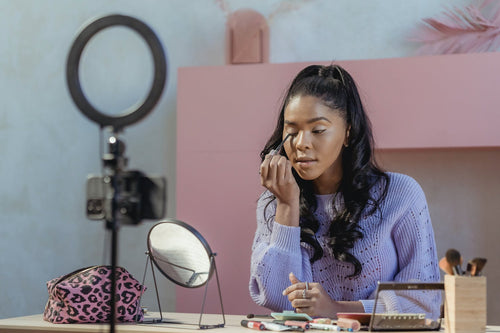 Raise your hand if you've ever been reduced to an emotional heap after struggling to apply your eyeliner. Our hands are up. While we love the look of eyeliner, applying it (and we mean evenly to both eyes) requires a level of skill we just don't always have. 
If you love a winged eyeliner look or have spent literal decades trying to perfect your smokey, smudged eyeliner, this piece is for you. The lash experts at Lashify®, who made it possible for you to DIY your own lash extensions, created a way to hack the eyeliner system. 
We'll explain how you can create the illusion of eyeliner with lash extensions and say goodbye to your pencils, brushes, and gels.
Why Is Eyeliner So Difficult?
Eyeliner isn't that complicated. In its basic form, it just requires you to use a waxy pencil to apply a thin line around certain portions of your lash line. What could go wrong? Lots.
Your Eye Shape
The biggest reason people have difficulty applying eyeliner is due to their own genetics. If you've ever watched an eyeliner tutorial, you might have noticed that the eye of the person in the tutorial is usually almond-shaped and youthful. That's only representative of a small portion of the population. 
There are at least eight different eye shapes, and some of them have shapes where much of the eyelid is covered by extra folds of skin (like hooded eyes). These shapes make it hard for you to apply liner because the lid is hard to see.
Your Age
The skin on the eyelids is about 80 percent thinner than the skin on the rest of your body. Eyelid skin already has fewer pores and fewer fatty deposits, but with age and loss of collagen and elastin, the skin on the eyelid can become even more fragile. 
As the skin on the eyelid ages, it can lose its elasticity, becoming crepey. This can make it virtually impossible to apply a straight, neat swipe of eyeliner to the lash line. 
Your Skill
It might not take a professional makeup artist to apply your eyeliner, but it definitely takes a certain level of skill. 
Although practice and tutorials can help, being able to create winged or cat-eye liner may never feel fully comfortable to you. And that's okay because now, you can fake the look of graphic liner with the help of your favorite lash extensions. 
Fake It (You Never Have To Make It)
Don't let liquid liner woes kill your vibe. Fake a winged liner look the easy way: with the Lashify DIY Lash Extension™ System. How can lashes look like liner? We'll explain. 
The Lashify I-Line™ Gossamer Lash
You might have already used one of the Lashify Lash Maps to create a customized look with your favorite Lashify Gossamer lashes. The Lashify I-Line Gossamer Lash is our first ever pre-mapped Gossamer set designed to mimic a winged eyeliner look. 
Consisting of Gossamer lashes that are perfectly angled, the I-Line Gossamer Set is the only set you'll need to perfect a beautiful, angled eyeliner look that will simultaneously enhance your lashes. Each cartridge contains six Gossamer lash extensions for each eye, in lengths of 8mm, 9mm, 10mm, 11mm, 12mm, and 12mm. 
The perfect, jet-black color helps give the look of a perfectly-applied liner without ever sharpening an eye pencil or dipping a brush in liner. 
New to Lashify?
If you're new and have never tried Lashify before, there's a lot to learn. We give you the ability to break up with your lash tech and DIY your own lash extensions in the comfort and convenience of your own home. 
Our Gossamer Lashes
Gossamer lashes are made from 100% Korean PBT silk and designed to be feather-light. Unlike strip lashes or individual lash extension fibers, Gossamer lashes are bundled together on a thin spine, which is applied beneath your natural lashes using Underlash Technology™. 
Underlash Technology is more forgiving and completely weightless, giving you an easier application and more comfortable wear experience. 
Our Bonds
Lash glue can contain some pretty harsh chemicals, like formaldehyde and cyanoacrylates, the same ingredients found in superglue. These chemicals can irritate the skin and eye area and cause the natural lash to become hard and brittle. This is why natural lashes often break under the weight and stress of lash extensions. 
Lashify Bonds are different. They contain no cyanoacrylates or formaldehyde, and they never fully cure. That means they allow the Gossamer lash extensions to bend and flex with your natural lashes, preventing breakage and keeping your natural lashes safe. 
Our Bonds are also fortified with biotin and Lavendula (lavender), two ingredients that help support healthy, natural lashes. 
Reusability 
When you have lash extensions applied at a salon, you're locked into one style until your natural lash falls out, taking the lash extension with it. If you're lucky, you'll get about three to four weeks of wear out of one set of extensions before you need a fill. 
With Lashify, you can wear, remove, and reapply your Gossamer lashes as often as you want or leave them on for up to 10 days with proper care. There are numerous different styles to choose from, and building your lash wardrobe can help you create different looks for your workweek, social schedule, or special events. 
The easiest way to get lashes that look like salon lashes without spending all your time at the salon is to use Lashify. It's easy to get started once you grab the Control Kit™.
The Control Kit
Who doesn't want a little more control? If you can't get it with eyeliner, get it with the only lashes that can go incognito as both lash and liner in one. Lashify lets you experiment with different lash looks and build new styles easily.
Before you get started, we recommend picking up the Control Kit. It comes with everything you need to Be Your Own Lash Tech™ and experience a more customized eyelash enhancement experience. It's convenient and comes packaged in a hard, protective case that keeps your Gossamer lashes and your tools safe and easy to locate. 
Each Control Kit comes with:
Two sets of Gossamer lashes. Whatever you want in an eyelash look, there's a Gossamer lash style to match. With so many length, curl, and style combinations, it can seem impossible to pick just two. We recommend a classic Gossamer lash style for your weekday and a more voluminous set for weekends and special occasions. Once you outgrow the Control Kit storage, you can level up to the Double G-Unit Gossamer Storage Case.
Fuse Control® Wand. Our Gossamer lashes are easy to attach, and we created a specialized tool to help you get them perfectly placed the first time. The Fuse Control Wand was designed to fit with your hands and the curve of your eyelid (no matter what eye shape you have) so you can get a good Fuse every time. For smaller faces (and hands), we recommend the Petit Fuse Wand, which is shaped smaller.
One set of Wandoms®. Because Lashify Bonds never fully cure, they become tacky just before you fuse your Gossamer lashes to them. Avoid getting your Gossamer lashes stuck to your Fuse Control Wand by covering your Wand with a Wandom. Wandoms are tiny coverlets that prevent adhesion of your Gossamer lash to your Wand so that you can apply your Gossamers without a sticky situation. 
Whisper Light Bond™. The most sought-after Bond we make, Whisper Light is the OG that gives you long, flexible holds without any buildup, caking, or stiffness. It goes on easily with the swipe of a spoolie and allows you to attach your Gossamer lashes easily and quickly. 
Glass Finishing Coat. Seal in your Fuse with a finishing coat. Gossamer lashes don't have to be sealed, but if you plan to wear them for an extended period of time, we highly recommend you seal them with a finishing coat, like Glass. 
Samples. Free samples are our jam, so you'll get two in every single Control Kit. We recommend our Pre Cleanse for prepping your natural lashes and your eyelids before applying your Gossamer lashes. It can also double as a facial cleanser. Melt Away is our dual-phase, oil-based cleanser that helps you easily slide your Gossamer lashes off of your natural lashes without pulling or tugging. 
The Control Kit puts you in control of your own lash destiny, and it even gives you the ability to fake a great sweep of eyeliner. 
Eye Lie-Ner
Your eyeliner isn't really eyeliner — it's Lashify, but no one ever has to know your secret. You can have great lashes that do double duty as winged liner. Lashify is the company to help you get the lash (and liner) looks you love. 
Sources:
Dry Eyelids: Causes And Remedies According To Dermatologists|Womens Health Mag.com
Why does skin wrinkle with age? What is the best way to slow or prevent this process? - Scientific American
Is Eyelash Glue Toxic? | Poison Control