How To Create Eyeliner-Inspired Lash Looks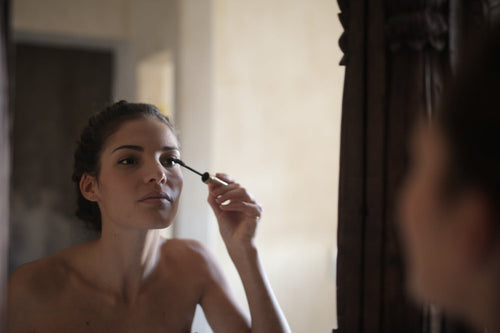 Bold eyeliner looks have been one of the most defining trends of 2023. It's been so exciting to see the ways that people have gotten creative with bright colors, big shapes, and some serious eyelid artistry.
Naturally, we're not the only ones who have considered how we can draw inspiration from this trend and apply it to our lashes. That's how eyeliner-inspired lash extensions were born!
Eyeliner-inspired lash looks, aka eyeliner effect lashes, offer increased lash density along the lash line with wispy, less voluminous lash tips. The volume is focused along the lash line to mimic the dark line of eyeliner. Mainly, eyeliner-inspired lash looks are inspired by winged eyeliner, like a cat eye. 
Can You Wear Eyeliner With Lash Extensions? 
Yes! Contrary to popular belief, you can totally pair eyeliner with lash extensions. The one cosmetic we advise you to never ever pair with your lash extensions is mascara: waterproof mascara, tubing mascara, all-natural mascara, regular old no-frills mascara — none of them play nicely with your Gossamer lash extensions. Mascara is likely to wreck your lash extensions, but eyeliner on the other hand is totally fine. 
To recap: 
Eyeliner? Yes! 
Mascara? No. 
But there are still some best practices to keep in mind when selecting an eyeliner to pair with your eyelash extensions. Let's talk about how to pick the best eyeliner to get you a bold lash look without bringing harm to your Gossamers: 
Eyeliner DOs
DO look for an oil-free eyeliner formula. Oil is the enemy of a strong lash bond. That's why we advise you to clean your face with an oil-free cleanser to wipe away any makeup, debris, and natural oils that may be sitting on your lash line before you attempt to apply your Gossamers.
Eyeliner with oil will basically act as a slow lash remover. Instead, opt for one of many oil-free eyeliner formulas. 
DO apply your eyeliner AFTER your lashes. We get it: you're used to applying your mascara on your lashes after your eyeliner is complete. But with DIY lash extensions, you should actually apply your lashes before you apply anything else around your eyes. 
You want to apply your Gossamer lashes to clean and dry eyes to get the best possible hold and maximum longevity. Wait until your lash extensions are firmly in place before you apply your eyeliner. 
DO use a liquid eyeliner. In an oil-free formula, liquid eyeliner is the way to go, even if it takes a little more practice to apply. Liquid eyeliner puts little to no pressure on the lash line, protecting both your extensions and your natural lashes. 
DO try Bondage! Bondage is our eyeliner inspired lash bond. It's even stronger than Whisper Light, and it's made with Charcoflex. Charcolfex is our very own formula that uses charcoal for its anti-microbial properties and its intense color. Bondage is black, like eyeliner. It gives you a one-two punch of strong hold and eyeliner magic.
Eyeliner DON'Ts
DON'T apply eye makeup first. This one takes some getting used to after you switch to Lashify, but it's super important! Applying makeup first will prevent Whisper Light from helping your Gossamers get a strong bond. Eye makeup will deposit debris and potentially oil along the lash line, which will reduce the longevity of your lashes. 
DON'T use an eyeliner formula that includes oil. Any kind of oil will break down the bond used to adhere your lashes to your lash line. Our lash remover, Melt Away Remover, has a dual-phase, oil-based formula designed to quickly and easily break down Whisper Light Bond.
Applying an eyeliner with oil just gives it a head start on breaking down your lash bond ahead of time. 
DON'T use gel eyeliner. Gel eyeliner, even if oil-free, is a no-go for falsies. It's a disaster waiting to happen and nearly impossible to clean out of your extensions if some gets out of place. Do yourself a favor and skip the gel eyeliner. 
DON'T use pencil eyeliner. Unlike liquid eyeliner, pencil eyeliners apply a ton of pressure to your lash line. Since eye pencils apply pressure, they pose a hazard to the bond of your lashes in their own way. They won't dissolve the bond, but they can brute force right through it, or even damage the fibers of the delicate Gossamers.
What Are Eyeliner-Inspired Lash Looks?
An eyeliner-inspired lash look uses your lash extensions to mimic eyeliner styles, like cat eyes. Eyeliner inspired lash looks are characteristically denser closer to the lash line, and more sparse and wispy closer to the tips of the lashes. Lashes that are full of fine volume are perfect for this look.
This is a great look to practice your lash stacking. Try volume stacking short but voluminous lashes under your longer, more wispy extensions. 
What Are the Best Gossamers To Get Eyeliner-Inspired Lash Looks?
Introducing the brand new Gossamer that was literally made for this: The I Line Gossamer! (Get it? 'I Line' like 'Eyeline'-r? Our Lashify Lash Lab scientists are very punny.) Within one I Line Gossamer cartridge, you'll get a variety of lash lengths to help you achieve the eyeliner lash effect. 
I Line Gossamers were designed with a winged eyeliner look in mind. Getting a perfect eyeliner wing everytime is a serious skill, and lots of people find it super frustrating to achieve even wings without spending a ton of time re-doing them to match.
By using your Gossamer lash extensions in an eyeliner-inspired style, you don't even need to bother with eyeliner because the lashes will help you get the same effect — and they'll be perfectly even everytime. 
You can get the eyeliner effect with other Gossamers too, though. I Line has all the lengths in one convenient cartridge, but if you're a Lashifier with a G-Unit full of lashes of different lengths, you can get this look with the Gossamers you have on hand! Here are some other great Gossamers to build this look with, and how to incorporate them: 
Curl Gossamers — what can't they do? Our multi-tool of a lash extension is at it again because she has the range. You can use a variety of Curl Gossamers to achieve this look.
For each eye, grab one C14, two C12s, one C10, and one or two C8s, depending on how close you'd like your Gossamers to be placed to the center corner of your eyes. Place them in this lash map, from inner to outer corner: C8 C8 C10 C12 C14 C12. 
Prismatic Gossamers are able to mimic the bold and bright colors from the eyeliner trends that have taken over your social media feed this year. Prismatis Gossamers come in teal, violet, Royal Kim Blue, red, pink, lavender, dark brown, and silver.
Most Prismatic Gossamers come in the Amplify style (which is our straightest lash), and they all come in Curl, so you can follow the lash map above to get the eyeliner lash effect in any bold color to match your outfit. 
Plushy Gossamers give you both big, natural-looking volume and gentle, natural-looking flutter. They are super refined with extremely fine fibers, yet they're still able to hold a curl.
Want an even more delicate and subtle look? Plushy Tame Gossamers have a more delicate curl and a flatter base, not to mention the finest lash fibers we've ever had on a Gossamer. 
Beyond the I Line Gossamers, Lashify also has two lash bundles ready-made to help you achieve an eyeliner inspired lash look: one for Cat Eye looks and one for Fox Eye looks. Each lash bundle includes a lash map to help you apply the Gossamers, since some of the lash clusters will overlap with lash stacking.
The Cat Eye Gossamer Lash Bundle features soft curling Gossamers since straighter lashes can help elongate the eye for a more alluring, sexy look. This bundle is perfect for round eyes, as well as anyone who adores a cat-eye eyeliner style.
It includes a total of six Gossamers: One Amplify Plus+ Gossamer (eight millimeters), two Amplify Gossamers (10 millimeters), and four Plushy Gossamers (one each of 10, 12, 14, and 16 millimeters). The Gossamers are designed to overlap slightly (as you'll see in the lash map included with the bundle). 
The Fox Eye Gossamer Lash Bundle is great if you love the look of winged lashes but you want a little more curl. It's great for both elongating and lifting the appearance of your eyes. This lash bundle uses the crazy delicate fibers of Plushy Tame Gossamers alongside the always-appropriate curl of Curl Plus+ Gossamers. It adds extra volume to the outer corners to help you create the illusion of eyeliner wings.
This bundle includes a total of five Gossamers: two Curl Plus+ Gossamers (One eight millimeter and one 10 millimeter) and three Plushy Tame Gossamers (One each of 12, 14, and 16 millimeters). The bundle includes a lash map to explain how to layer the lashes for that foxy fox eye.
Sources: 
The Eyeliner Trick That Will Instantly Give You Fuller Lashes | Southern Living
Can You Wear Makeup with Lash Extensions? Experts Weigh In | Byrdie
How to Get an Eyeliner Effect, Eyelash Extensions Eyeliner Mapping Tutorial | YouTube