How To Find Your Eyebrow Shape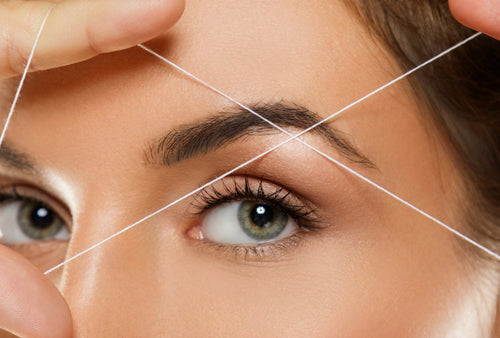 Eyebrow maintenance is no joke. Get it right, and your eyebrows will literally be the envy of everyone (gender not important) in the room. Get it wrong, and you could end up looking more meme than muse. 
The key to successfully maintaining your brows (and we mean both of them, even the unruly left one) is to first define your eyebrow shape. If you aren't sure what your eyebrow shape is, or if you even have one, keep reading to discover the basic shapes and learn how to style each of them to perfection. 
Brow Shapes 101
Like nail colors at the nail salon, there are about a million brow shapes and styles. With enough waxing, tweezing, threading, and stenciling, you can force your brows into any shape you'd like. 
Or, you can go for the shape that best compliments your face and is likely already kind of happening on your face. 
Brow Mapping
One way to determine the best shape for your brows is by brow mapping. Brow mapping is the easiest way to find your natural arch. Once you find your arch, the rest is much easier. 
You'll need a brow pencil or a makeup brush to map your brows. You'll be looking for three specific points on your natural brows: the starting point of your eyebrow, the arch, and the endpoint. 
First, hold the brow pencil against the side of your nose and angle it upward toward the inner corner of your eye, being sure that the pencil does not cross over into any portion of your eye. This is the starting point for your eyebrow.
Next, hold the pencil on the side of your nose and angle it over the center of your eye. This is where the highest part of your arch should be. 
Last, use the pencil against your nose and point to the outer edge of your eye without covering any portion of your eye. Your eyebrow should end here.
Brow mapping gives you the basics to start curating your eyebrows and can help you avoid overplucking, waxing, or filling in. 
Finding Your Face Shape
Before you dial into a brow style, you'll need one other piece of information: your face shape. Brows should flatter your face shape and help bring balance to your facial proportions. Not sure what face shape you have? Here's a quick guide.
Oval. Oval faces are longer than they are wide. There is an equal balance between the forehead and chin areas.
Round. Round faces are as wide as they are long. These face shapes may have fuller cheeks and smaller chins.
Heart. Heart-shaped faces are typically wider at the temples and cheekbones and narrow through the chin. 
Triangle. Triangle face shapes are wider at the chin and narrow toward the forehead. These face shapes have a predominant jawline. 
Square. Square face shapes are equally balanced at the forehead and chin and usually have smaller cheekbones. 
Your face shape is probably a combination of more than one of these, so the one that fits closest is the best option. 
The Best Brow Shape for Your Face
Now that you know how to brow map your heart-shaped (or square, or oval, etc.) shaped face, it's time to find the brow shape that works best for you. You won't find a list of named shapes, like the "Brooke" or the "Megan," but we'll give you the specs to create a shape that looks red-carpet worthy. 
For Oval Faces
If you have an oval face, you've got symmetry like no one else. Because of your amazing symmetrical shape, you can sport brows that are easy to care for and understated. Your brows should have a slight arch that is soft and not too angular. 
Avoid semi-circles, which look more like sideways commas on your brow line. These can make your eyes look smaller than they actually are and might even make your face look shorter. If you have a long oval face, go for lower arches to give balance to your length. 
For Round Faces
With round faces, you'll be looking for a way to add some angles. The best way to do that is by playing with your natural arch. You'll want to use tools to build your arch, making it slightly higher than your natural arch might appear. 
Round faces can also support a more angled eyebrow. If you love a sharp arch, now's your chance. We're not talking evil villain vibes, but a noticeably less soft arch will help add structure to a round face.
For Heart Faces
The classic Reese Witherspoon face shape gets brows slightly understated in length and arch but notably thicker in width. For this brow, smooth the arch so that it is subtle, on the verge of straight. To avoid eyes that look like pencil marks, allow your brow hairs to grow so your brow line will be fuller instead of thinner. 
Downplaying your brow's arch will help bring a pointed chin to appear wider, which can help equal out the width between your forehead and chin. 
For Triangle Faces
If your jawline is strong, your brows must be stronger. Like brows on a heart-shaped face, you can go for thicker, slightly darker brows to balance the forehead and chin. Avoid brows with ends that taper downward toward your jawline, which can draw more focus to the wider portion of your face. 
Keep your arches slightly higher, and make sure the ends of your brows stay neutral. 
For Square Faces
The best way to perfectly portion the brows on a square face is to use them to soften your already amazing angles. Instead of high, sharp arches, you'll go for a softer, more neutral brow to add curves. 
One of the best benefits of a square face is the ability to fully embrace a slightly undone brow look. Brushed-up natural yet manicured brows are the perfect way to underscore a square jawline and forehead. 
The Brow-Lash Connection
Lashes and eyebrows are both actually created to protect your eyes, even though our obsession with them is really about how they make us feel gorgeous when they're perfectly sculpted and unbelievably lengthy. 
Although we are definitely in a "bigger is better" culture, it's a good rule of thumb to avoid allowing your eyelashes to touch your eyebrows. Not only can this make your eyelids look lower and smaller, but it can also be incredibly uncomfortable. 
If you wear eyelash extensions, it could also result in you losing them sooner if they get stuck to your brow gel. Not to mention, the work you put into filling in and outlining those brows could be a waste if your wispy lashes are continually batting into them. 
Lashes You'll Love
At Lashify, we take our lash obsession seriously. It's why you'll find so many different customizable pairs of Gossamer® lashes available. No matter what your eye shape or your brow shape, there's a pair of Gossamers that will compliment your look. 
It all starts with our Control Kit®. 
Control Kit: Your Key to Amazing Lashes
The Lashify Control Kit contains everything you need to get gorgeous, crave-worthy lashes at home. Every customizable Control Kit includes:
Two sets of Gossamer® Lashes. You pick the ones that work for you and work with your natural eye shape and eyebrow shape. Or just pick the ones you love the most.
Fuse Control® Wand in Classic or Petit Curve. Our Fuse Control Wand is ergonomically created to work with the shape of your face and eyes. For smaller or monolid eyes, the Petit Eye Fuse Control® Wand provides a 10% smaller curve to make application easier. 
Glass Finishing Coat. Extend your wear and refresh your Gossamers with Glass, our waterproof finishing coat that locks in your look and gives your lashes a glossy finish.
Whisper Light Bond™. Our most popular Bond, Whisper Light, is dual-sided and features Micro-Flex™, which allows the Bond to hold your Gossamers in place without a rigid, full cure. This allows your Gossamers to move with your lashes to help prevent breakage. It's also free from toxins to keep your lashes and eyes safe. 
Hard storage case. Our case is used to a little roughhousing and also comes with ample storage for your Gossamers and a mirror that's designed to help with application. 
Wandom ®. The only solution for protecting your tool! Wandoms cover the tips of your Fuse Control Wand to help you avoid sticky situations. 
Pre Cleanse and Melt Away. Prep your lashes for application with Pre Cleanse and help remove your Gossamers safely and easily with Melt Away, our preferred formula for use with Lashify Gossamer lashes. 
Getting glam lashes without going to the salon just got a whole lot easier. 
Browing Out
Your brows can set the stage for an unbelievably gorgeous look or ruin your chances. Following these tips makes it easy for your to find your brow shape and look glam, even when it's a Netflix and chill kind of night.
Sources:
How to determine the best eyebrow shape for you and your face shape|Good Housekeeping.com
Why Do Humans Have Eyebrows and Eyelashes? - American Academy of Ophthalmology
Risks of Eyelash Glue for Extensions|Missouri Poison Center.org