Doubling the Drama: The Power of Double Stack Lashes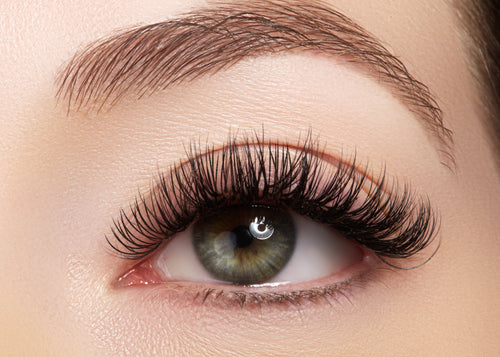 Lash stacking is a Gossamer application technique that any level 2 Lashifier can master with a little practice. Lash stacking is exactly what it sounds like: stacking one layer of Gossamers on top of another to achieve a more dramatic lash look. 
There are a variety of stacking techniques that will yield different aesthetic results. Lash stacking is a good skill to learn when using DIY lash extensions because it expands your creative freedom when creating your lash maps. It's literally like unlocking a new level of lashes! 
Whether you're after more length, more volume, or both, there's a lash stacking technique to help you take your Gossamer Game to the next level! 
Stacking for Volume
Volume stacking is the first type of lash double stacking you should learn. After you've mastered the basic Gossamer application, learning to volume stack is the big step up to Lashify Level 2. Volume stacking will double the volume of your Gossamer lash map because it doubles the number of fibers on the lash line. 
After your first layer of lashes has set, you can start stacking. You can stack during the initial application or add a stacked layer after a few days of wear to shake up your look. Adding a layer of lashes a few days later helps your initial lash application last a little longer by reinforcing the lash bond. 
Volume stacking is very similar to the standard Gossamer application process. After your base layer is in place, apply some clear Whisper Light directly to the tops of the spines on your first layer. You can use black Whisper Light or Bondage if you'd like to achieve an eyeliner-like look, but for your first time, clear Whisper Light may make it easier. 
Once the bond is tacky, apply the next layer of Gossamers one by one such that their spines are aligned with the spines of the base layer. Once all the Gossamers are in place, give the whole lash line a fuse. Voila! Volume! 
Stacking for Length 
Length stacking will actually get you both length and volume. What a win-win! Length stacking is perfect for anyone who is on the fence about purchasing longer Gossamers. 
Length stacking short or medium Gossamers will give the illusion of longer lashes. If you find that length stacking creates the look you desire, you can keep stacking as you are or dive into a longer pair of Gossamers on your next restock. You have complete creative freedom! 
This technique is very similar to volume stacking, with one notable difference. When you length stack, you intentionally place the spines of the second layer's Gossamers a few millimeters away from the spines of the base layer. 
Start by applying your first layer of Gossamers as usual to length stack. It's best to start with a layer of Curl or Amplify Gossamers here to make the blending easier. Once the first layer has fused, use the Precision tip of the Whisper Light to draw a line of bond 2 mm away from the spines of the first layer's Gossamers, toward the tip of the lash, and parallel to the spines. 
Wait for this bond to get tacky and apply the second layer of Gossamers to this line. Then fuse as normal. That's all there is to it! Check out a video tutorial if you'd like a visual reference. 
Stacking for Natural Volume
Brick stacking is a technique perfect for people with sparse lashes because it effectively bridges the gaps in your natural lashes. It adds even, natural-looking volume across the lash line. It's highly recommended for those with thinning lashes, but it totally works for anyone! 
It is a more advanced stacking technique, though, so we recommend mastering volume stacking before trying this method. Brick stacking involves placing a Gossamer base with intentional gaps between the lash spines along your lash line. 
On the second layer of Gossamers, place the Gossamers so they are centered on the small gaps. This offset placement creates even and natural-looking volume across the lash line, mimicking the placement of your natural lashes. Check out our step-by-step tutorial for a more in-depth explanation of this application technique. 
Which Gossamers Should I Use for Stacking? 
You can use any Gossamers for stacking! The most beautiful part of lash stacking is that you have the power to make a lash look that is completely your own. 
If you're looking for a place to start, though, we can totally recommend some Gossamers that play well with others for your first foray into lash stacking. Try some of these in your next lash map: 
The Base Layer
Build the base layer of your stack with Gossamers from the Core Collection.
Curl Gossamers
Curl Gossamers are the perfect base for any lash map. They offer a tight curl and a natural-looking base to build your lash map. Curl Gossamers are the staple of any Gossamer collection and flatter every eye shape. 
You can build pretty much any style of lash map with Curls; they're like the blank canvas of Gossamers. Plus, Curl Gossamers come in a variety of natural colors, including Ginger, Ash, Brown, and more. 
Bold Gossamers
Bold Gossamers are a great base for a lash look focused on density. If your goal is a look that mimics mega volume or Russian volume, you'll love the look of the thick and tightly curled lash fibers of the Bold Gossamer as your stacking base.
Amplify Gossamers
Amplify Gossamers make the perfect base for a wispy, ethereal lash look. Their looser curl provides a gentle flutter and a nice variation in texture. 
The Top Layer
You can certainly stack with another layer of Core Gossamers, but if you want to get creative with your lash map, try stacking with some Gossamers from our Volume Collection. 
Drama Gossamers
If you're reading this, you're probably looking for some lashes that double your drama. Look no further! Our D Curl lashes, Drama Gossamers, are a great choice for building a bold, dramatic, stacked look. 
Drama Gossamers have one of the thickest fibers of any Gossamer. They are an excellent tool to create dense, dark, and extremely voluminous lash looks, like Russian volume.
Starburst Gossamers
Starburst Gossamers offer a multi-layered, multi-lengthed look, whether stacked or flying solo. They're unique because they give your lashes a spikey look without a harsh pinch. 
These lashes are super versatile: they can serve as an entire row or can simply accent the outer corners of your eyes. They pair super nicely with Curl and Drama Gossamers to get a voluminous, textured look. All that, and they're still virtually weightless. 
Stardust Gossamers
Stardust Gossamers are like the definition of wispy. Stardust is where it's at if you want volume but want to maintain ethereal wispiness. They have five layers of our finest fibers to flutter along your lash line. 
They have the same curl strength as our Curl Gossamers, so they will blend seamlessly together. However, if you'd like a little seam for texture, these also pair beautifully with the wispier Amplify Gossamers. Stardust lash fans are multi-layered and multi-lengthed, making them ideal for textured designs. 
Remember, especially if you plan to stack them, order one size longer in Stardust because they are measured from their longest point, so they appear shorter than you'd expect. For example, if you have 10 mm Curls as your base, opt for 14 mm Stardusts to complement them. 
Prismatic Gossamers
Prismatic Gossamers are our colorful lashes. When you lash stack with Prismatics, it creates a unique ombre look. Set the base layer in a natural color, and stack with any color you like for a subtly colorful style. Prismatics come in red, teal, violet, silver, Royal Kim Blue, and more in the Curl lash style. 
The Power of Lash Stacking
With lash stacking, it's like you have bonus Gossamers in your arsenal. Lash stacking gives you the power to create totally new looks with the Gossamers you already have. 
On top of that, lash stacking can generate incredible lash volume and length from the basic lashes of the Core Collection. Just goes to show you that even your lashes have strength in numbers! 
Double-stacking your lashes means insane volume and infinite creative possibilities. You're probably super excited about trying lash stacking now, and we want to give you all the support we can. We have several helpful written guides and video tutorials to help you get started with lash stacking. And then, once you're started, we're here to help you master it. 
If you're still new to Lashify, a level 1 Lashifier, it's awesome you're excited to try the advanced techniques! By mastering the basic Gossamer application first, with a little practice, you'll be nailing lash stacking in no time! 
Sources: 
Lashify False Lashes Gave Me the Most Natural-Looking Doe Eyes | Allure
Lashify Review: Full yet Natural | Byrdie