Gifts of Glam: The Most Luxurious Makeup Gift Sets for Beauty Lovers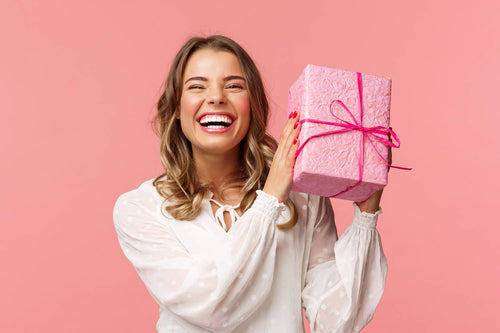 You know them and love them: The people in your life who live for the latest beauty trend and can always show you how to perfect a smokey eye in five minutes flat. What do you get for the beauty lovers on your list to really wow them? We've got you covered. 
It can seem impossible to get your beauty-minded friends anything they don't already have. At Lashify®, our beauty editors think outside the monthly beauty sample subscription box to find gifts that are practical, luxe, and of course very current. 
Practically all beauty lovers can agree that anything that saves them time and lets them DIY their look is a top contender for craveable products. It just so happens that Lashify is the creator of one of the top DIY beauty hacks available, giving your makeup mavens the ability to create the lash looks they love without spending hours in a salon chair. 
This year, give the gift of effortless lash beauty and help your beauty bestie break up with their lash tech. Here are the top 4 gifts to give to put a smile on their glossy lips. 
1. The Control Kit™
The OG of Lashify products, the Control Kit is a must-have for any at-home lash tech. It contains everything you need to become a DIY Lash Extension™ pro, and features the benefits of using the Lashify system.
Why Lashify?
Unlike salon lashes or drug store strip lashes, Lashify doesn't use harsh glues that can damage your natural lashes or cause sensitivity to your eyes. 
Most lash glues contain cyanoacrylates (found in super glue) and formaldehyde-releasing chemicals. Lashify Bonds don't contain any of these chemicals. Instead, our Bonds contain biotin and lavender, which naturally nourish lashes and support them while they grow. 
Our Bonds also never fully harden, which allows them to bend and move with your natural lashes to avoid breakage. Lashify Bonds work more like a lash serum than an adhesive, keeping lashes safe and protecting them. 
Lashify also uses Underlash Technology™ for lash application, which makes application easier and provides a completely natural look.
The Control Kit 101
The Control Kit is the best way for a noobie to get started with the Lashify system. It's customizable, and even contains two sets of Gossamer® lashes. 
Each kit contains:
Two sets of Gossamer lashes. Our Gossamer lashes are 100% cruelty-free and crafted from Korean PBT silk. They are ultra lightweight and comfortable and attached to a featherlight spine that keeps them weightless on natural lashes. Each Control Kit comes with two pairs that can be chosen from our Bold, Curl, and Amplify collections. 
Fuse Control® Wand. If your beauty loving loved one has done their own lashes at home, they probably used a pair of tweezers to try to attach the individual lash extension fibers to their natural lashes. It's a frustrating experience that requires the patience of a saint. We developed the Fuse Control Wand so applying Gossamer lashes would be an easy experience. 
One set of Wandoms®. Don't be a fool — wrap your tool! Our Bonds never fully cure, which means they become sticky during application. This allows your Gossamer lashes to attach to your natural lashes, but it also means you'll need to protect your Fuse Control Wand so they don't stick to the Wand instead. Wandoms make application smooth and protect against sticky situations. 
Whisper Light Bond™. Featuring Micro-Flex™ technology, Whisper Light helps keep Gossamer lashes in place without fully curing or causing natural lashes to become brittle. 
Glass Finishing Coat. Although Lashify Gossamer lashes never have to be sealed, you can increase their longevity by applying Glass Finishing Coat. This is especially useful if you want to wear your Gossamer lashes overnight. 
Samples. Pre Cleanse and Melt Away are two products that help prep your natural lashes for Gossamer lash application and help easily break the Bond between your Gossamer lashes and your natural lashes when you are ready to remove them. 
Everything comes wrapped up in a convenient and protective carrying case with a mirror that helps with application. It's the perfect gift that literally keeps on giving, because your bestie will have access to the latest and most on-trend lash looks with all the tools to keep doing their lashes themselves. 
2. The Prep Set
Maybe your beauty-loving bestie is already a dedicated Lashify fan. In that case, what better gift than the perfect products to help them create the looks they love. The Prep Set is a fan favorite that includes three Lashify must-haves all neatly packaged in a handy and sleek carrying case. 
Melt Away. Our very own dual-phase, oil-free makeup remover that gently loosens your Bond and helps you easily slide your Gossamer lashes off of your natural lashes without harming them. Melt-Away can be applied with a spoolie or with a brush to help make lash removal a breeze.
Pre Cleanse. Our Japanese Cleansing Water works great for removing, dirt, oil, and makeup from your eye area, but it's also a great way to gently cleanse your skin without stripping it of moisture. 
Black Magic Cleansing Puff. Once those Gossamer lashes are on, you don't want to disturb them. The Black Magic Cleansing Puff helps you remove makeup without ever disturbing your lashes, and without using any type of makeup removing cleanser. 
These little tools help make your friend's lash journey even easier. 
3. The Level 2 Set
For Lashify beginners that are looking to level up, the Level 2 Set is the go-to gift. Once you've learned to apply Lashify Gossamer lashes (which beauty editors agree is ultra-easy), you'll naturally want to start experimenting with lash maps and stacked lash looks. 
Having the right tools for the job will make all the difference, and you can find them in this set. The Level 2 Set includes:
Bondage. Our extremely long-wear Bond, this Bond goes the distance and works great for stacked lash looks.


Night Bond™. One part Bond, one part Sealer, this product helps keep your Gossamer lashes attached all night long. It's the perfect solution for long-wear and for overnight use.


Control Wax. A multi-tasking product you'll love to help shape your brows, prime your lower lashes, and even control fly-aways! Created to help you get a non-stick Fuse when you apply your lashes, it's such a useful tool you'll wonder how you ever lived without it.


Lashicurl™. Want curlier Gossamers or simply want to Fuse your Gossamer lashes with heat. This is the tool for you. Lashicurl is like a little curling iron for your lashes.


Precision Lash Comb. It's not just a lash comb, it's the perfect styling tool to separate, comb, and style your natural lashes and your Gossamer lashes.


Wandom 5 Pack. You already know how important Wandoms are. Make sure you have backups on hand so you're always ready.
Everything comes in our signature Beauty Clutch that is perfect for holding all your Lashify tools and keeping them clean and safe. 
4. Lash Bundles
Help build your bestie's lash wardrobe by giving the gift of a new Lash Bundle. Lashify Lash Bundles come with all the Gossamer sets they need to create the lash map looks they love. 
Each bundle comes with several sets of Gossamer lashes and instructions on how to create a desired look. Choose from:
The Royal Ombre Gossamer Bundle. Blue never looked so good.
The Doe Eye Gossamer Bundle, for cruelty-free, doe-like eyes. 
The Fox Eye Gossamer Bundle, for sly eyes that are effortlessly "foxy."
The Cat Eye Gossamer Bundle. Fake your way to cat-eye liner with lashes.
The High Class Wing Gossamer Set. This set is great for wispy, fluttery lashes. 
The Sprinkle Dust Gossamer Set. These are the best for adding a little extra drama.
The Fluffy Wing Gossamer Set. Fluffy, flirty lashes with an angled wing.
The Russian Doll Gossamer Set. True Russian Doll volume and length with ease. 
The Perfect & Petit Gossamer Set. The OG of natural looking, demure, lashes. 
Each set can be mixed and matched with other Lashify sets to create even more looks and styles. 
Get Them Glam
This year, make it easy to buy for your beauty loving friends. Skip the lines at the mall and grab them the tools they need to be their own lash tech. 
A gift from Lashify helps give your loved ones long, luscious lashes they can style on their own. 
Sources:
Is Eyelash Glue Toxic? | Poison Control
Biotin - Health Professional Fact Sheet
Lashify Review: The Pros and Cons of These DIY Eyelash Extensions | Cosmopolitan