Still Searching for "Lash Extensions Near Me?" Try At Home Lashes!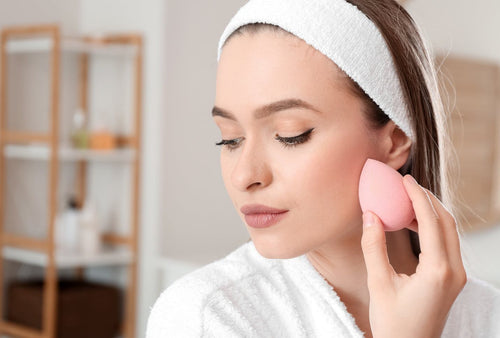 Admit it. You've Googled a thousand times and considered the cost and time investment of professional lash extensions. 
Every time, something stops you in your tracks. Maybe it's the initial cost of lash extensions (up to $300) or the fills (which can easily run you about $75 to $100). 
Salon lashes make your natural lashes look longer and fuller, but they come with a pretty big price tag and an investment in your time. You can expect to spend hours in the salon chair, chatting it up with your lash tech while you keep your eyes completely closed. 
Sound uncomfortable? We agree. That's why we love at-home lashes that let you get the fluffy, wispy lashes you love right in the comfort of your own home. There are numerous options available, and we'll cover what they are and how they work. 
What's Available-At Home False Eyelash Systems
False eyelashes that you apply at home are nothing new. They've been available in drugstores since the 1960s, but they've been around since the 1920s. The ideal lash look is long and full, and most of us weren't blessed by the universe with these types of natural lashes. 
While false eyelashes started out very simplistic with an adhesive band and lashes, we now have access to numerous methods of lash enhancement that work better and look better.
Glue On Lashes
The same lashes we loved as teenagers are available today with a few important upgrades. Number one, they don't just come in a one-size-fits-all band. They're available in lash clusters attached to a lash band for a more customized look. 
Glue-on lashes are easy, available practically anywhere, and don't require a lot of skill to apply. They do, however, come with some risks. Namely, the lash adhesive is usually not a clean product. It can contain formaldehyde-releasing ingredients and cyanoacrylates, the same ingredients in super glue.
Another frequent complaint? Glue-on lashes don't typically stay glued to your natural lash line very long. 
This is because the natural oils in your skin mix with the glue and break down the bond, causing your lash band to lift from your lash line. There's nothing quite like having an eyelash band fall off at an inappropriate time. If you don't want to use glue-on lash bands, you've got other options. 
Magnetic Lashes
Magnetic eyelashes use the power of attraction to hold your false lashes in place. There are two ways magnetic lashes can attach.
The sandwich method. This method involves a magnetic band that sits underneath your natural lashes and a lash band with false eyelashes that sits on top of your natural lashes. The two bands clamp together, sandwiching your natural lashes together with magnetic force. 

Magnetic eyeliner. Another method of using magnetic lashes involves using magnetic eyeliner. This method uses eyeliner that contains iron oxides applied to your lash line. The lash band with the fake eyelashes has tiny magnets that adhere to the magnetic liner. 
These types of DIY eyelash extensions aren't without problems either. First, you can't wear magnetic lashes overnight, which means you'll need to reapply them daily if you want to use them for daily wear. 
Second, it's possible you could have an allergic reaction to the iron oxides in the eyeliner. Speaking of eyeliner, if you aren't great with liquid eyeliner, you probably won't be great with magnetic eyeliner since it is applied the same way. 
One last consideration. Wearers of magnetic lashes often complain they feel loose, as though they might fall off at any given moment. That feeling can become incredibly distracting and may make wearing magnetic lashes a non-viable option for you. 
That's okay; you've still got options for at-home falsies. 
Individual At-Home Lash Fibers
If you have the time and patience, you can apply individual lash fibers to your own lashes at home. These are applied very similarly to salon lashes, at a ratio of one-to-one or several-to-one. That means for every one of your own eyelashes, you'll be applying an individual false lash fiber. 
Unless you have some real talent, this could be a difficult job. It can be tedious work, and the risk of getting adhesive in your own eyes is real. In addition, just like salon lashes, the glue used contains the same ingredients as strip lash glue. 
There's also a risk of losing your own eyelashes, which is really important to discuss.
Will False Eyelashes Harm My Natural Lashes?
Possibly. The glue adhesives used to apply lash extensions can cause allergic reactions and skin sensitivity, but they are also inflexible, which means if your natural lashes bend, it can cause them to break. 
Not being able to grow your own natural lashes after months of lash extensions isn't unheard of. Your natural lashes grow on a four-stage cycle. If they fall out because the lash extension is too heavy, was not applied correctly, or you become sensitive to the glue, a new lash may not be ready to replace it for several weeks or months, depending on your natural growth cycle. 
While it may seem risky to consider at-home lashes, the Lashify™ DIY Lash Extension™ System is completely safe, non-toxic, and actually nourishing for your natural lashes. 
Why Lashify?
Our founder saw a gap in the eyelash marketplace. There wasn't a viable option for doing your own lashes at home that was safe and effective and looked natural. So, she created one. 
Lashify was born so you can Be Your Own Lash Tech™. Our system is easy, effective, and high-quality. Here's how it works. 
Our Gossamer® Lashes
We didn't want to use animals for any of our lashes (no mink ever). Still, we loved the fluffy, wispy looks available at high-end salons. 
We decided on the highest quality Korean silk to emulate the weightless feel of mink and the luxurious look of lashes found in nature without harming nature at all. Cruelty-free is the name of the game.
Our Gossamer lashes are available in numerous different lengths and textures, so you can fully customize your lashes for events, day-to-day wear, or simply based on your current mood. 
Our Bonds
The next item we needed to tackle was how to adhere our Gossamer lashes safely to your natural lashes. We knew one thing: toxic ingredients were out of the question. We developed our Bonds with zero formaldehyde-releasing ingredients and no cyanoacrylates. They are safe and non-toxic.
Our Bonds are actually nourishing for your natural lashes because we formulated them with biotin and Lavendula, two ingredients that help support healthy lash growth. They also never fully cure, which means they can bend and flex right along with your natural lashes to prevent breakage. 
Our Application Process
If you've tried other methods of at-home lashes and felt like you just couldn't master the application technique, you've got to try Lashify. We wanted an application process that anyone could use, and that's just what we created. 
Along with our precision application tools and our numerous instructional, how-to videos, you'll be able to perfectly apply your Gossamer lashes in less than five to 10 minutes each and every time. 
Wearability
Who wants to apply their lashes every single day? Not us. That's why you'll be able to wear your Gossamer lashes for up to 10 days at a time (and reuse them again and again) with proper care. You can even sleep in them. 
To get started, all you need is a little control. 
The Control Kit: The Gateway to Great Lashes
The Lashify system is built around the Control Kit™, which gives you everything you need to get started being your own lash tech. It's the one and only extension kit you'll ever need to use the Lashifyextension system.
Each customizable Control Starter Kit contains:
Two pairs of Gossamer lashes that you get to choose. Go ahead, pick the Prismatics Collection™ for festivals and the Core Collection™ for your 9-5. Who says you can't have dual personalities: volume lashes and natural-looking lashes? 
Fuse Control® Wand in Classic or Petit Curve. Our ergonomically amazing lash applicator wand that is so much better than tweezers. These little wands make sure your application process is easy and mess-free.
Glass Finishing Coat. A non-toxic sealant that helps keep your lashes in place for days and days that will add a slick shine to your lashes. LashifyGossamer lashes are reusable, and using Glass helps you keep them in place if you've worn them previously. 
Whisper Light Bond™. Our bonds apply easily (similar to the way you apply mascara), making the process non-sticky and easy to do.
Wandom® Pair. Protect your wand! Wandoms cover your wand to prevent your Gossamer lashes from sticking while you're applying. 
Samples of Pre-Cleanse and Melt-Away. Pre-Cleanse gets your natural lashes clean and ready for Gossamer lashes and can even double as a facial cleanser. Melt-Away is a dual-phase, oil-based remover that helps you glide your Gossamer lashes right off your natural lash line.
All your tools come packed in a hard, mirrored case to keep everything safe. It's easy, convenient, and won't take up space on your bathroom counter.
Give Up Google for Gossamers!
Give up the battle of looking for a safe and affordable salon for lashes you can easily create at home. Lashify makes it easy, safe, and affordable for you to enhance your lashes at home without ever spending hours in a chair. No more Googling; just get your Gossamers! 
Sources:
GERMANY | Charles (Karl) Nessler | Lemelson Center for the Study of Invention and Innovation
Is Eyelash Glue Toxic? | Poison Control
Eyelash Extension Facts and Safety - American Academy of Ophthalmology