Our Guide to Choosing the Perfect Lash Extension Kit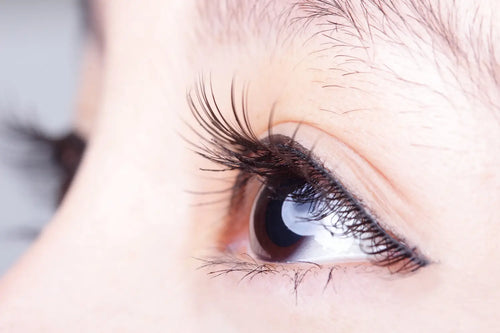 Tired of spending so much time and money on your lash tech? You don't have to. With the right tools and a little know-how, you can absolutely have salon-quality lashes right in your own home easily. 
First things first, you'll need to build your own at-home lash kit. If you've never tried DIY lashes before, don't worry. The lash experts at Lashify® can help. We'll give you all the info you need to build your very own lash extension kit and fill you in on how to get great lash extensions at home. 
Get ready to craft a break-up text to your lash pro. Lashify lets you Be Your Own Lash Tech™ and gives you the freedom to create the lash looks you love without ever leaving your house. 
Lash Extensions at Home: What To Know
When you decide to take your lash matters into your own hands, you've got a few options. 
Strip Lashes
Strip lashes are the OGs of at-home lashes. They've come a long way in their design and are a lot lighter and more natural-looking than their ancestors. Still, they come in a one-size-fits-all strip that doesn't really fit anyone. 
They also require lash glue or some type of adhesive to keep the lashes on your lash line. It can be hard to get the strips close enough to your lash line so they aren't noticeable without getting them on your lashes, which can be incredibly uncomfortable. 
Strip lashes are also notorious for coming unattached. They're the least expensive option and might work in a pinch, but for serious at-home lash extensions, you'll want something better. 
Individual Lash Extensions
Just like your lash stylist applies your lashes at the salon, individual lash extensions are available for at-home use. These lashes usually require a level of patience reserved for Buddhist monks and a steady hand that can maneuver the finest lash fibers with a pair of tweezers. 
Individual lash extensions are applied on a ratio of 1:1 with one lash extension fiber per natural lash or, in the case of volume lashes or hybrid lashes, a ratio of several to one. These can weigh down your natural lashes, even when they're applied correctly. 
The lash glue you'll need to apply individual lash extensions will probably contain cyanoacrylate and formaldehyde-releasing chemicals. These give the lashes their hold but also cause your natural lashes to become brittle and promote breakage, which is something to consider if you want your natural lashes to stay healthy. 
Magnetic Lashes
Another popular at-home option is magnetic lashes. Built like strip lashes, these lashes attach to your lash line with an iron oxide eyeliner and tiny magnets located on the strip of lash extensions. 
Magnetic lashes are heavier than other styles because of the magnets and are often harder to apply because they require at least a little bit of liquid eyeliner skill. 
Lashify DIY Lash Extension™ Lashes 
The Lashify system is different. Our Gossamer® lashes are made from 100% Korean PBT Silk and attached to a weightless spine in lash clusters. 
Each spine holds about 25-35 Gossamer lashes. Gossamer lashes are attached underneath your natural lashes, making them easier to apply and helping keep them completely comfortable and feather-light. 
The Lashify system also avoids glues. Instead, we use Bonds, which work like a lash serum. Formulated with biotin and lavender, these Bonds keep your Gossamer lashes firmly adhered to your natural lashes while nourishing your natural lashes and supporting them while they grow. 
Our Bonds never fully harden, which prevents your natural lashes from becoming brittle and breaking. Our Gossamer lashes are also reusable for months with proper care. 
If you're looking for the most natural, easiest, and safest way to get salon-looking lashes at home, Lashify is your go-to. 
Building Your Own Eyelash Extension Kit
Before you begin your at-home lash journey, you'll need a few tools, including the lashes themselves. 
Here's everything you need in your lash bag. 
Lashes
Professional eyelash extensions are usually made of a synthetic material or animal fur, like rabbit or mink. If you're team cruelty-free, you'll want to avoid animal fur. 
Faux mink is usually made from the same material that Lashify uses, Korean PBT silk. It's ultra-lightweight and gives you the ability to get wispy, fluttery lashes without any animal involvement. 
Another consideration when selecting your lashes is how long they're made to last after application. Lashify Gossamer lashes, for instance, can be worn for up to 10 days with proper care. 
Applicator Tools
It's impossible to apply false lashes with your fingers, and your tweezers should be reserved for your eyebrows. We recommend you use a true lash applicator, like the Fuse Control Wand™. 
The Fuse Control Wand is ergonomically designed to hug the curve of your eyelid and be comfortable in your hand. It helps you effortlessly apply Gossamer lashes without dropping them and helps ensure you get perfect placement. 
We also recommend Wandoms®. These tiny covers slip onto the ends of your Fuse Control Wand (or the Petit Curve Wand for smaller hands and faces). 
Because Bonds get tacky before use, the Wandoms prevent your Gossamers from sticking to the Wand, so you have an even easier application experience. 
Bond & Seal
Almost every DIY eyelash extension kit will come with some type of lash glue, and most of these glues contain the same ingredients you'd find in superglue. These make your natural lashes brittle and can irritate your skin and eyes. 
Lashify Bonds never contain these ingredients and help give your Gossamer lashes a flexible hold that allows your Gossamer lashes to bend along with your natural lashes. Our Sealers work the same way. 
Instead of adding a coat of stiff glue to your lashes, Lashify Sealers help reactivate the Bonds and help increase the longevity of each lash application. 
Remover
When it's time to remove your false eyelashes, the most important rule is to never pull or pick them off. This can damage the lash extensions themselves and your natural lashes. Instead, you'll usually need a dual-phase, oil-based makeup remover. 
Lashify recommends Melt Away. Melt Away is a moisturizing formula that helps gently break the lash Bond between your Gossamer lashes and your natural lashes so that they easily slide off. This keeps your natural lashes safe and your Gossamer lashes ready to be reused. 
Prep Gear
Before applying your lashes, it's important to have your eye area free from makeup, dirt, and oil. You'll want to cleanse the area completely with an oil-free cleanser, like Lashify Pre Cleanse. 
Pre Cleanse is a Japanese Cleansing Water that even works as a facial wash. It's gentle yet effective for even the most sensitive skin types. 
The Best Kit for the Job
If you don't want to create a starter kit from scratch, make it easy on yourself and just grab the best-selling Lashify Control Kit™. 
The Control Kit contains:
Two sets of Gossamer lashes. You choose from Bold, Amplify, or Curl. Want a more extensive lash wardrobe? It's as easy as clicking "add to cart."
Fuse Control® Wand. Pick between the standard Fuse Control Wand or the Petit Curve Wand. 
One set of Wandoms®. Don't be a fool — wrap your tool! For even more protection, grab a few more sets so you'll always be ready to apply a new set of lashes. 
Whisper Light Bond™. Throw your extension glue in the trash. Lashify Bonds are lash adhesives that work like lash serums. 
Glass Finishing Coat. You don't have to seal your lashes, but doing so can help them last even longer. 
Samples. Each Control Kit comes with samples of Pre Cleanse and Melt Away, our cleanser and remover that are safe to use with your Gossamer lashes. 
All the tools you need to create the lash looks you love come wrapped up in a convenient, high-quality, protective case with a mirror you can use for application. 
Tips and Tricks
The first time you play lash artist on your own, you might have a few mishaps. That's totally normal. Give yourself some patience, and make sure you head over to our how-to page for tips and tricks on how to apply your Gossamer lashes with zero fuss. 
We also recommend you avoid water for 48 hours after application and avoid attempting to sleep in your Gossamer lashes the first time you apply them. Once you get the hang of it, you'll be able to wear your Gossamer lashes overnight.
The Best Extension Starter Kit? It's Giving Control.
The Lashify Control Kit is the easiest way to grab all the tools you need to apply beautiful lashes at home and never spend another minute in the salon chair. Everything you need is in one easy-to-locate place, along with two pairs of Gossamer lashes to get you started. 
So go ahead, send that break-up text, and grab the DIY lash extensions that let you Be Your Own Lash Tech. 
Sources:
Is Eyelash Glue Toxic? | Poison Control
Biotin - Health Professional Fact Sheet
Mink Eyelashes Exposed: What Salons Won't Tell You | PETA
Lashify Review: The Pros and Cons of These DIY Eyelash Extensions|Cosmopolitan